Link Up Your Giveaways!
While you are here, take a look around, check out some delicious recipes & make sure you enter some of the fabulous giveaways! I have listed a few below.

Enjoy some fun in the sun with Nickelodeon's
Bubble Guppies: Sunny Days!
Available on DVD May 28th, 2013
Minus the rain, theses past few days have me more and more anxious for summer, swimming, and beach time! The boys are feeling my excitement as we start to get out all of the summer toys, bathing suits, and flip flops. This week Tyler has been walking around in his bathing suit and goggles watching Bubble Guppies: Sunny Days! I can't wait the weather gets a little bit warmer so we can enjoy some beach fun, swimming, building sandcastles, and playing volleyball.
It's over two hours of summertime fun on Bubble Guppies' third adventure-packed DVD, Bubble Guppies: Sunny Days! This all-new DVD includes six exciting underwater adventures ready to help kids beat the heat. Created by Nickelodeon Home Entertainment and distributed by Paramount Home Media Distribution, Bubble Guppies: Sunny Days! will be released on DVD on May 28, 2013 for the suggested retail price of $16.99.
Bubble Guppies: Sunny Days! Episodes:
The Beach Ball! If Molly's new friend Sandy doesn't finish her work on time, she might not be crowned Queen of the Beach at Big Beach Ball! She needs help from some hard-working Guppies for her chance to win that crown!
The Legend of Pinkfoot The Bubble Guppies are going on a camping trip! Grab your flashlights and gather around the campfire to make s'mores and hear about the spooky legend of Pinkfoot!
Bring on the Bugs It's the Big Bug Parade and the Bubble Guppies are marching with the ants and buzzing with the bees! With so many different kinds of bugs, every Guppy has their favorite. But it's a special spider named Charlie that catches Gil and Molly's friendship.
The Sizzling Scampinis! The Bubble Brothers Circus is coming to town, and all the Guppies are getting into the act! See Goby the clown, Gil the acrobat, Oona the lion tamer…just watch out for that pie! SPLAT!
Bubble Duckies! Welcome to the Wings Over Bubbletucky Air Show! Today the Bubble Guppies are watching a whole bunch of birds take flight! But when a family of flying ducks gets lost in a storm cloud, it's up to Molly, Gil and a friendly little duck named Beep to fly in and rescue them!
Gup, Gup, and Away! Pack a suitcase and hurry to the airport! Help the Bubble Guppies fly an airplane through the sky and over the clouds – just be sure to keep an eye out for airplane pirates!
Buy It: Bubble Guppies: Sunny Days! is available to purchase starting May 28th for $16.99.
Bubble Guppies: Sunny Days!  Giveaway:
Thanks to Nickelodeon, one lucky reader will win a Bubble Guppies: Sunny Days! DVD. To enter, simply fill out the form below. Continue reading →
Almost every day I get on Facebook my feed is filled with graduation pictures, college graduations are in full swing, and in a couple of weeks high school graduations will be taking place, and Father's Day too! Looking for the prefect gift for Grad or Dads? How about an Applebee's Gift Card?

For a limited time, with every purchase of a $50 Applebee's Gift Card, you get a FREE $10 Bonus Gift Card! You can purchase the  Gift Cards in-restaurant as well as online Digital Gift Cards! Applebee's Digital Gift Cards can be purchased at www.applebees.com or through the Applebee's Facebook page.
I find the digital cards convenient, they can be purchased online 24/7 and are delivered to the recipient's e-mail address. No having to run out last minute to pick up a gift, just send it to their email or print it out and put it in a graduation or Father's Day card. You can also send a mobile phone message to alert the recipient about the gift. The digital cards can also be customized through personal written messages, audio recordings and photos, and can be scheduled for a later date.
Give the $50 Applebee's Gift Card to a grad or dad and save the bonus $10 for yourself or give all $60 as a gift.
Bonus Cards are activated the day after a qualifying gift card purchase is made, and are available at participating Applebee's locations and online through July 1st 2013.
Disclosure: Gift Card was provided. All opinions are my own personal and honest thoughts.
Beyond Bedding provided a bedding set for review.
Out with the toddler bed, in with the "big boy" bed! It's hard to imagine that 3 and 5 years ago I gave birth to two precious little boys, it feels like just yesterday we were setting up their cribs, and now they're in big boy beds. We spend most weekends up at our lake house in the summer so this year I decided to give the boy's room a little bit of a makeover.  I wanted to make it feel more like at home instead of just bare walls and plain blue comforters. Beyond Bedding offers kids bedding and I couldn't wait to check out the selection and update the boy's room.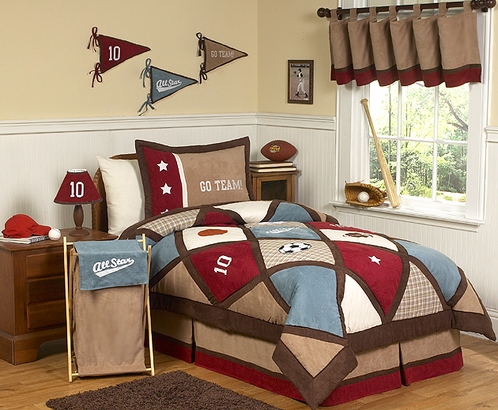 While taking a look at the Boys Children's Bedding at BeyondBedding.com I couldn't decide between a pirate theme, a sports theme, or a dinosaur theme. After talking it over with the boys we finally decided on a sports theme and went with the All Star Sports Childrens Bedding 4 pc Twin Set for Jacob's bed. The All Star Sports Childrens Bedding Set by Sweet JoJo Designs is perfect for my little sports fan, he is all about playing soccer, baseball, and basketball so the set couldn't have been a more perfect fit.
All Star Sports Childrens Bedding 4 pc Twin Set:
Twin Comforter (62″ X 86″)
1 Twin Standard Sham (20″ X 26″)
Twin Bed Skirt (Dust Ruffle)
Window Valance (84″ X 15″)
I was impressed with the quality of the All Star Sports Childrens Bedding 4 pc Twin Set. It is made with 100% Cotton fabrics combined with super soft Micro suede Fabrics, and is much softer then I had imagined. Jacob loves his new bedding set, and couldn't wait for night fall when he could sleep with his new blanket. Now we just need to find Tyler a new comforter, while I didn't want them to have the same sets, I'm now thinking about ordering an additional All Star Sports Childrens Bedding 4 pc Twin Set. Sheets come with the All Star Sports toddler and baby bedding sets from Beyond Bedding but not with the twin set. Coordinating sheets are available to purchase at Beyond Bedding for an additional $59.99.
In addition to the bedding set additional accessories are available including window treatment panels, rugs, a memory/memo photo bulletin board, wall decals, and even a lamp shade to fully accessorize any sports fan's room.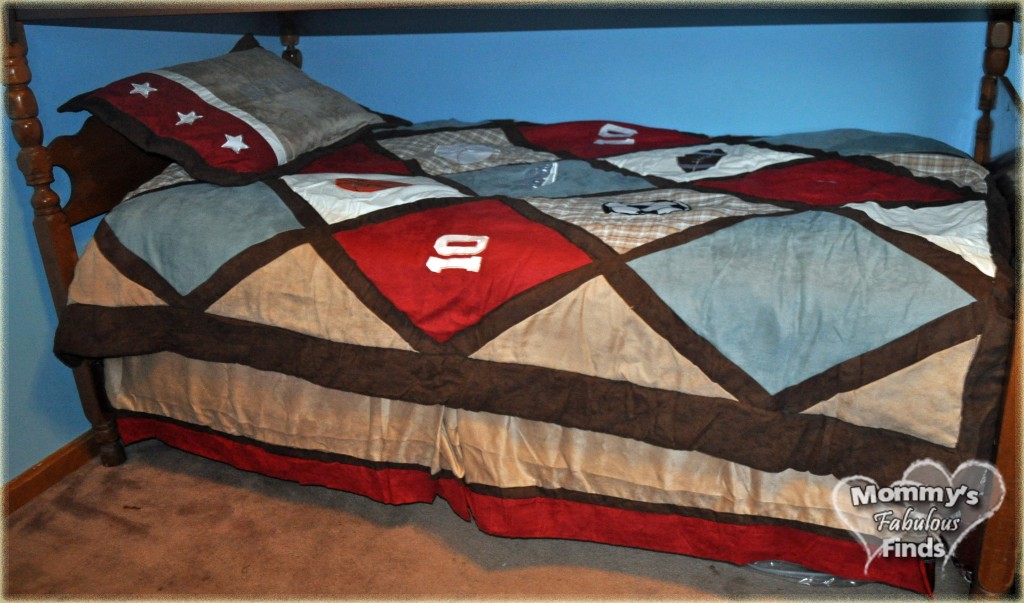 Buy It: You can purchase the for $109.99 at BeyondBedding.com
Beyond Bedding Giveaway:
Thanks to Beyond Bedding, 10 lucky readers will each will a bedroom set of their choice from the childrens, teens bedding sets line . To enter, simply fill out the Rafflecopter form below. Continue reading →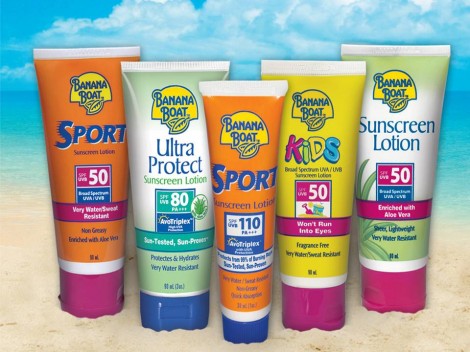 Head on over to print a Banana Boat coupon for $3.25 off when you buy any TWO (2) Banana Boat® Sun Care Products (3oz or larger) excludes lip balm and trial sizes. Keep in mind the Banana Boat products are Buy 1 Get 1 Free next week at Walgreens!
Last week the boys and I were invited to attend the Build-A-Bear Workshop Northshore Mall grand opening, as you may have previously read, my two preschoolers are huge fans of Build-A-Bear Workshop. Every time we head to the mall they have to stop by an pay a quick visit and I couldn't wait to take a trip to the Northshore Mall  to checkout the new updated store that is enhanced with innovative technology.  Build-A-Bear Workshop opened six updated stores in 2012, and the Northshore store is the third of 25 locations that the company plans to open this year.
During the grand opening celebration, the boys each got to build their own furry friend, Jacob made an Iron Man monkey while Tyler made a Tinkerbell Kitty for Grandma, they each also got to build a furry friend that was donated to Project Smile by Build-A-Bear Workshop and will be given to a child in the local community. The first 100 customers to enter the store, were also able to build a stuffed animal to donate to Project Smile.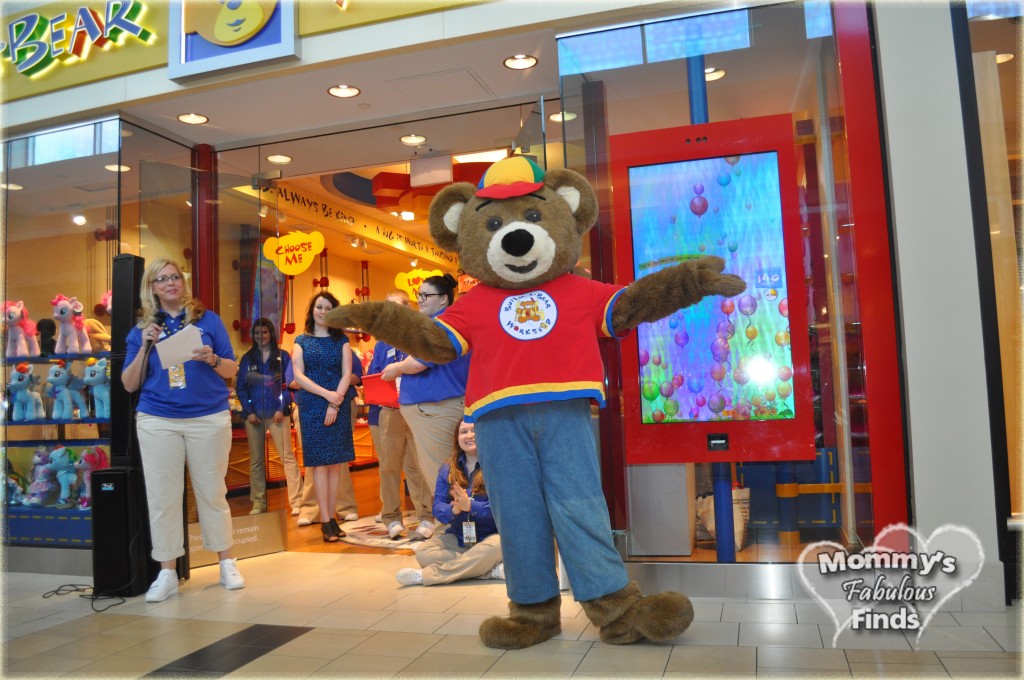 The first customer's of the newly updated Build-A-Bear Workshop
Build-A-Bear Workshop Northshore Mall Features:
An interactive storefront that is enabled by Microsoft's Kinect technology and interactive touch elements. Guests can play games and view the latest product offering as they enter the store. Jacob and Tyler loved the interactive games available at the store front,  They thought it was neat that they could "magically" pop the bubbles with using just their hands and no controller.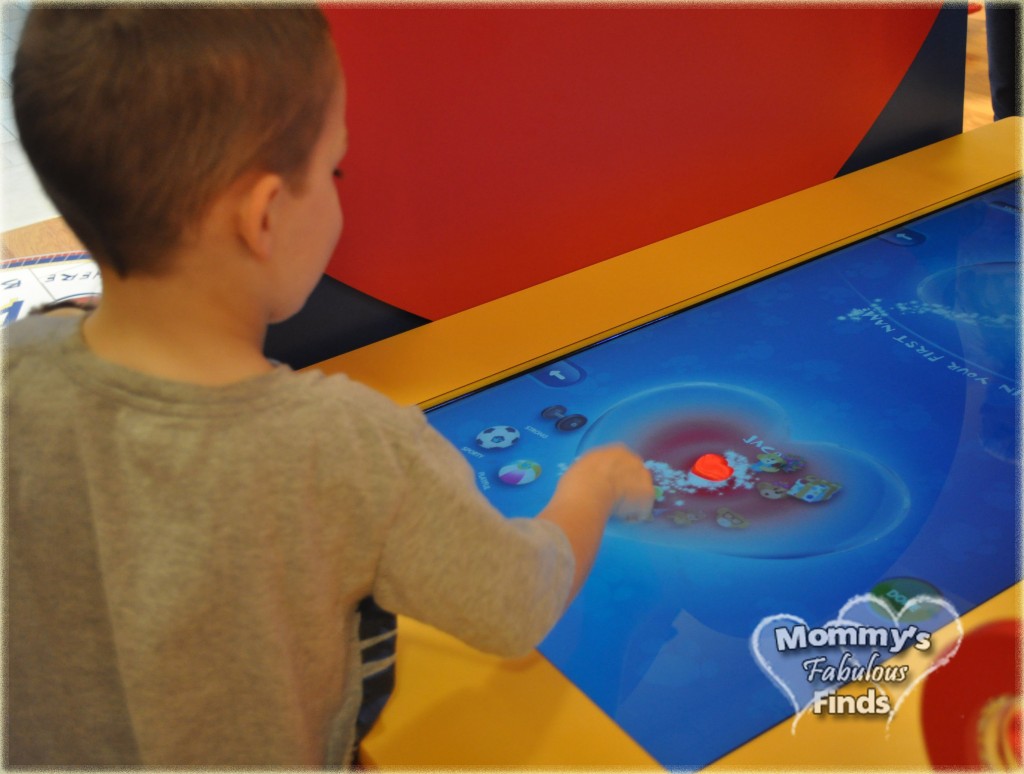 The
Love Me
station allows Guests to customize their furry friends with special personality attributes displayed as emoticons on an interactive table. Using Samsung'sSUR40 with Microsoft PixelSense technology, guests add unique traits – like brave, silly, and smart – to their red satin heart, which is added to their stuffed animal during the Stuff Me process.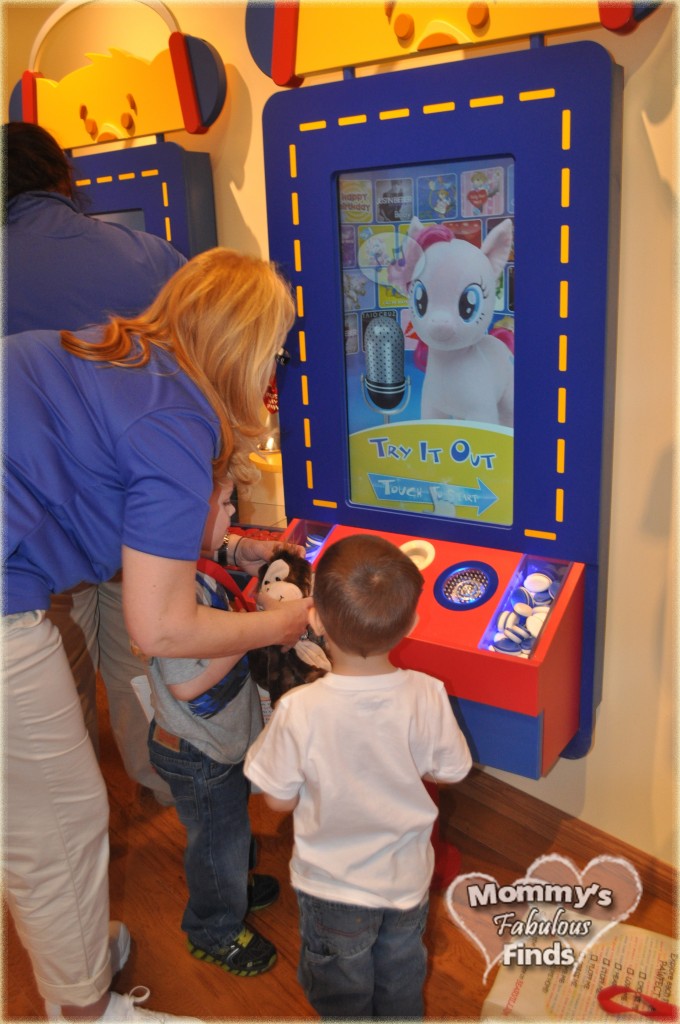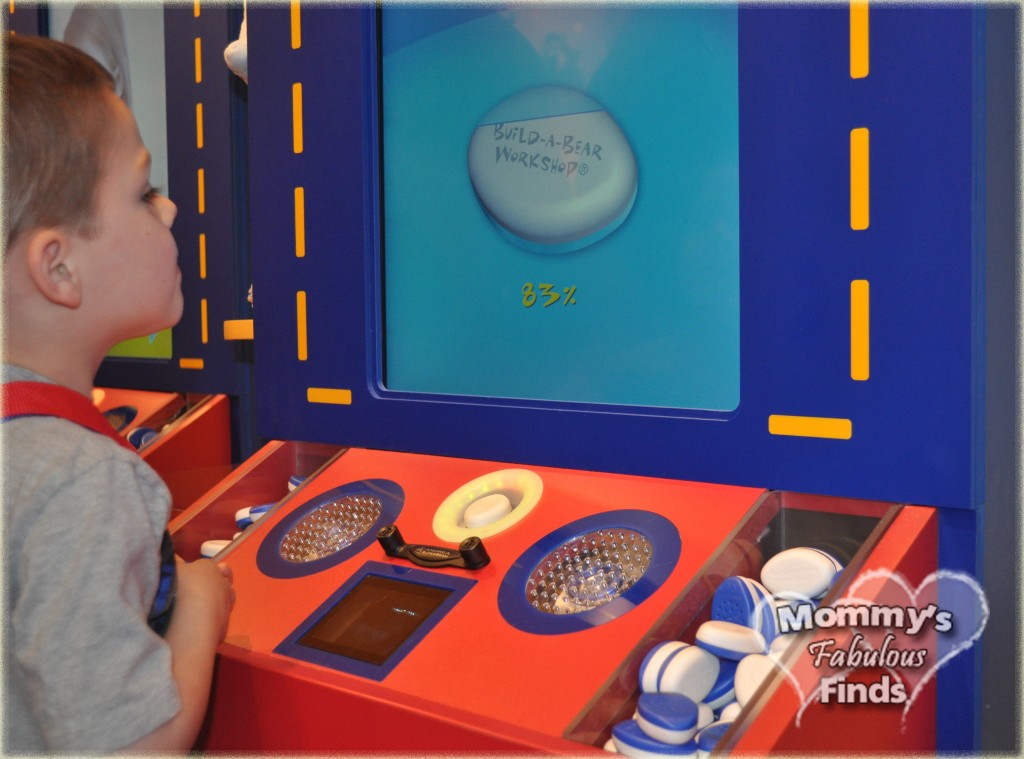 The
Hear Me
station features an assortment of high quality sounds that can be added to stuffed animals. Using an interactive touch screen, Guests can select and load popular hits from current music, sounds, or their own voice onto a chip to further personalize their stuffed animal. This process was super neat, we recorded "I Love You Grandma" and it was neat to see the sound was digitally sent to the chip.
The Fluff Me station features a digital bath tub enabled by Samsung's SUR40 with Microsoft PixelSence technology. The tub magically recognizes the items placed on it and reacts with sensory effects such as virtual bubbles that appear when play soap is placed on the "water surface." In addition to watching the tub fill up and then drain, legs also appear on the ducks, which made me chuckle. The graphics are impressive.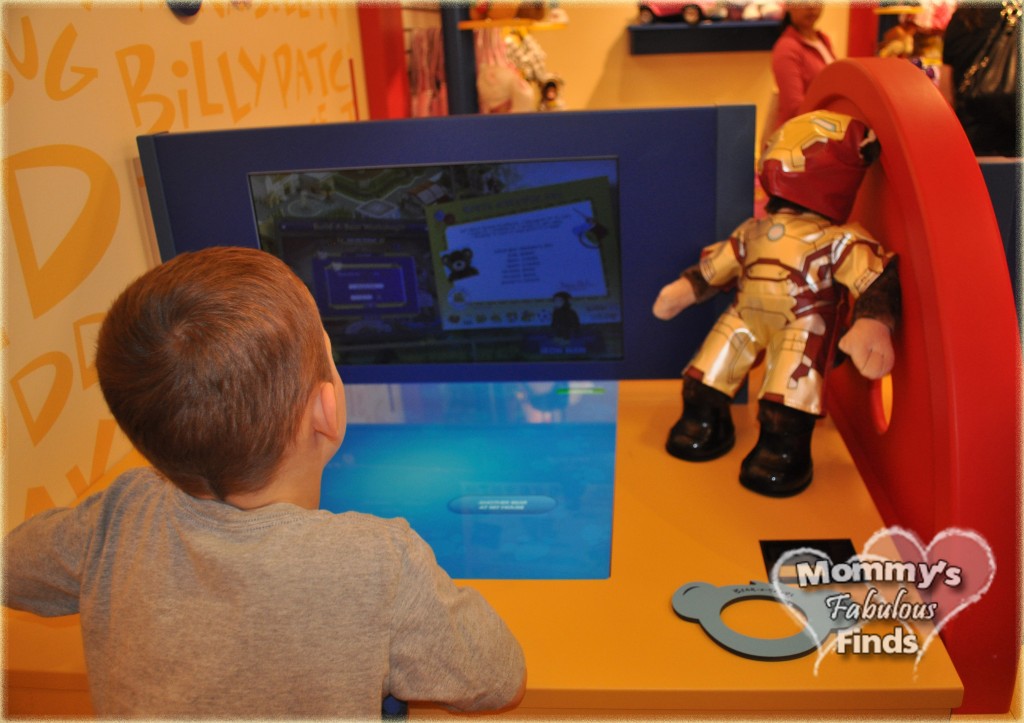 The Name Me station, where Guests use a viewfinder or "Bear-O-Scope" to reveal the special attributes they added to their stuffed animal. At Name Me, Guests also create a one-of-a-kind birth certificate that includes a photo of their new furry friend. We often struggle with naming our animals, and although Jacob was quick to name his "Iron Man" Tyler was unsure. There are a number of names recommended and you can always select additional names, thanks to the recommended names Tyler chose "Cupcake", we would never would have thought of.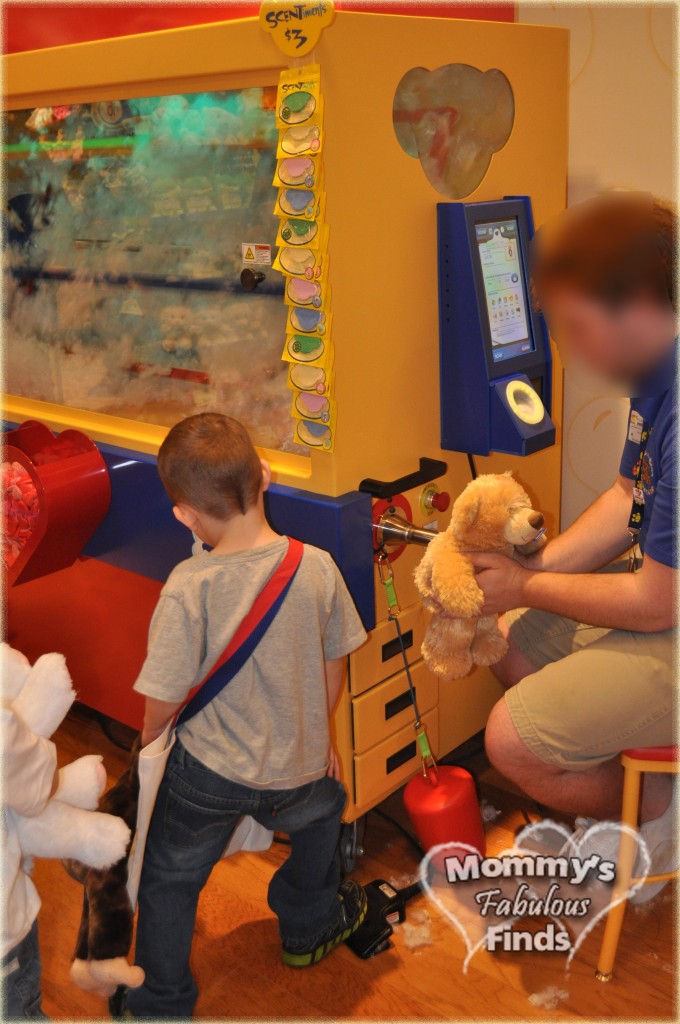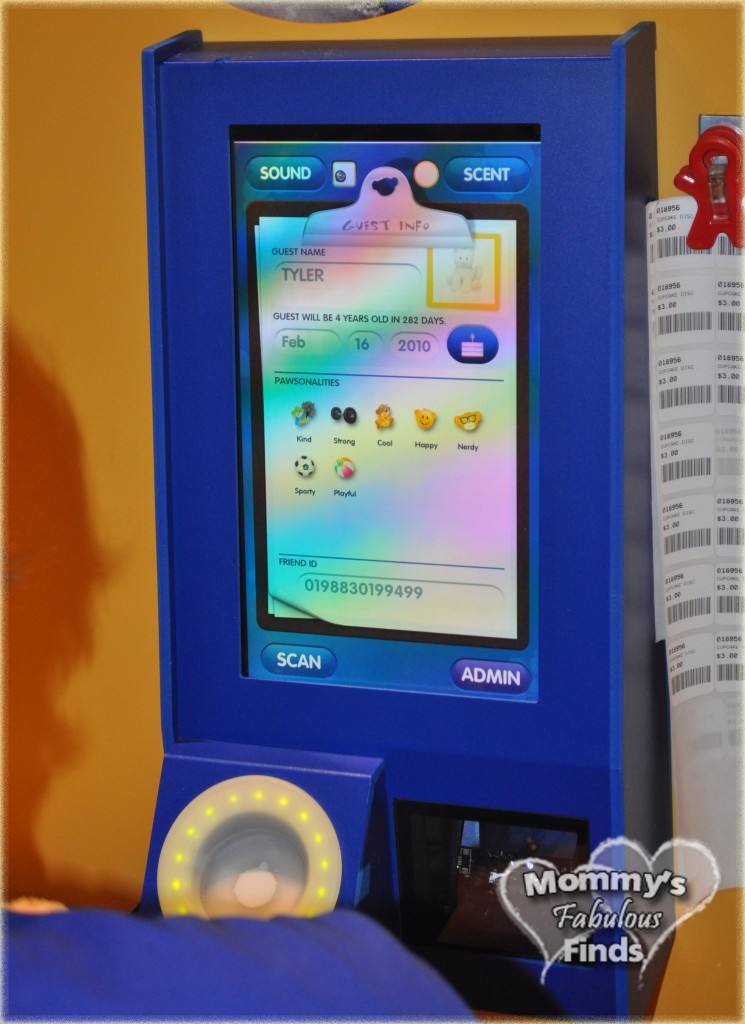 One thing I noticed about our experience with the newly updated Northshore Build-A-Bear is that the whole process was more personalized. At the Love Me station guest's can enter their name as well as birth date which is stored in the barcode on the animal, as the guest moves on the the Stuff Me station that store associate can now personalize the experience since he/she scans the barcode and knows the guests name, as well as the birth date, and if it's their birth date can wish them happy birthday.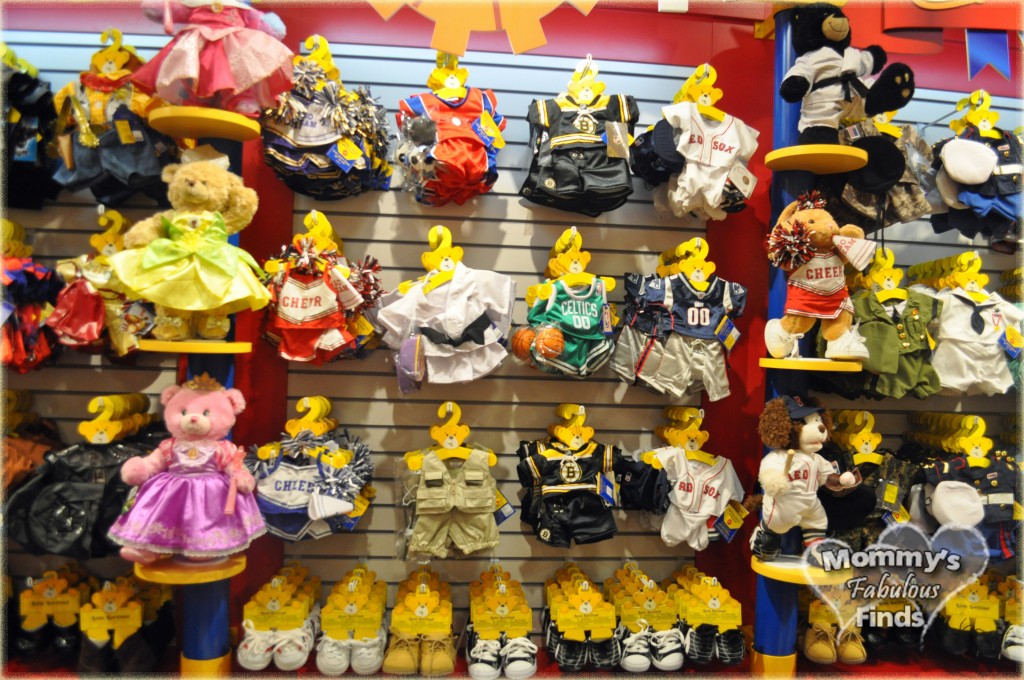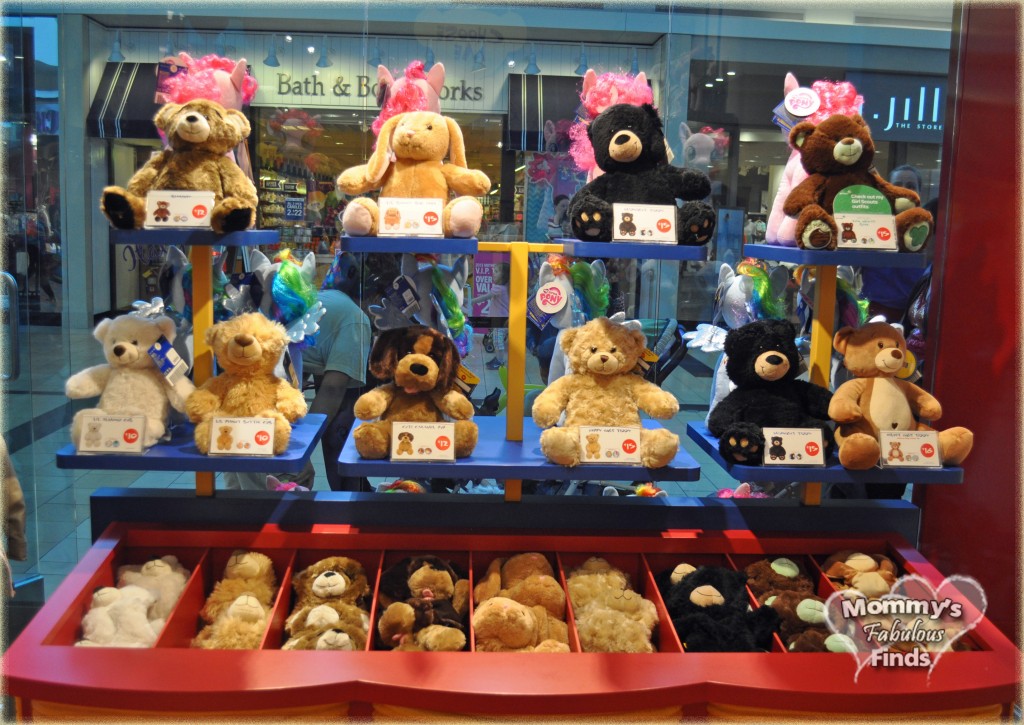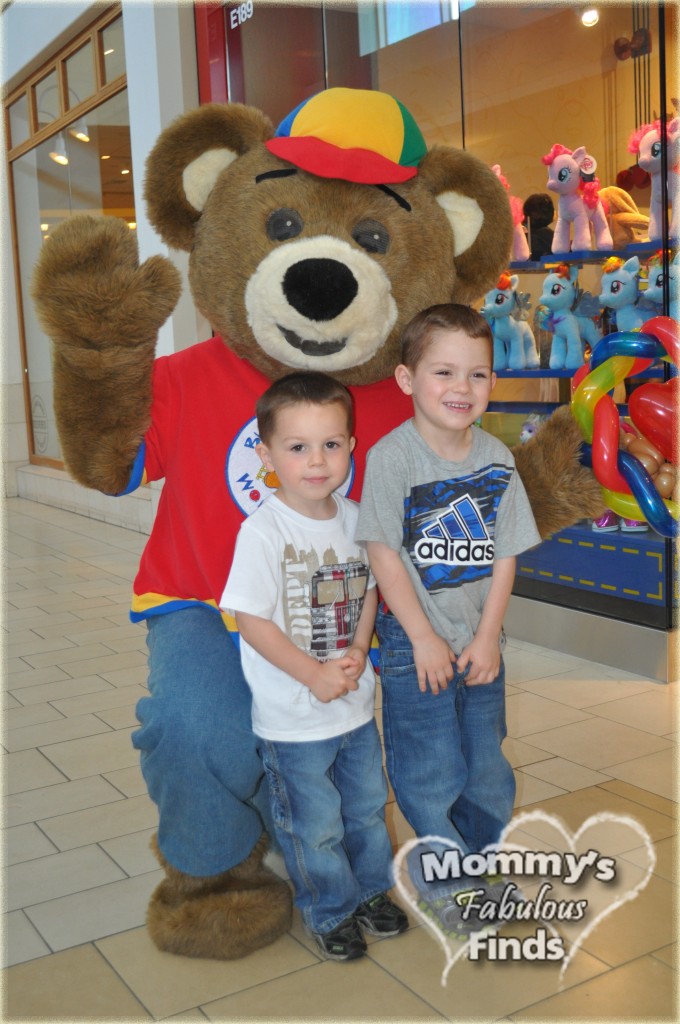 Overall, I am impressed with the enhanced technology at the newly updated Build-A-Bear Workshop Northshore Mall location and love the design of the updated store. The innovative technology provided a richer, more interactive experience for Jacob & Tyler. I had trouble getting them out of the store to begin with, with all of the new cool interactive features and touch screens it is now even harder, they have not stopped asking me if we can go back.
Special thanks to Dana, and the rest of the friendly associates at Build-A-Bear Workshop Northshore for the wonderful experience.
For more information, or to find a Build-A-Bear Workshop near you, visit buildabear.com.
 Disclosure: Build-A-Bear provided a stuffed animal and accessories for my children. All opinions are my own.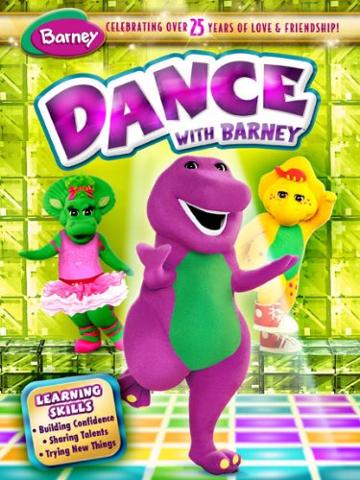 Barney: Dance With Barney
DVD Release: May 21, 2013
Dance along with your favorite Dinos in this all-new DVD Celebrating Over 25 Years Of Love & Friendship With Barney® And His Playground Friends.
Get your groove on and dance along to the beat with the all-new Barney®: Dance with Barney arriving on DVD, Digital Download and Video on Demand May 21, 2013 from Lionsgate Home Entertainment and HIT Entertainment. Everyone's favorite purple dinosaur Barney and his dino friends Baby Bop™ and BJ™ share their most loved dance moves, build confidence by learning new steps and have fun dancing dino-style!
Trusted by moms and adored by children, Barney displays sharing, caring, imagining, dancing and learning on television, online and through live events, home entertainment, toys and publishing. The Emmy® award-winning series, Barney & Friends® is one of the top-rated preschool shows today, airing on PBS KIDS® and Sprout®.
Synopsis:
Have a tee-riffic time when you move and groove with Barney and his friends! Join Barney and learn many different types of dance, from hip hop to ballet to folk dance and more, and watch as his friend Jamal builds the confidence to give them a try too! Then Barney and his friends explore movement and have a ball as they wiggle, waddle, hop and bop together! Don't miss a beat and come along for a dino-mite, dino-dancing good time!
Episodes include:
"Dancing"
"Movin' Along"
"Dance With Me"
DVD Bonus Features:
The Barney Boogie Music Video
Lookie, Lookie, It's A Cookie Karaoke Music Video
Happy Dancing Karaoke Music Video
Buy It: You can purchase Barney: Dance With Barney for $14.98
Barney: Dance With Barney Giveaway:
One lucky reader will win Barney: Dance With Barney, to enter simply fill out the form below.
Mickey Mouse Clubhouse Quest for the Crystal Mickey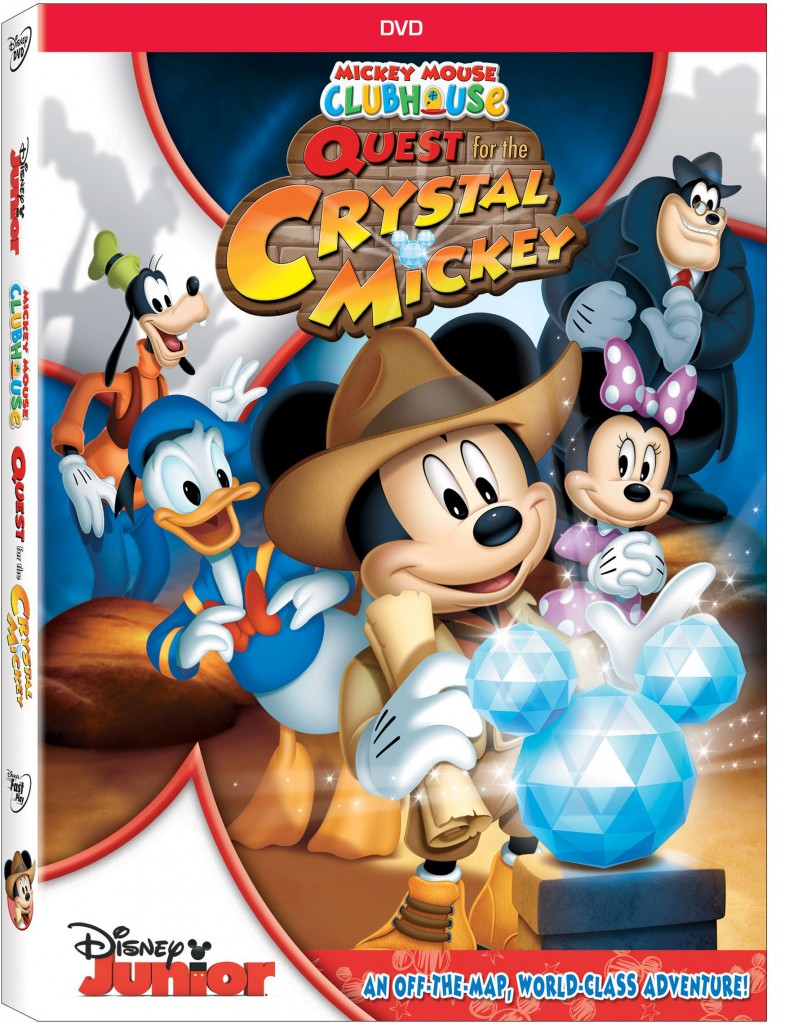 Release Date: May 21, 2013
Join Mickey, Minnie, Pluto and all their pals in the newest Clubhouse crusade. When the legendary Crystal Mickey goes missing, Mickey and friends go on an adventure to save the Clubhouse from losing its magic. Grab your hat, buckle your seatbelt, and get ready to embark on a thrilling adventure in "Mickey Mouse Clubhouse: The Quest for the Crystal Mickey!" Mickey is a well loved character in our house, and Tyler couldn't wait to get his hands on his brand new Mickey DVD.
There's no time to lose after greedy Plunderin' Pete snatches the legendary Crystal Mickey statue from the Clubhouse. Without this sparkly statue's magic, the Clubhouse will disappear forever! Can the world's most extraordinary hero "Kansas City Mickey," get the magical statue back in time? Only with help from young viewers at home…and the right Mouseketools can Mickey journey across the Sandy Desert, brave the Rushing River and make his way through the Hidden Jungle. But watch out for Pete's trickiest traps!
Episodes:
Mickey Mouse Clubhouse: Quest for the Crystal Mickey
Donald of the Desert
Donald the Genie
Goofy's Coconutty Monkey
Goofy's Giant Adventure
Full of magic and mystery, the DVD includes four extra episodes of Disney Junior's Emmy®-nominated series "Mickey Mouse Clubhouse" (over 2 hours of content!) and a FREE Adventure Activity Map plus Stickers. Don't miss this latest Clubhouse adventure as it arrives for the first time on Disney DVD on May 21, 2013 for $19.99 U.S./$24.99 Canada.
Mickey Mouse Clubhouse Quest for the Crystal Mickey Giveaway:
One lucky reader will win Mickey Mouse Clubhouse Quest for the Crystal Mickey. To enter simply fill out the Rafflecopter form below. Continue reading →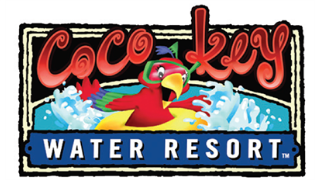 Coco Key Water Park Deal:
Looking for something fun to do in the Massachusetts area? Then head on over to DoubleTakeDeals to score 50% off Full Day Pass at Coco Key Water Park.
$15 For A Full Day Pass ($30 Value) Limit: 3 per user.
 "Inside Coco Key's 55,000 sq. ft. indoor water resort, it's always a perfect 84 degrees, the palm trees are always swaying gently, and flip flops are eternally in fashion. From the fast action of Barracuda Blast and Pelican Plunge tube slides to the lazy, stress-relieving Palm Grotto pool, everyone finds something to love.  Little ones can play at Parrot's Perch, specifically designed for kids of all ages to get in on the fun, with small tipping buckets, fountains, and small slides, or there's Coconut Grove Adventure River, a tube ride with fun, splashy surprises. When it's time to towel off, check out the Key Quest Arcade, full of great video games and redemption games. Refreshments, restaurants, and a cocktail bar are available."
Coco Key Water Park is located at 150 Royal Plaza Dr, Fitchburg MA
Limited quanties available. Coco Key Water Park deal is available on a first come first serve basis. Reservations are recommended – please call in advance to ensure space availability.
Go HERE and take a survey to score a 1 year FREE magazine subscription to Men's Fitness thanks to Rewards Gold! These freebies never last long, so hurry!
I did this last time it was offered and got Hubby a Free year, you will never receive a bill.