Plan the perfect family vacation to Loon Mountain in Lincoln New Hampshire. While at Loon Mountain you'll enjoy the best mountain scenery while spending a day full of adventure outdoors. Whether it's crossing bridges in the aerial park, zip-lining, exploring Glacial Caves, taking a scenic gondola sky ride to the summit, or going on a family bike ride, make this fall one your kids will never forget.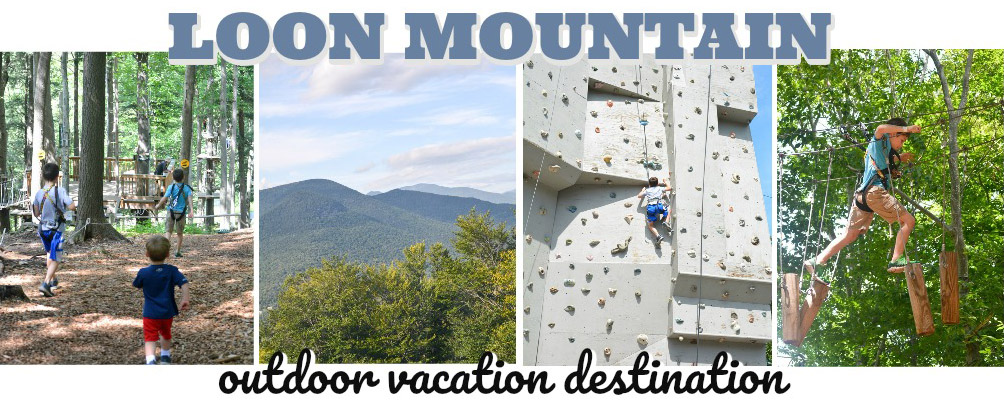 During our last visit in 2014, the boys were still too young to go on the Aerial Forest Adventure Park. Now that they've both surpassed the 48 in height requirement, a visit to Loon Mountain was at the top of our bucket list summer.
Thanks to Loon Mountain for providing our family passes, we were able to check ziplining and aerial ropes course of four list.
9 Reasons Why You Have to Visit Loon Mountain:
Located just two hours north of Boston, Loon Mountain offers a number of summer and fall activities that the whole family will enjoy. Three miles off of I-93, and just minutes from Franconia Notch, you can plan a day trip or a weekend kid-friendly getaway with plenty to see and do.
Loon Mountain isn't just a family friendly destination in the winter for skiing, there is so much do do in the summer and on the weekends in September. Purchase a Super Adventure Pass for non-stop all day family fun, or purchase individual activity passes if you're on a shorter time frame or don't want to participate in all activities.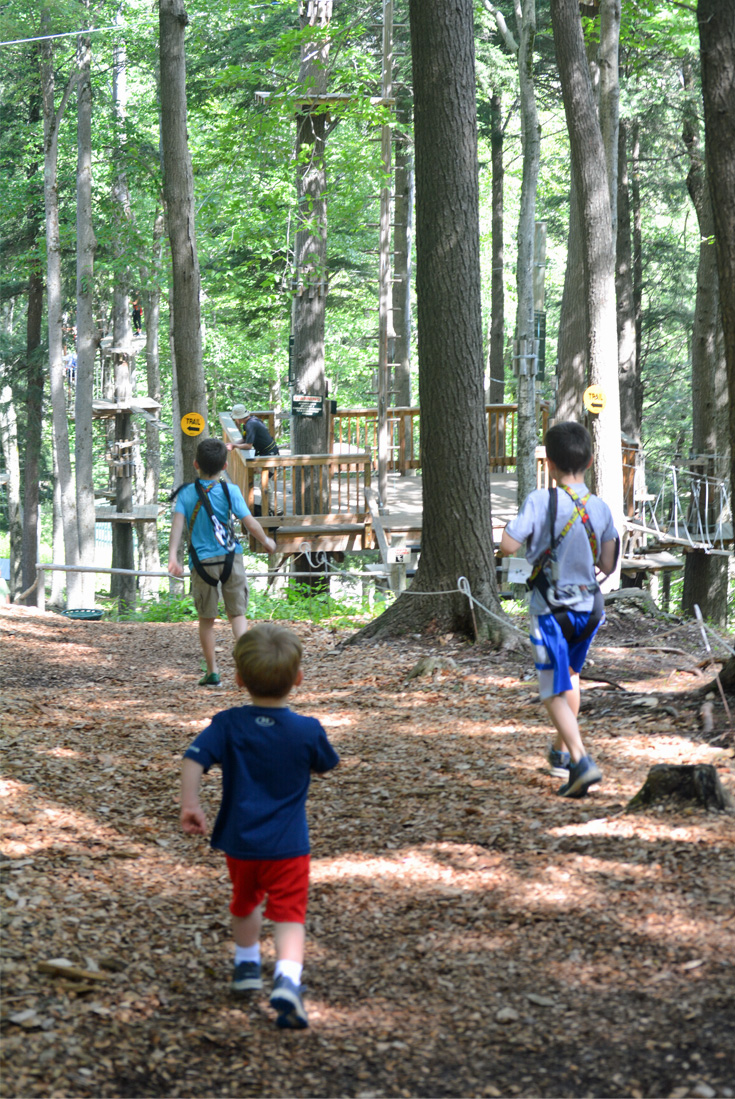 Aerial Forest Adventure Park
The Aerial Forest Adventure Park is hands down my children's favorite part. After getting harnessed up, and taking a short safety orientation, you'll be taken on a short ride to the side of the mountain to unleash your inner Tarzan..or Jane. On this self guided tour, visitors can explore 5 different courses at their own pace. The five courses have different difficulty levels, and are colored: Yellow, Green, Blue, and Black (most challenging). There are some height and age requirements for the green, blue and black courses, and children have to be at least 7 and 48 inches tall to use the Aerial Adventure Park.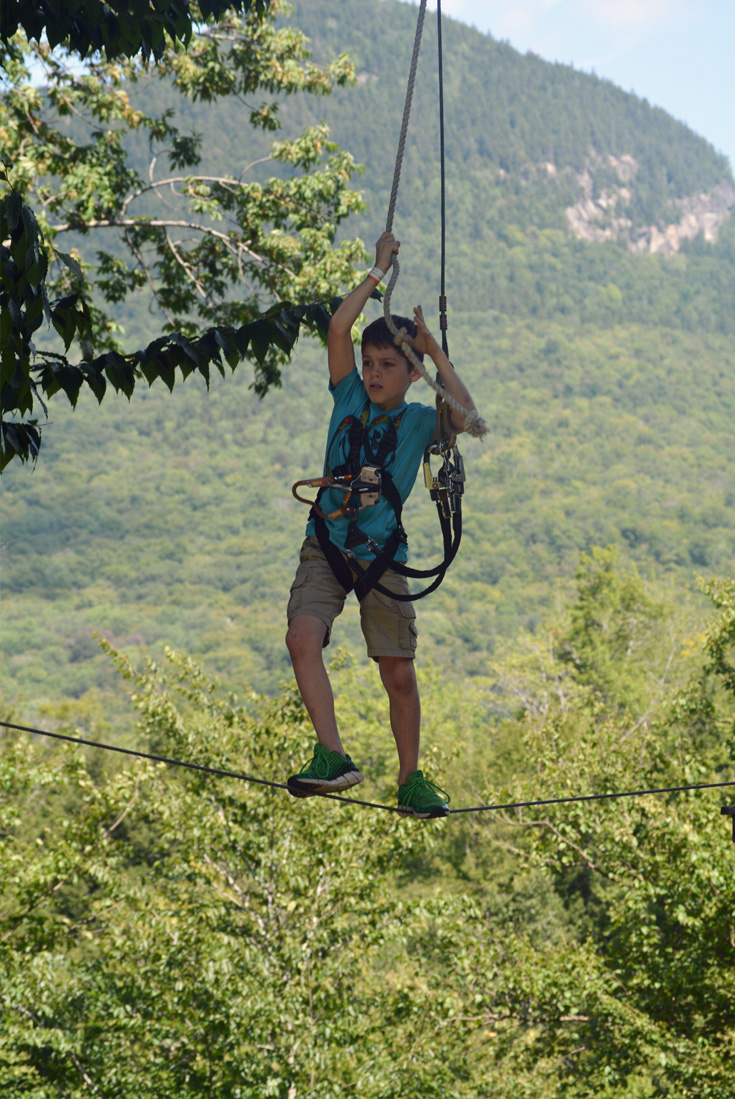 Cross bridges, climb ropes, soar across ziplines, and test your balance as you go from obstacle to obstacle.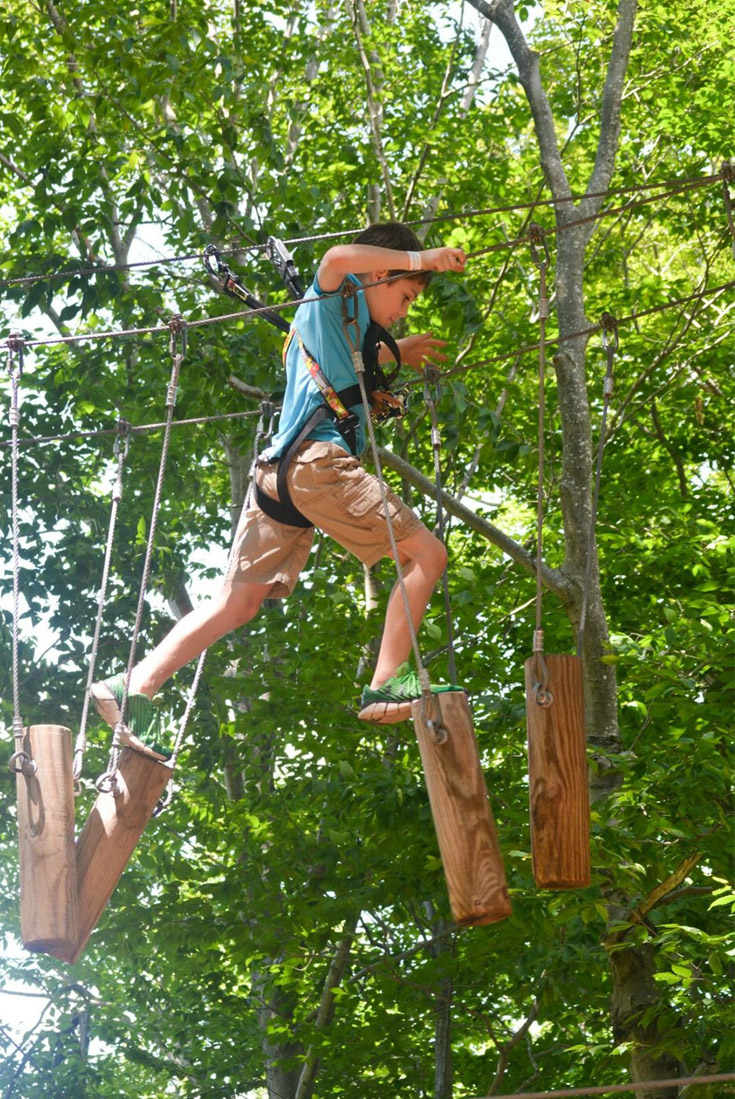 I can't get my 10 year old on a roller coaster, but he was in his glory climbing from obstacle to obstacle while suspended 30-40 feet in the air. The 2 hour tour treetop self guided tour wasn't long enough for him, he would have gladly spent all morning and after noon suspended high in the forest. After completing the green and blue courses he was eager to go on the black (hardest) course, but has to wait a couple years until he is 12.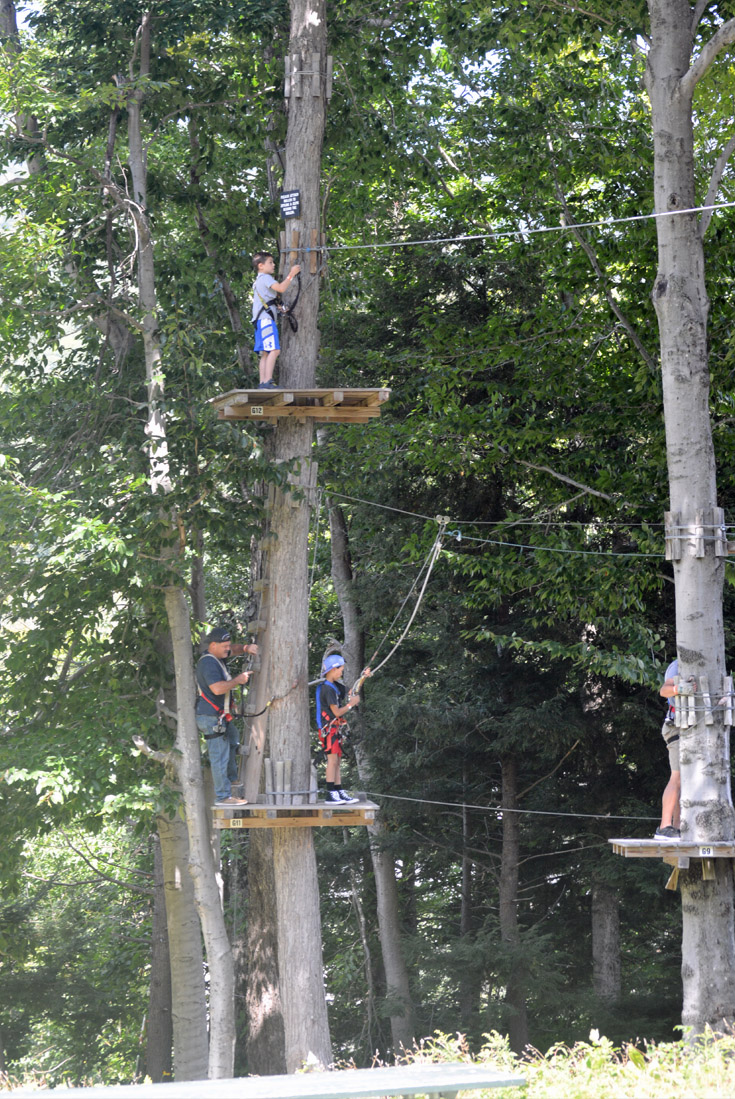 There are benches for additional family members to sit if they are not participating & want to watch. Parents with young children can also take turns. Since we had a toddler, we both got harnessed up and alternated going on the ropes course and watching the little one.
Scenic Gondola Skyride
The whole family can enjoy New Hampshire's longest scenic Gondola Skyride to the 2,733-foot summit of Loon Peak. It takes about 10 minutes to reach the top, and is a slow ride that even grandma and grandpa will enjoy, and is gentle enough for infants. Up to four people can ride together.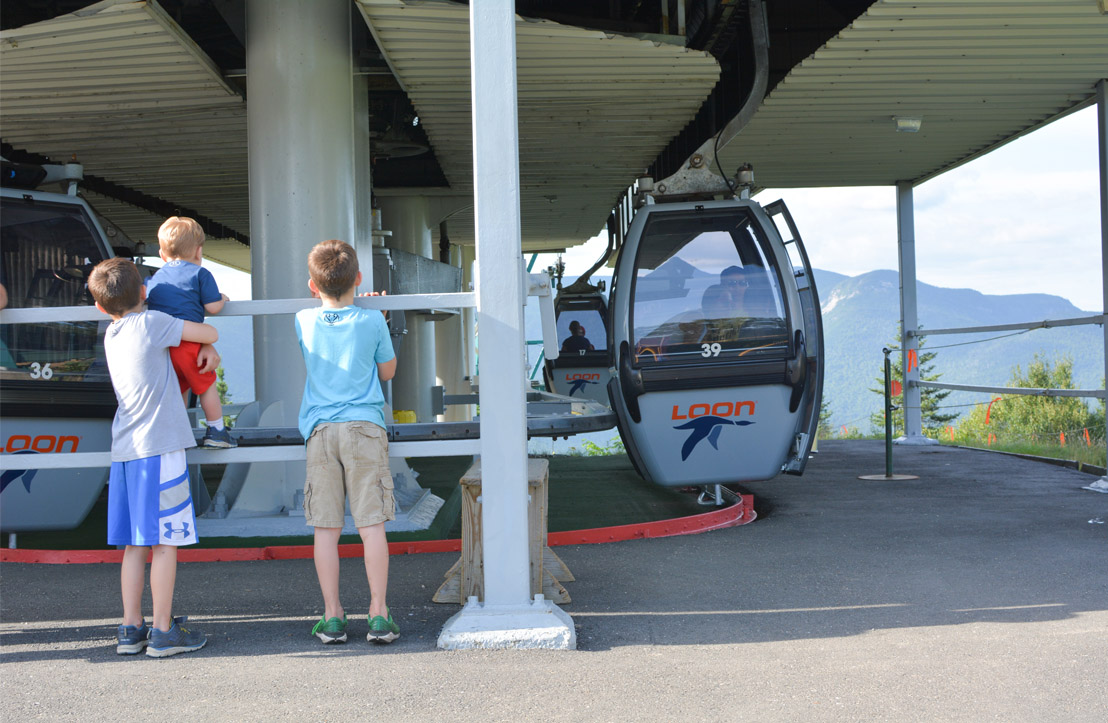 Once at the summit, you'll have access to breathtaking views of the White Mountains as well as a mountaintop playground for kids, the glacial caves, Summit Café, restrooms, and 360-degree observation tower.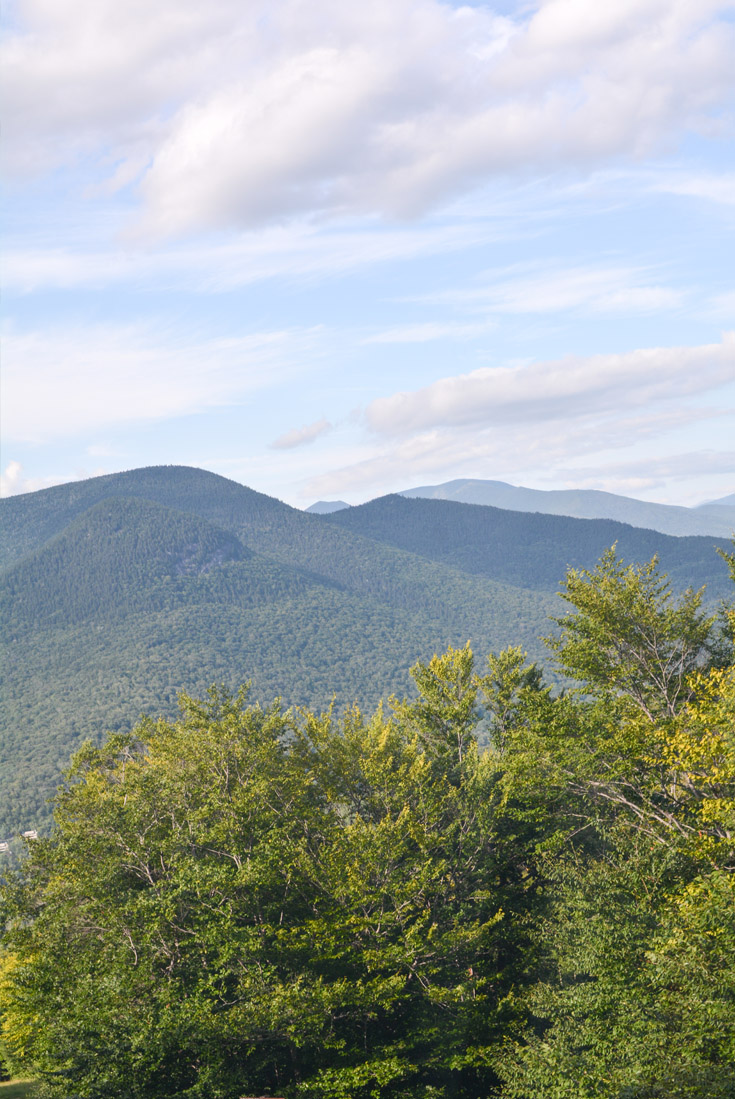 The Views!
The views from the summit are absolutely breathtaking. Climb the observation tower for even better views, and make sure to stop by the Cafe area for even more mountain scenery and views from the lake. The panoramic mountains make an amazing backdrop for family photos so make sure your camera or phone is charged.
Explore The Glacial Caves
Once you reach the summit, make sure to stop by and explore the prehistoric Glacial Caves boys. There are quite a few stairs you'll have to climb down, and then climb back up, but it's worth it. We totally missed this on our first visit back in 2014 but now it's the first place we go once we get off of the gondola ride.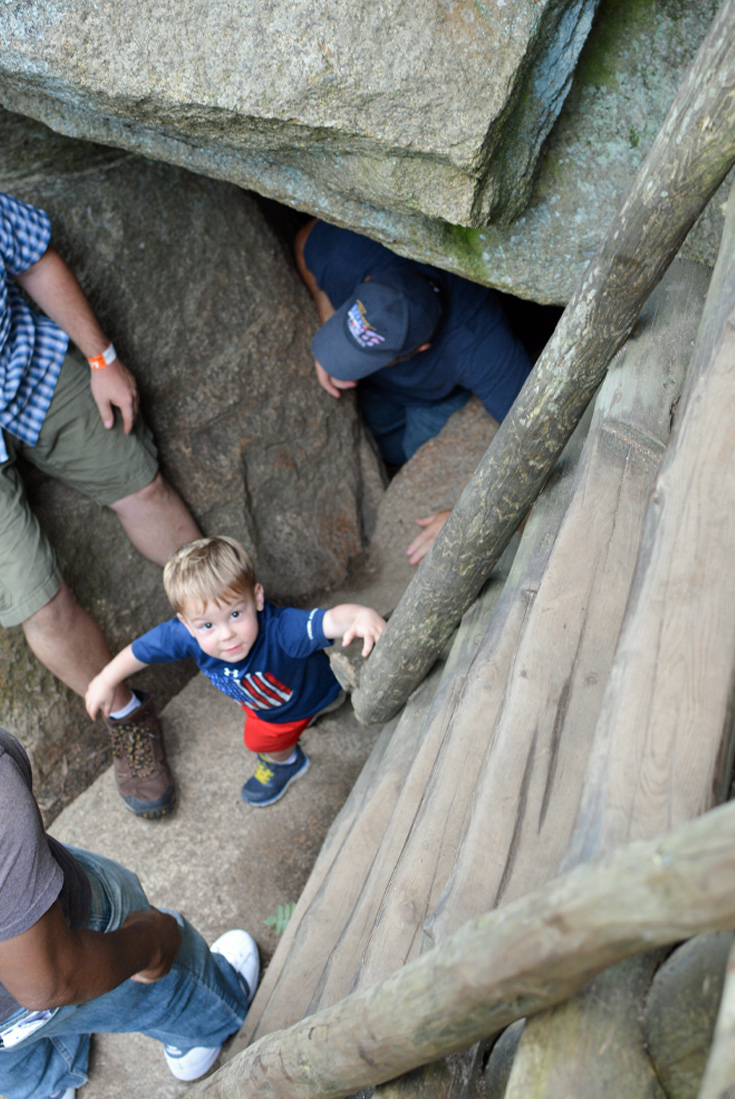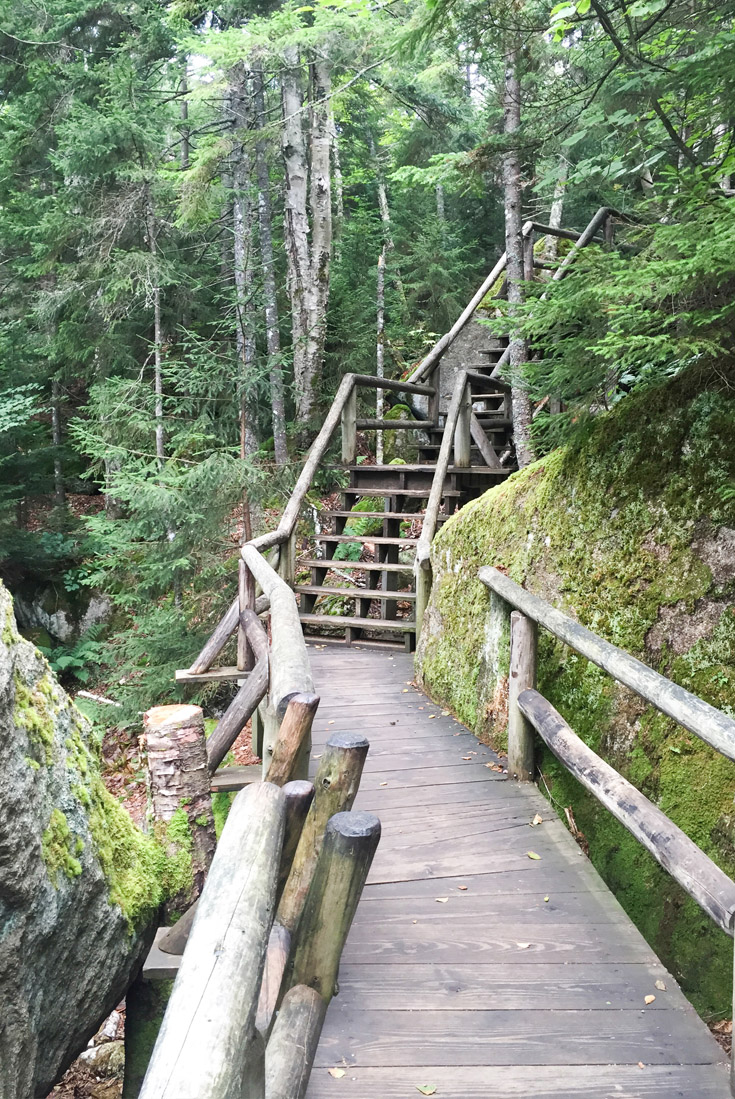 More than 12,000 years ago, the massive Laurentide Ice Sheet covered Loon Mountain with more than a mile of ice. When the ice melted, it left behind massive boulders just below the summit. Guests can squeeze and crawl through the narrow passageways and hidden caves.
There is also the option to stay on the main walkway while the kids or other parts of your group explore.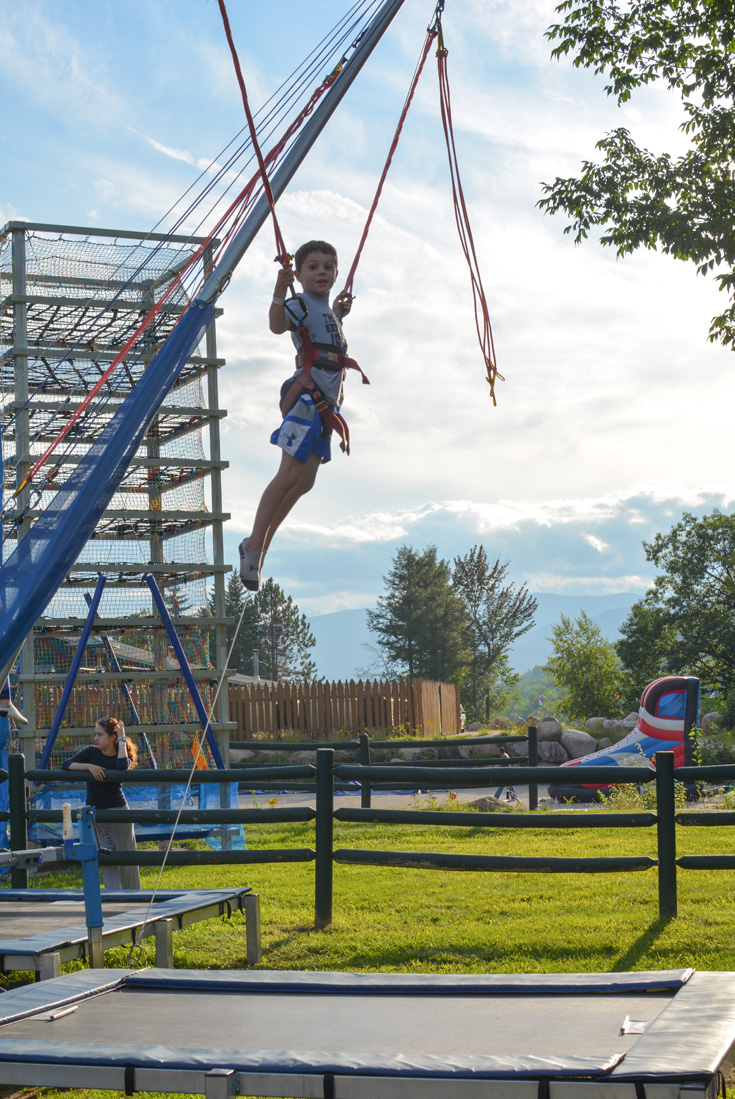 Adventure Center Base Camp:
Back at the base, the fun doesn't stop. There's ziplining, bungee trampolines, a LogJam Maze, Climbing Wall, Bunyan's Bouncin' Backyard with inflatable obstacle courses, and bike riding.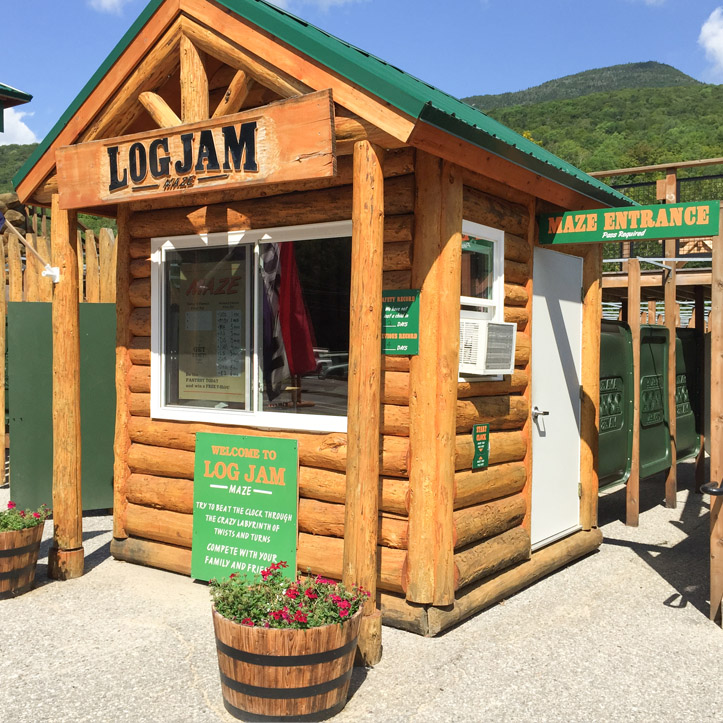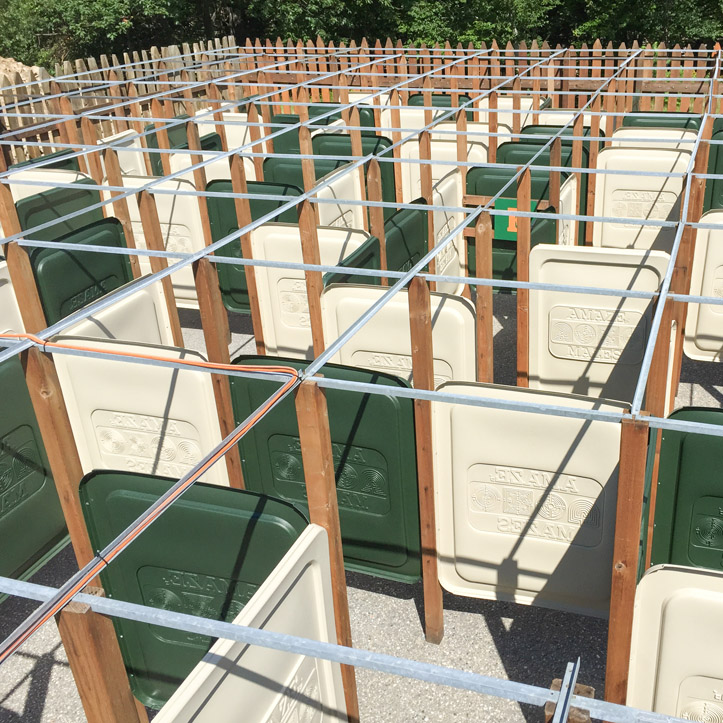 LogJam Maze:
Put your sense of direction to the test and try to find all four letters in the word M-A-Z-E. Each guest or team receives a card with the time stamped on it, you'll then enter the maze and have to find four different letter punches, in any order, to spell the word M-A-Z-E. Then find your way out and stamp the end time.  The maze is small enough for children to explore on their own, but still a challenge. There's an observation deck where you can cheer your family on, or watch them scramble as they try to find all four letters first.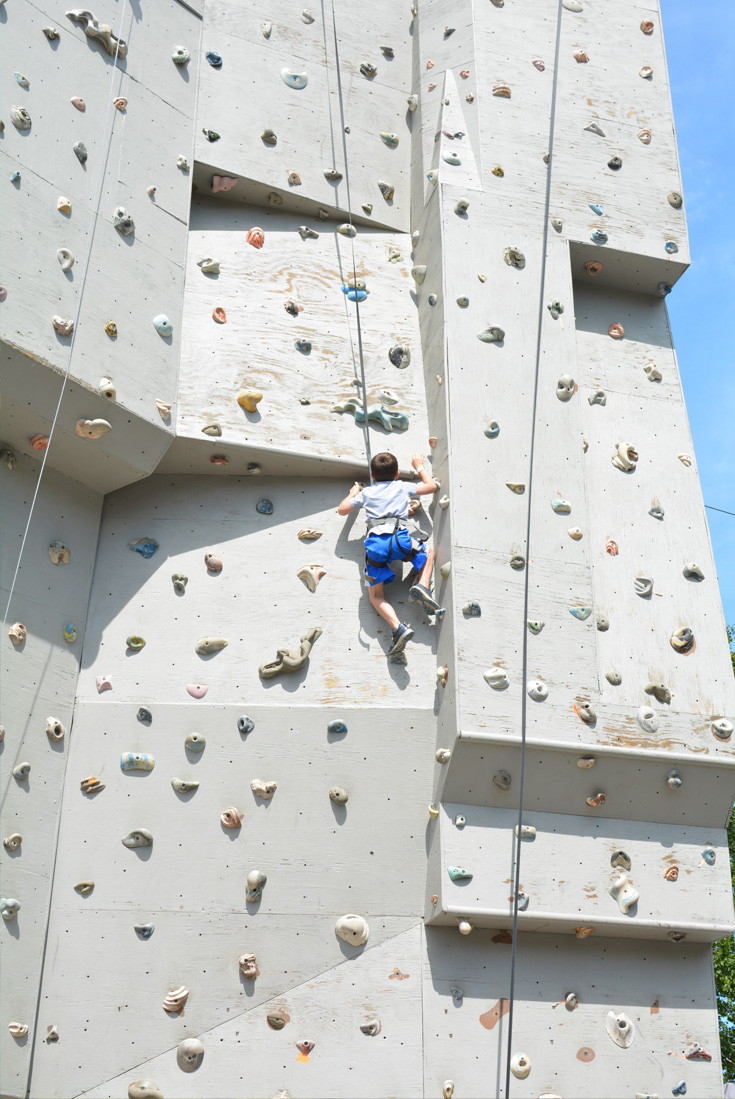 Climbing Wall:
With four different climbing walls to choose from, start off on the easy course, or move on to the harder course to challenge yourself.
Ice Cream:
Cool off with a scoop of ice cream, or shake from the Ice Cream Snack Shack.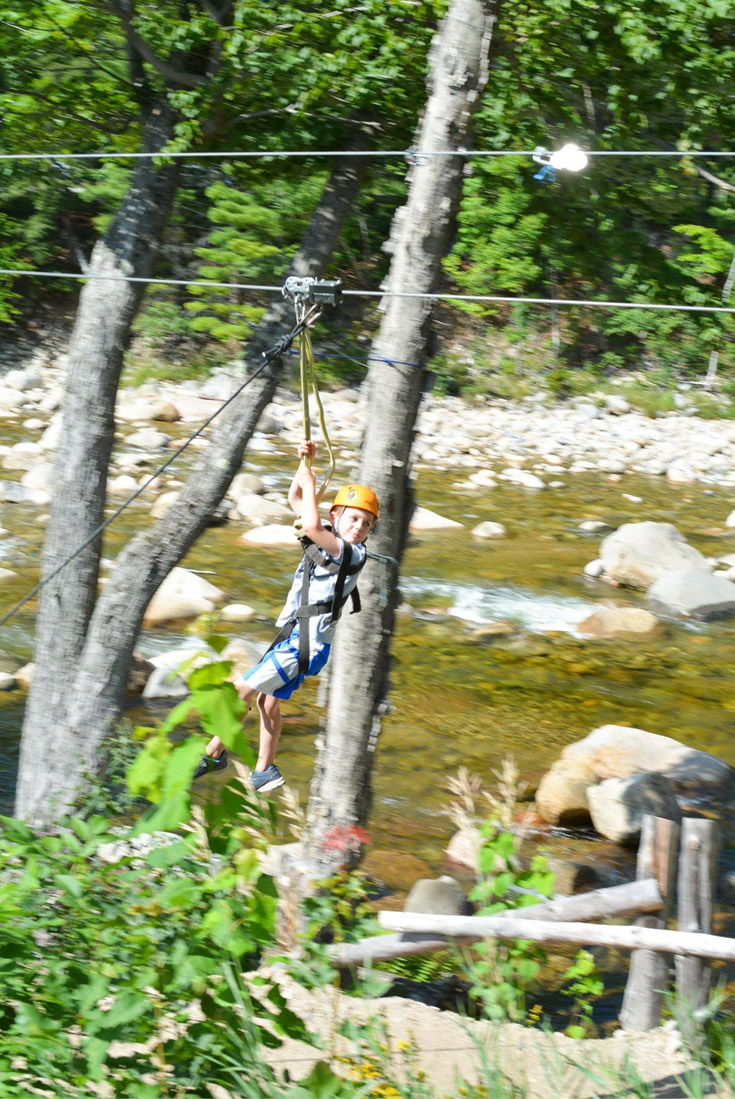 Ziplining.
Soar from tower to tower over the Pemigewasset River on a thrilling zipline ride. Once you get harnessed up, climb the 30 foot tower and get ready to fly like a bird. Feel the rush of adrenaline as you soar 750 feet from one tower over the river, to the 2nd tower and then back again. Ziplining is perfect for thrill seekers, families looking for a new kind of adventure, and even beginners. Rides must weight a minimum of 50 lbs, and may increase on windy days.
Create lifelong memories in New Hampshire's White Mountains. Plan your kid-friendly vacation today!