Learn how to make a simple, Easter craft that's perfect for the classroom parties or a healthy after school snack. This fun Easter snack is made using Wonderful Halos, pipe cleaners, googly eyes, and pom poms.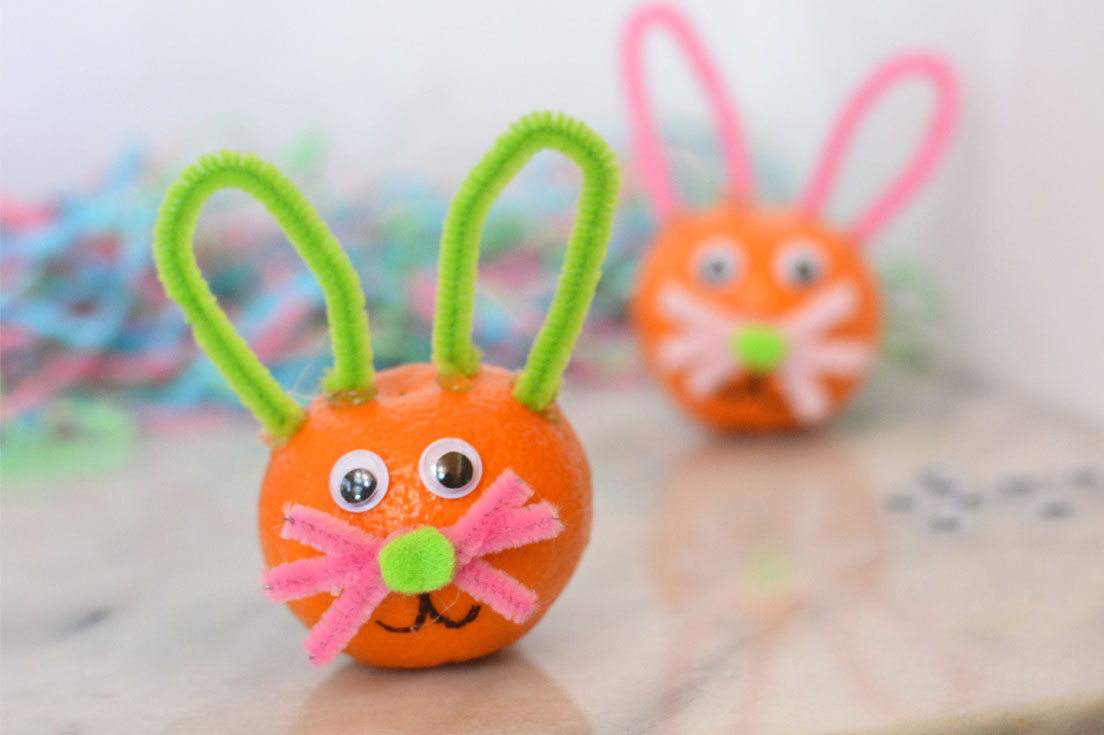 Wonderful Halos Samples provided.
Halos mandarins are a staple on our kitchen counter from November to May. They're the #1 snack that my children reach for when they walk in from school. They're not only loved by the kids, but mom & dad as well. They're sweet, seedless, and easy to peel, even my 2 1/2 year old can peel them. Best of all, they're healthy!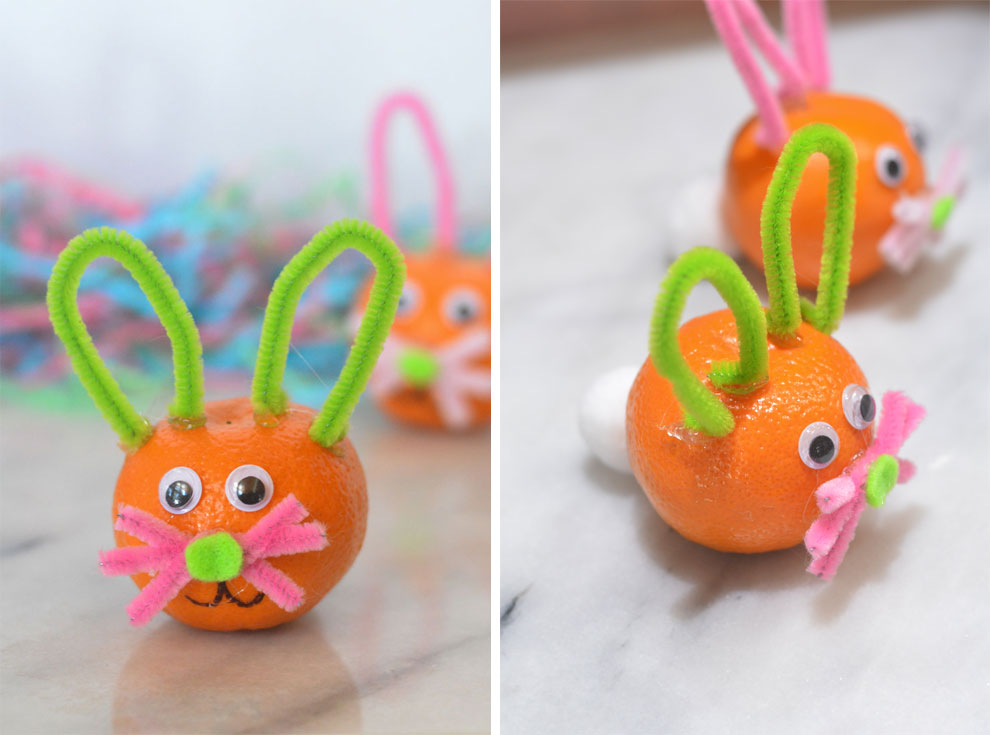 With Easter less than a week away, I surprised the kids with their favorite after school snack disguised as an Easter Bunny. This cute Easter craft is simple to make, and the smiles on my children's faces were priceless. These Halos Easter Bunnies are perfect for a classroom craft, or as a centerpiece for the Easter dessert table.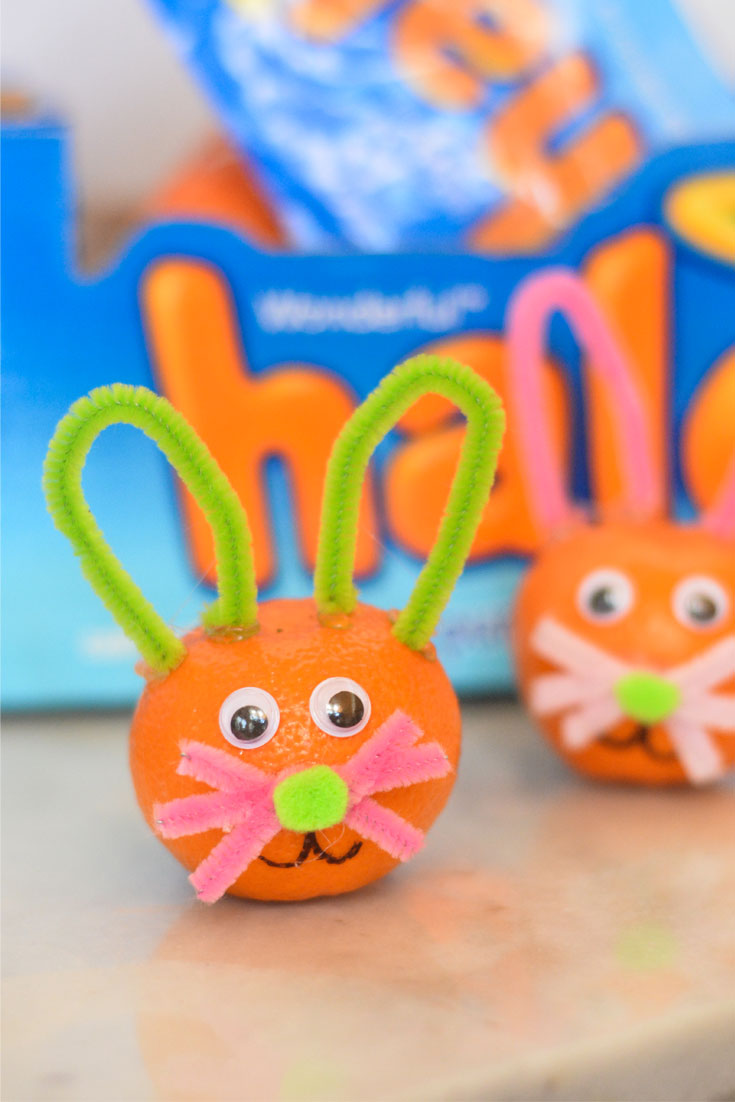 Halos Easter Bunny
For this Easter craft you'll need:
Wonderful Halos mandarins
googly eyes
pipe cleaners

cut into 3rds for ears
cut into 5ths for wiskers

small white pompoms
felt fabric (for the nose)
black marker
glue gun & glue sticks
scissors
Halos Easter Bunny Tutorial:
First, cut the pipe cleaners into thirds. Once into thirds, fold the ends
Making the bunny ears is super easy. Just glue a piece of pipe cleaner in the shape of an ear.  Cut the pipe cleaners into thirds, once into thirds, fold the ends the ends over and glue in place on the mandarin.
Next, glue on the googly eyes.
To make the whiskers, cut a pipe cleaner into 5ths. Take three small pieces and twist together. Secure with a small drop of glue.
To make the nose, cut the felt into small oval shapes. Glue the nose to the wiskers.
Glue the wiskers to the mandarin.
Using a black permanent marker, draw a mouth on the mandarin.
Glue a small white pom pom onto the back to make a tail.
Your Halos Easter Bunny is complete!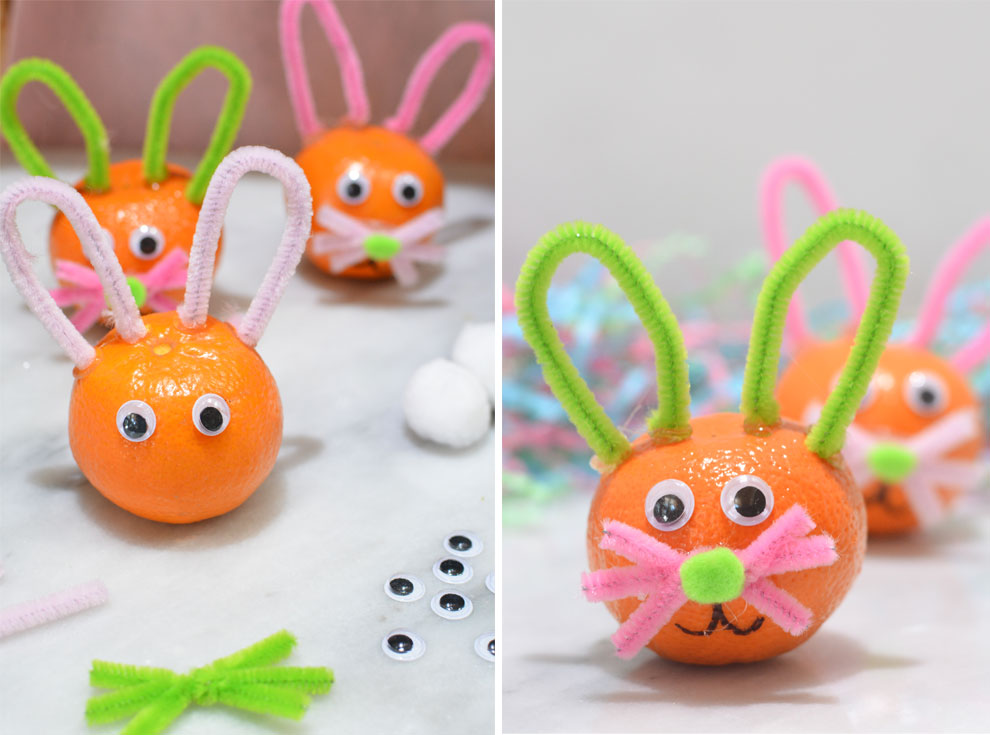 About Wonderful Halos
Wonderful Halos is America's best-selling mandarin brand. They were recently named the number 1 most-loved healthy snack among both parents and kids, according to a 2018 Brand Love™ study. Bursting with Pure Goodness®, Halos mandarins are sweet, seedless and easy to peel. Even better, they are grown and hand-picked fresh from the orchards – tree-to-table, and non-GMO Project Verified making them the perfect portable, convenient, and healthy snack both kids and adults can enjoy. The kid-sized fruit is available in produce aisles nationwide at grocery, mass and club retailers from November – May.