This post is brought to you in partnership with Honeycomb cereal.
Did you know that Post Honeycomb cereal is turning 50 this year! Here at Mommy's Fabulous Finds we're excited to join the celebration by making a well known party favorite, Monkey Munch. I have been to a few birthday parties in the past where Monkey Munch was served, and in anticipation of our 4th of July party, we decided to add a little red, white, and blue to our Monkey Munch.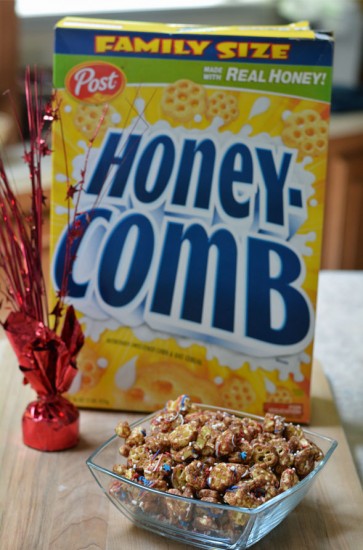 Since 1965, Honeycomb's one-of-a-kind playful shape and sweet honey taste have made the cereal a breakfast classic that is not only great in the bowl, but also a flavorful addition to treats.
Honeycomb cereal is perfect for baking as well as craft projects. In addition to Monkey Munch, we also strung the Honeycomb cereal on a piece of yarn and made cereal necklaces, and we dipped pieces in colored paint and used glue for a colorful art project.
4th of July Monkey Munch
Ingredients:
1/2 cup peanut butter
4 squares of semi-sweet chocolate
8 cups Post Honeycomb Cereal
red, white, and blue candy melts
red, white, and blue sprinkles
small plastic Ziploc bag
aluminum foil or wax paper
Directions:
Microwave peanut butter and chocolate in a large microwaveable bowl on high for 1 1/2 minutes. Stir until chocolate is completely melted.
Pour in Post Honeycomb Cereal and toss evenly to coat. Lay aluminum foil or wax paper on table, and spread cereal mixture onto foil.
Melt candy melts in separate bowls in microwave for 30 second intervals on 50% power until melted, stirring in between. Pour into Ziploc bag, and cut a small portion of the corner. In a striping pattern top the cereal with melted blue and red candy melts, add sprinkles.
Let stand 2 hours or until chocolate coating had hardened. Store in a tightly covered container a room temperature.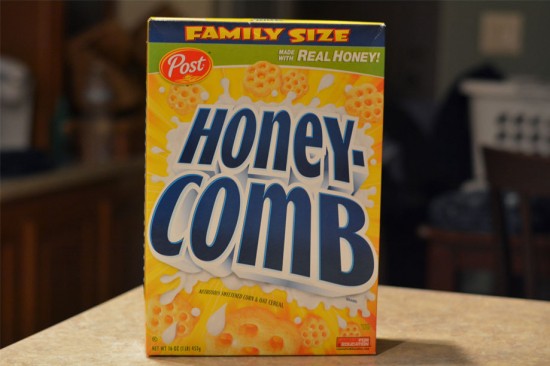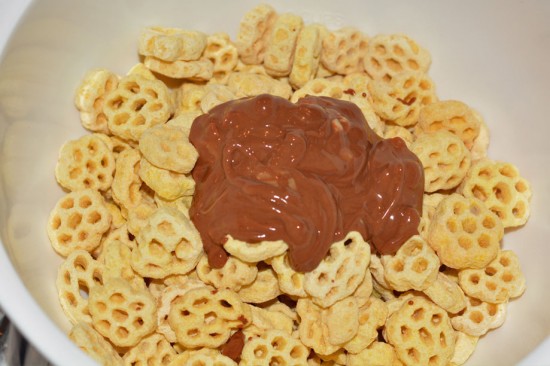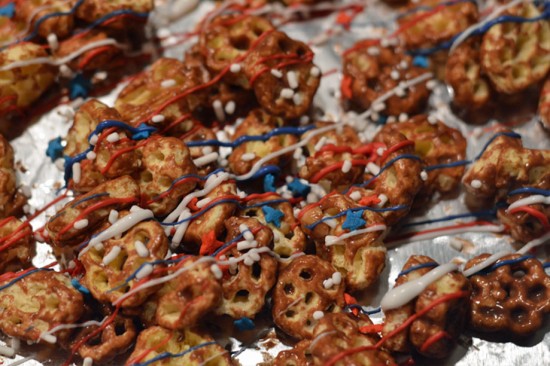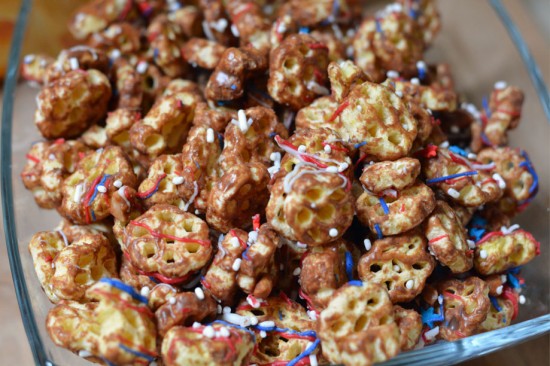 Visit the Post Foods website for a variety of other fun recipe ideas incorporating Post Honeycomb Cereal.
Have you ever made a recipe or craft project using cereal?