As the children get older, the holidays are becoming more exciting, especially Christmas. Our weekends have been busy baking holiday treats, making Christmas crafts, attending holiday events, and decorating the house. We also started a new tradition last year that includes Elf on The Shelf, so each morning the kids wake up all excited to see where he has moved to, he's been a bit lazy starting off this year, but I'm excited to see what mischievous places he will get himself into this year.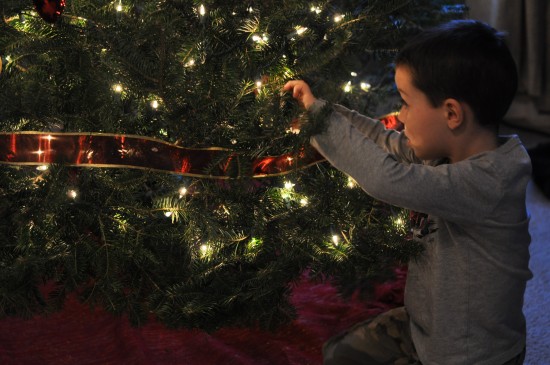 My husband and I both celebrated Christmas with different traditions growing up, so we have combined a few to carry on with our own family. Every Christmas Eve my husband's family would drive around looking at Christmas lights while trying to spot Santa and Rudolph in the sky. My family on the other hand would have a nice dinner Christmas Eve and then each child was allowed to open one present, we have carried the one present tradition on with our family, except it is for a new pair of pajamas. Once the kids put on their new pajamas we then head out to look at all of the Christmas lights and try to spot Rudolph's red nose in the sky. Last year the kids spotted him, so we had to head home to get into bed so that he would come.
With all the excitement that the holidays bring, it's important to not forget about taking care of yourself. Now is the perfect time to unwrap great savings on the HEALTHY ESSENTIALS® website where you can save up to $35 on some of your favorite products including  LISTERINE®, BAND-AID® and CLEAN & CLEAR®.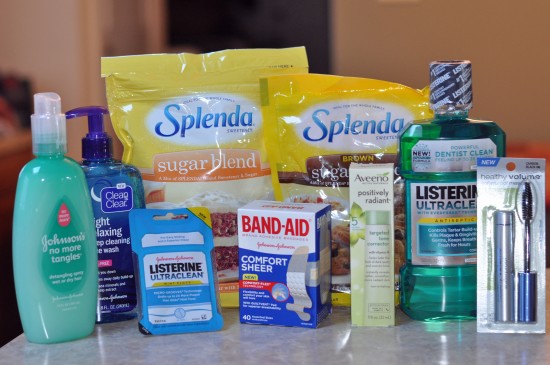 NEUTROGENA® Healthy Volume® Mascara Waterproof: Features a patent-pending waterproof formula with olive oil that penetrates and helps plump the core of each and every lash. From the outside, the Super-Sized Visible Volume Brush builds even the smallest lashes with rich, volume-building color with no clumps, smudges or flakes. The result? 400% fuller, beautifully conditioned lashes!
CLEAN & CLEAR® Night Relaxing Deep Cleaning Face Wash: With deep sea minerals and sea kelp extract, this purifying cleanser cleans deep to effectively wash away daily build-up – like dirt, oil and impurities deep in pores. So effective, this foaming cleanser even washes away dirt and oil you can't see while calming aromas help wind you down – leaving you clean and relaxed. Oil-free. Won't clog pores. Won't over dry.
AVEENO® POSITIVELY RADIANT® Targeted Tone Corrector: Helps reduce the look of stubborn dark spots, discolorations, and uneven tone to improve skin's radiance in just 2 weeks. It is oil free, noncomedogenic and nonirritating.
LISTERINE® ULTRACLEAN® Dental Floss: Shred-resistant dental floss stretches, flexes and slides easily between teeth. MICRO-GROOVES®
LISTERINE® ULTRACLEAN™ Mouthwash: The only leading mouthwash with an anti-tartar ingredient and new EVERFRESH™ Technology for a dentist clean feeling that lasts up to three times longer vs. brushing alone. Has the clinically proven plaque and germ-killing power of LISTERINE® Antiseptic.
BAND-AID® Brand Adhesive Bandages: America's #1 bandage brand covers all your wound-protection needs. BAND-AID® Brand Adhesive Bandages have covered and protected cuts and scrapes for millions of people over 90 years.
JOHNSON'S® NO MORE TANGLES® Detangling Spray: Works to instantly unlock knots and tangles in wet or dry hair. Easy detangling and manageability. Gentle NO MORE TEARS® formula.
SPLENDA® No Calorie Sweetener, Sugar Blend and Brown Sugar Blend:  SPLENDA® Sweetener Products can contribute to a healthier lifestyle by helping to reduce calories from added sugar, and can be used almost anywhere sugar is used, including cooking and baking.  Made from a blend of pure sugar and SPLENDA® Brand Sweetener (sucralose). A half-cup of SPLENDA® Sugar Blend or Brown Sugar Blend replaces a full cup of sugar, so it provides only half the calories and carbohydrate of sugar. Specifically designed for use in baked goods to add sweetness and moistness and provide browning and volume.
Save on Healthy Essentials!
Visit the Healthy Essentials® website to download coupons and save on your favorite products during the holidays.
Do you have any favorite holiday traditions?
This post is part of the HEALTHY ESSENTIALS® 2014 program by Johnson & Johnson Consumer Companies, Inc. and The Motherhood, who sent me a box of products and compensated me for my time. Opinions, experiences and photos shared here are all my own, and I hope you enjoy them.