Thank you TRANSFORMERS for sponsoring this post. Join us in celebrating their 35th anniversary!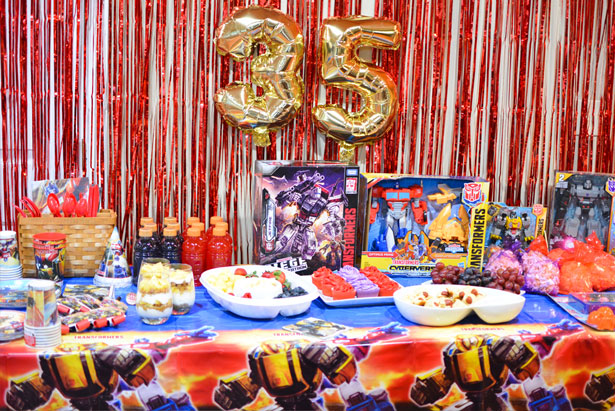 This year, TRANSFORMERS is celebrating its 35th Anniversary!
This past week, we celebrated 35 years of TRANSFORMERS with an afternoon of laughter, giggles, Transformers toys and fun snacks with family and friends. I can remember watching a Transformers movie, and when my oldest son received a few toys at his birthday party in 2012, TRANSFORMERS became an even more common name in our house. Since then, the Autobots have been battling the evil Decepticons. There's just something about a toy converting from a robot to a vehicle and saving the day that caught all three of my boys' attention.
Bumblebee and Optimus Prime were two loved and played with Transformers bots with my two oldest boys and after my youngest watched a TRANSFORMERS show on a streaming service a few months ago, the figures we had in the house soon became a favorite of his. His Transformers figures go with him everywhere; to the soccer fields, to the arena, and even on our recent road trip to Michigan.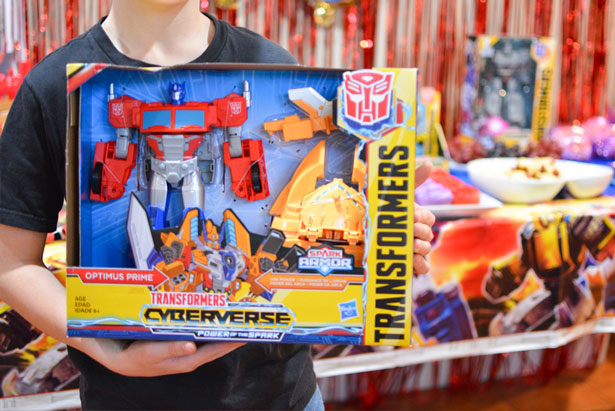 5 Ways to Celebrate 35 Years of TRANSFORMERS
Wear red for AUTOBOTS or purple for DECEPTICONS
Pick up TRANSFORMERS themed plates, napkins, and cups to add fun and excitement to dinnertime.
Watch The Transformers: The Movie, first released back in 1986
Start a collection of Transformers BotBots figures, collectible toys that convert from everyday objects to robots.
Throw a TRANSFORMERS party with friends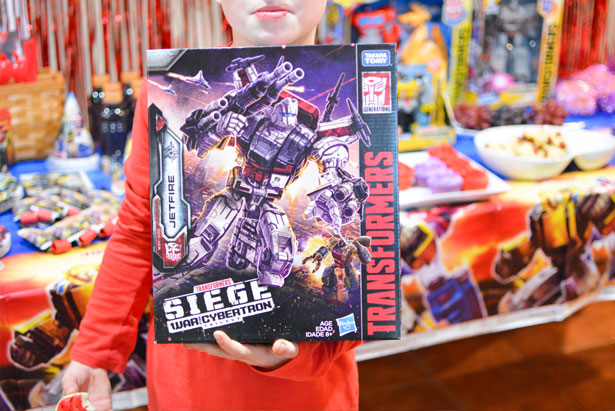 TRANSFORMERS 35th Anniversary Party!
We've been so caught up with the hectic schedules of soccer and hockey that I couldn't wait to surprise the boys with a TRANSFORMERS party to celebrate the 35th anniversary. It was so hard to keep it a secret when I opened the box of Transformers toys, plates, napkins, and additional party supplies. But I knew as soon as they saw the party supplies and Jetfire, Megatron, and Optimus Prime action figures they'd want to open them and not wait for the weekend when we would have their friends over for a party.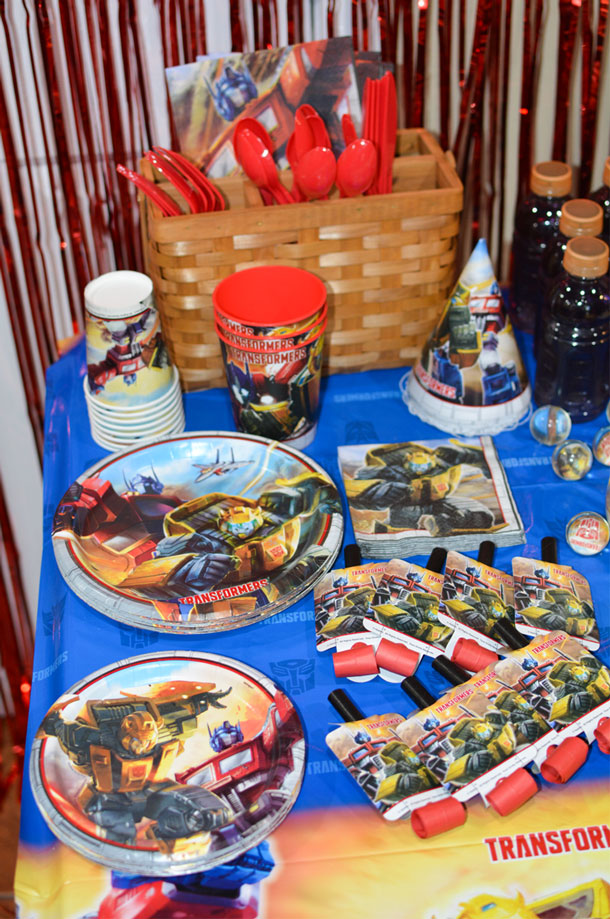 I went with easy finger foods and a purple and red theme, based off the Autobots and Decepticons. The red metallic tinsel curtains were a cheap and easy way to decorate the wall, and I found these #3 and #5 balloons for just $1 each! I loved watching all of their eyes light up as they walked into the TRANSFORMERS themed party.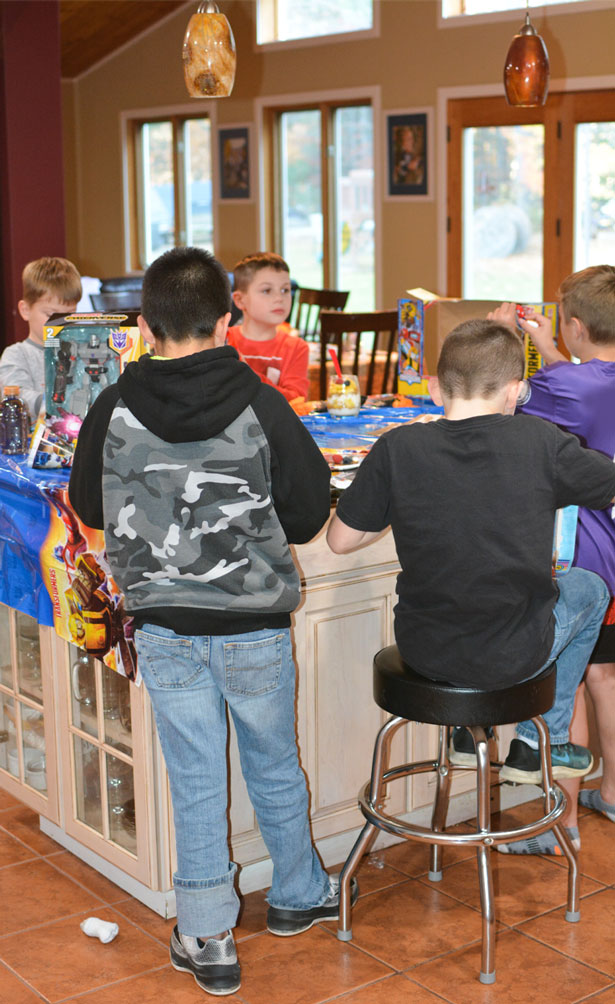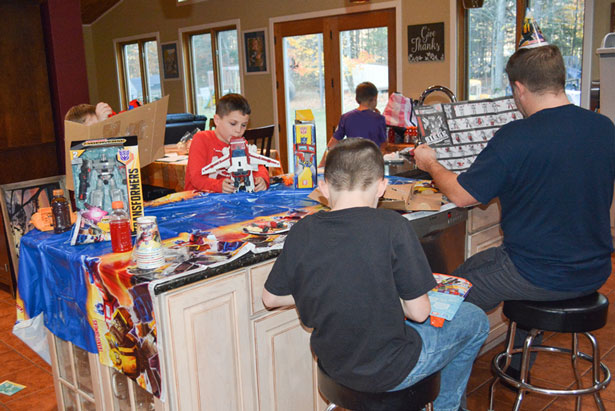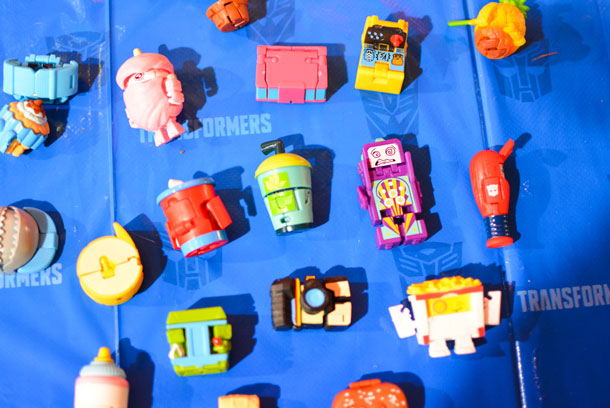 Are you a TRANSFORMERS fan?
Will you be picking up any new Transformers toys to celebrate more than three decades of MORE THAN MEETS THE EYE?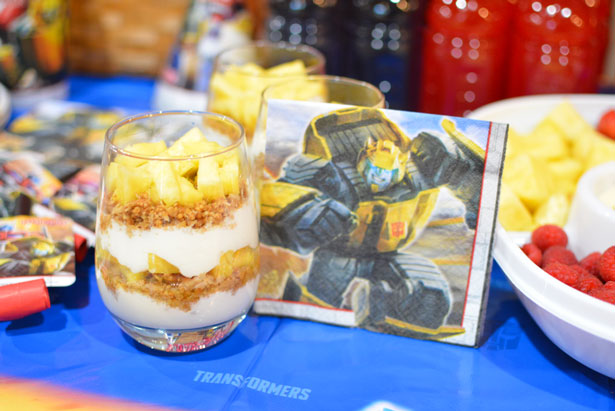 Bumblebee Inspired Yogurt Parfait
This yogurt parfait recipe combines fresh pineapple, vanilla yogurt, and crunchy granola for a fun snack idea to celebrate the TRANSFORMERS 35th Anniversary.
What you'll need to make this Bumblebee Inspired party food:
Pineapple – cut into bite sized pieces
Vanilla yogurt, low fat or Greek
Granola
Directions:
To assemble the parfait, layer yogurt, granola, and pineapple in a small glass dish or cup.
Serve immediately, or refrigerate up to 2 hours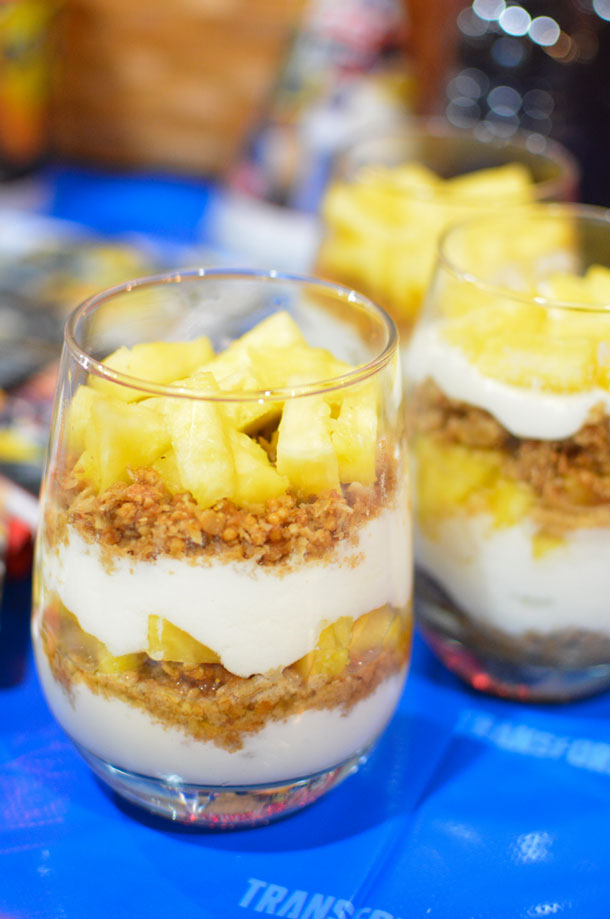 Make Ahead Tip: Assemble the pineapple yogurt parfaits up to 2 hours ahead of time and store in refrigerator until ready to serve. After a couple of hours, the granola can get mushy.