Disclosure: This post is brought to you by Hasbro. All opinions are my own personal and honest thoughts.
Have a Transformers fan in your household? For the first time, Transformers fans can construct, customize and convert their very own Bots with Hasbro's new line of Transformers Construct-Bots. Transformers have become well-known in our house, the boys were first introduced last Christmas when they received the Hasbro Transformers Rescue Bots which they transform weekly from robots to vehicles. They were both beyond excited when they spotted the new Construct Bots, and especially that there was two of them, one for each.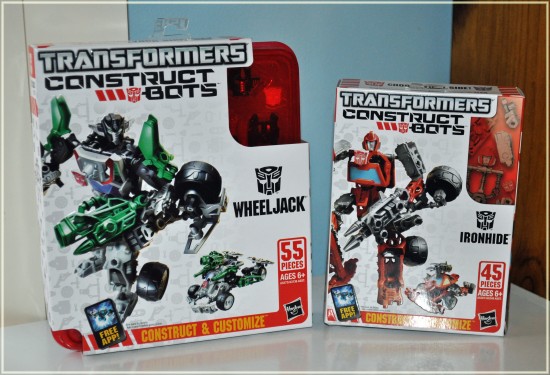 Construct, Convert, Create
We first started putting together Ironhide, the red Contuct-Bot. The step-by-step directions were clear and each page included a colored image to help, Jacob needed a little assistance, but for the most part he put the Construct Bot together himself. I was happy to see larger pieces that snapped together, we have a few different action figure block sets and they are very delicate, and a couple of them are hard to play with as the pieces constantly fall off and get lost, so they're used more for display on the boy's dressers. The Transformers Construct-Bots pieces fit securely with each other and don't come apart easily allowing the children to enter a world of imagination with the Transformers Construct-Bots transforming them from vehicles to robots.
Each Transformers Construct-Bots figure includes a robot frame, armor, weapons, and accessory parts that allow children to build and customize their own Transformers robot action figure. Once the bot is built, just move a few pieces around and he'll change into a vehicle. All of the parts are interchangeable between all Transformers Construct-Bots figures, so the possibilities are almost endless as children customize their bot to their liking.
Buy It: 
Hasbro's Transformers Construct-Bots are available to purchase at retailers nationwide including online at the Hasbro Toy Shop, Toys R Us and Amazon.com.
Transformers Construct-Bots Scout Class Ironhide: $9.99
Transformers Construct-Bots Elite Class Wheeljack: $14.99