I participated in an Influencer Activation on behalf of Influence Central for Cake Boss. I received product samples and a promotional item to thank me for participating.
While I have always enjoyed decorating cupcakes, I never decorated a cake until my son's first birthday, and since then I have decorated all of their birthday cakes. Jonathan's first birthday cake was a simple teddy bear cake covered with blue frosting, and Trevor's first birthday cake was an Elmo shaped cake with frosting piped on. Since then I have expanded my bake ware and cake decorating supplies and for the past few years I have been making their cakes with fondant, last year their cake was a three-tier TMNT with the ninja turtles constructed out of fondant. After watching cake boss, the simple one layer cakes with regular frosting don't cut it it anymore, I'm always inspired by his elaborate multi-tier birthday cakes and hope to one day decorate cakes for friends, right now I usually just make them for my own family.
This past weekend I was able to invite over a few friends for an afternoon of fun with Cake Boss products, while the kids enjoyed sledding outside, the moms got their cake decorating on. While there were a few other mom's that also make all of their children's birthday cakes, they have never used fondant before, just regular icing. I received pretty much everything needed in order to host a cake party, and guests were excited to go home with a number of Cake Boss cake decorating tools, frosting, sprinkles, as well as one larger gift.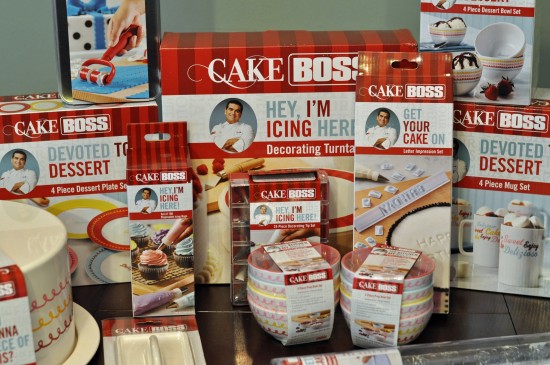 Tips for Cake Decorating:
Crumb Coat: I baked all of the cakes and cupcakes the night before and placed them into the freezer so they'd be all ready for the next afternoon. I find that the cake are easier to decorate when frozen and since we had plenty of room in the garage freezer, that's where they went. Since I pretty much taught myself how to cake decorate and it has been a trial and error process through the years, and thanks to a few YouTube videos, I have learned a few tips and tricks in the process, like a crumb coating. A crumb coat is when you do a thin layer of frosting all around the cake, then place it into the fridge or freezer to harden. Once the layer is hard, it's easier to put on a smooth coat of frosting without catching all of the crumbs on the spatula.
Place top cake upside down: Also if you are making a multi-layer cake, turn the top cake upside down, that way you will have a smooth top and corners to either apply frosting, or fondant.
Keep Rolling Mat Clean: When using fondant, it's important to wipe the rolling mat clean. We had a few instances where there was a scrap of another color and once blended into the fondant, it's hard to take out especially after you have rolled a 15 in circle as your base to the cake, a speck of green fondant in bright pink doesn't blend in too well. But we decided to cover it up with the stars. If you make a mistake, try to cover it up instead of having to re-roll new fondant. Almost all of my cakes I have been able to cover up mistakes without the guests even noticing.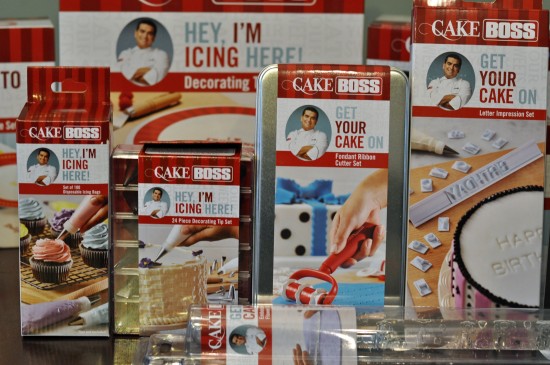 Cake Decorating Must Haves:
Cake Boss Decorating Turntable
Cake Boss 8″ Icing Spatula
Cake Boss 11.5″ Spatula
Cake Boss 24-Piece Advanced Tip Set
Cake Boss Deluxe 9″ Round Cake Pan
Fondant Must Haves:
Cake Boss Fondant Ribbon Cutter
Cake Boss Fondant Smoother
Cake Boss Fondant Cutter
*A Fondant Roller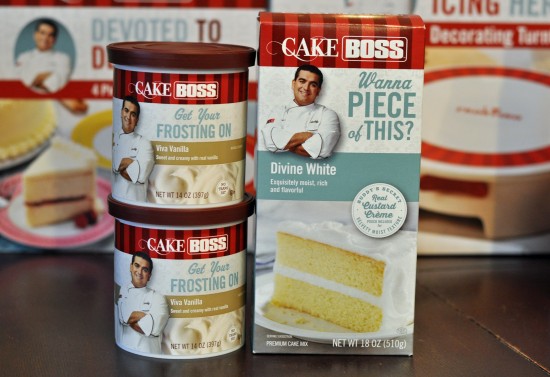 Viva Vanilla Frosting & Divine White Cake Mix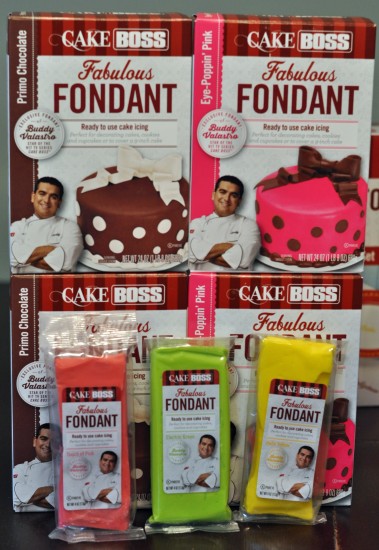 Eye Poppin Pink 24 oz Fondant, Primo Chocolate 24 oz Fondant
Electric Green 4 oz Fondant, Hello Yellow 4 oz Fondant, Touch of Pink 4 oz Fondant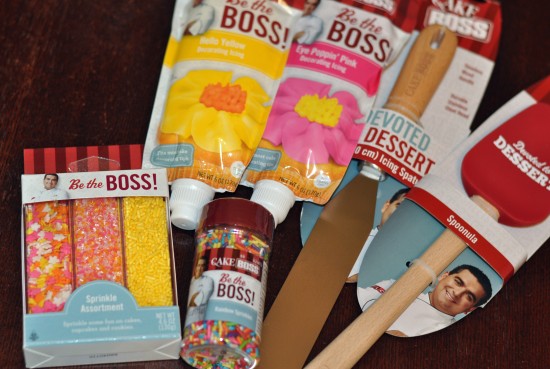 Hello Yellow Squeezable Frosting & Eye Poppin Pink Squeezable Frosting
Out of all of the products received, the Cake Boss Decorating Turntable and Squeezable Frosting were hands down the favorite. The turntable make it easy to decorate the cakes, instead of having to constantly move around the cake to get at different angles, you can simply turn it. There is also a lock option so you don't accidentally toss your cake on the floor if you are moving it around. The tips in the Cake Boss 24-Piece Advanced Tip Set fit perfectly on the Squeezeable Frosting, there was no having to use food coloring to mix colors and no having to put the frosting in a separate bag. The pre-made squeezable frosting was convenient and cut down on time having to prep the frosting ourselves.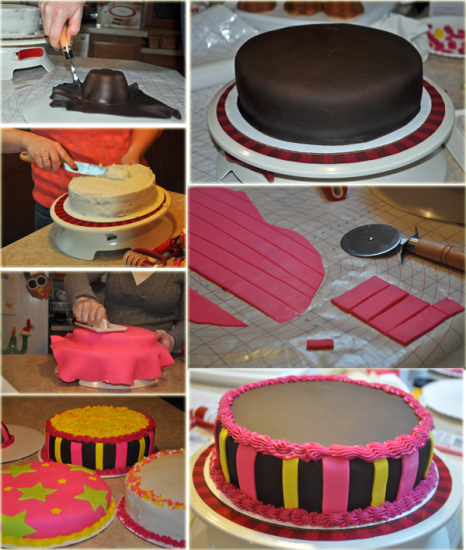 Overall, I think we did a great job. I'm getting more used to handling fondant every time I use it and I'm looking forward to the coming months and making Jonathan and Trevor's birthday cake for another year. We're definitely going to have another cake decorating party. I had never thought to have one before, but it was definitely a big hit and now we all have goodies to enjoy.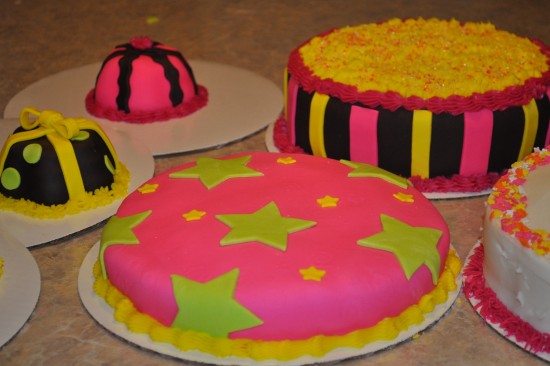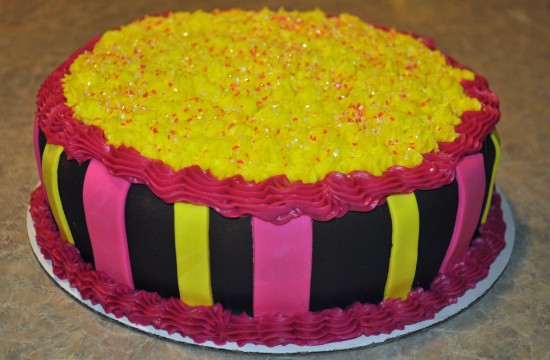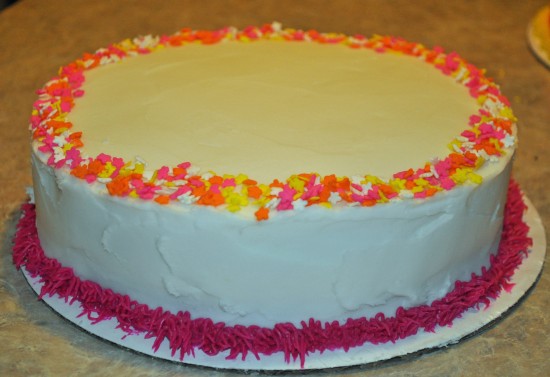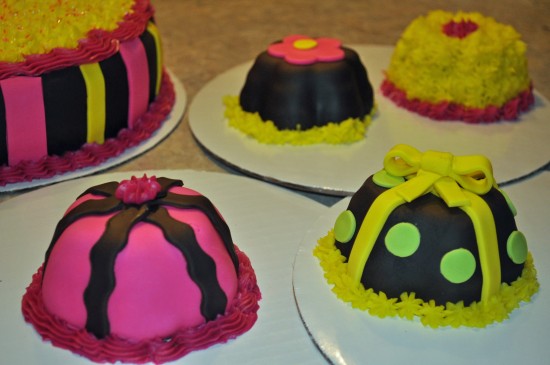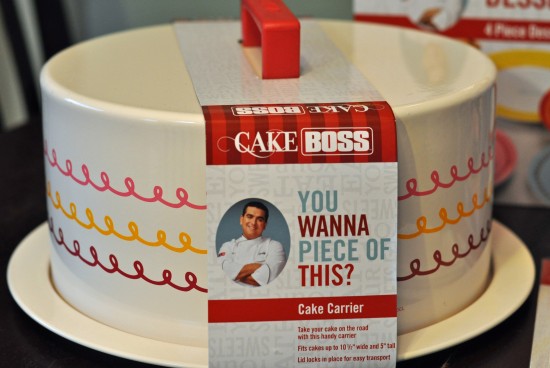 Where to buy Cake Boss products?
Visit the Michaels website and check out the Cake Boss products, maybe even pick up a few as holiday gifts!