Soon after my husband surprised me with an iPad Mini two years ago for Christmas, I couldn't get it away from my children. I had downloaded a few education apps for them to use while we were traveling and I was surprised by how much they were actually learning. I always said that they would not be allowed on my iPad Mini except for during long trips and appointments but after seeing how much they were learning I decided to keep the apps and expand the limits on when and where they can use the iPad. We soon acquired a second iPad 2nd generation from my parents which has turned into the kid's iPad for educational games only.
The great part of the educational apps is that many of them are fun and the kids do not realize they are learning. One of Trevor's favorite characters is Mickey Mouse so he was thrilled to learn that I downloaded a new app, Mickey's Magical Math World where he can join Mickey, Goofy, Minne Mouse, Daisy, and Donald Duck on a fun-filled Space adventure that explores math concepts.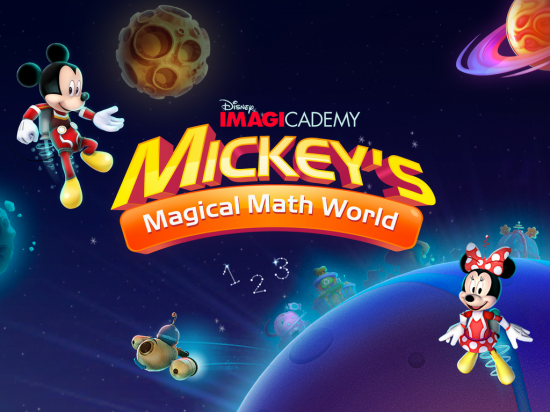 For Kids: Mickey's Magical Math World:
Explore Shapes & Build Rockets- Mickey's Rocket Build
Sorting with Goofy
Add & Subtract – Donald's Alien Number Line
Practice Counting & Recognize Patterns- Minnie's Robot Playground
Explore and Solve Solve Number Problems with Daisy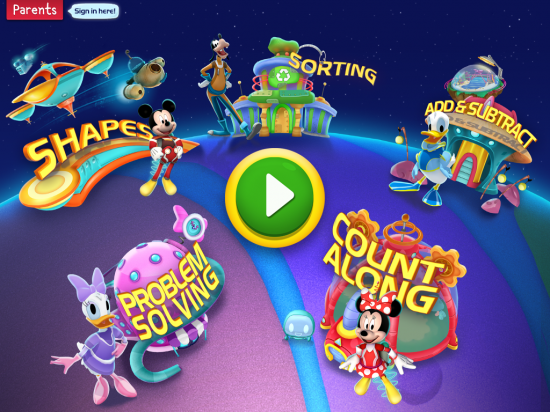 Mickey's Magical Math World is designed to engage children ages 3-8 with the power of imagination and creativity. Kids can explore, recognize and identify shapes with Mickey's Rocket Build; Play with numbers and patterns within Minnie's Robot Playground; Ponder early number concepts with Donald's Alien Number Line; Explore Counting to 10 and early problem solving with Donald's Sleepwalking Aliens and experiment with shapes, patterns and sorting skills with Goofy. Mickey's Magical Math World has become a favorite in our house, and at four years old Trevor cannot wait to get on his iPad during our educational sessions so that he can solve simple math problems, and match shapes with Mickey & his friends, the games are a bit easy for our almost seven year old and he just breezes through the levels.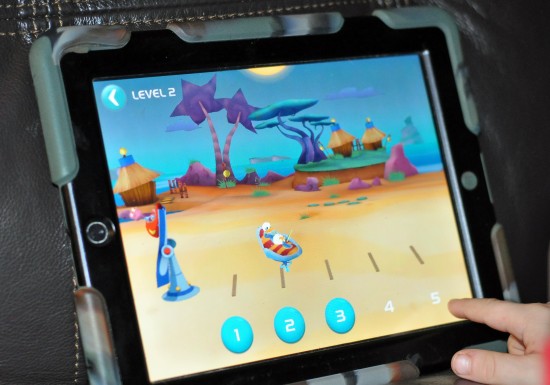 Mickey's Magical Math World: Compatible for the iPad only (2nd generation or higher) and can be downloaded by visiting the Apple's App Store in the Kids, Education and Entertainment categories.
For Parents: Disney Imagicademy: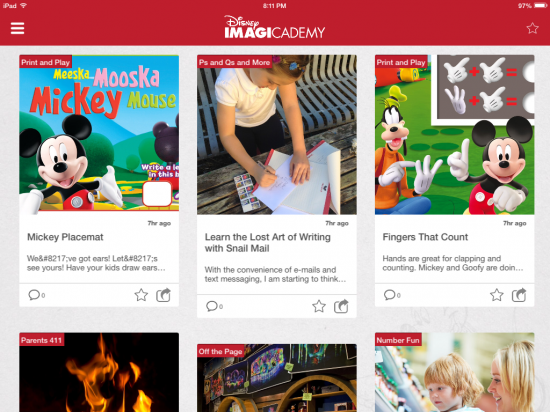 Have you ever had one of those "what can we do today" days? I've have plenty, especially with this cold weather keeping the kids inside most afternoons. Disney Imagicademy Parents is a free new app that gives parents ideas on "What can I do today to help my child grow?'"  Through daily articles and Imagicademy-inspired activities, you'll find fun ideas that will spark creativity within your child. In addition to sharing fun ideas, "Disney Imagicademy: Parents" also serves as a portal into children's Mickey's Magical Math World, where parents will be able to view their child's latest creations, and provide encouragement with a virtual "high five".
Print & Play – activities to print
Parents 411 –  advice & tips
Number Fun – mealtime math
Imagine That – make your own wrapping paper
From the Lab – recipes
Disney Imagicademy: Compatible with both the iPhone and iPad.
Download the free Disney iPad apps:
I was selected for this opportunity as a member of Clever Girls Collective and the content and opinions expressed here are all my own.