The new A&E Real Life Series MODERN DADS will be premiering on August 21st at 10:30/9:30c. This looks like a hilarious new series to start watching and I can't wait for the premiere. To help celebrate the new series, the The MODERN DADS Tour will be traveling the East Coast and making stops at select locations. Families will be able to stop by the fun-filled event and check out the tricked out RV.  You'll be able to have your family photo taken for free, check out the ultimate Modern Dads "man cave," and walk away with Modern Dads swag including sidewalk chalk, bubbles for the kids, and more.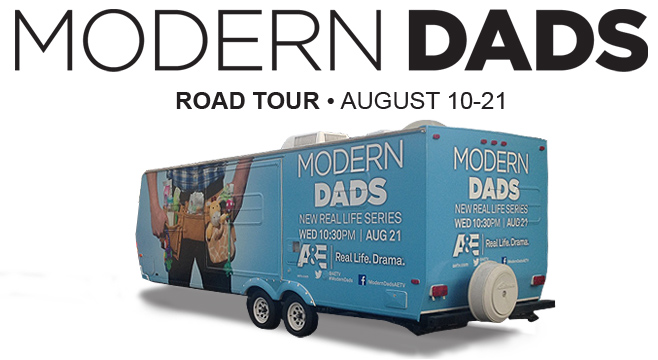 The MODERN DADS Tour will be making two stops New England this week!
Six Flags New England
Address: 1623 Main St Agawam, MA 01001
Date: Wednesday, August 14th
Time: 12:00PM- 4:00PM
Pawtucket Red Sox Game at The McCoy Stadium
Address: 1 Columbus Ave Pawtucket, RI 02860
Date: Thursday, August 15th
Truck will be on site @5:30pm and
Game Time: 7:05PM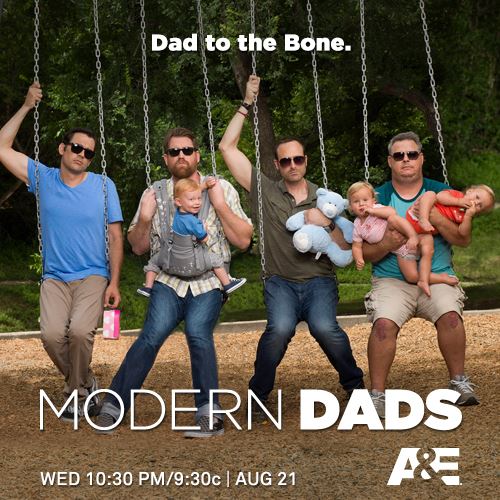 MODERN DADS features four stay-at-home dads who may be a little unconventional, but they get the job done. Banding together, their "guys club" is a tribe of suburban, child-rearing dudes who are just trying to do their thing… with a kid (or four) on their hip. This new series will follow their exploits as they navigate their lives; juggling the requirements and social expectations of being both a `modern man' and 'modern dad' while their significant others are off at work.
We will be stopping by the Modern Dads Tour tomorrow at Six Flags so make sure to check back to see some pictures! Will you be attending? Maybe we'll see you there!
To learn more about the new series Modern Dads, visit http://www.aetv.com/modern-dads/
Disclosure: Tickets to Six Flags were provided. All opinions are my own personal and honest thoughts.