Two summers ago a friend of mine drew a racetrack with Crayola Sidewalk Chalk on the driveway for Jacob to ride his bike, and boy has that racetrack inspired a world of imagination. Ever since that day the boys are always asking me to draw them roads. Our roads have evolved into cities, complete with McDonald's, parking lots, and car-washes that have "fresh air" to dry off the cars bikes.
Most weekends we spend at our lake house in New Hampshire, where there is a huge driveway for the boys to ride around. From the moment they wake up in the morning, till the time I actually draw the road all I hear is "Mom, can you please draw me a road now." As soon as I draw that road city, they are content and play for hours at end, riding their bicycles and scooters all around. Throughout the day they'll run to Dunkin Donuts and get me an iced coffee, stop by the local pool and go swimming and also go to the grocery store – all while not leaving the driveway. Everyday is a new adventure and I love how they use their imagination, acting like the "city" is real and talking to pretend store staff.
Just as we were running low on Side Walk Chalk, Crayola sent the boys a "Get Out and Create" gift pack that included Washable Sidewalk Chalk as well as a Color Wonder Mini Stow and Go, and Color Wonder Mess-Free Glitter Paper and Markers. The Color Wonder line is great for Tyler, as I don't have to worry about him accidentally coloring the kitchen table or furniture with markers. The Color Wonder markers only work on the Color Wonder paper. All of the tips of the Color Wonder markers are white but whatever color is on the cap (or on the end of the marker if you misplace the cap), is the color that will appear on the paper.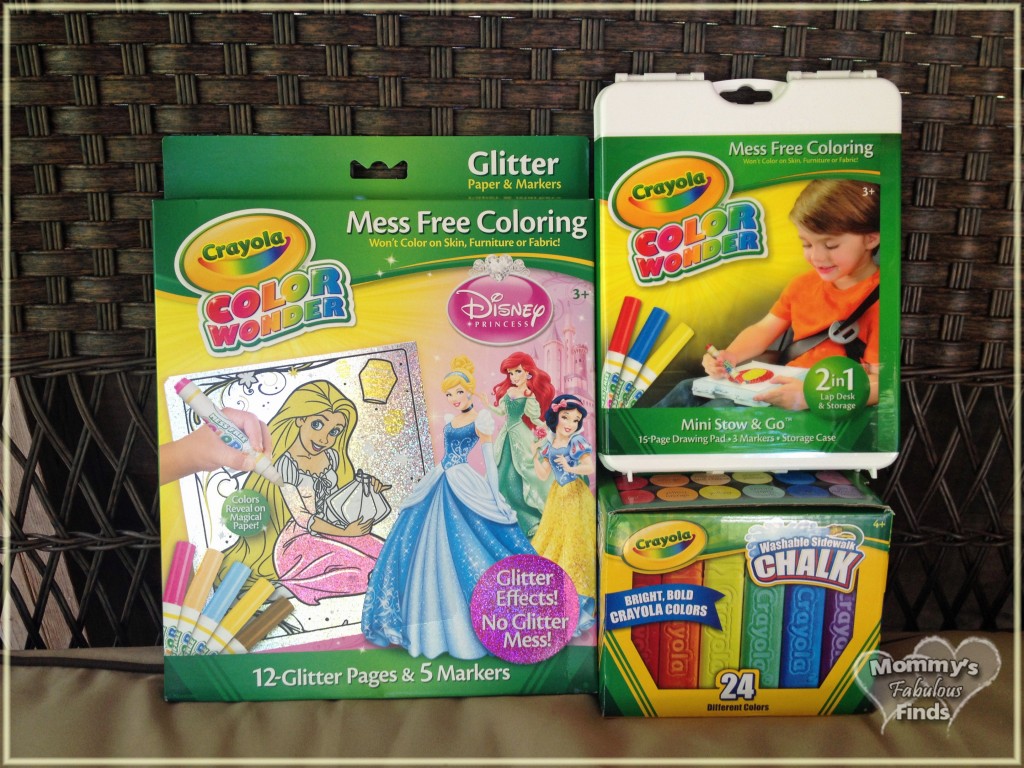 Since our family travels almost every weekend in the summer, the Color Wonder Mini Stow and Go, has been great for in the car. It provides a hard surface so the children can color while sitting in their car seats and since the markers will only show up on the special Color Wonder paper, I don't have to worry about covers being lost and marker stains on the seats. The storage container is great for keeping the paper and markers together, instead of having them scattered all around their room.
Crayola Giveaway:
Thanks to Crayola, one lucky reader will win a Crayola "Get Out and Create" gift pack. To enter, simply fill out the form below.
– (1) Pack of Washable Sidewalk Chalk
– (1) Color Wonder Mini Stow and Go
– (1) Color Wonder Mess-Free Glitter Paper and Markers
By entering this giveaway, you agree to the Giveaway Rules. This giveaway will end on August 21, 2013 at 11:59pm EST. The winner will be chosen via Rafflecopter. The winner will have 24 hours to respond or a new winner will be selected. You must be 18 years or older. Open to U.S.  residents only. No P.O. Boxes.
Disclosure:  The Crayola product, information, and additional gift pack have been provided by Crayola All opinions are my own.