As a mom of three, I'm always on the lookout for ways to boost my children's imagination and creativity. A good imagination can help advance their cognitive development, and help improve their social skills and vocabulary. I encourage the kids to think outside the box to come up with creative ideas, as using their imagination to see things beyond reality will not only help them in school but to come up with creative ideas at work or at home as they get older.
In our house screen time is very limited, especially during the summer months. If it's nice out the kids are outside from morning until sunset. We'll have down time once in a while where the kids can watch a movie or play on their iPads, but their iPads and DS's are mainly for car rides as we spend a lot of time in the car traveling.
Antsy Pants has a new line of Build & Play Kits that are available exclusively at Target and encourage endless imaginative play for children. In addition to the Build & Play Kits, fun covers including a Pirate Ship, Lemonade Stand, Ice Cream Truck, Farmer's Market, and Circus Tent are also available.
Antsy Pants™ Build & Play Kits:
The Antsy Pants™ Build & Play Kits feature durable color coded poles and Snap and Click™ connectors that make assembly easy and fun. The large set allows children to let their imagination run while as they build pirate ships, lemonade stands, tents, an ice cream truck, ball pit or even their own custom structure. Two additional sets are also available in small and medium sizes.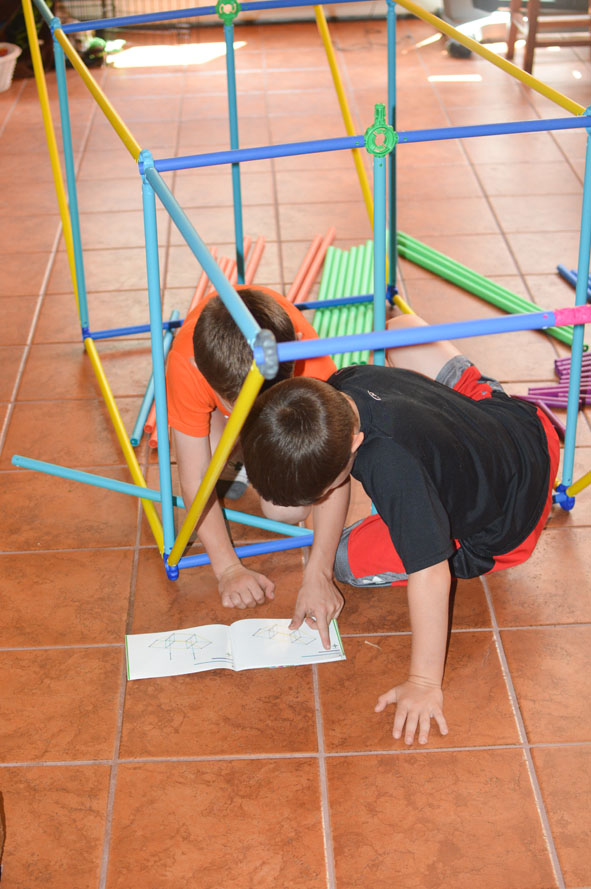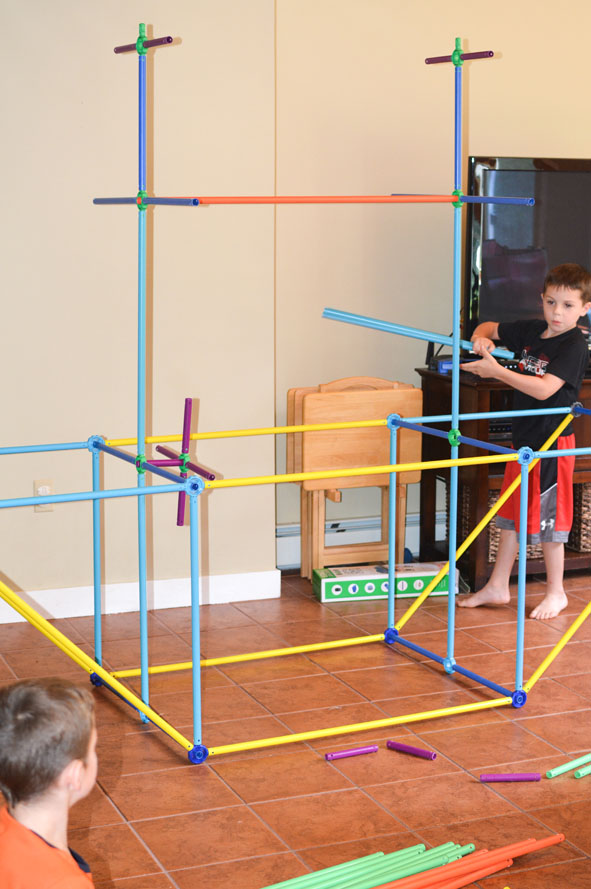 A booklet is included that shows the step-by-step colored directions to build the larger structures: pirate ship or ice cream set, as well as all of the medium and small structures.
I put the older kids to the test and they were able to follow the step by step directions to put together the Pirate Ship. I enjoyed watching them work as a team to build the set, only needing help to put on a couple of the top pieces and the flags as they could not reach.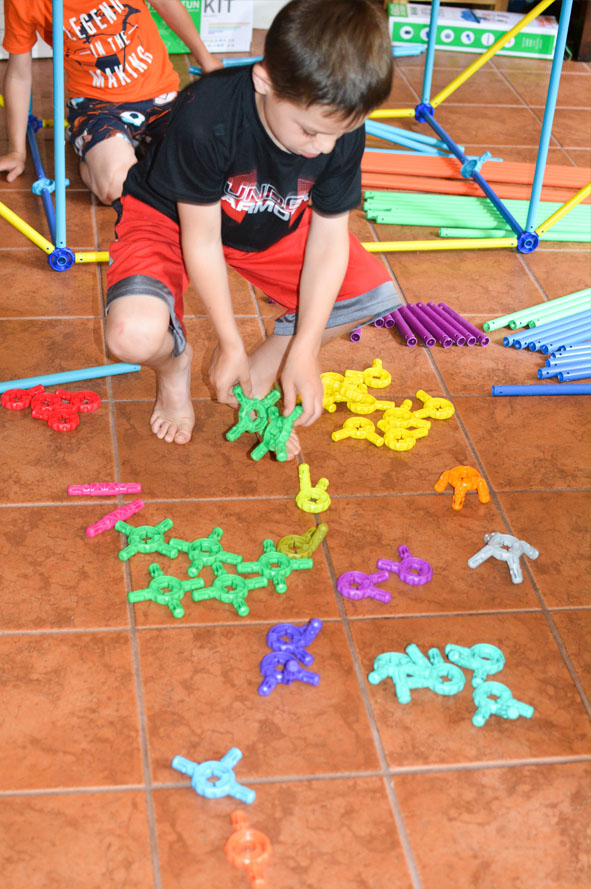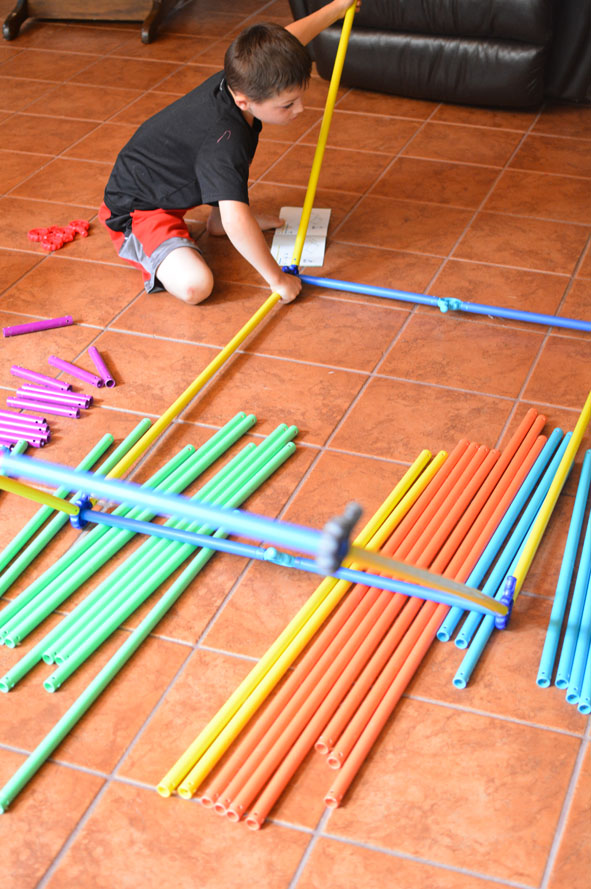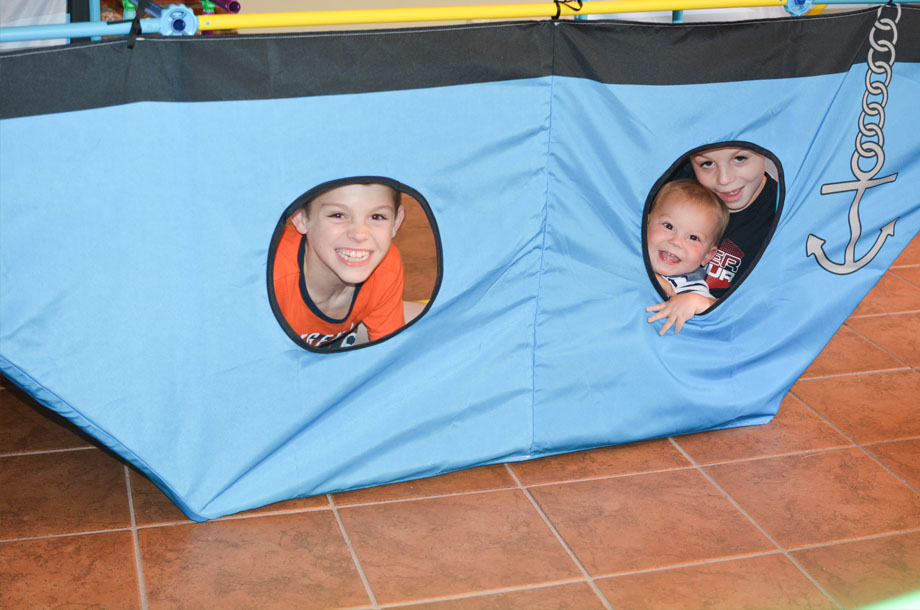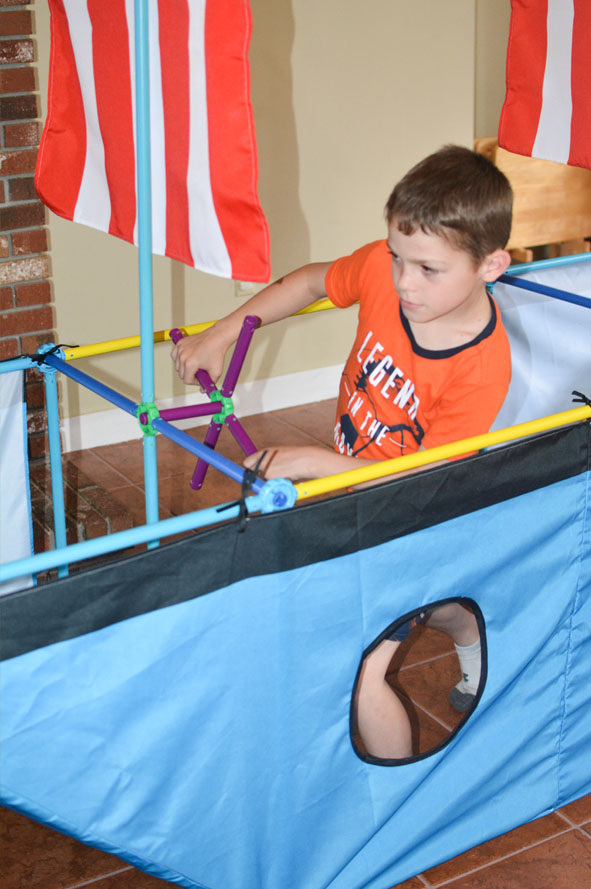 The large playset is large, and took up a decent amount of room in our living room. The size is perfect for outdoor fun when the sun is shining, or in a larger playroom. If you do bring it outside make sure the ground is dry as the fabric covering is spot clean only. Since it can be used outdoors, I would have liked to see the covers machine or hand washable, not just spot clean.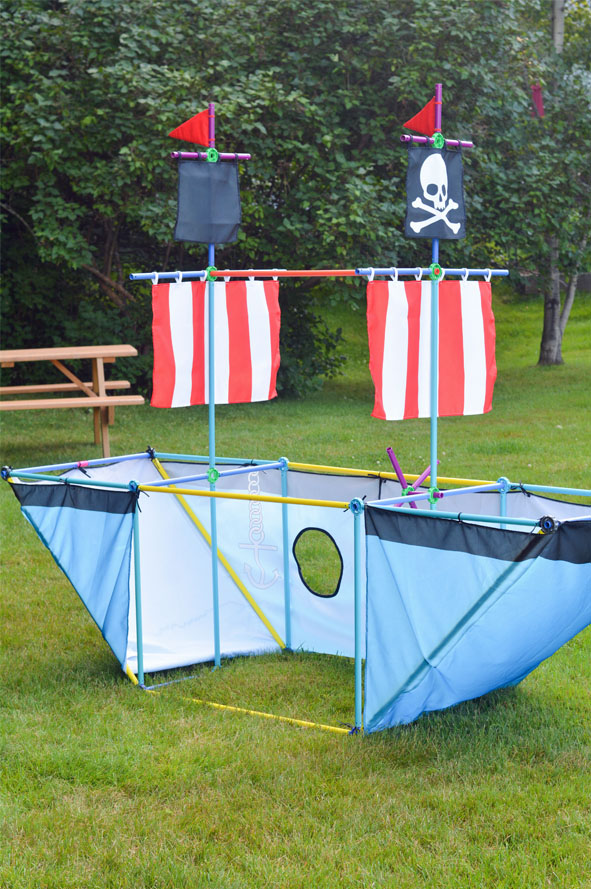 Let play time begin!
It wasn't long before the kids were outside sailing the seas with their Antsy Pants Pirate Ship. They would screech as they would hit some high waves that rocked the boat up and down, trying to maneuver the ship while falling from side to side. Every so often I would hear some pirate talk as they talked back and forth to their parrot that was perched on one of their shoulders.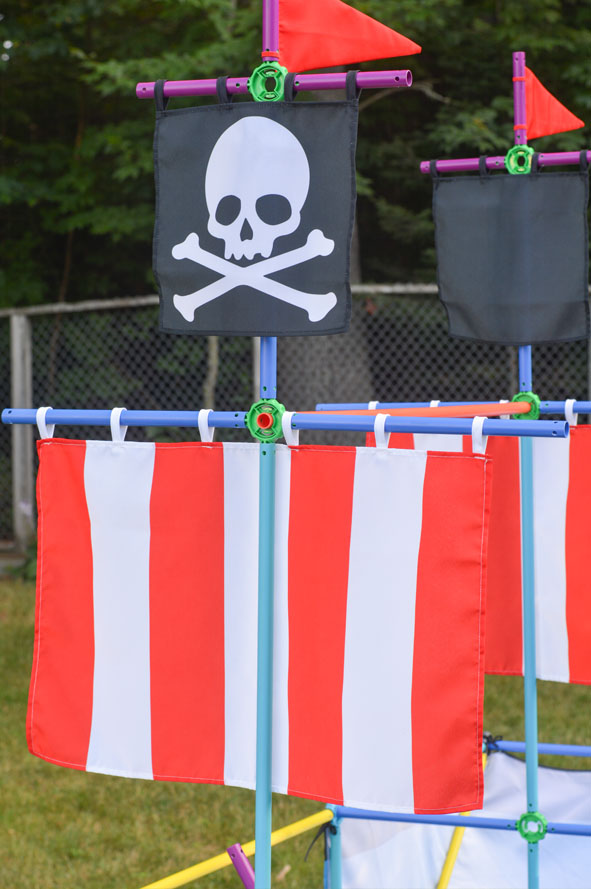 Later in the afternoon the Pirate Ship was transformed into a speed boat, as one of the kids were a few feet behind it water skiing and tubing. Days later the pieces are now in the shape of a large rectangle in the back yard draped in a sheet as they are using it as a hideout. The possibilities are endless when kids use their imagination.
The kids bring the Antsy Pants building pieces outside in the morning and bring it in every night due to dew on the grass or rain, if they're too excited about their structure I usually let them move it in the garage for the night instead of taking all the pieces apart. We can never seem to get all the pieces neatly back into the box, and have added the Antsy Pants Storage Unit to our wishlist.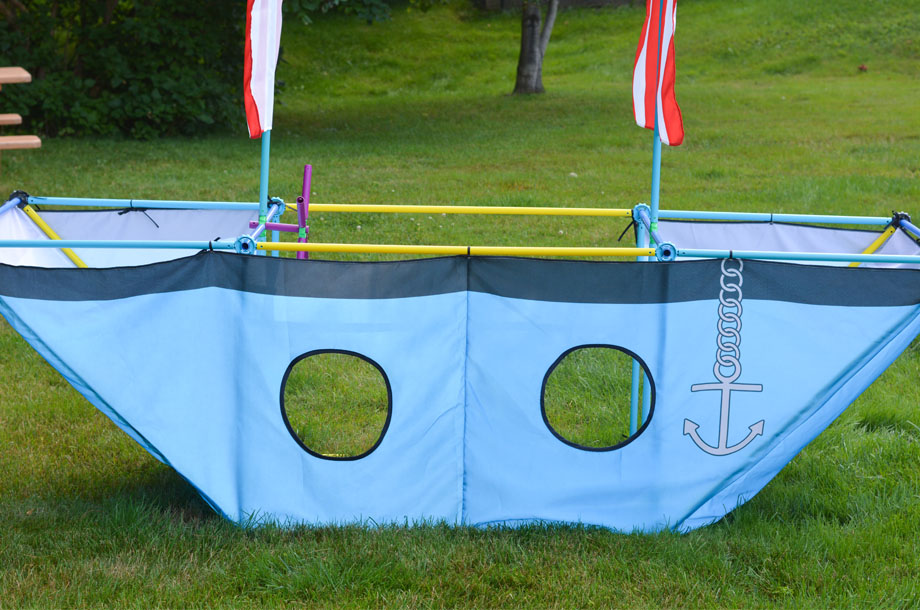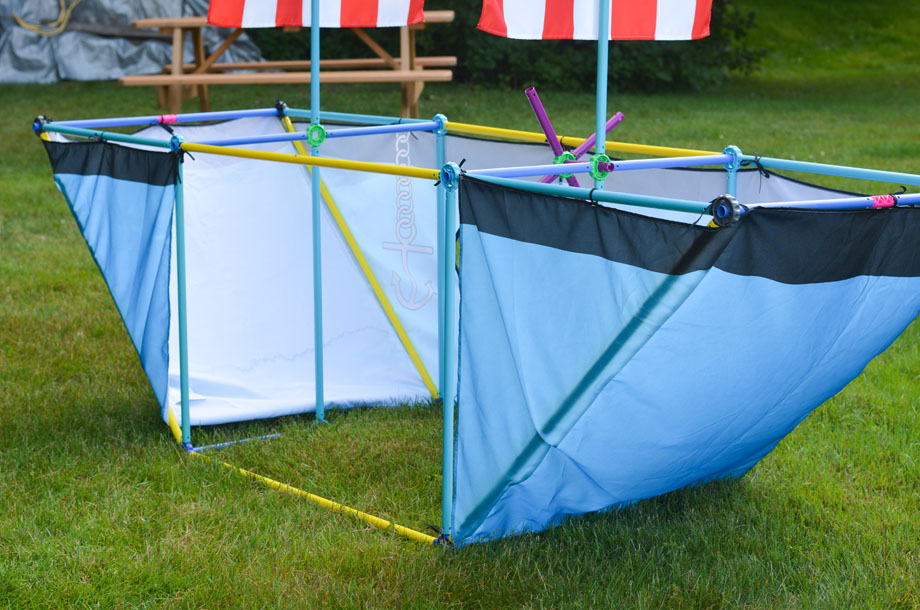 Purchase these Antsy Pants products, as well as additional sets & covers at Target.
With Antsy Pants, you Get Play and Give Play.
With each kit purchased, Antsy Pants will help national non-profit KaBOOM! build playgrounds for kids living in poverty across America.
Save