Trying to find that perfect gift for your child, niece, nephew or friend? How about National Geographic Kids Books! National Geographic Kids books have several new titles that are gift-worthy.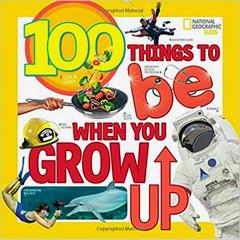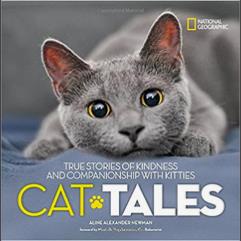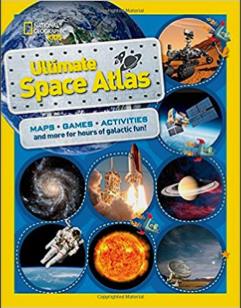 100 Things to Be When You Grow Up
From beekeeper to ice-cream taster, forensic psychologist to Hollywood animal trainer, conservation biologist to Chief Happiness Officer, this book features 100 of the coolest, wackiest and most amazing jobs out there. Hands-on projects, advice from National Geographic explorers, interviews with experts, weird-but-true facts and tips for aligning your interests and personality to your job and more, this new book in the popular "100 Things" series is a great way to get kids thinking creatively about what their exciting future has in store for them. (ages 8-12, $9.99)
Cat Tales:  True Stories of Kindness and Companionship with Kitties
Learn about cats from around the world, each one with an amazing story to tell about their compassion, ingenuity and bravery. "Ask an Expert" sections throughout the book offer insight into understanding the curious world of cat behavior, ways to keep your favorite feline happy both mentally and physically and even the trick to taking great cat photos. (ages 9+, $12.99)
Ultimate Space Atlas
Attention Space Lovers! Blast into space to explore our solar system and beyond. This out-of-this-world atlas takes readers through maps of the solar system, the Milky Way, and deep space, giving them a close look at and locations of planets, supernovas, and other universes. Sky maps will help kids spot these objects in the night sky and maps of planets and our solar system give the kind of incredible detail that National Geographic is known for. It's the perfect book for space fans and budding astronauts. (ages 8-12, $12.99)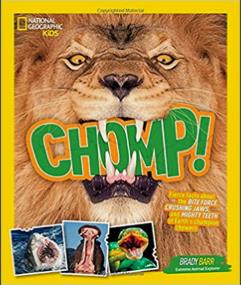 Chomp!
National Geographic Explorer and snake wrangler Dr. Brady Barr has been bitten by a lot of creatures over the years. So this book is born from first hand – er, tooth – experience of getting close to some of the biggest biters in the animal kingdom.   Physical features and the how (and when and why) an animal bites reveals much about the animal itself. Chomp! highlights an array of awesome creatures with a diversity of chomp styles – from shredders and slicers to grippers and gulpers. Then it shows how tooth type, bite force, jaw shape, and food source all come to together to make each an incredible member of the animal bite force! (ages 7-10, $12.99)
Awesome 8 Extreme
Have a kiddo in mind that always wants to know the who/what/where of the coolest things on the planet? Check out the Top 8 lists in the latest Awesome 8! This lively book features 50 different topics with dazzling photo, such as the 8 most awesome Monster Fish, Dressed Up Dogs, Supersize Sculptures, Rad Replicas, Coolest Pools, Serious Stadium Snacks, Thrilling Theaters, Dazzling but Deadly, Hair Through History, Volcanoes We Lava, and so much more. It's so graphically engrossing, you truly have to see it to believe it!  (ages 8-12, $12.99)
Nat Geo also has a new book that is PERFECT for the birthday boy or girl to use to show their gratitude for al the presents they receive.
National Geographic Kids Thank You Cards
Pay it forward with this big book of gratitude, filled with 30 cool pull-out thank you postcards and fun themed content. Adorable animal photos paired with heartfelt and funny captions show how much we have to be grateful for in our wondrous world. Each card leaves plenty of room for kids to craft their own messages to show friends and family how much they care. Content includes tips and tricks for writing sincere, well-crafted, and properly formatted thank you notes, as well as more cute creature pictures to spread that warm, fuzzy feeling far and wide. (ages 6-9, $9.99)
National Geographic Kids Giveaway!
Enter to win a National Geographic Kids Birthday Gift Essentials prize pack that includes all 6 books listed above, assorted gift bags and tissue paper as well as a sheet of postcard stamps to mail the postcards from the Thank You Cards book (ARV $84).
Product,  information & giveaway prize provided by the sponsor. . All opinions are my own personal and honest thoughts. By entering this giveaway you agree to the Giveaway Rules. This giveaway will end on August 10, 2017 at 11:59pm EST. The winner will be chosen via Rafflecopter. The winner will have 24 hours to respond or a new winner will be selected. Open to U.S. only, no P.O. boxes. Must be 18 years or older to enter..