One of Trevor's favorite snacks is popcorn, he is constantly asking if we can make popcorn to watch during movie time.  Smoothies are also a big hit, myself and my husband make them weekly with fresh fruit, and the boys are always requesting extra so that they can have some also. With Halloween right around the corner I decided to make a few Halloween recipes to enjoy during our weekly family movie night. We baked some Sweet N Spooky Halloween Crunch, and also blended together some Hawaiian Punch, 7UP, and fresh fruit together to make Halloween Punch.
While I worked on coloring the popcorn orange, the boys went to work picking out all of the orange, brown, and yellow M&Ms, I then sliced up the Snickers Bars to add in with our Sweet N Spooky Crunch. For the Halloween Punch I decided to add a little spookiness and sliced up bananas and made eyeballs with blueberries. I used a dab of peanut butter to stick the eyeball together, but if you don't have peanut butter, you can use anything sticky like a dab of cream cheese.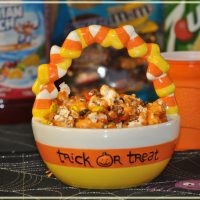 Ingredients
8

cups

popped popcorn

1/4

cup

butter

1/2

cup

sugar

3

Tbsp

light corn syrup

1/2

tsp

vanilla

Orange food coloring

M&M's

Nonpareils

Snickers - cut into small pieces
Instructions
Pop popcorn

In a small saucepan, melt butter. Stir in sugar and corn syrup. Cook over medium until mixture comes to a boil, then continue to boil for 5 minutes, stirring occasionally.

Remove from heat and stir in the vanilla and food coloring. Pour over popcorn and toss to coat, Pour onto a baking pan sprayed with cooking spray.

Bake at 250º for 45 minutes, mixing around every 15 minutes. Spread on wax paper.

Sprinkle with Nonpareils, M&Ms and Snickers bits.

Cool & Serve, or store in air tight container.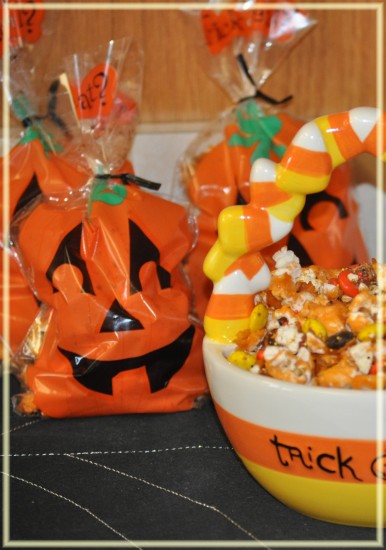 If you're planning a party or Halloween get together, the Sweet N Spooky Crunch is also great to use in goodie bags. We found these cute little pumpkin bags at Walmart and filled a few up to save for our play date later this week.
We've never added carbonation to our smoothies before, but the 7Up gave it a nice little fizz, which the boys enjoyed. If you don't have strawberries and pineapple on hand you can add just about any fruit that your family enjoys. If the fruit isn't frozen, just add a little ice to make it thicker.
When the boys finally got their hands on the Sweet N Spooky Halloween Crunch they couldn't stop asking for more. It was definitely a huge hit, especially with the candy mixed in it. We have a Halloween Party next weekend and my kids have already put in their requests for Halloween Crunch.
What are your family's favorite Halloween treats?