Disclosure: Compensation, product, information & giveaway prize provided by the sponsor. All opinions are my own personal and honest thoughts.
I have always been into photography, but my love for photography became an obsession with the birth of my two little boys. You can almost always find me with a camera or my iPad in my hand taking photos, whether it's at the beach, in the front yard, or just a silly moment at home. Instead of printing out photos, picking them up at a local store and placing them one by one in a photo album, with the advancements in technology I can now drop and paste photos that are stored on my phone or iPad, select back rounds & layouts, enter text and order a photo book all from my iPad using the new Shutterfly Photo Story app.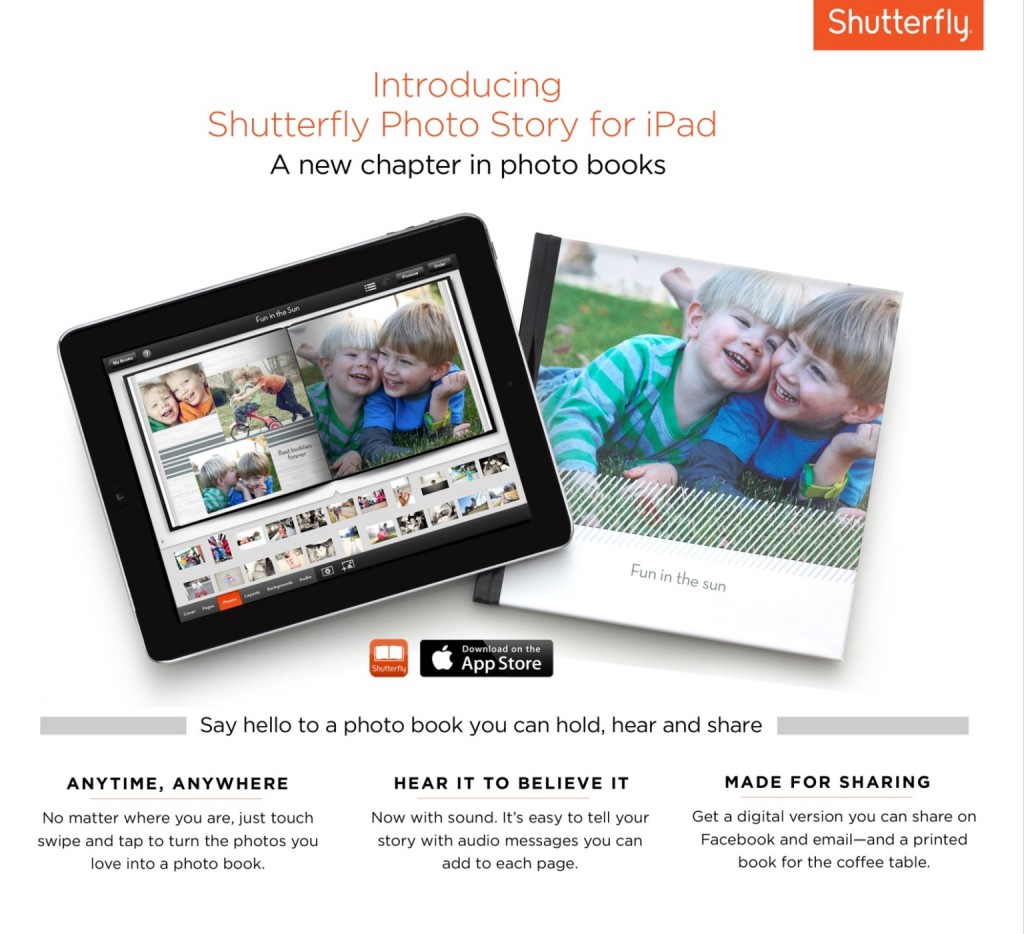 The Shutterfly Photo Story is a free app available to download on the iPad, it does requires iPad 2 and above or iPad mini with iOS6 installed. No matter where you are you can turn your photo into a photo book, you can have a printed copy for home and get a digital version to share on Facebook and email. Being able to share our photo books has been very valuable, my in-laws live 1,000 miles away and only get to see our children once every year so it has become a great way to stay in touch and allows them to watch the children grow.
The Shutterfly Photo Story app is the only photo book with sound. You can record a 30 sec audio messages to each page, when you view the photo book in the Digital version you will hear the recorded messages as you view the pictures.
I enjoyed creating our photo book and personalizing it, picking which background I wanted and what photo went on each page. Since I have thousands of pictures, I decided to narrow it down to Summer 2013 photos filled with all of the fun activities and vacations that we went on. Having the ability to instantly upload photos from Shutterfly, Facebook, Instagram and my iPad Photo Stream made the process go a lot quicker.
To make the photo book I first decided on which theme I wanted, there are a number of themes you can choose from that come with pre-made layouts and designs, or you can make one from scratch. After I chose the theme I uploaded the photos I wanted to use in my photo book from my Shutterfly and Facebook accounts. I then went page by page, selected a layout, a background, added text, and also selected and cropped the images I wanted. Before I ordered the book I double checked all of the text to make sure there were no errors, added my information and hit submit.
I can't wait until my photo book arrives to I view the hard copy. I also sent a digital copy to a few family members and can't wait to hear their excitement.
Overall, I enjoyed making our photo book with the Shutterfly Photo Story App, it was easy and simple especially with the drag and drop feature and being able to upload photos from the photo stream and Facebook, the only thing I would have liked to have seen is more layouts available as well as background, the backgrounds seemed limited.

Winner is Olivia. Congrats!

By entering this giveaway, you agree to the Giveaway Rules. This giveaway will end on September 10, 2013 at 11:59pm EST. The winner will be chosen via Rafflecopter. The winner will have 24 hours to respond or a new winner will be selected. You must be 18 years or older. Open to U.S. residents only. No P.O. Boxes.
Disclosure: Product, comensation, giveaway prize, and information have been provided by the representing PR/Sponsor. All opinions are my own.