This post brought to you by LEGO. All opinions are 100% mine.
My husband's side of the family lives in Michigan and only see the boys once or twice a year, being the first grandchildren on their side, my in-laws love receiving pictures and little notes from them. Yesterday, we decided to send a digital holiday card that the boys helped me to design with LEGO Minifigures and my in-laws loved it. Being away from family is hard during the holidays and the holiday card put a smile on their face and was a great way to help brightened up their day.
You can make your own LEGO Minifigure Holiday Card too!
Visit the LEGO Minifigure Family, add up to 13 family members including your cats & dogs, customize each figure, select a background and choose your greeting. Once you complete your LEGO Minifigure Holiday Card you can easily share with friends and family members with the social share buttons, email it, post to Facebook, share on Twitter, download to your computer, or pin on Pinterest all with just a couple clicks.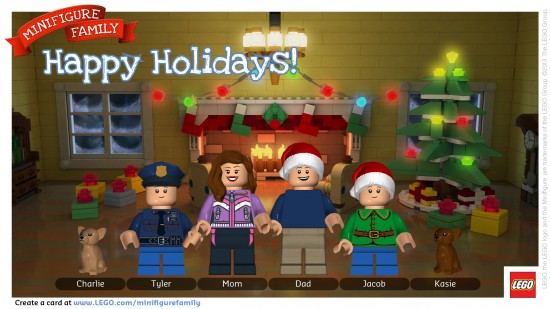 The boys and I had a fun time building our LEGO family, of course when Tyler spotted the police man outfit, he wanted to be "all police man up'd." We customized each Minifig' family member by choosing our skin tone, facial expression, hair/hat, and clothing, we even got to personalize it by adding names and choosing the background. The boys loved seeing all of the backgrounds and outfit combinations, especially the Santa hat. While we chose the traditional Christmas background with a Christmas tree and fireplace, there are a number of other settings available, including an office setting (make a card with your coworkers), as well as beach scene, cabin scene and snow scene.
Head on over and build a LEGO Minifigure Family of your own.