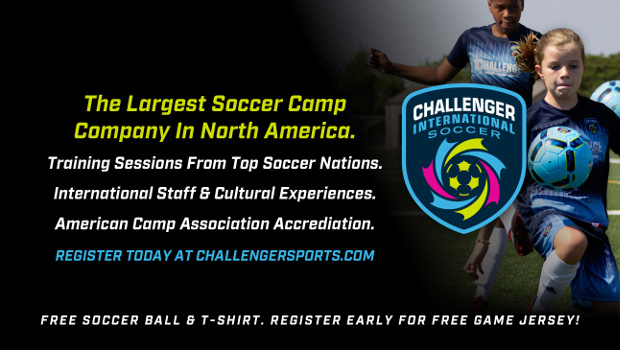 Challenger Sports Soccer Camp provided.
Challenger Sports, the largest soccer camp company in North America is coming to a community near you, and bringing over 30 years of coaching experience. Our international staff will work with your players to teach a fun, technical and tactical curriculum that's filled with training sessions from five of the world's leading soccer nations. Challenger's International Soccer Camp offers instructional camp programs for all age and ability levels!
The TinyTykes program, ages 2-5, provides fundamental soccer activities, games, and stories; designed to enhance technical skills along with physical and social development.
The Half-Day Camp, ages 5-16, is the most popular program and will provide 3 hours of skill development, games, challenges and competitions each day.
The Challenger Sports, ages 8-18, is a 6 hour program filled with developmental practices, games, competitions and challenges.
Register now for Challenger's International Soccer camp and get a free international soccer ball, t-shirt, poster, player evaluation and access to TopYa!'s Juggling Club sampler!
Register 30 days before camp and qualify for a free International Game Jersey! #ChallengerSports #ChallengerSoccerCamps
Register Here.