Clip digital coupons and get free products with the savings app, MyMixx.
As I head into week five using the Shaw's MyMixx Savings App I have saved a total of $106.68 which is almost a weeks worth of groceries! I love the convenience of being able to browse through each week's ad ahead of time and start prepping my shopping list in conjunction with the sales. I can browse through the list Thursday while waiting for Trevor to get out of preschool, and instantly click on a sale item in the weekly ad and add it to my list. Then when I have time later that evening or Friday, I can get a list of recipes together for the week and finish my shopping list.
MyMixx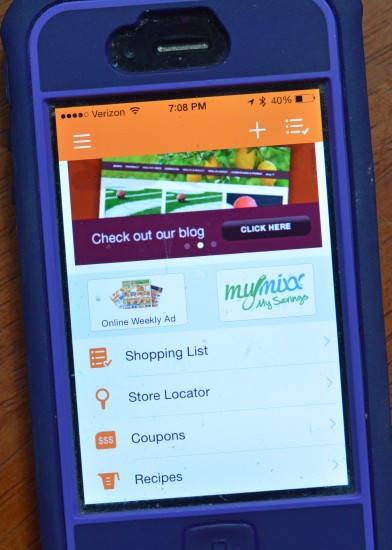 There have been some fabulous savings during the three day sales each week, where I tend to save the most, especially on fruit. Although I shop on Sundays, I have yet to run into an issue with an item being out of stock.
3 Day Sale (3/20-3/23)
Poland Spring 24 pack of 16.9 oz bottles. $2.99 Limit 3
Eye or Bottom Round Roast (3 lbs or more): $2.99
Blueberries or Raspberries 6 oz: $1.88
Quilted Northern 12 Double Roll Bath Tissue: $4.99
Brawny 6 Big Roll or 8 Roll Paper Towels: $4.99
If you are a Shaw's shopper, it takes just a few seconds to sign up for a MyMixx account. Once you make an account, you can view the weekly sale flyer, make a grocery list, and clip digital coupons by opening up the Shaw's app and clicking on the MyMixx MySaving icon or by logging into your account on a pc, tablet or laptop. During checkout, simply provide the phone number associated with the account to the cashier or enter it into the keypad and the digital coupons will be redeemed.
MyMixx Savings App:
Register for a MyMixx account. (The phone number provided will be linked to your savings.)
Clip digital coupons to store on your account
Browse the weekly ad and add items to your shopping list
During checkout enter your phone number (or provide it to the cashier )at the register to redeem digital coupons.
*Option to sign up for digital receipts via text or email
Have you used the MyMixx Savings app? What do you think about it?
This is a sponsored conversation written by me on behalf of Shaw's. The opinions and text are all mine.