Santa's Village is one of those must-see attractions if you live in New Hampshire or Massachusetts with kids. Located in the white mountains, it's Christmastime all year round with fun rides, shows, gingerbread cookies, reindeer and of course seeing Santa Claus!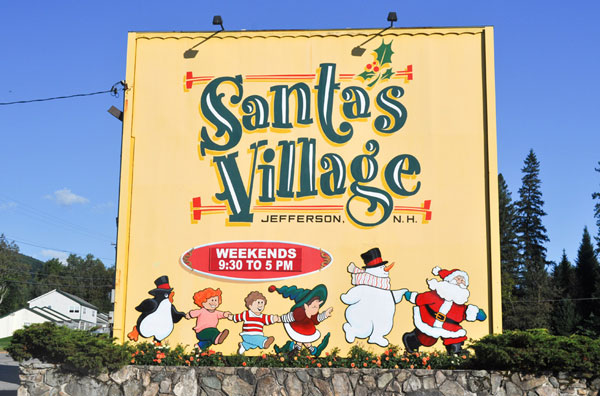 Santa's Village is in Jefferson New Hampshire, about three hour drive from Boston. I visited once as a child when I was about 7 years old and enjoy looking through the family albums and comparing the pictures to our visit. We were lucky enough to take a picture with the same snowman figure that I took a picture with about 25 years ago before it was recently replaced.
This Christmas themed park is always on the list when it comes to planning our summer and fall vacations. We have a great time during each visit, even during the New Year's Eve celebration when it was 10 degrees out. *Season pass holders get in for a cheaper price. With our youngest turning 2 this summer, I'm looking forward to the excitement when it comes time to visiting Santa's Village. He was only a month old during our last visit and I'm sure he'll love it just as much as his big brothers in the years to come.
9 Reasons To Visit Santa's Village: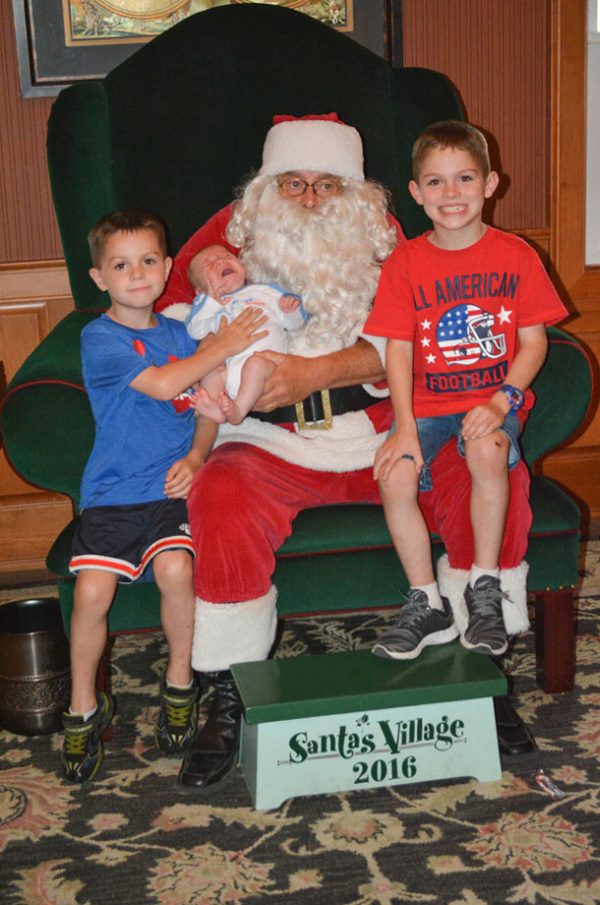 Get to visit with Santa Claus all year round
Kids can see Santa Claus all year long, during the summer months, fall and during Christmastime! Stop by Santa's house and sit on his lap, tell him Christmas wishes, and get a photo taken.
Kids can feed real reindeer!
Stop by the Reindeer Rendezvous and visit with Santa's reindeer. While your there, you can purchase small snacks to feed Santa's Reindeer or if you prefer, just pet them. While visiting the Reindeer Rendezvous, learn facts about the reindeer, and even play a few Reindeer games.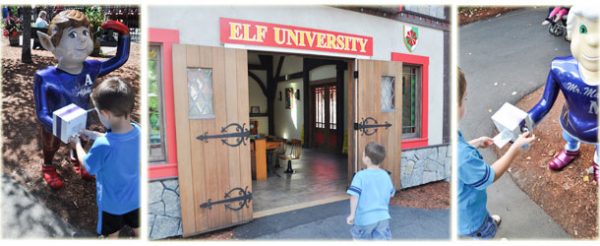 Play the Elefabet scavenger hunt game

The Elfabet Game is always a highlight of the visit. Once you enter the amusement park, stop by the Elf University, located on the right side just past the restrooms.  Children can pick up a punch card to play the Santa's Village Game. While walking around the park you will notice Elf stations. Each character has a specific letter, find all of the letters, A through Z, punch your card, and then return to Elf University to receive a certificate and a small prize. No matter how many times we have visited Santa's Village, the Elfabet Game is always a favorite. The boys run in excitement to get their card punched every time they spot an elf.
No-line activities – Playground, swings, & slides around the theme park.
While older children are on rides, there is a playground, slides, and swings scattered throughout the park for younger children. My kids always have to stop by the playground near the water park to slide and climb. There are also reindeer swings near the entrance to the Skyways Sleighs that is always a favorite.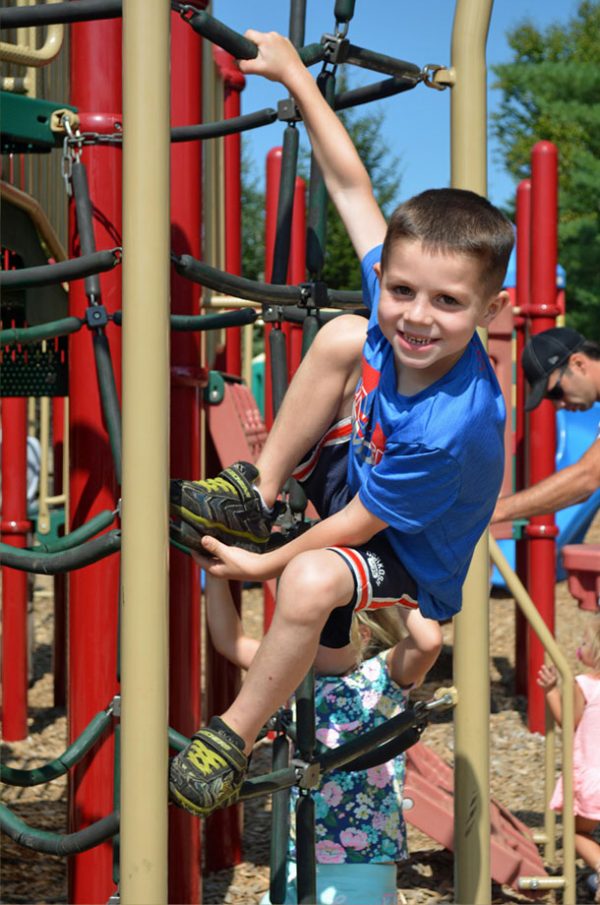 Rides for everyone in the family.
The rides are designed for families and children. Unlike Story Land where an adult has to go on every ride with children under 48 inches, children only have to be 42 inches to go on most rides by themselves at Santa's Village. A few of the rides, like the Yule Log Flume and Bumper Cars do have height restrictions, kids need to be 48 inches to ride alone. Kids only have to be 42 inches or higher to go on the S.S. Peppermint Twist, Hot Shots Fire Brigade, and The Chimney Drop by themselves.
Rider swap option for guests with younger children
Aka "parent swap" is available for those traveling with babies or young children that cannot or do not want to go on a ride. Adults can each have a turn going on a ride, like the Yule Log Flume  or Bumper Cars, without having to stand in line twice.
The Antique Cars are one of my children's favorite rides. They'll usually drive the cars at least twice during our visit.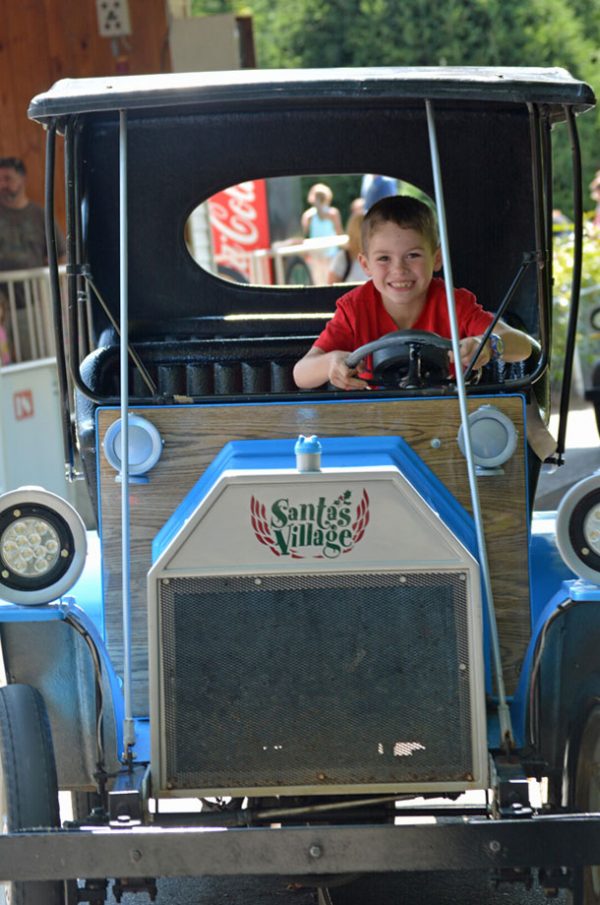 The Skyway Sleigh is also a family favorite and one ride the entire family, including infants, can go on. The line can get a bit long. If you get to the park at opening, I recommend going straight to the sleigh ride. During one of  of our visits (Sun Sept 9) there was no line and we could go on multiple times, but another day during the summer there was a 45 minute wait. We even had to skip it during the New Years Eve celebration as it was just too long.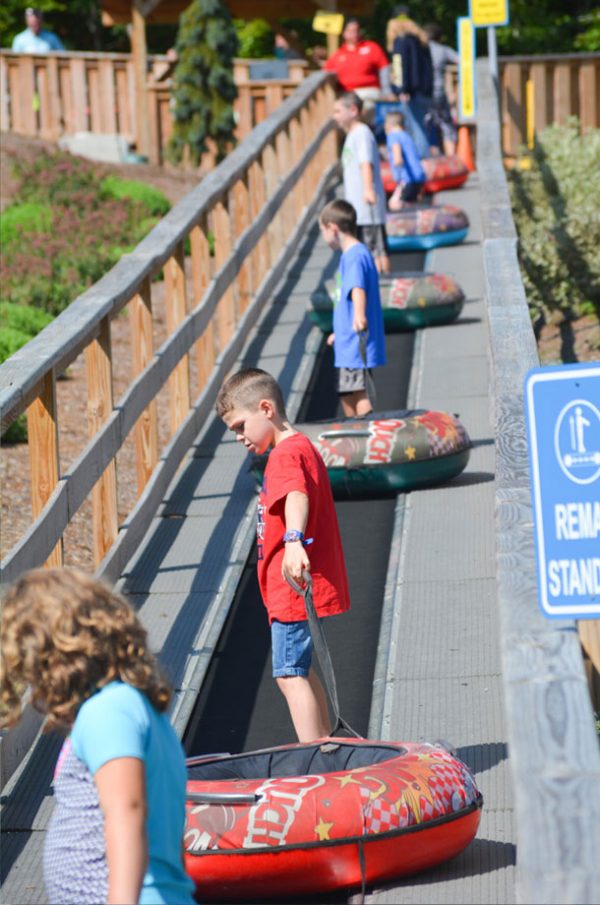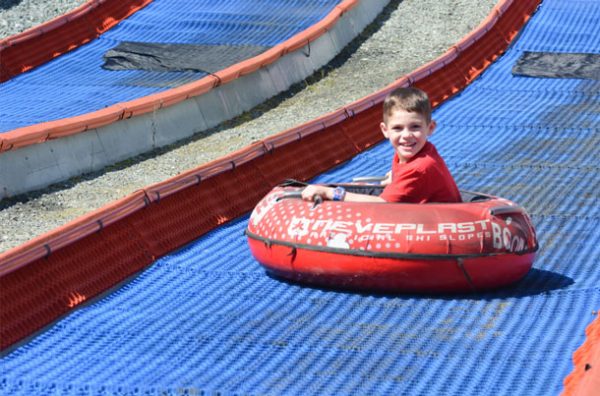 You Tubing is one of the newest rides at Santa's Village that puts a summertime twist on a winter favorite. Kids and adults can ride the conveyor belt to the top and race down to the bottom. Ride by yourself or my kids love racing a friend or sibling.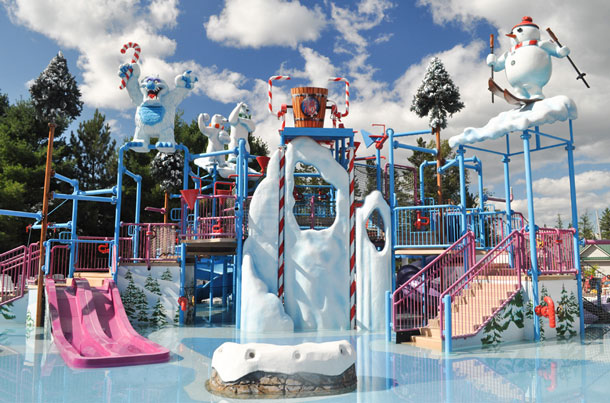 Kids can cool down in the waterpark
The waterpark is a great place to let the kids cool off and let out some energy. There are three areas that are perfect for children of all ages. While older kids can ride the JOYRide Slides, the younger children can cool off and enjoy the smaller slides and interactive water fun at the Ho Ho H20. The splash pad is perfect for toddlers and those learning how to walk.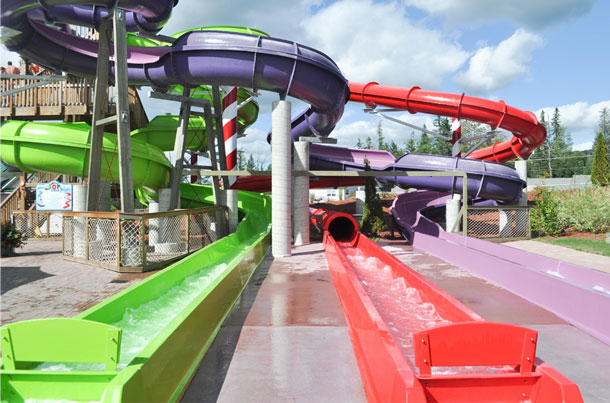 Decorate your own Gingerbread Cookies

There are dining options inside the park, but outside food can be brought into Santa's Village. Save money at Santa's Village by packing your own lunch, snacks, and drinks. We usually bring lunch, but I let the kids pick out one treat, they usually want to decorate gingerbread cookies.
Instead of carrying a cooler around all day, we opt to put a few snacks and drinks in a backpack and leave the cooler in the trunk. There are picnic tables located inside the park in shaded areas as well as in the parking lot. If you head out to the parking lot during the day, make sure to get your hand stamped so  you can re-enter. We left the cooler in our trunk and decided that when we went to the parking lot to eat lunch we would pick up our bathing suits as the boys wanted to check out the HoHoHoH20 Water Park. To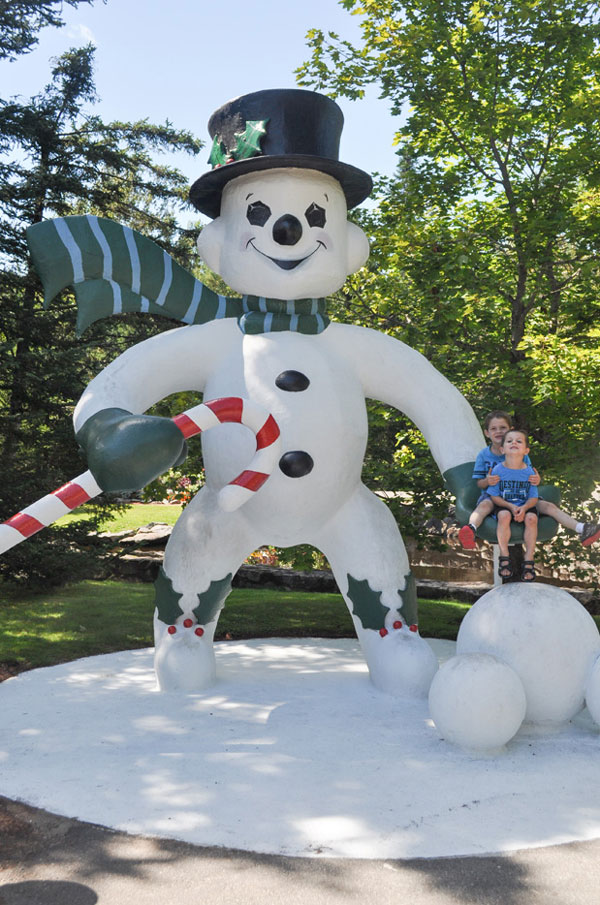 Fun photo ops to snap the memories
Capture the memories with fun photo opportunities.  As a mom who loves photography, the fun photo ops are one of my favorite parts. I try to capture their picture at the same spot year after year and look forward to going through the photo albums and seeing how much they have grown over the years. My mother took my picture with the snowman over 20 years ago and I was able to capture that same picture with my children before they replaced the iconic snowman this past year.
Some of our favorite places to take picture are:
Snowman
Right inside the entrance under the Santa's Village sign
The Rabbit
The ruler (heading towards the water park)
Front of the entrance at the sleigh (before you enter the park)
The Gingerbread men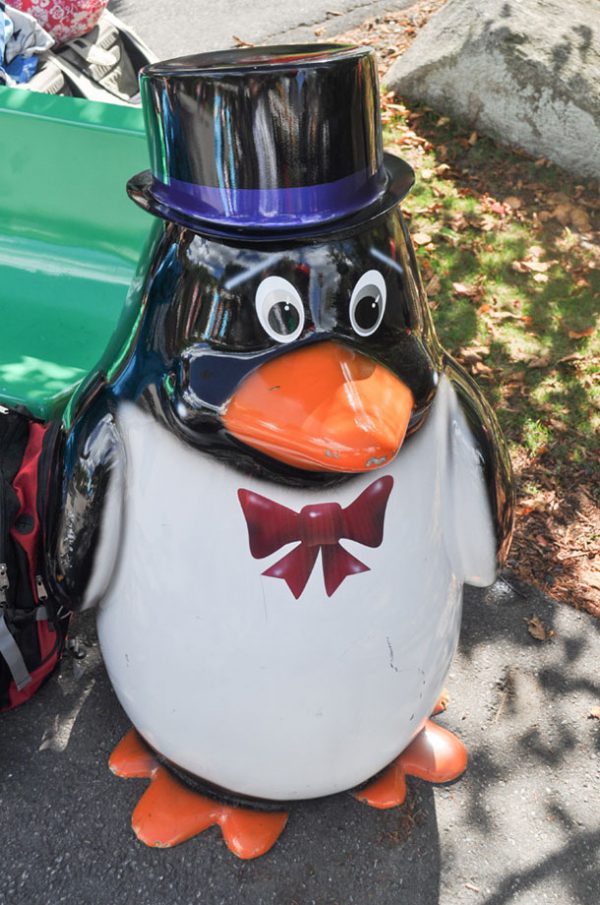 Clean park, friendly staff:
Santa's Village is a family owned theme park. After spending the day, you can tell they take pride in the park and their employees. No matter what time of the day we visit, even on New Years Eve when it is very crowded, the park is always clean. There are Penguin trash cans all around the park. You never see over flowing trash barrels or bees swarming around like at most places, the Penguins provide a fun touch, and keep the trash contained. Plus, since the tops are closed, I've never had a problem with bees.
Get "return pass" if you visit within last 3 hours.
If you arrive within three hours of closing, you'll be issued a "Return Pass" to visit the park for another full day at no additional cost. This is great for families who arrive to the area Friday night and want to get a few rides in. It's also great for those with younger children who may not last the whole day.
Places to Stay Near Santa's Village & Ticket Info:
There are plenty of hotels & campground options for staying locally when you visit Santa's Village.
What hotels are near Santas Village?
Whitefield:
Mountain View Grand Resort & Spa (indoor pool)
Lancaster:
Lancaster Motor Inn
Cabot Inn & Suites
Jefferson:
The Jefferson Inn
Josselyn's Log Cabins
Evergreen motel (outdoor pool)
Gorham Area:
Town & Country Inn (indoor pool)
Top Notch Inn
The Royalty Inn (indoor pool)
The Glen House Hotel at Mt. Washington (indoor pool)
Littleton:
Littleton Hampton Inn
Best Western White Mountain
Are there campgrounds near Santa's Village?
Lancaster:
Mountain Lake Campground
The Lantern Resort Campground
Gorham Area:
Are there Santa's Village Coupons?
I have never seen a Santa's Village coupon or promo code. They do offer military discounts and senior discounts. Also, occasionally they will offer free tickets on VetTix for military members and Veterans.
The free return pass if you visit within the last three hours is a great option and allows visitors to get more out of their visit.
There is no parking fee. Admission includes use of strollers, shows, blacksmith rings, fun filled rides,visit with Santa and his reindeer and the water park. Guests can also bring in outside food and beverages.
Visiting NH with kids? You May also like: