If you're looking for Things to Do With Kids in New Hampshire, add a trip to Story Land on the top of your list! Story Land is a theme park located in Glen New Hampshire, just a short drive from North Conway and Lincoln.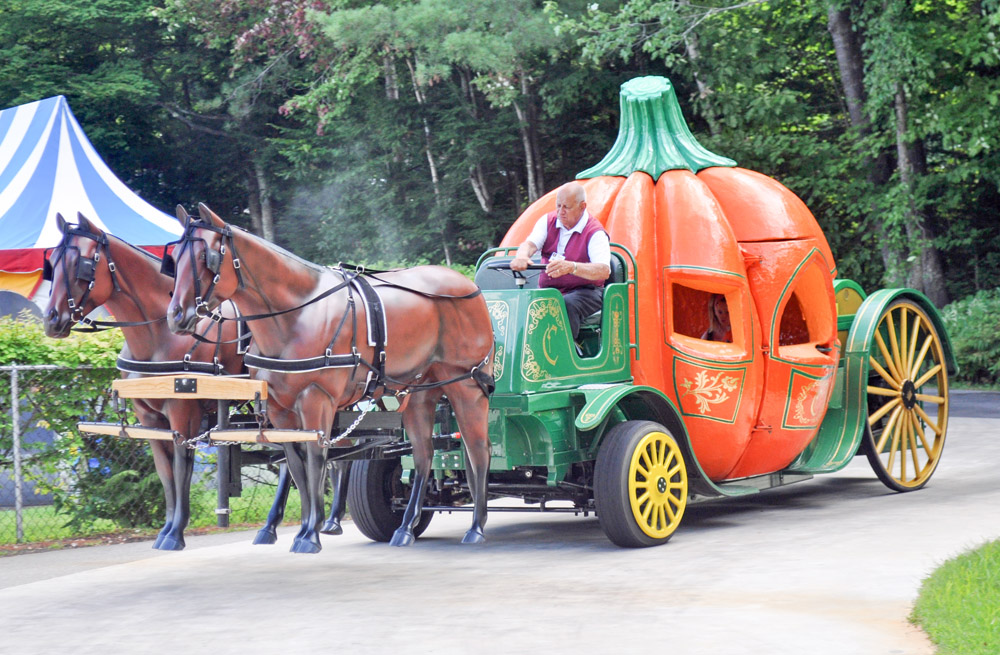 With three kids under the age of 10 Story Land has become one of our favorite things to do in the summer. We have visited numerous times over the past few years, both during the summer and the fall but our favorite time is the Monday during Labor Day weekend. The weather is usually on the cooler side, the lines are shorter, and the theme park is less crowded.
Tips for Visiting Story Land
Make the most out of your family vacation with our helpful tips for visiting Story Land.
Plan your visit:
Ticket Options: For those with younger children, the Final Three, Next Day Free Ticket is a great option. It allows guests to enter the park in the last 3 hours and receive a free pass to come back any other operating day in the current season. This will let you get a few of the rides, attractions, or shows out-of-the-way, without jamming the experience all into one day. If you're traveling with young children, they may not be able to last all day as there are a number of attractions to visit, rides to go on, and shows to watch. Being at the park from opening and until close may be hard on the younger kids as they get worn out or need naps.
Check the Weather: When planning your visit to Story Land make sure to check the weather. It is often cooler in the mornings and warms up quickly. Since you'll be doing a lot of walking, wear comfortable shoes and pack sunscreen.  Also if you're bringing along a stroller, pack a small lunchbox or cooler with water and small snacks for the kids.
Pick up a map: If it's your first visit to Story Land, pick up a Story Land map, check out the show times or character meet & greets and try to plan your day.
The Rides/Attractions:
The back portion of the park that includes Roar-a-saurus an the Crazy Barn has a delayed opening, usually about an hour after park opening. We usually make sure we're at the gate right at opening to get on the Roar-a-saurus as it typically has one of the longest wait times as well as the Antique cars. No matter what time you visit the park, those two almost always have a 20-30 minute wait.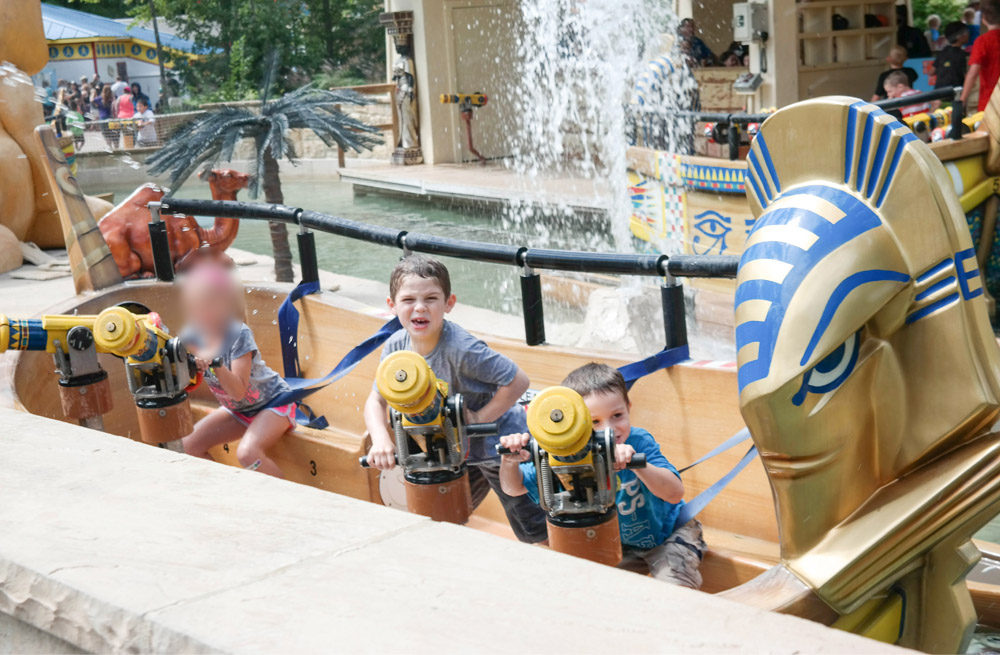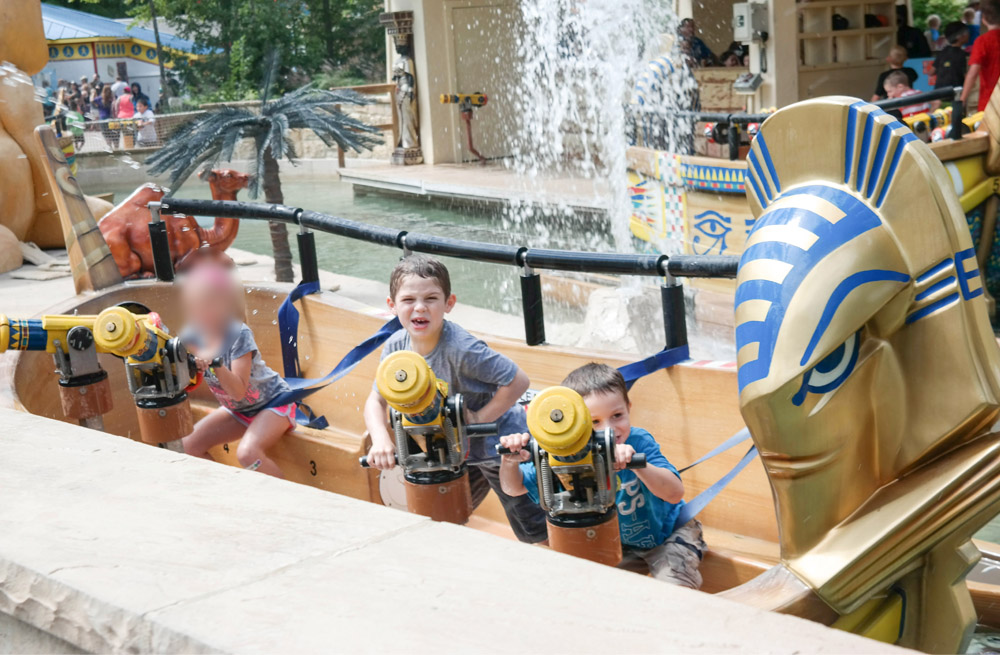 Splash Battle: Pharaoh's Reign is a favorite with the kids, especially on hot days. There are cannons on each boat so that the riders can shoot water at the spectators and there are also water cannons scattered around so that the spectators can shoot water back.  If you are anywhere near Splash Battle you are sure to get a tad wet, maybe even soaked.
Check the height requirements:
Some of the rides including Dr. Geyser's Raft Ride you have to be 36 inches tall to go on. While older children are on the ride, Dr. Geyser's "Mini-Geysers" keep the younger ones entertained.  Pack an extra set of clothes or a bathing suit. There were also misting rooms scattered around the park, the boys loved these and with the hot weather they were great to help you cool down.
Under 48 inches: If a child is under 48" tall they'll need to ride with a responsible guest on all of the rides.
Minimum of 36" to ride: Bamboo Chutes, Crazy Barn, Dr. Geyser's Remarkable Raft Ride, Flying Fish, and Polar Coaster.
Minimum height of 42″ to ride the Roar-a-saurus.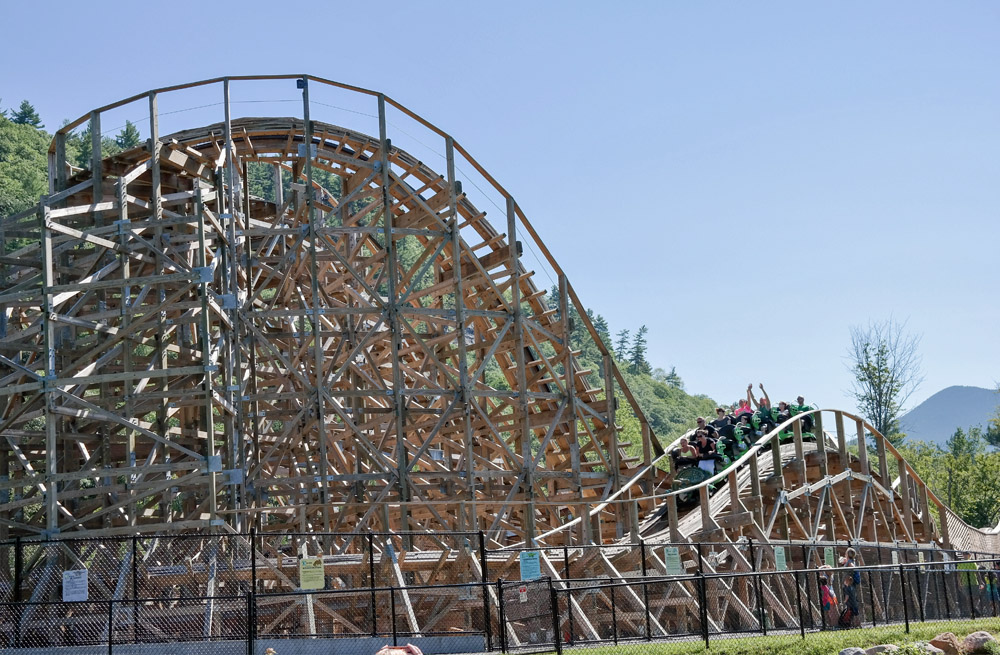 The newest wooden roller coaster, the Roar-a-saurus,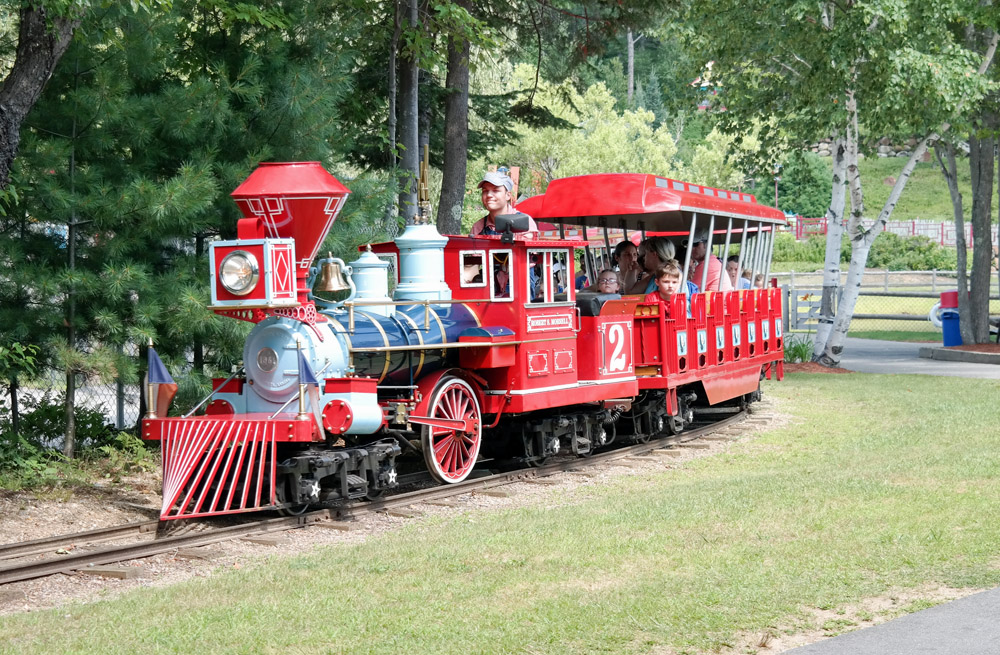 If your legs are getting tired or you need a small break, take a train ride around the park. Get off at the different stops or take a tour around the whole park.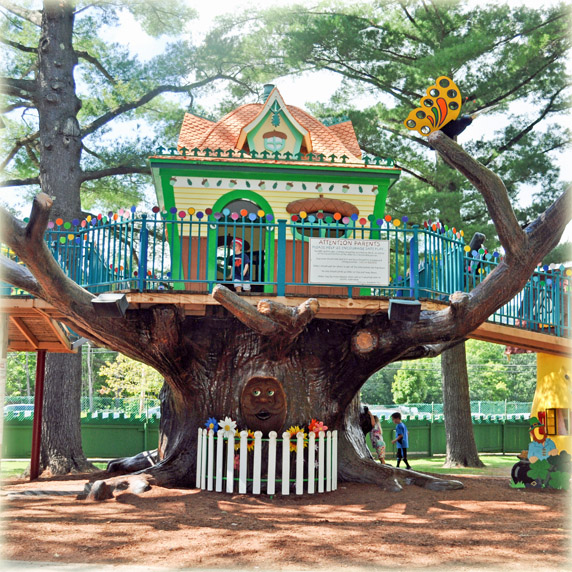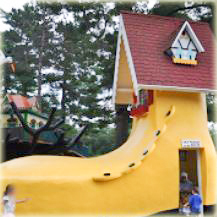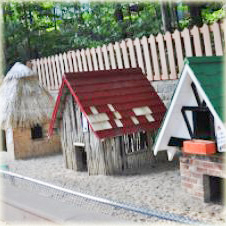 Upon entering the theme park, if you take a right and go by Humpty Dumpty, you can visit with your favorite Storybook Animals including the Three Little Pigs and Baa Baa Black Sheep. Stop by the Little Dreamers Nursery Rhyme Play Area where you can bring your favorite nursery rhymes to life in the interactive play area designed for younger children, perfect for toddlers and preschoolers. Get a Story Land sticker from the  Women in the Shoe and take a pumpkin ride to visit Cinderella in her castle.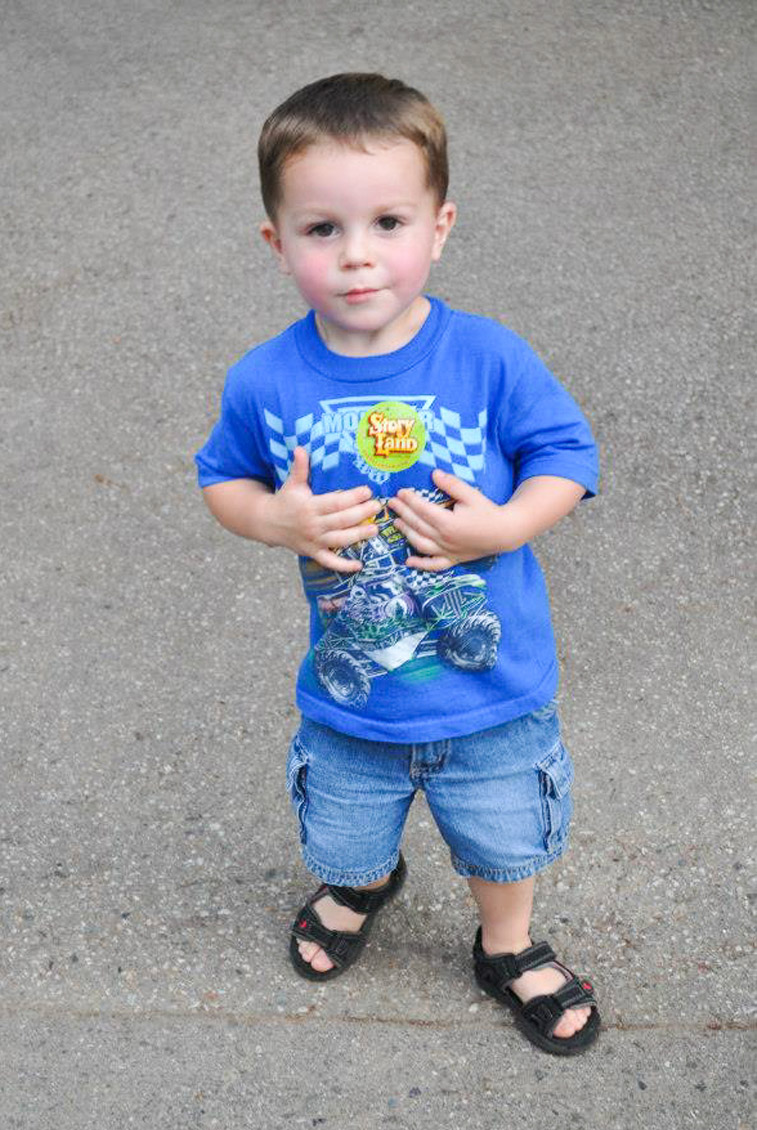 Preserve the memory with fun photo ops:
There are numerous photo opportunities located around the park, and a few of them also have the year also included which is great when looking back through photo albums. A trip to Story Land isn't complete without a picture with Humpty Dumpty. I make sure to take a picture every visit and love to look back on how much they've grown.
Stop by the Town Hall located near the Antique Cars to purchase a Story Land Driver's License.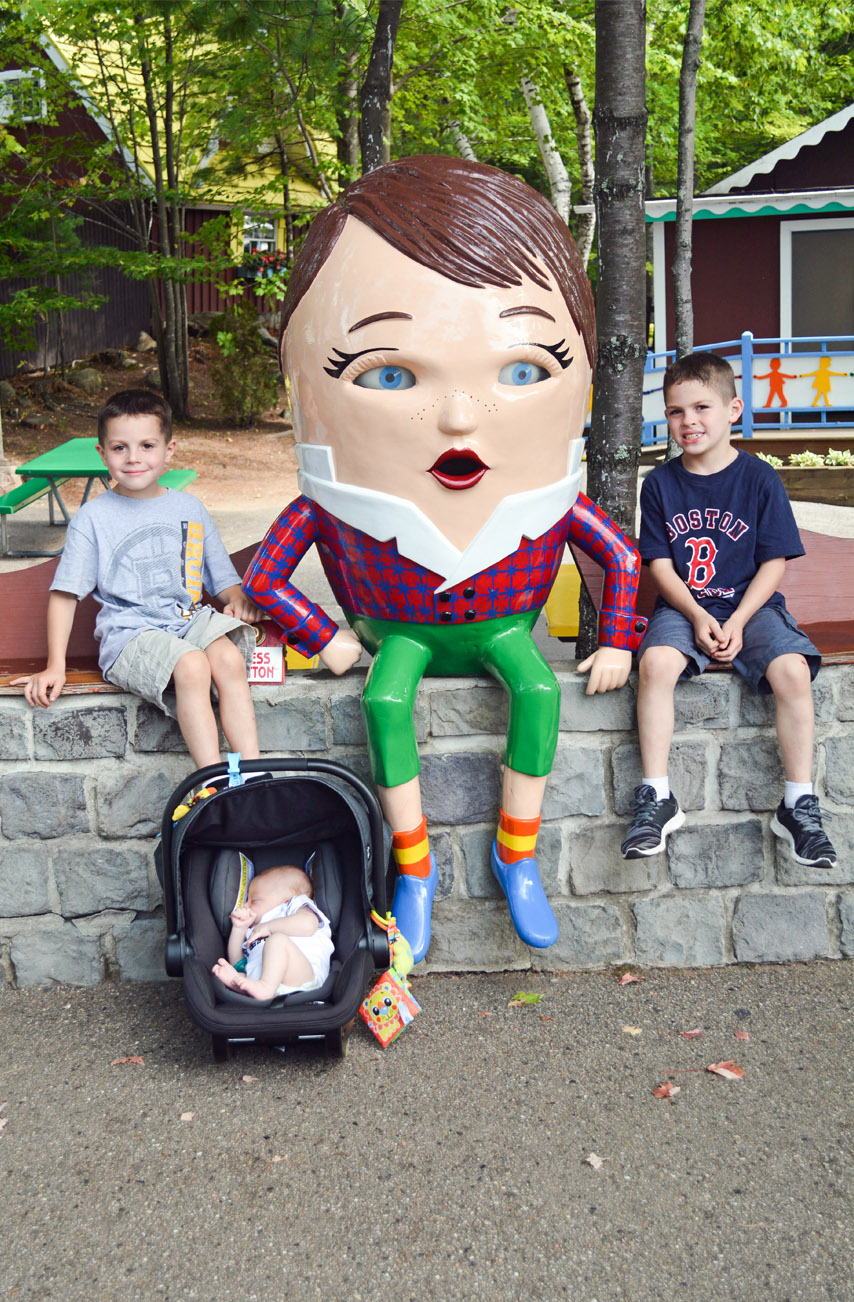 Eating:
Just like Santa's Village, you are able to bring in outside food as well as coolers into Story Land. Dine on a budget by packing a lunch and snacks. We were able to find a close spot and opted to keep the cooler in the trunk and just run out and grab it during lunch time. There are food options in the park and also a few close restaurants if you choose to take a break and eat out of the park, just make sure your hand is stamped before you leave in order to re-enter the park later in the day. I usually pack a lunch, but let the children choose one special snack whether it's a slushy, ice cream, popcorn, or pretzel. There is also a Dunkin Donuts stand located just inside the park that has a smaller beverage menu.
Traveling with a Pet? Free Pet Kennels
During your visit, Story Land offers free pet kennels available on a first come, first served basis. The 26 kennels (16 square feet with roofs) are located outside of the park, to the left of the ticket booths and are attended by the Park Services personnel.
A trip to the White Mountains wouldn't be complete without a trip to Story Land.
Learn more about Story Land,  purchase tickets, or for Story Land hours visit www.storylandnh.com.
Story Land Address: 850 NH Route 16 Glen, NH 03838