Looking for Easter Basket Ideas that doesn't include candy? Avoid the candy overload this Easter with these fun Non Candy Easter Basket Stuffers.  You can add in some sweets, but don't go overboard.
Fill the eggs with small toys or army men that can be found at the dollar store to to reduce the amount of sweet.  Craft supplies, toothbrushes, books, LEGOS, soccer balls, reusable water bottles, are also great ideas.

*Samples provided.
Non Candy Easter Basket Ideas: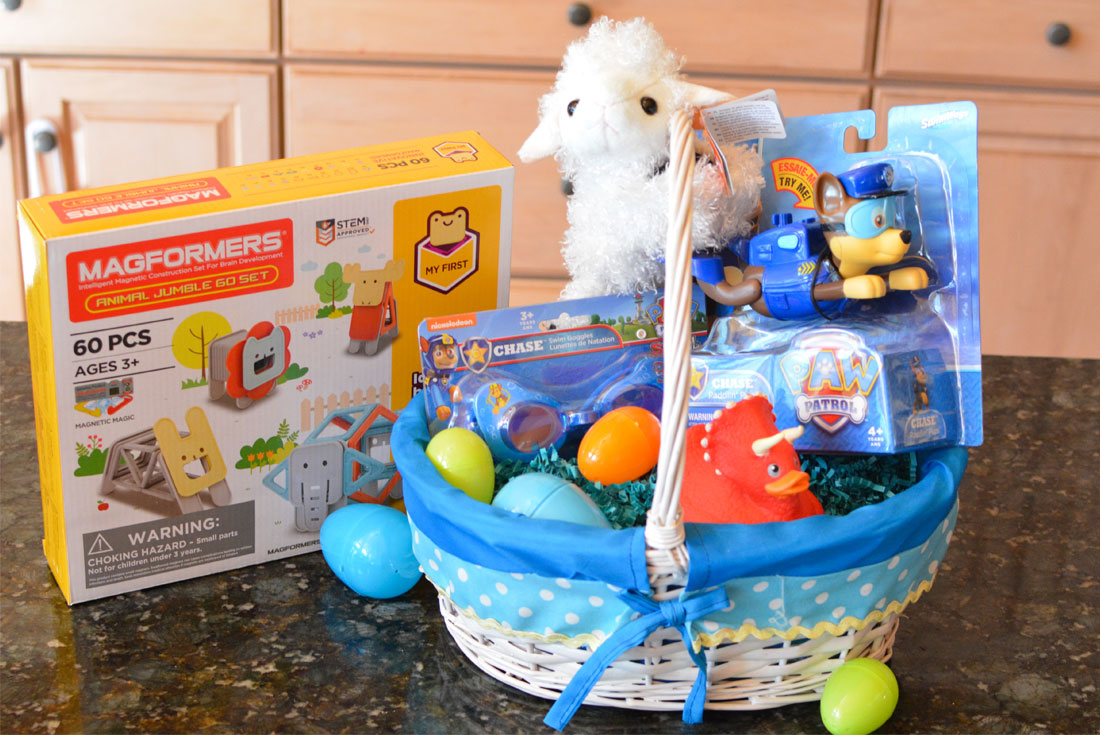 Animal Jumble 60Pc Set by Magformers: Magformers have been a family favorite for the past 3 years. This new 60 piece Animal Jumble set includes 20 additional shapes and animal accessories for hours of creative play. It is a great introductory set for preschoolers and includes 8 triangles, 27 squares, 2 pentagons, 2 hexagons, 2 isosceles triangles, 2 trapezoids, and 17 clip in animal accessories. Compatible with all Magformers shapes and accessories. Recommended for ages 3+ MSRP $59.99.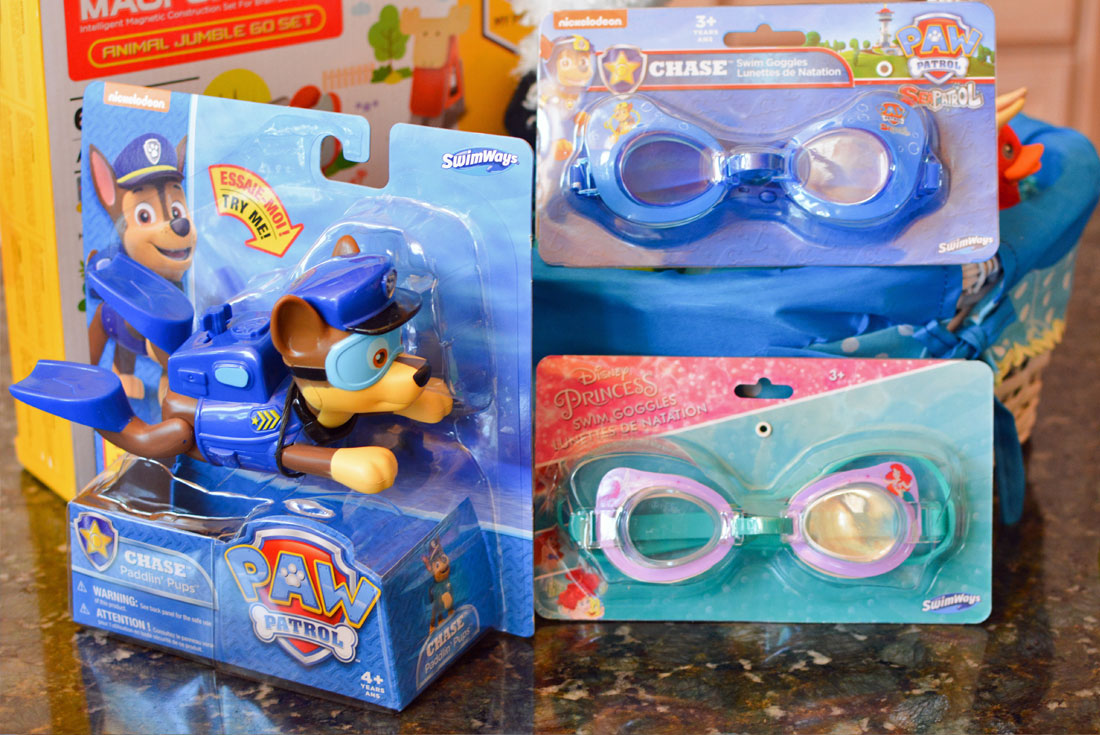 Swimways Paw Patrol Paddlin' Pups: Have a splash-tastic summer with your favorite Paw Patrol Pups! Available in two styles: Chase & Skye. These Paw Patrol Paddlin' Pups are great for encouraging children to get in the water and learn how to swim, they're also perfect for bath time! To make the pup swim, twist the winder on the said and watch the Pup move through the water on their own. Batteries are not required. Available at Target and Amazon.
Paw Patrol Swim Goggles: Swimming goggles feature soft construction, a water-tight seal and an adjustable head strap. The children's swim goggles features their favorite Pups. Available in two styles; Chase & Skye. Available at Target and Amazon.
Disney Princess Ariel Swim Goggles: Swimming goggles feature soft construction, a water-tight seal and an adjustable head strap with Ariel character accents. Available at Target and Amazon. Recommended for children ages 4+.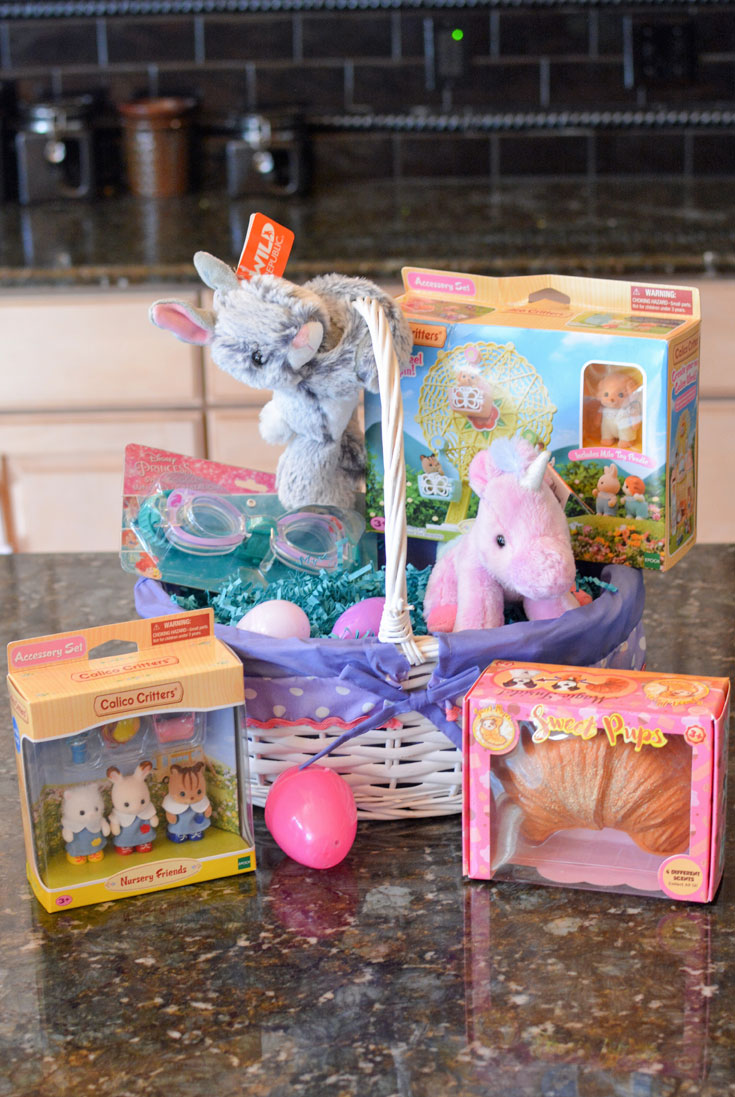 Wild Republic Spring Huggers: Adorable 8″ soft lovable toys that hug you back. Wear them on your wrists, a backpack, bike, or around a bottle. The spring line is availabe in three different characters: White Lamb, White Bunny, and Blue Bunny. MSRP $7.99
Wild Republic 5″ Unicorns: The Wild Republic 5″ Unicorns is a mini version of one of their best selling plus. The mini size is perfect for on the go. Available in pink or purple. MSRP: $5.99.
Wild Republic Rubber Ducks: Not your typical rubber ducks, the new collectable line includes 28 unique ducks. Varieties include a zombie duck, mermaid luck, and unicorn duck. Can be used in or out of the bath as they do float and include a hole-less design, preventing mold from growing inside. MSRP: $4.99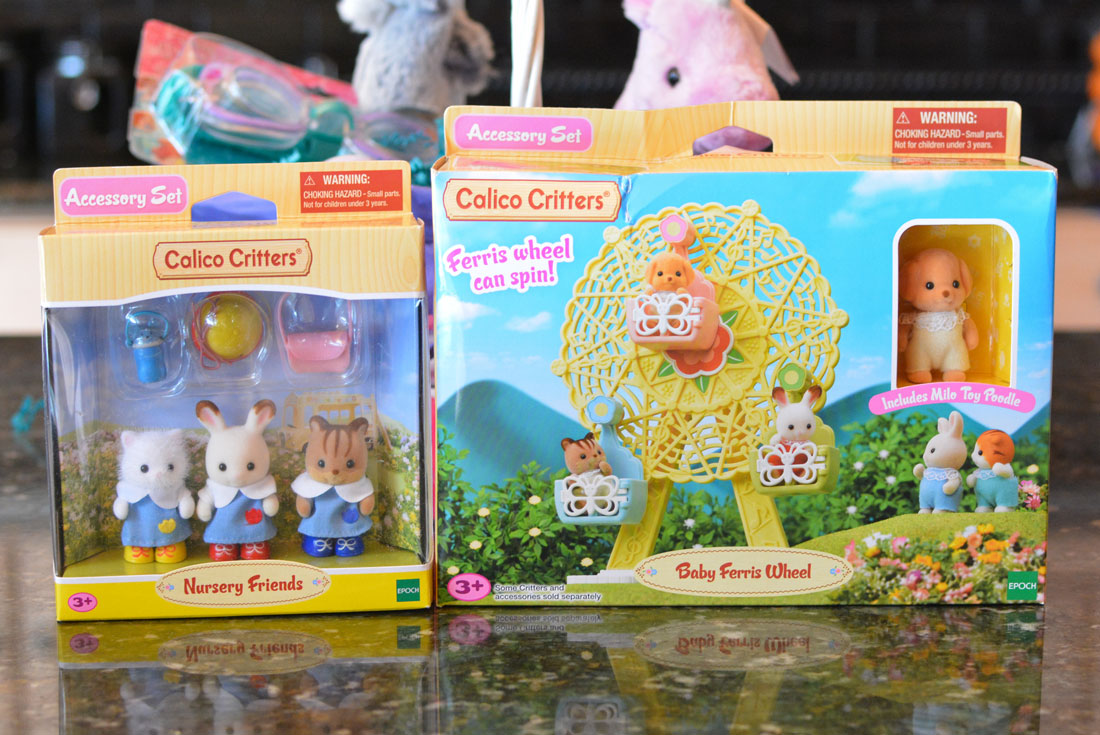 Calico Critters Baby Ferris Wheel: Take the Baby Critters for some outdoor fun at the amusement park on this littleCalico Critters Ferris Wheel. The doors open and  the Baby Critters can hop on the carts for a ride on the spinning ferris wheel. The Ferris Wheel includes three gondola doors and Toy Poodle baby Milo. Available at Amazon. Recommended for ages 3
Calico Critters Blind Bags – Baby Shopping Series:  Who doesn't love surprises! Find a new Baby Shopping critter hidden inside each blind bag. Each bag includes a Baby Critter and uniquely designed grocery and shopping accessories. The collection includes nine new collectable babies: Hopscotch Rabbit Baby with Bread, Buckley Deer Baby with Shopping Cart, Wilder Panda Baby with Popcorn, Outback Koala Baby with Shopping Bag, Polar Bear Baby with Ice Cream, Sweetpea Rabbit Baby with Eggs and Juice, Tuxedo Cat Baby with Shopping Cart, Silk Cat Baby with Cash Register, and one extra secret style critter. Available at Amazon.
Calico Critters Nursery Friends Set: Get a few of the new Baby Critters ready for nursery school with the Nursey Friends Set. The set includes three Baby Critters with their school uniforms, along with three accessories. Grace Hopscotch Rabbit wears a cute red hat, Luke Hazelnut Chipmunk with a water bottle and Bonnie Persian Cat with her pink backpack. Available at Amazon.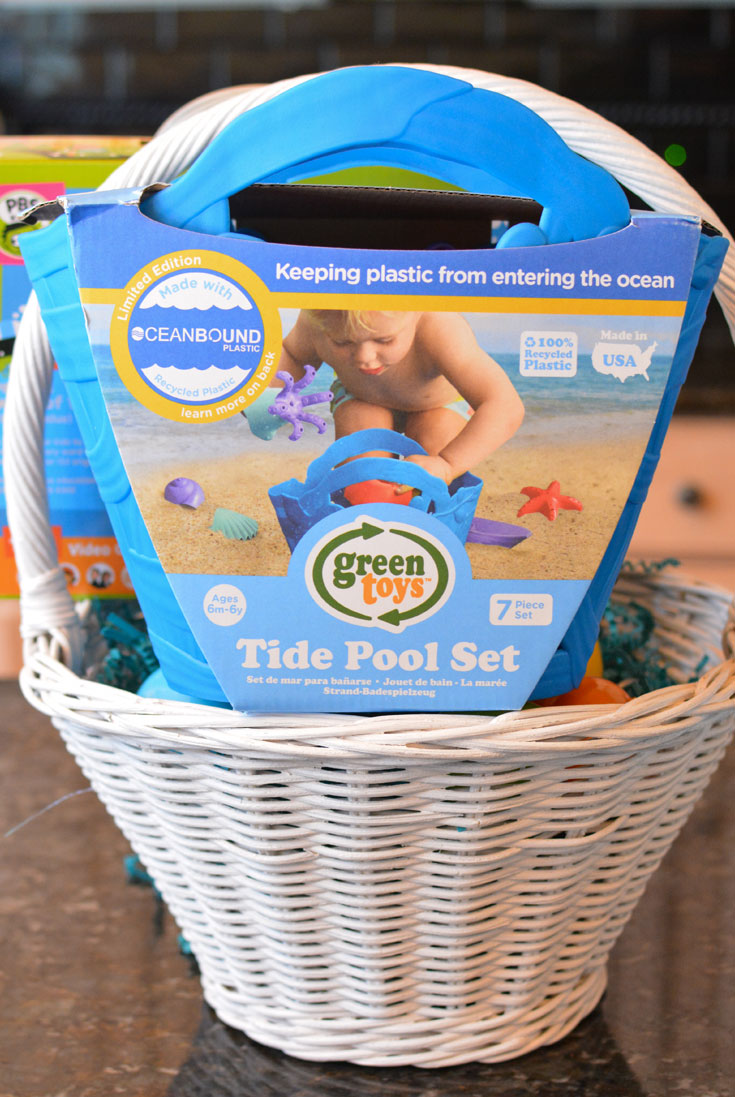 Green Toys OceanBound Plastic Tide Pool Set:
  7-piece OceanBound Plastic Tide Pool Set includes a starfish, scallop, abalone, snail, squid, and jellyfish, and a hand seaweed-patterned storage bag. Made in the USA from 100% recycled OceanBound Plastic, this set is perfect for bathtime, the beach, park adventures and family vacations. When playtime is over, collect all of the pieces and store in the bag,  made from 100% recycled plastic bags! Set is also dishwasher safe and contains no BPA, phthalates, or PVC. For ages 6 months to 6 years. MSRP $19.99.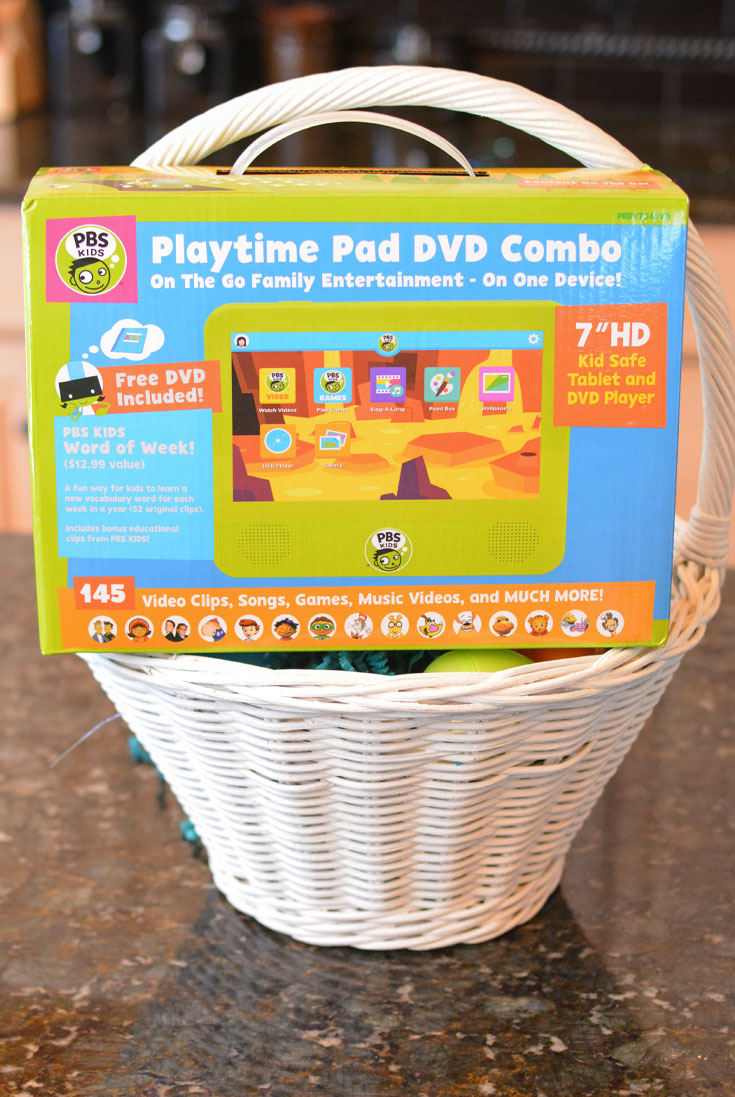 PBS Kids 7" HD Kid Safe Tablet & DVD Player: This 2-in-1 tablet and DVD player is the perfect on-the-go entertainment provider for preschoolers and toddlers! The Playtime Pad DVD Combo is preloaded with over 23 educational games, 120 video clips, songs, and music videos. The Playtime Pad is great for at home, at grandma's housr and in the car on a road trip. Also includes a headphone jack. Available  on Walmart.com.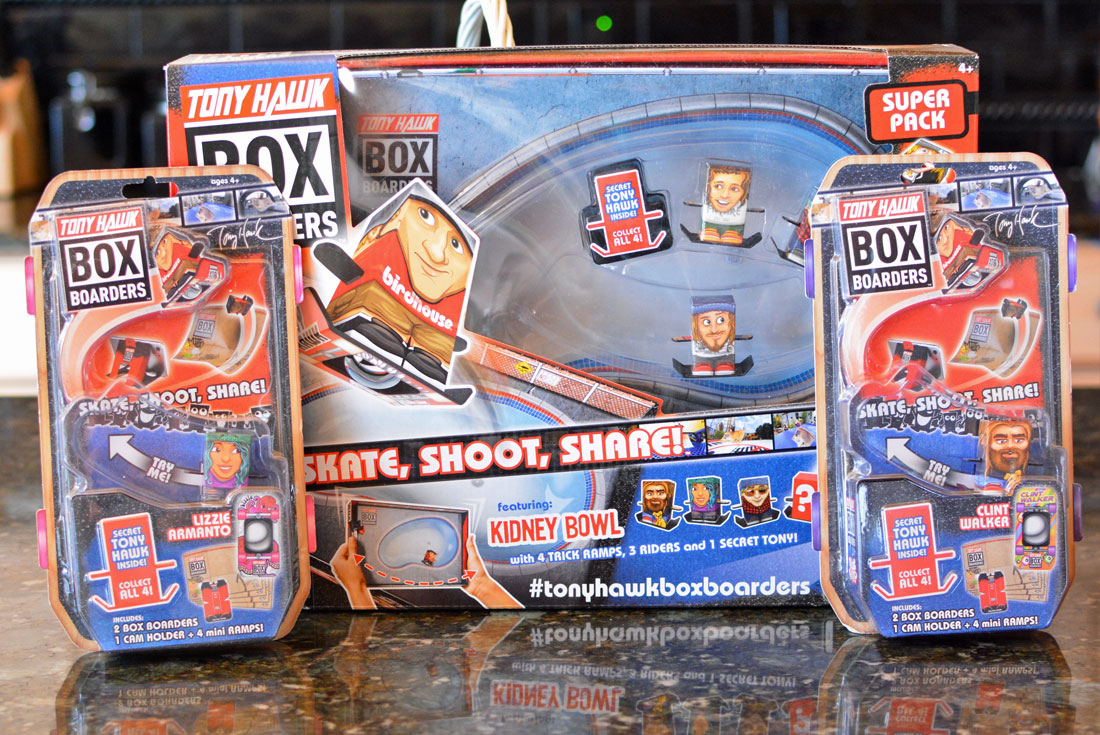 Experience the thrill of skating with the new Tony Hawk Box Boarders officially licensed by skateboarding legend Tony Hawk. After downloading the free app, kids can film, edit and share videos of the tricks they land and share them with the online Box Boarders community.
Box Boarders Action Pack: There are 13 famous skateboarders inclduing  Tony Hawk, Lizzie Armanto, Aaron Homoki. Box Boarders skate on a steel ball bearing which allows them to ride in any direction on flat surfaces. Skate anywhere! The Trick Ramp, a table, or anywhere in the house. Each Box Boarders Action Pack includes one of four mystery Tony Hawk figures.
Box Boarders Super Pack:  4 different Bowls to choose from including Kidney Bowl, Backyard Bowl, Pro Park and Eight Bowl. To film your moves, slide your phone into the phone slot located the side of the bowl, attach the fish eye lens for wide-angle shooting and begin filming all your best tricks. Videos can then be edited with the Tony Hawk Box Boarders Studio app! Once your video is complete, share them with #TonyHawkBoxBoarders!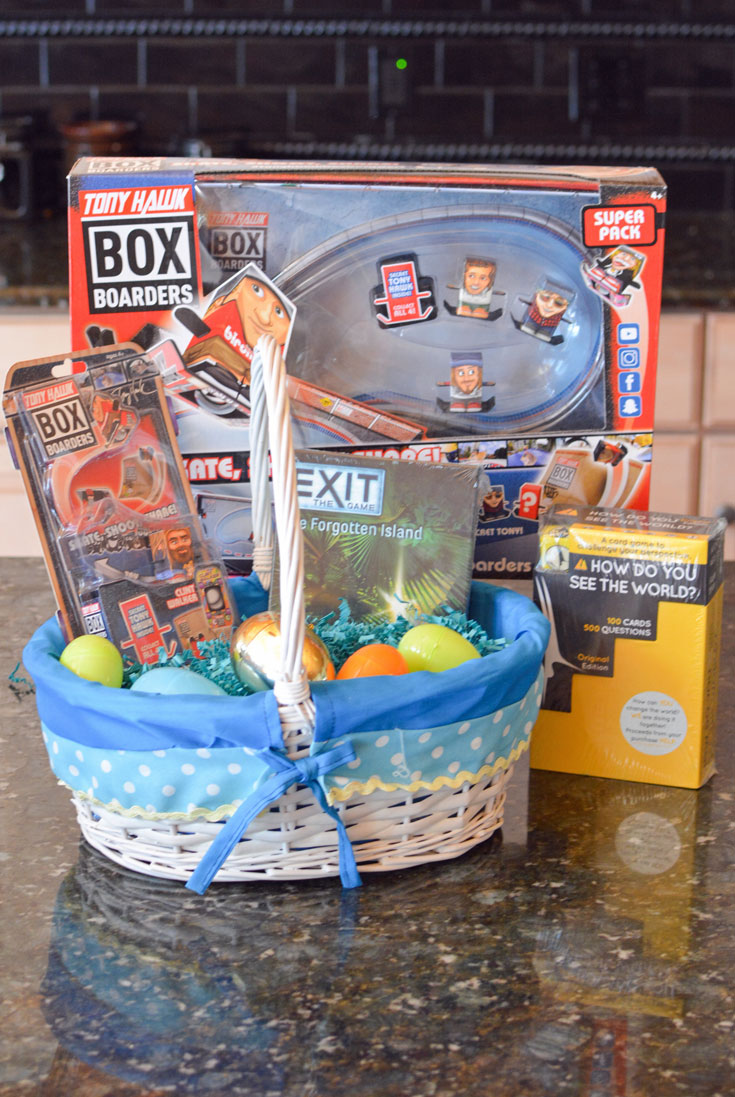 EXIT: The Game from Thames & Kosmos : Bring the excitement, intensity, and team spirit of an escape room to your home! In each EXIT game, your team (1-4 players) starts out locked in an imaginary room. Solve a series of riddles and puzzles in order to unlock doors and reveal new riddles. The time is ticking. Can you crack the codes and manage to escape the room? Varieties include: include: Dead Man on the Orient Express, The Abandoned Cabin, The Forbidden Castle, The Forgotten Island, The Mysterious Museum, The Pharaoh's Tomb,The Polar Station,The Secret Lab, The Sinister Mansion, and The Sunken Treasure. Available at Amazon. Recommended for ages: 10+.
How Do You See the World? from Authentic Agility Games:  An engaging card game that encourages people to go beyond their comfort zone while learning how others view the world by asking important questions. Game includes one dice that will select one of the following five categories: Reflections, Relationships, Aspirations, Life's Purpose and Beliefs. Players then pull the associated card, read the question and discussion follows. Play around the family dinner table, with longtime friends or with your newest neighbor. Available on Amazon.com. Recommended for teens +.