With an infant in the house, the older kids back in school and cold and flu season about to start, I recently made sure the cabinets were stocked full. With no store open past 10pm in our area, it would be a minimum of a 45 minute drive if we ran into a crunch and needed acetaminophen to reduce fevers during the night. To help prepare for the cold and flu season, I recently went through our cabinet to get rid of expired medicine and made a list of what we were running low on. I like to keep the bathroom medicine cabinet stocked and have an extra or two in the hall closet.  All of the medication was for children ages 6+, and with an infant in the house this fall/winter, I needed to stock up on infant strengths.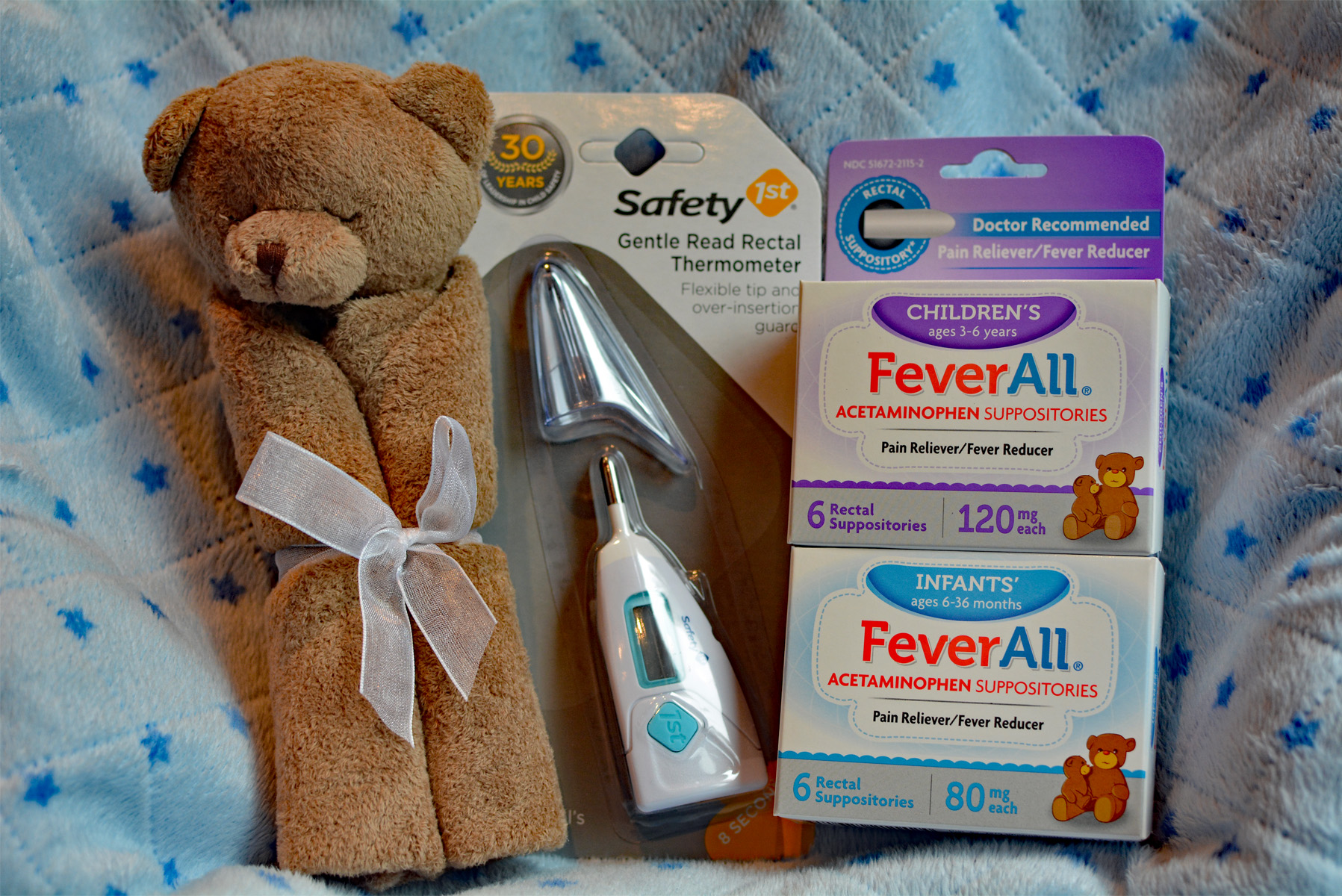 I can remember the struggle years ago trying to get either Jonathan or Trevor to swallow the pain and fever reducer when they were tired and didn't feel good. Trevor in particular was always sick with ear infections in his toddler years and there were quite a few times when he would throw up not too long after I gave him a dose. I'm sure most of the medicine was thrown up, but I didn't want to give him a second dose not knowing how much he kept in his little body.
Fast forward 7 years and I was recently introduced to FeverAll® Acetaminophen Suppositories. FeverAll® Infants' Acetaminophen Suppositories (80 mg of acetaminophen) is the only acetaminophen product available with dosage instructions for children as young as six months of age.  They provide an accurate dosage without measuring or causing a mess, and you don't have to worry about vomiting. This year I'll be prepared for cold and flu season with infant strength acetaminophen in both liquid and suppository forms.
A few things to know about fevers:
According to the American Academy of Pediatrics, fevers in babies begin at 100.4 degrees Fahrenheit.
Even though your child may feel warm, doesn't mean they have a fever. Many caregivers can overdress the child, so it's important to confirm their temperature with a thermometer.
How can I get the most accurate temperature reading? Using a digital rectal thermometer will provide the most accurate reading of a baby's temperature.
What can I do to reduce the fever if my child can't or will not take oral liquid medicine? If your child cannot take medicine by mouth due to an illness, vomiting, or fussiness, you can provide an accurate dosage of acetaminophen with FeverAll® Acetaminophen Suppositories. It is a safe alternative to the liquid form, and you won't have to worry about having syringes clean to measure the liquid.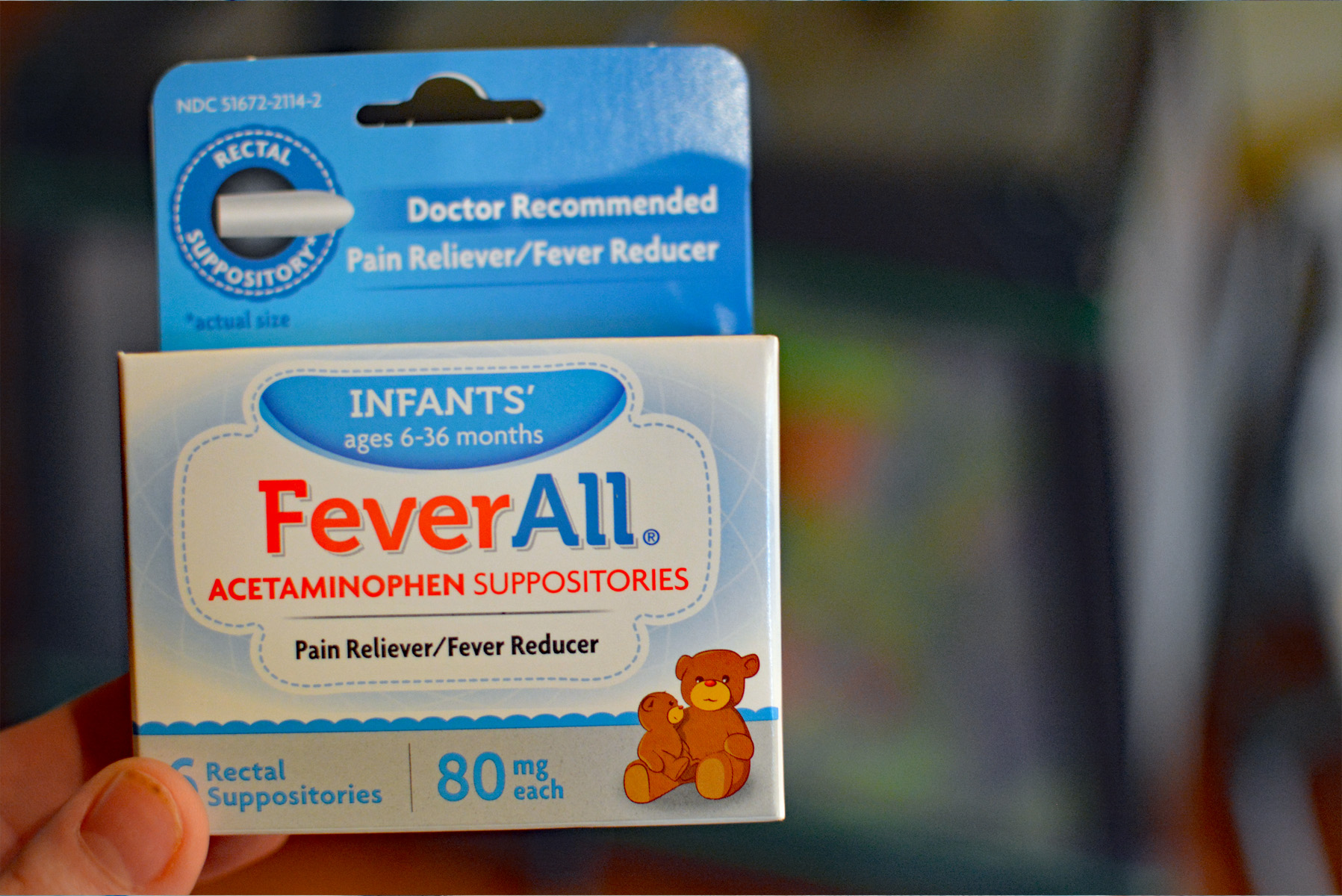 Where can I purchase FeverAll®?
Look for FeverAll® Acetaminophen Suppositories in your local Rite Aid, CVS, Walgreens and Walmart stores.
Learn more about FeverAll®:
For more information on FeverAll and current offers, visit www.FeverAll.com, and "like" FeverAll on Facebook for tips and giveaways, I know we all LOVE giveaways, and follow on Instagram.
Also, check out the series of FeverAll® Hot Topic videos featuring pediatric nurse practitioner, mom of two, and member of the Mommy MD Guides team Megan Jolin. FeverAll is a Mommy MD Guides recommended product.
Use FeverAll® only as directed. If you have specific questions about fever, acetaminophen or using FeverAll, speak with your child's pediatrician. FeverAll Acetaminophen Suppositories are available at major retailers and drugstores across the U.S, such as Walmart, Rite Aid, CVS and Walgreens. For more information and current offers, visit www.FeverAll.com.
This is a product-provided, sponsored conversation written by me on behalf of FeverAll® Acetaminophen Suppositories. The opinions and text are all mine.