This is a sponsored post written by me on behalf of Chloraseptic®. All opinions are 100% mine.
While we've been cooped up inside the house the past couple of days due to the snowstorm, I have been keeping busy cleaning all of the bedding, vacuuming and washing floors, disinfecting doorknobs, light-switches, counter tops and keeping track of when Jonathan is due for his nebulizer treatments. Every year we all end up sick at some point but I'm hoping with keeping the house clean and extra air purifiers going, this year will be better. Thankfully, this year has started out pretty good with only Jonathan being sick for a few days but he's feeling much better and it seemed to have skipped over the rest of the family.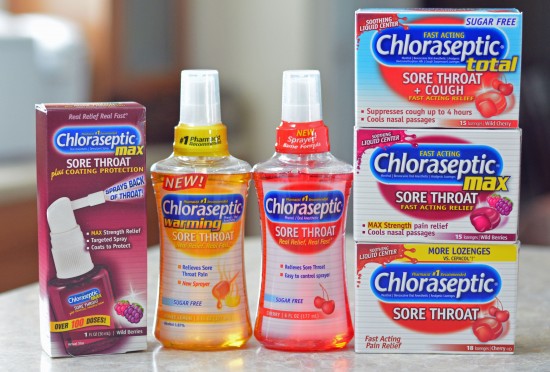 Tips for helping our family during the cough & cold season:
Make better food choices. We have been eating more fruits and vegetables more than ever.
Vacuum twice a week. To help cut down on allergens.
Wash sheets/bedding weekly.
Disinfect all door knobs, faucets and light switches at least once a week.
Make sure we're stocked up on cough and cold medicine including Chloraseptic® for sore throat relief.
This year, prepare your family for the cough and cold season with Chloraseptic®. Chloraseptic® is the #1 pharmacist recommended sore throat relief brand*. (*Lozenges Tied for #1).
Chloraseptic® sore throat sprays & lozenges help to provide relief during the cough and cold season. Missing work or school used to be the most of my worries when I was sick years ago, but now as a parent I have children to take care of as they rely on me 24/7. Our day to day schedule is busy enough without me being sick, and feeling under the weather makes things so much harder.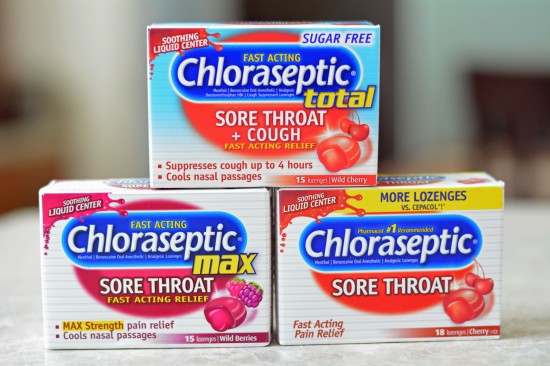 Chloraseptic® Products Include:
*NEW* Chloraseptic® Warming Sore Throat Spray – Honey Lemon
Chloraseptic® Max Sore Throat Relief Plus Coating Protection – Wild Berry
Chloraseptic® Sore Throat Spray – Cherry
Chloraseptic® Sore Throat Lozenges – MAX Wild Berry
Chloraseptic® Sugar Free Sore Throat Lozenges – Wild Cherry
Chloraseptic® Sore Throat Lozenges – Cherry
Are you heading out of town for February vacation? Make sure to pack Chloraseptic® throat sprays and lozenges for on-the-go relief.
Additional Resources:
Cold & Flu Tracker
$1 Chloraseptic® Coupon
Visit the Chloraseptic® Facebook page for DIY ideas and funny posts to get help you through the week.