Thank-you to Sonicare for sponsoring today's discussion.
While Jonathan has always enjoyed brushing his teeth, flossing, and swishing the fluoride rinse, we found out at his second to last six month cleaning that he could do a better job brushing the front of his teeth. While he always brushed his teeth, he would often focus on the back and side, and forget the front. I didn't have the best oral care as a teenager which is affecting me today so our dentist recommended we switch to Sonicare electric toothbrushes.
Within a week of that dentist appointment I switched all of our toothbrushes to Sonicare,  including Sonicare for Kids for Jonathan and Trevor. It took a week or so to get used to the feeling of the Sonicare toothbrush, but we all have adapted well and have been using them twice a day for the past 6 1/2 months.  We just had another six month cleaning two weeks ago and I was eager to see how if our brushing habits improved and if it was worth the switch. Our dentist noticed an improvement in all of our teeth, and could tell that I has switched to Sonicare without me mentioning it, I wish I had switched years ago.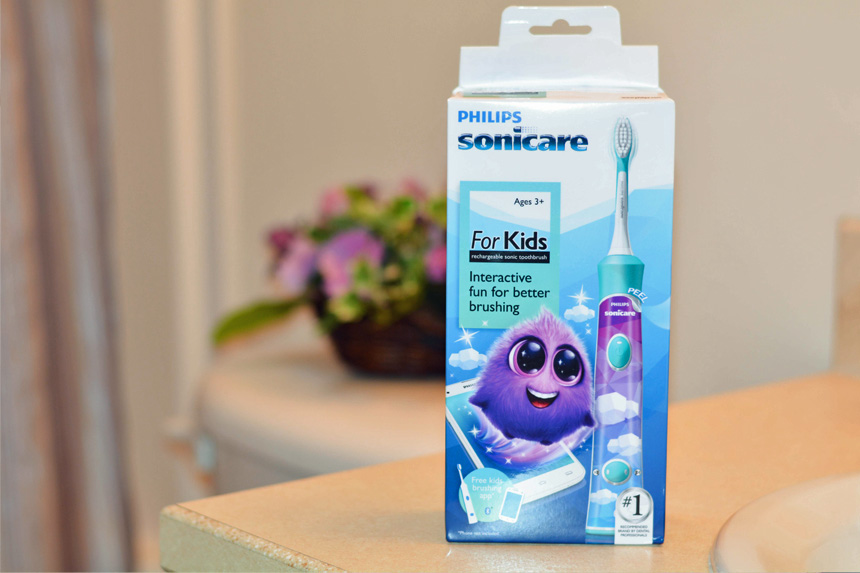 NEW Philips Sonicare For Kids, equipped with Bluetooth® technology.
Easy Grip Handle – allows kids to brush independently
KidTimer gradually increases to two minutes to train kids to brush for the dentist-recommended time
Eight Peel-and-Stick Designs that allows children to customize their toothbrush
Rechargeable
500 strokes per second
Removes up to 75% more plaque in hard to reach places than a manual toothbrush
Drives fluid between teeth and along the gum-line for a gentle yet effective clean – great for braces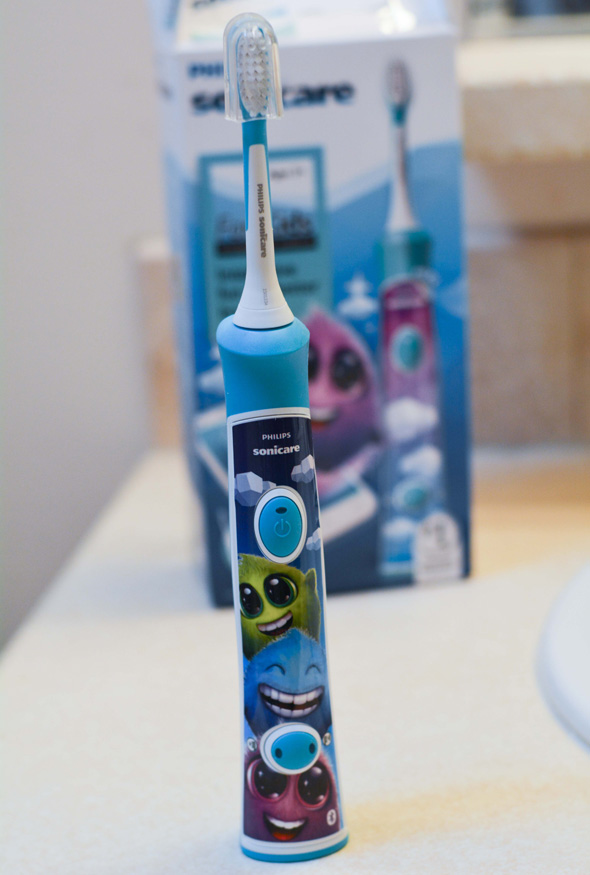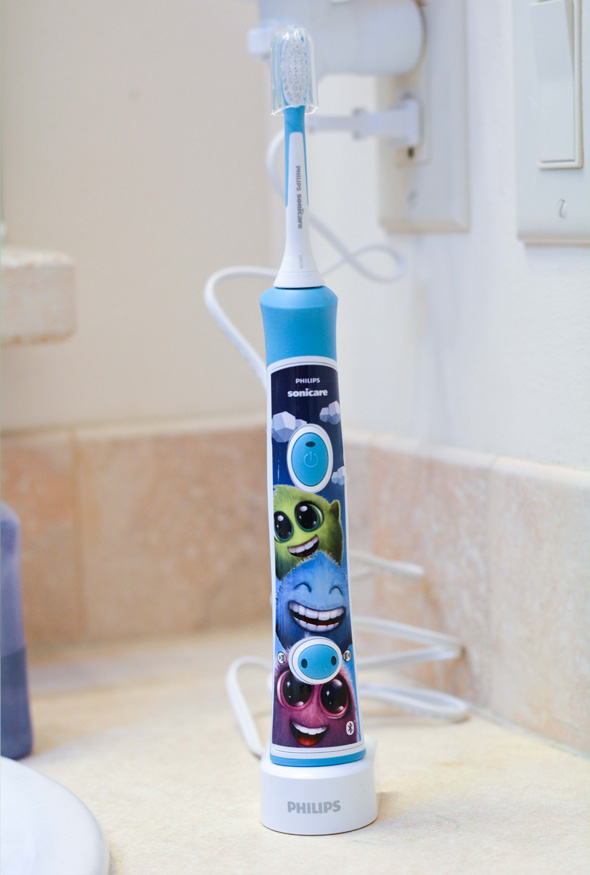 One feature that I love about the Sonicare for Kids is that it has a two minute timer. In addition to the timer, the Sonicare for Kids also teaches kids to brush the four sections of their mouth, and after 30 seconds it also lets off a beep to remind the child to switch to another section. With the Sonicare for Kids electric toothbrush, I find myself not having to constantly remind the kids that they have to brush their teeth, they are eager to use their fun electic toothbrushes day after day. The morning used to be a struggle especially with Jonathan, and he would often forget to brush his teeth, but since switching I have noticed significant improvements with remembering to brush his teeth, and brushing all of the sections for a full two minutes.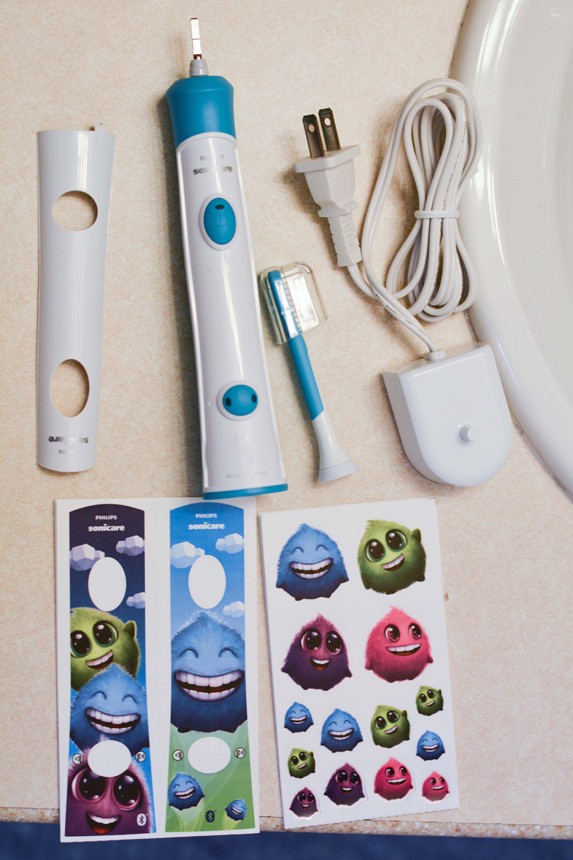 Jonathan's favorite part about his new Sonicare for Kids toothbrush is the new Peel-and-Stick Designs that he can use to customize his own toothbrush and the Philips Sonicare app that features "Sparkly".
Philips Sonicare For Kids App:
Download the free Philips Sonicare For Kids App to use with your new Sonicare for Kids rechargeable toothbrush. Kids will have their own personal brushing coach, "Sparkly," who helps to teach proper brushing techniques and  will give rewards for doing a thorough job each time they brush. Kids can check the app to view their unlocked achievements and parents will also be able to monitor their child's brushing habits by reading the daily log.
App is currently compatible with iOS 7 or higher or a 3rd generation iPad or higher.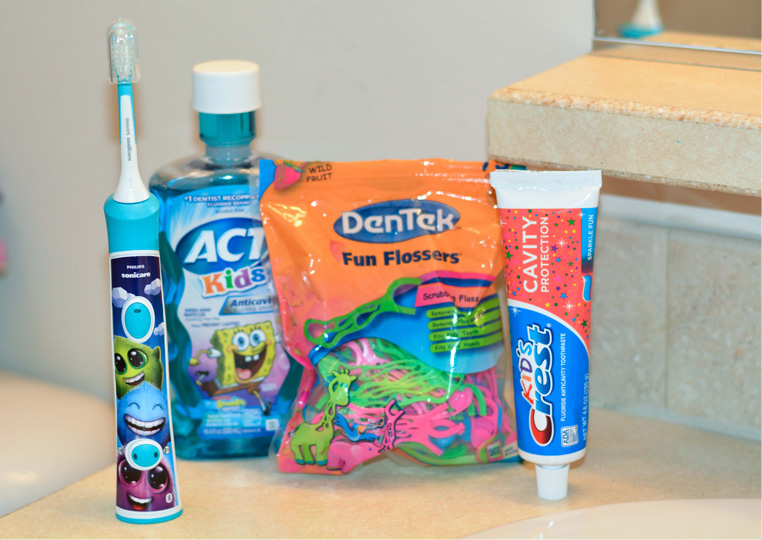 Where to buy?
Purchase the new Philips Sonicare for Kids electric toothbrush with Bluetooth Technology at Amazon.com.
Does your family use Sonicare toothbrushes?