*Samples provided.
Avoid the sugar overload this year with these fun Easter basket gift ideas.
Easter Basket For Baby: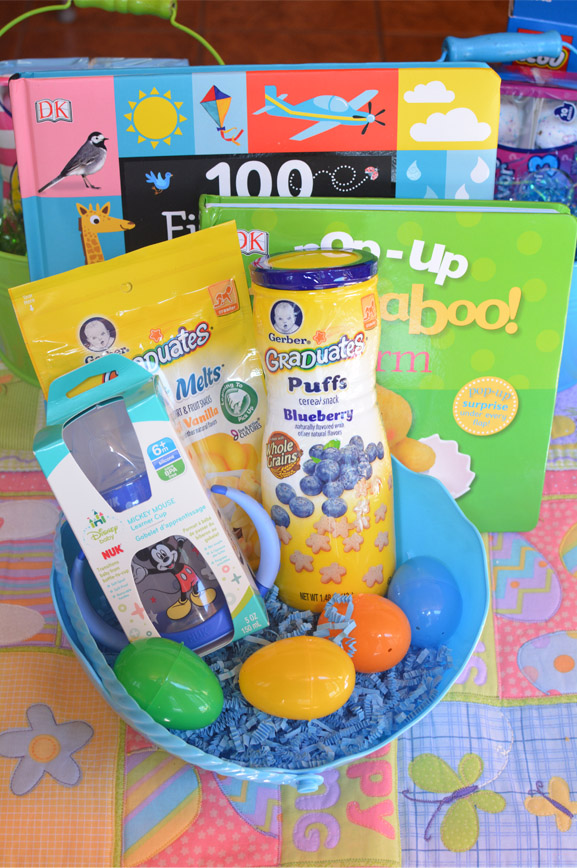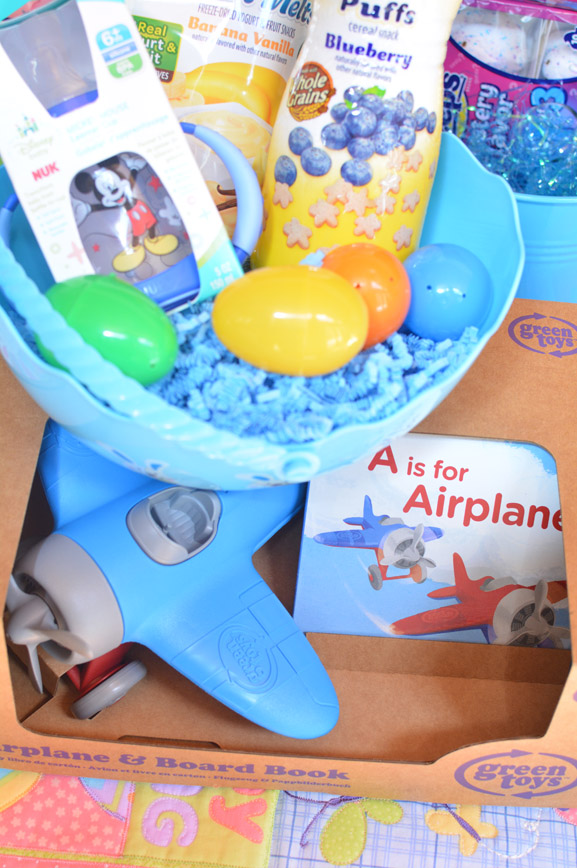 NUK Disney Learner Cup with Silicone Spout
Green Toys™ Airplane & Board Book Gift Set –  Fly through the pages of playtime! This set includes the Green Toys™ Airplane and A is for Airplane board book. The colorful airplane features a spinning propeller and a tapered, easy-to-grasp body shape. A is for Airplane is an adventure through air, land, and sea that brings the alphabet to life throughout the journey from A to Z. Made and printed in the USA from 100% recycled materials. Color combinations may vary. Packaged with recycled and recyclable materials printed with soy inks. For ages 1 and up.
100 First Words–  This artfully designed lap-book is the start to baby's learning adventure with clear introduction to primary concepts like shapes, colors, and animals.
Pop-Up Peekaboo: Farm- This interactive book features bold pop-ups that make a sheepdog, horse, pig, and more jump from the pages when the flaps are lifted.
Ideas for Girls & Boys: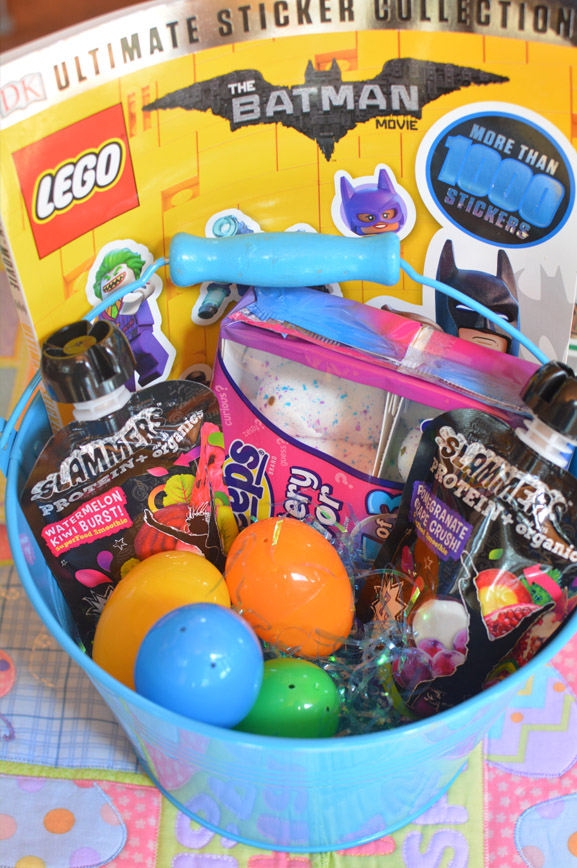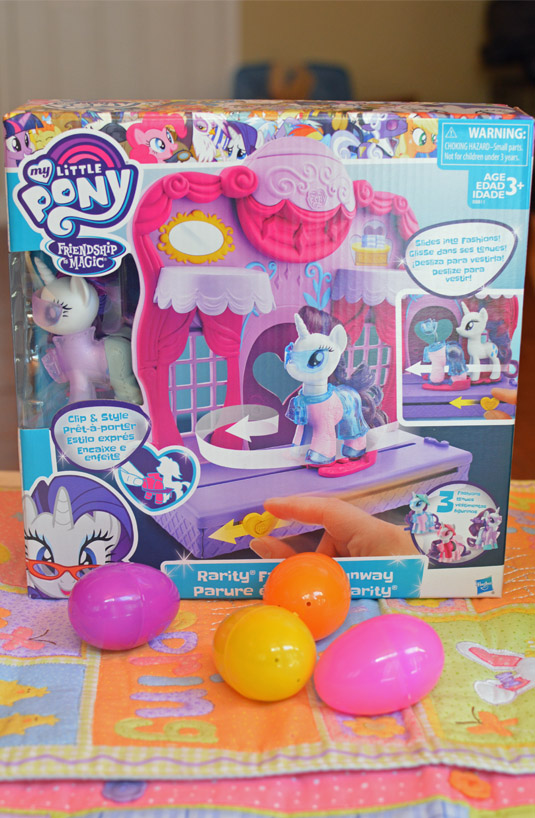 The Powerpuff Girls – Storymaker System Rainbow Rally Playset:
Is anyone else excited for the return of the Powerpuff Girls? These were a childhood favorite of my sister. The Storymaker System Rainbow Rally Playset allows fans to customize their own stories by mixing, matching and re-ordering the different base pieces and characters for endless fun. The Rainbow Rally Playset includes a Bubbles Action Doll, three interlocking base pieces, three interchangeable character tiles, a seesaw and more; allowing kids to create their own unique Powerpuff Girls adventures over and over again. Collect all of the Storymaker System playsets to create even bigger adventures! For Ages: 5+
The Powerpuff Girls – 2" Action Doll 2-Pack Assortment:  The 2" Action Doll figures from Spin Master are styled after the unique personality of each Powerpuff Girl. Kids can collect them all and recreate the fun and adventure seen in The Powerpuff Girls TV show. Assortment includes: Buttercup & Maylyn, Blossom & Fuzzy Lumpkins, Bubbles & Donny the Unicorn. For Ages: 5+
Magformers Shimmer and Shine 42 Pc Set – Are you ready to build and create? Construct Shimmer and Shine Genie Lamps, Balls and more with Magformers new 42Pc Set. Follow along with 8 idea mats to build your Magformers from 2D to 3D. Connect Genie Jewels and watch your ideas sparkle. Add your 8 favorite double-sided character cards, including Shimmer and Shine, Nahal, Tala, Zac & Leah.
My Little Pony Friendship is Magic Rarity Fashion Runway Playset – Place RARITY and her outfit on the fashion runway platform and slide the heart-shaped button to dress the pony figure. She twirls as she slides in and out of the outfit! The playset comes with 3 adorable outfits with a clip-and-style feature to dress the RARITY figure by hand or on the playset runway. Add more ponies to the playset with the MY LITTLE PONY RUNWAY FASHIONS sets, each featuring a 3-inch pony figure with 1 fashionable clip-on outfit, hair accessories, and clip-on accessory! Pony figures include FLUTTERSHY, RAINBOW DASH, and PRINCESS TWILIGHT SPARKLE. Each sold separately. Ages 3 years & up.
Slammers: Packed with organic, vegetables, and superfoods, Slammers Snacks by Kids Gourmet are a crumb-less and easily digestible alternative to sugar filled snacks & candy usually geared towards kids. Slammers come in seven different fruity flavors that introduce kids to mango, acai, yumberry, kiwi, and pomegranate.
Ultimate Sticker Collection: The LEGO® Batman™ Movie – This brand-new sticker collection comes jam-packed with more than 1,000 full-color stickers, featuring fan-favorite characters like the Joker and leading man Batman in various iterations.