Ohh Toodles! Is your little one celebrating their 1st birthday? Set the scene with these Mickey Mouse 1st Birthday party ideas. You'll find ideas for your Mickey Mouse 1st Birthday Party with Mickey's Fun To Be One themed supplies, decorations, balloons, and "Fun To Be One" Mickey Mouse Birthday Cake.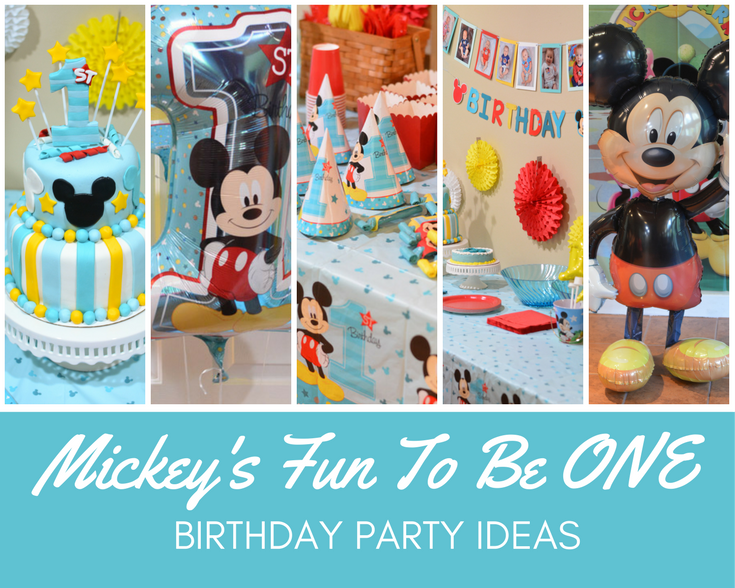 Thank-you to Oriental Trading for sending us supplies for our Mickey's Fun to Be One birthday party.
I still have a hard time believing that our little guy is already ONE! I know they grow up quick, but boy did this past year fly by. It feels as if it was just the other day that he made his crazy entrance into this world, arriving just 13 minutes after we got to the hospital, I'm so glad he waited those few extra minutes, having him in the car would have been quite the story, even more crazy than having him on the waiting room couch!
Mickey's Fun To Be One Birthday Party Ideas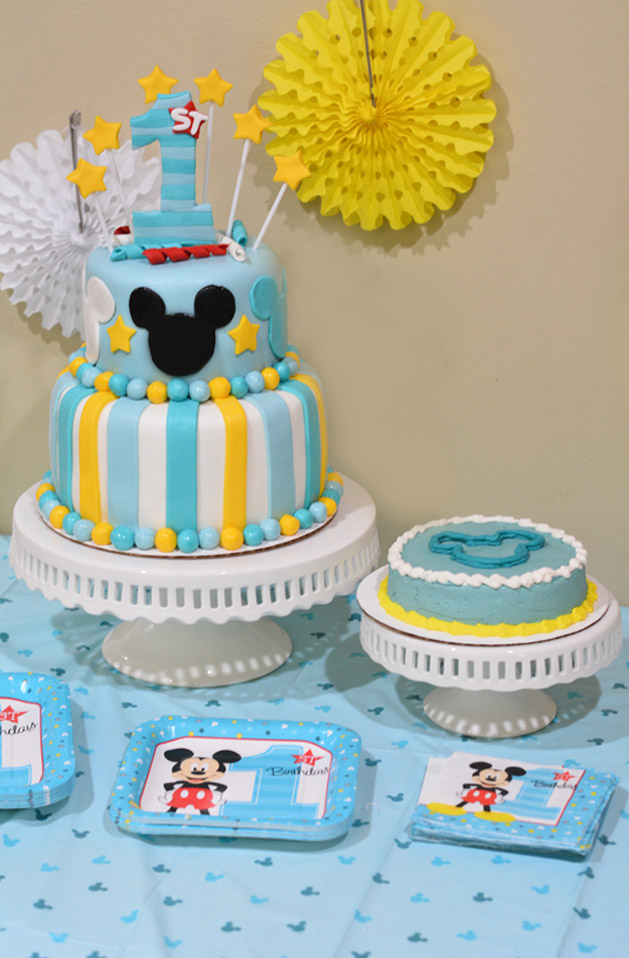 After learning that I was pregnant with our little miracle just a week before our family's first trip to Disney in 2015 and having his first official visit with the Mouse at just 5 months old I knew that "Mickey" would be the theme of his first birthday party. I've been planning it for far too long and originally planned and purchased supplies for a red, yellow and black Mickey & Friends theme, but after recently spotting the new Mickey's Fun To Be One party supplies I quickly changed my mind. Luckily for me I was able to still use all of the red & yellow decorations that I picked up.
Minus two of the Mickey Mylar balloons, all of the Mickey's Fun To Be One party supplies can be found at Oriental Trading. To add a pop of color to the walls, I decorated with hanging fans, the Birthday Boy banner, and a photo banner of our little guy. For the past year I took pictures each month with the Mickey Milestones stickers, but you can use any of your favorite photos.
Create a 12 Month Photo Banner:
Create your own 1-12 months photo banner using 4×6 photos, cardstock or scrapbook paper, a hole puncher, tape, and ribbon.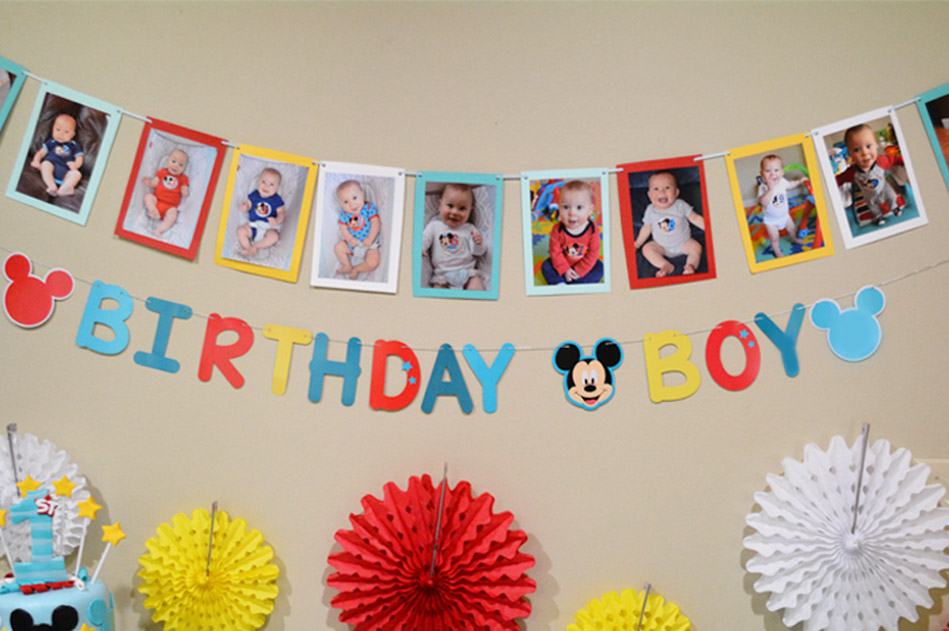 The photo banner can be matched to the theme of your party using cardstock, if you can't find the matching colors you can try the scrapbook section of your local craft store which is where I found the dark and lighter teal colors.
Mickey Mouse Birthday Party Decorations & Food Ideas: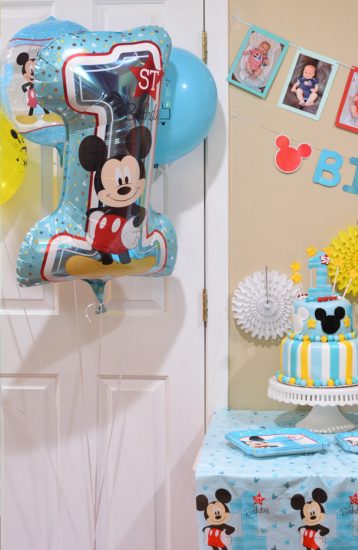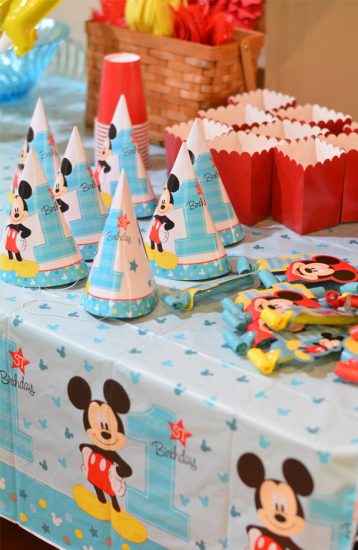 The red mini popcorn containers are a fun way to serve snacks including popcorn, chips, or veggies.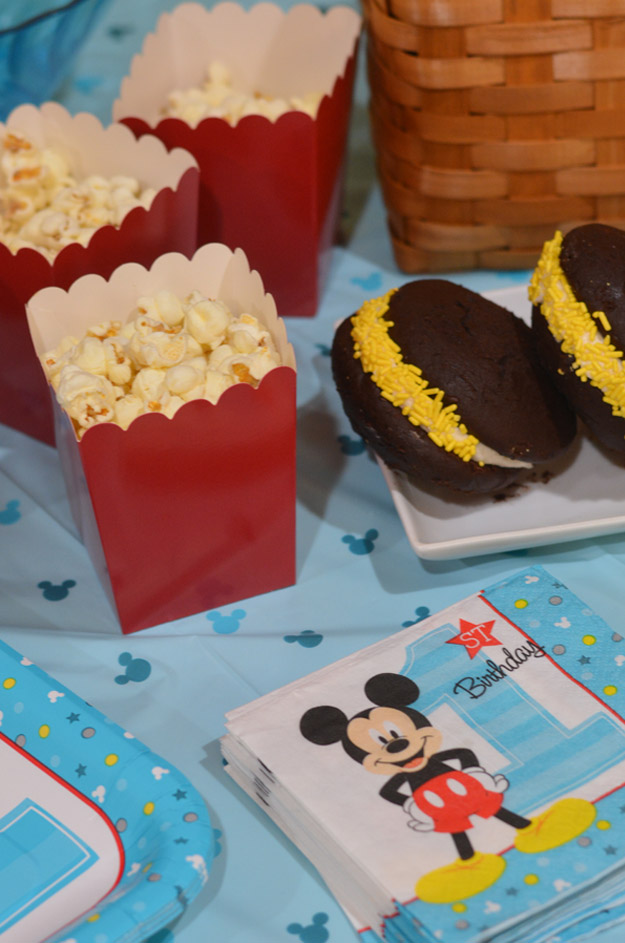 The wooden utensil caddy basket is one of my favorite ways to keep the utensils, plates, or napkins organized. I've used it at least a dozen times this past year for cookouts, birthday parties, and picnics.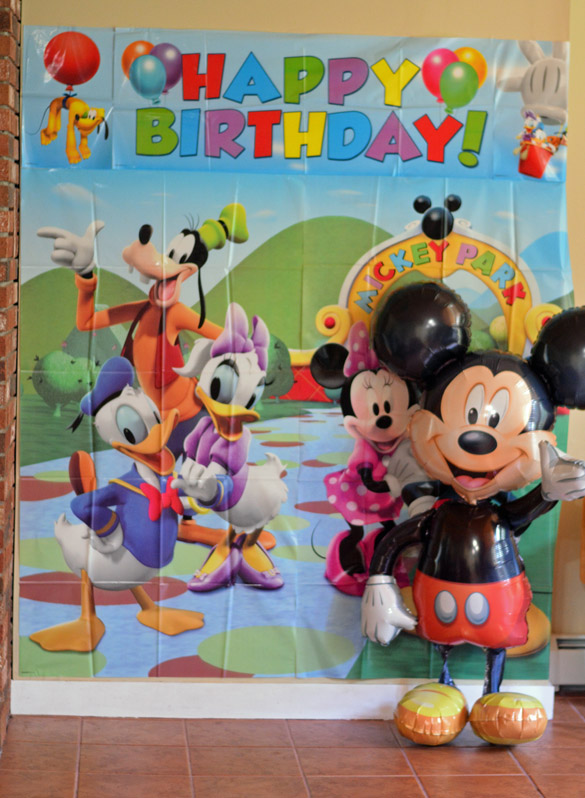 Top off your Mickey Mouse party with the Mickey Mouse AirWalkers Mylar Balloon! This 3 foot balloon along with the Mickey Mouse Backdrop Set and stick props were a huge hit and provided hours of fun and memorable photo opps.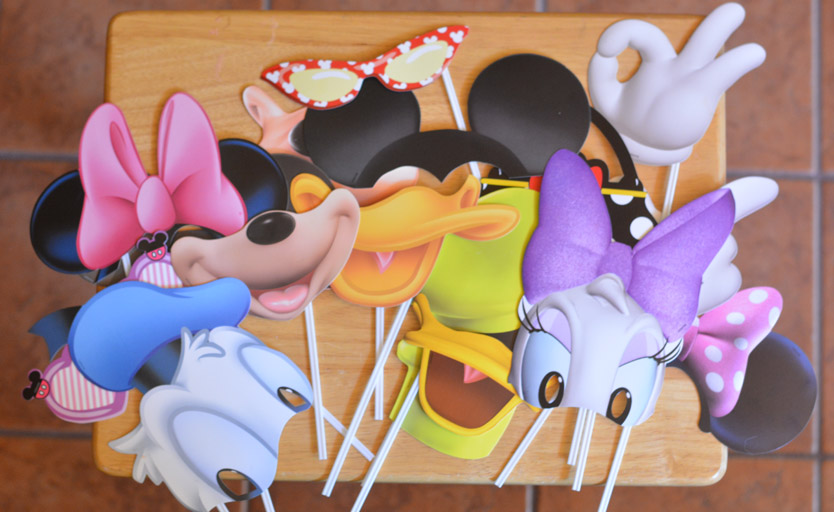 You'll need both the Mickey Mouse Photo Stick Props & Minnie Mouse Photo Stick Props to get all of the characters including Daisy, Goofy, and Donald Duck.
Mickey Mouse Fondant Cake: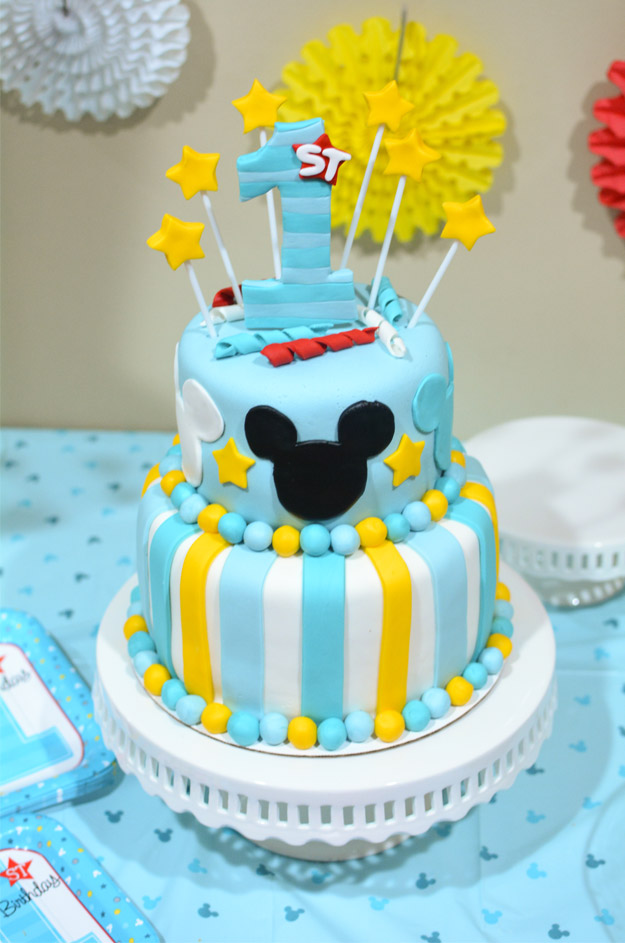 Directions on how to make the 2 tiered Mickey Mouse Fondant Birthday cake & Mickey smash cake.