Did you know that National Grandparents Day is celebrated every year on the first Sunday after Labor Day?
This year, National Grandparents Day is September 13th.
It is a special day to celebrate grandparents, and these days it is not uncommon for families to live in different states. In fact, my children live in different states then all four of the grandparents, and 2 great-grandparents. We don't get to see our family nearly as much as we want to, but with the advances in technology we are able to stay in touch easier. I can record special moments on my iPhone and share it on Facebook, which 4 out of their 6 grandparents have, I can send photos through text messages, and we can live video chat on Facetime.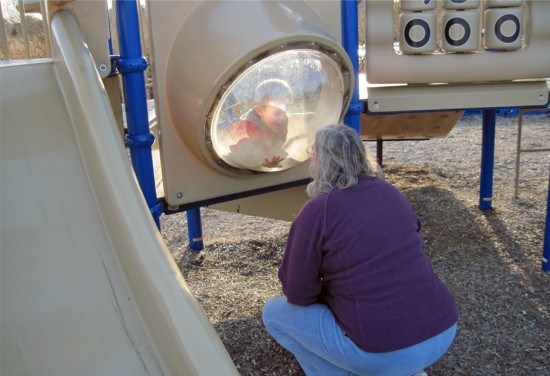 Living so far from family is different for me as I grew up in the same town as one set of my grandparents, and just a three hour drive away from my other set of grandparents. I would look forward to spending quality time with them, especially up at our lake house when my Nani would treat us to frozen yogurt with fruit, or when we would visit my other grandmother and play scrabble or Rack-0. My grandfather's are both talkers, and I always enjoyed hearing stories about the Old Days. I've heard some of the stories at least a hundred times and have quite a few memorized, and while I sometimes would get bored as I child, I now look forward to hearing them each and every time.
Five Ways To Make National Grandparents Day Special This Year:
Stay in touch: Take a few minutes out of your week to have your children visit their grandparents or give them a call if you do not live near-by. Taking with their grandparents on a weekly or monthly basis can help to establish a strong bond. We do not live near our family and the advancements in technology have made it convenient to stay in touch through Facetime & Skype.
Paint or draw a picture: If you have young children, have them paint or draw a picture. My grandmother would always love when we would visit and draw a picture to hang on her fridge.
Record a video: With advances in technology, it has never been easier to record a message to send to a loved one. Grab your iPhone or smartphone while at the park, and take a short clip of your child crossing the monkey bars, playing a sport, or signing a song to share with grandma or grandpa on National Grandparent's Day.
Plan a visit: Spend a few hours at grandma or grandpa's house, at the nursing home, or wherever they are. Plan a lunch, or bring them out to dinner.
Share a Gift: Honor grandma & grandpa with a delightful arrangement from Gourmet Gift Baskets. Have it shipped directly to grandma, or have the grandchildren hand deliver it.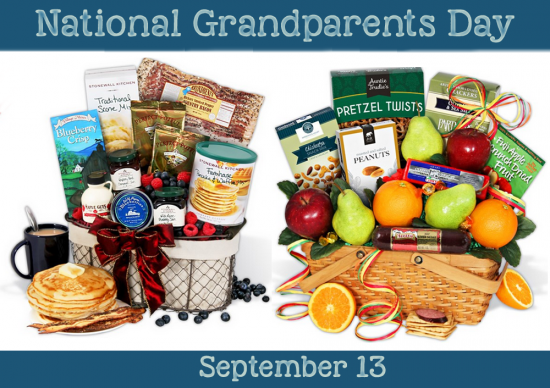 A classic morning meal from the North Country can be enjoyed anywhere at any time with the New England Breakfast Gift Basket Deluxe. Inside a gorgeous basket, grandparents will discover delicious foods, like Maine's juiciest blueberries, New Hampshire's sweetest maple syrup, and Broadbent's hickory-smoked pepper bacon.
A grandparent is the grandest mom or dad,
Not just because of all the kids they've had;
They've seen and done and known so many things
We honor them like preachers, priests and kings.
-Author Unknown
Do you have any special memories with you grandparents?