We have been using our Maytag Bravo XL Washer & Dryer for a couple of months now and I couldn't be more pleased. The washer and dryer are easy to use and the huge amount of space inside them help our family to wash more clothes in a shorter amount of time. Less loads = less detergent, less water, and less electricity.
Keeping up with our Family's Most Challenging Tasks – The LAUNDRY!
The Maytag Bravos has the versatility and performance to help me with even the most challenging tasks like being able to wash our king sized comforter at home, and helping to remove the allergens from clothing and bedding to help with our allergies. With two young boys who love to get dirty and spill drinks, it is especially helpful in removing the stains from their new fall outfits.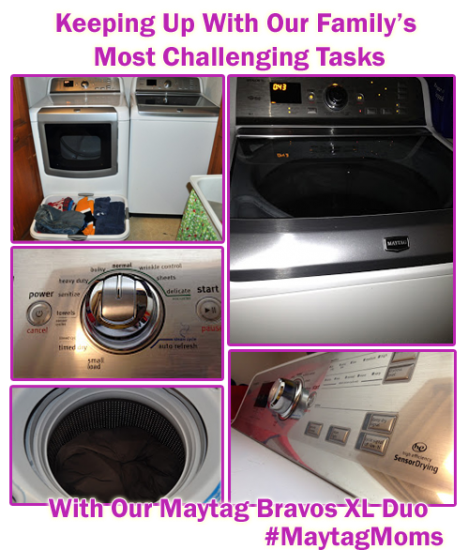 At 4.6 cu. ft. the Bravos XL HE washer is Maytag brand's largest capacity top load washers. Can you imagine being able to clean 21 towels in a single load? The Bravos XL washer makes that and being able to was a king sized comforter possible. I used to have to bring our comforter to the laundry mat every few months to use their large washer machine, it is no nice to be able to wash it in the comfort of our own home. With our allergies I am constantly washing all of our bedding, and it's nice to be able to load our comforter into our washer and have it back on our bed a couple hours later.
The Maytag Bravos XL Washer & Dryer = my new best friend.
The inside of the Bravos XL washer and dryer are huge compared to household washer & dryers that I have seen. I can cut the amount of loads I have to do in almost half and have our laundry done quicker. I know I don't like to dedicate numerous days a week to just doing laundry and I am pleased with the amount of laundry time I can cut out, especially with the drying portion, just one cycle and the clothes are dry in the 7.3 cu. ft. high-efficiency dryer. There's no more putting everything in a laundry basket to find out socks aren't dry or the pants are still damp and having to run the drying cycle again.
Between the whites, lights, and darks I usually now only have to do one load of each instead of numerous loads of each. I can also wash all of our sheets plus the children's blankets all at once instead of in multiple loads, and all of our towels & robes also fit into just one cycle.
In addition to the huge load amount and quick drying, one feature that I enjoy about the Bravos XL top load washer is the ability to add in clothing if it has already started. As long as the "Add a Garment" light is illuminated you can press the pause button and the door will unlock so you can add in more clothing. I always find myself forgetting a pair of pants or a shirt and it's nice to be able to add them in without messing up the cycles.
I used to dread spending all day at the laundry mat doing laundry, but I now find myself always wanting do laundry now that we have this fabulous Bravos XL HE washer & dryer. Not only am I saving time using the Maytag Bravos XL but I am also cutting down on the amount of detergent I use in a month and saving on water and electricity
 

Disclosure: I wrote this post participating in an Maytag Moms Dependable Laundry Ambassador program by Mom Central Consulting on behalf of Maytag. I was provided with the Maytag washer and dryer set to facilitate my post.