This post is brought to you by Child's Play Communications.
J and T can never seem to get enough of Peppa Pig, they love watching Peppa, her brother George, Mommy Pig and Daddy Pig on television, and reading about her adventures in books, and can now enjoy interacting with her on the iPad. We were first introduced to Peppa a couple of years ago in Peppa Pig which airs seven days a week on Nick Jr. The show follows the life of Peppa, who lives in U.K. and speaks with a British accent.  She loves to play games, go on adventures and of course, jump in muddy puddles! Her adventures are always end with a fun time and full of laughter and snorts.
The newly released Peppa Pig Party Time app features Peppa, her family & friends as well as music and sound effects from the hit TV show. The app includes seven party-themed games and activities that are designed for preschoolers age 2-6. With the boys both having their birthdays recently they have been in the birthday mode, and couldn't wait to celebrate with Peppa, bringing to life birthday games including musical chairs and a pinata as well as helping to bake a cake. J and T can play by themselves, or they can play with each other, both musical chairs and the pinata allow for up to four players which is convenient when there is only one iPad but more than one child wants to play.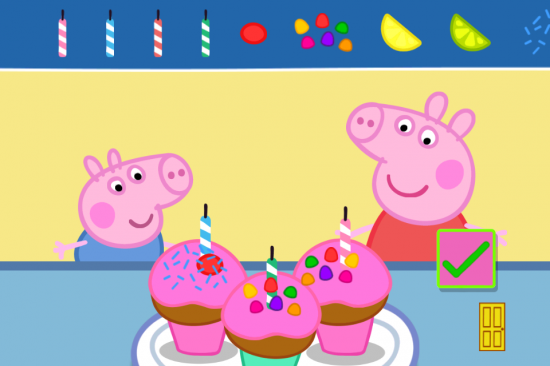 Download the Peppa Pig Party Time app today!
Peppa Pig Party Time app is available for the iPhone, iPad, iPod Touch and Android devices and can be purchased at the iTunes store and Amazon for $4.99.
Peppa Pig Printable Party Hat & Mask:
Join the party with these fun printable pages and make a Peppa Pig party hat or Peppa Pig party mask!
For more information on Peppa Pig, visit www.PeppaPig.com, Facebook at Facebook.com/OfficialPeppaPigUS or Twitter at @PeppaPigUS