This post is brought to you in partnership with LeapFrog & MomSelect. All thoughts and opinions are my own.
September 2nd is here which means you can now pre-order LeapTV from LeapFrog! T and J are excited to get moving with their favorite characters from Bubble Guppies, Jake & The NeverLand Pirates, Spider-man & more! LeapTV, is a gaming console designed for kids ages three to eight years old with three different ways to play.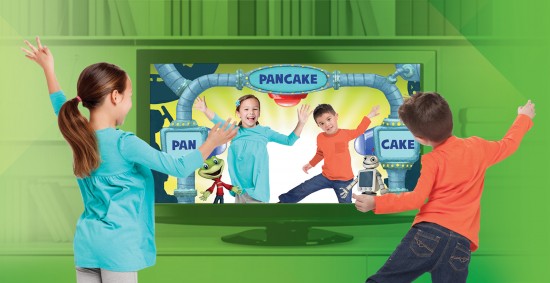 Three Unique Ways to Play:
Body Motion:The motion-sensing camera captures a child's moves and instantly puts them into the game as they explore activities like dance and martial arts. Children can run, hop and tip-toe or wave their arms to defend goals, karate-chop fast-moving blocks, scuba dive and more.
Pointer Play: The controller transforms  into a pointer with a simple twist and lets kids snap jungle vines, slice through coconuts, swing from building to building and more.
Classic Control: Press the A and B buttons for fast-paced gaming, or tilt and shake the controller to sled through an enchanted garden or race in a classic kart-racing game.
Check out a video of the CEO (Child Executive Officer) of LeapFrog with a special behind-the-scenes peak of the new LeapTV.
It's never to early to start planning for the holidays,
pre-order LeapTV
today!.