A special thanks to #MommyParties and LeapFrog for providing a LeapTV & games.
While the boys enjoy playing video games on the PS4 with my husband, their game time is severely limited, and I can count the amount of times they've played this past year on one hand. The video game system was purchased for my husband and not the children, and the games we do have, have no educational value. I have been trying to transform their playroom into a more educational atmosphere, by taking away specific toys, and bringing out the puzzles, books, board games, and building toys. At 4 and 6, they're at the age where education is important, and they enjoy learning, especially it's fun so why not take advantage of that.
I can always count on LeapFrog products and their educational entertainment. While we have had a number of LeapFrog products through the years, one of our favorites has been the LeapPad, I was amazed at how much the boys learned from playing the mathematics and reading games. They don't even realize they are learning, as they are too busy having fun.  Most recently we received the LeapTV, and had the opportunity to host a gathering for our neighborhood friends who are all between the ages of 3 and 7.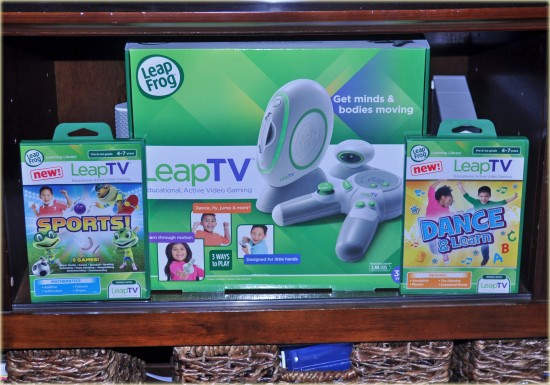 The new LeapTV from LeapFrog gets children to interact while teaching core skills across a variety of subjects including: reading, mathematics, science and problem solving.  It is designed for kids 3-8, and uses a motion-sensing camera and controller. Most of the games, the child needs to stand up and be active in order to play, like moving hands around pretending to climb a rope, or being a soccer goalie and having to jump around to block the balls. For younger children, that have not mastered reading, audio instruction makes it simple to play solo or with a friend without mom & dads help to read the directions.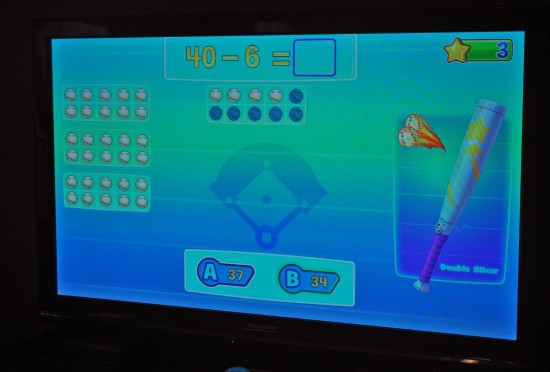 Who knew solving math problems could be so much fun?
When it comes to homework, I know a number of kids that struggle, and will sit at the table for an hour being stubborn, but the LeapFrog TV makes learning fun through educational games. We received two games, LeapFrog Sports! and LeapFrog Dance & Learn, while the girls loved the dancing game, LeapFrog Sports! was the favorite as all of the children were anxious to play. The system only comes with one controller so we had to take turns playing, we plan to purchase at least one additional controller so that more than once child can play.
I never expected a group of 3 to 7 year olds to enjoy spending the after noon completing math problems and educational lessons, but mixed in with a few active games, they'll do addition, subtraction and multiplication all night long.
Baseball seemed to be a favorite, but in order to be able to swing the bat and hit the ball a number of math problems had to be answered first. When setting up the system, you are able to customize the levels for each child, and you can change the level when the child is ready to advance. T is in preschool and the problems are more simple and geared to his age, if we switch to J's profile, his games are customized to a first grader level. We also created a friend profile as their best friends are in Kindergarten, that way we had problems geared towards their level.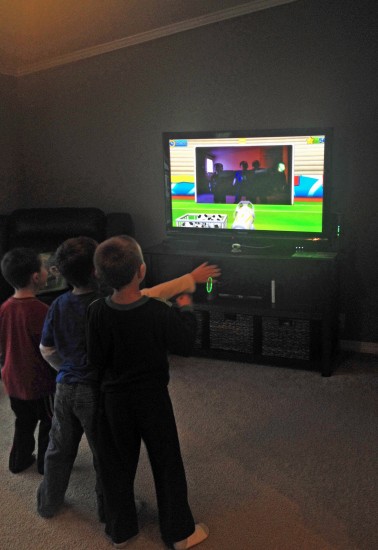 The LeapTV is based off the motion sensor camera so you need to have a decent amount of room as well as good lighting. The lighting in our living room when it's a cloudy day is not the best so we had a few issues with the motion sensor not picking up the kids so we had to turn on additional lighting in the kitchen, or if someone was sitting on the couch, it would pick up that child instead. For the dance games and multiplayer games you want it to pick up other kids, but when on the one person mode and trying to climb a rope, you don't want it too. We moved the couch back as far as we could but that didn't help out so all of the children had to sit on the floor out of the camera's view. I already planned to purchase an floor lamp to brighten up our living room as it been pretty dark now that the winter is coming and the sun doesn't shine as much, but now that we have this fun educational game system, I really need to pick one up.
There are already 9 different cartridge games available and by the end of the year there will be 100+ LeapFrog educator-approved games and videos. I can foresee many more fun play dates with the neighborhood kids, especially on these cold snowy days we've been having. We're looking forward to trying out the new Jake & The Never Land Pirate game, and hoping the holidays will bring the LeapTV Kart Racing.
Connect with LeapFrog on Twitter | Facebook | Instagram
Have you seen the LeapTV? What is your favorite feature?