With a number of tablets on the market, its hard to narrow down which is the best to buy, especially with the holidays right around the corner. I have always been a fan of the LeapFrog Leapad, and Jonathan received his first one for Christmas years ago. Through the years, we have acquired newer versions, and most recently Trevor received the LeapFrog LeapPad Platinum as part of my membership with the LeapFrog Mom Squad.
One of my favorite things about the LeapFrog LeapPad, is that all the games are interchangeable throughout the versions. The same games that were purchased with our original LeapPad four years ago work on our LeapFrog LeapPad 3 and LeapFrog Platinum.
Let's Learn More About This Educational Toy.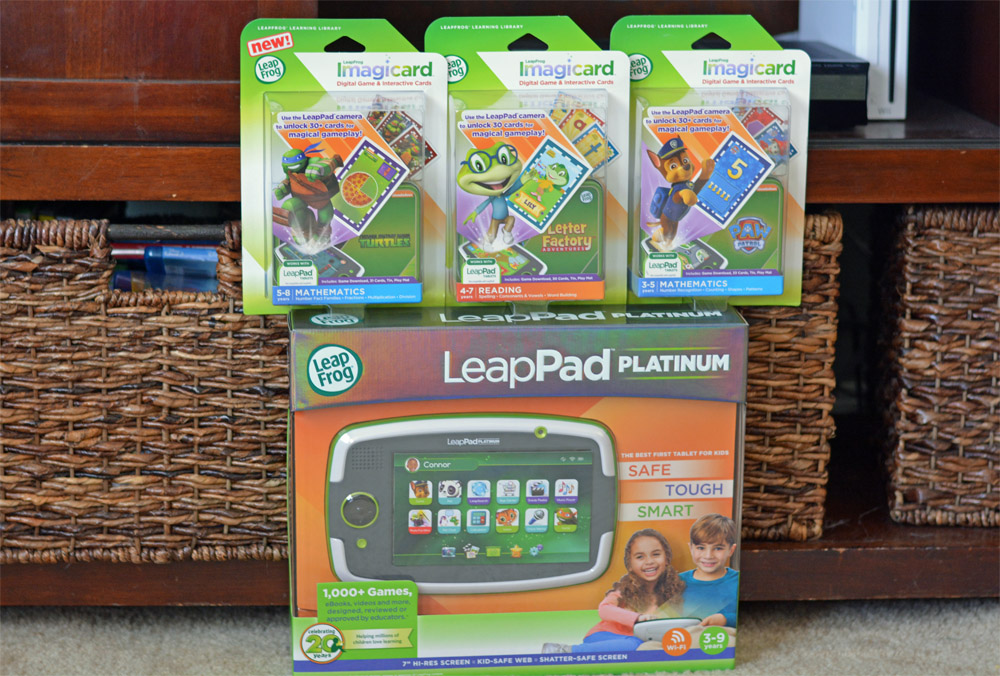 LeapFrog LeapPad Platinum:
7″ hi-res screen
Wi-Fi
Powerful quad-core processor
8GB memory

Shatter-safe screen and wrap-around bumper

Enhanced parent controls, kid-safe web browser

:

Front and back cameras & video recorders

5+ hours rechargeable battery

Music player

Includes 6 bonus LeapFrog Imagicard digital game and interactive cards, and 10 apps

Access to the learning library, with 1,000+ LeapFrog educator-approved games, books, videos, music and more. (Sold separately.)
Recommended: Ages 3-9
The LeapPad Ultra Makes Learning Fun:
The new LeapFrog LeapPad Platinum features a large 7″ hi-res touch screen with 1024×600 resolution.  To help protect it against accidental drops, it was made with shatter-safe screen and wrap-around bumper. As you can see, it has come a long way since the original.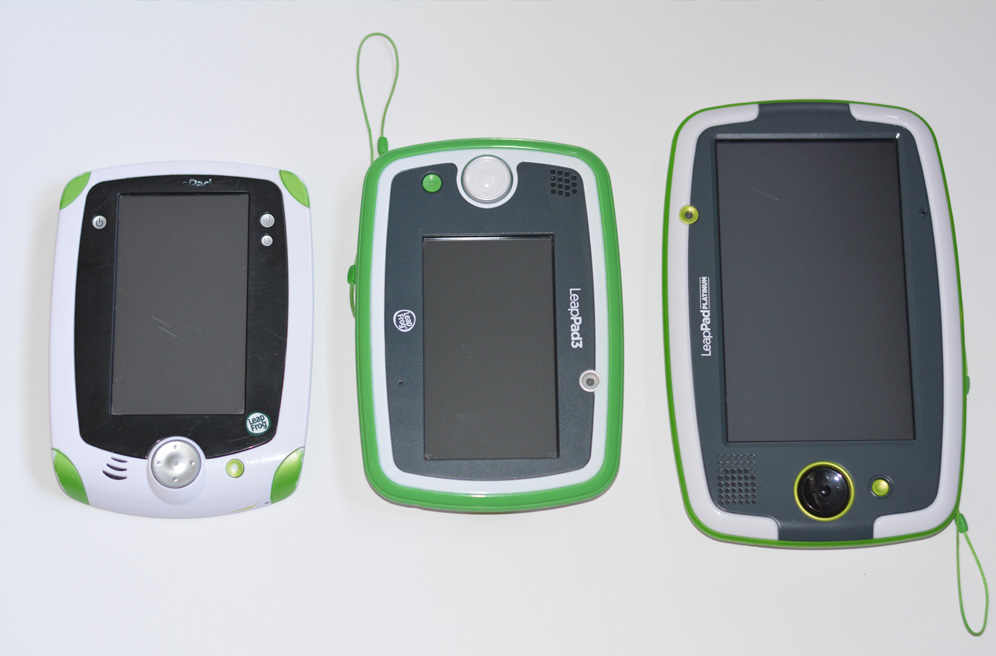 At 5 and 7 years old, my boys are always eager to play on their LeapPads, especially with some of their favorite characters. While I limit their access to watching television & movies and playing video games on their DS, they are allowed to play on their LeapPads daily. There are only educational games, books, and videos available on the LeapPad and I don't have to worry about them viewing websites or videos that are inappropriate. We have a rule in the morning that they need to eat, brush their teeth, get dressed, and make their beds before they are allowed on their LeapPads. The boys look forward to that 15 minutes every morning, and I almost never need to wrestle them to get out of bed, they are eager to get everything completed so that they can interact with their favorite characters and get a little game time out of the way before heading off to school. Who knew that reading, math, and science could be so fun, but a kid-friendly tablet and their favorite characters can make a big difference.
LeapFrog Imagicards:
Add more educational fun with LeapFrog Imagicards, now available in three games. These digital learning games brings interactive game cards to life onscreen with all LeapPad kids tablets, except LeapPad1.
LeapFrog Imagicard Letter Factory Adventures – Teaches reading, including Phonics, Spelling, Consonant & Blends, Word Sounds & Rhyme, Sight Words
LeapFrog Imagicard Paw Patrol –Teaches mathematics including Number Recognition, Counting, Shapes. Patterns, Addition & Subtraction
LeapFrog Imagicard Teenage Mutant Ninja Turtles -Teaches Mathematics including Addition & Subtraction, Multiplication, Division. Fractions, Number Composition. Place Value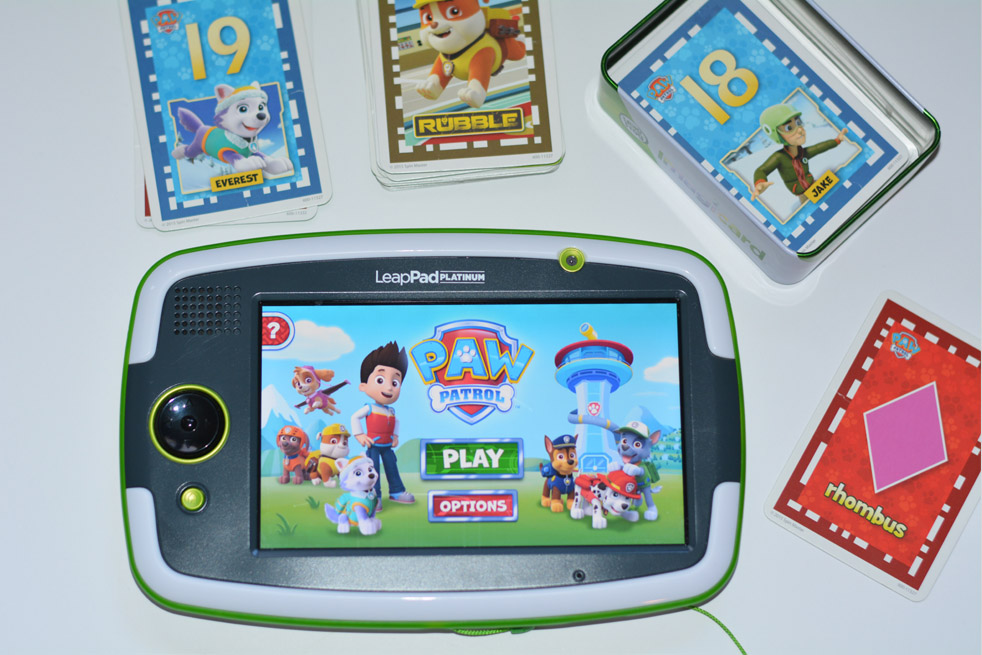 I asked the kids what their favorite thing about the new LeapPad Platinum, and they both stated the big screen, Imagicards, and camera. They are both constantly taking pictures and videos,  it's fun to browse through and see the life through the eyes of a 5 year old.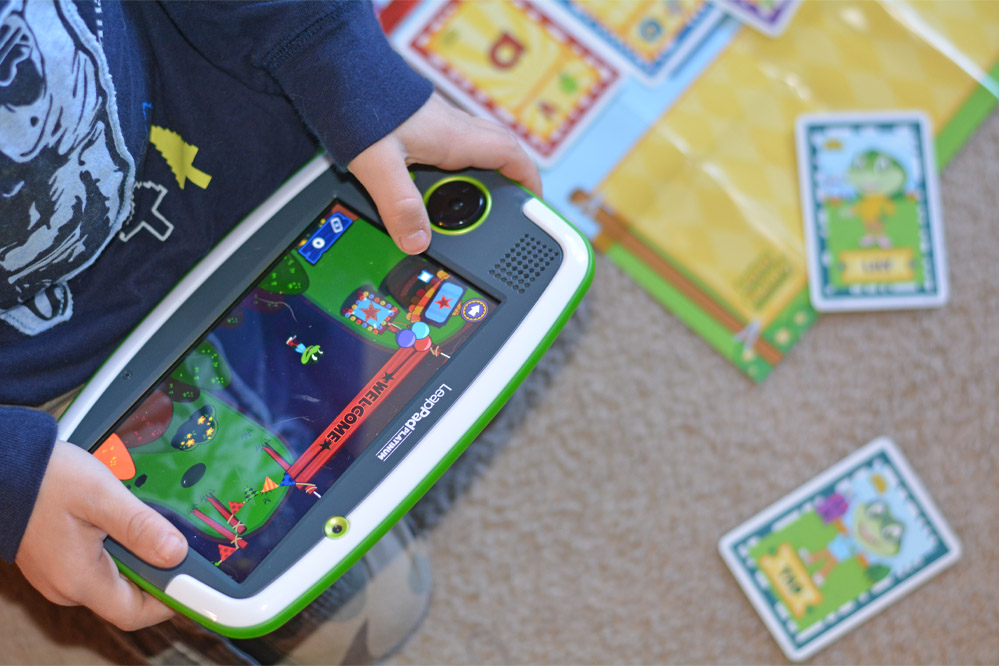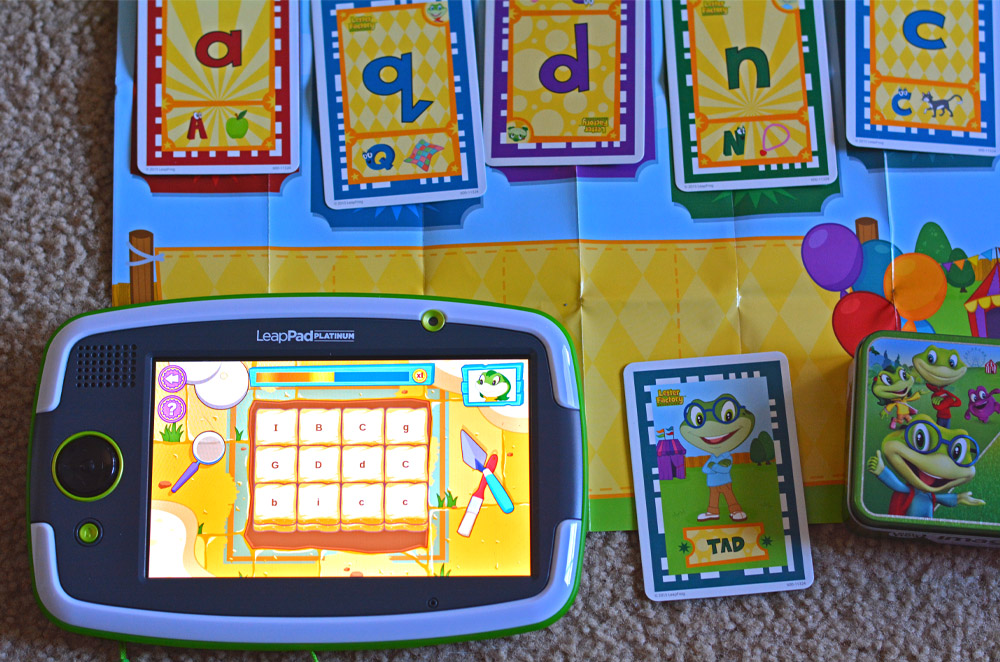 With the LeapPad Platinum, parents have direct access to the learning library, with 1,000+ LeapFrog educator-approved games, books, videos, music and more.  The boys love that they can interact with some of their favorite characters including Blaze and the Monster Machine, Teenage Mutant Ninja Turtles, and Paw Patrol.  Others include: Frozen, Team Umizoomi, Dora & Friends, Mickey & Minnie, Doc McStuffins, The Little Mermaid and more.
The games, books, and videos can be downloaded via Wi-Fi which I prefer, as a few of our cartridges have been lost or damaged over the years. The digital games can also be downloaded on multiple LeapPads unlike the cartridge that can only be used one at a time.
Where to buy?
Purchase the LeapFrog LeapPad Platinum (available in green & purple) and Imagicards on Amazon.