This post is brought to you by P&G and Family Dollar.
Between two active boys who play sports and a husband that loves the outdoors dirty laundry is endless, in just a couple of short days the laundry is piled high. When it comes to laundry time, I know I can always turn to Procter & Gamble products, most importantly Tide + Coldwater Clean to get our clothes clean & fresh. I great up with parents whoe always used Tide, and it just came natural when I moved out on my own and bought laundry detergent. While I used to always use Tide original I switched to tide Tide + Coldwater Clean when we got our new HE washer & dryer.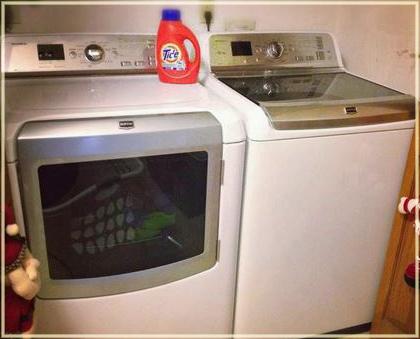 With the boys growing so fast and constantly moving up in sizes we have a few tips & tricks to help make our family's clothes last longer in addition to washing our clothes with Tide. After ruining a couple of good pairs of jeans and shirts I soon found out that we needed to keep a couple sets of "play clothes". Clothes that have faded, have a small hole or tear that we don't mind getting more paint or stains on.
You can find the best new laundry products from trusted brands, including new and convenient fabric care options from Gain and Tide at Family Dollar. The new products offer extra benefits – like removing stains the best and great, new scents –  all at great value pricing.

Gain Flings:
An easier way to use Gain. These three-in-one single-use flings include 50% more scent, an oxi boost and the freshness of Febreze, for long-lasting freshness and cleaning power.
Tide Simply Clean & Fresh:
Offers a dependable clean and superior mal-odor removal
Tide Plus Collection:
Tide + Coldwater Clean
Coldwater cleaning with whitening ingredients
Tide + Febreze Freshness
Provides long lasting freshness with an upgraded scent
Tide + A Touch of Downy
Makes clothes feel soft & fresh with an upgraded scent
Tide + Bleach Alternative
Removes dinginess and gets whites whiter
Tide + Febreze Sport
Removes body soils, odor and sweat stains
Tide + Ultra Stain Release
New Tide Ultra Stain Release will help remove 99% of everyday stains
Ultra Stain Release is specially formulated with stain removal ingredients that work at the fiber level and has a new pre-treat stain Zap! Cap that lets you use Tide as both a detergent and a pre-treater on tough stains
Win a Family Dollar Prize Pack:
Giveaway has ended.

By entering this giveaway you agree to the  Giveaway Rules. This giveaway will end on March 26, 2014 at 11:59pm EST. The winner will be chosen via Rafflecopter. The winner will have 24 hours to respond or a new winner will be selected. You must be 18 years or older. Open to U.S. &residents. No P.O. Boxes. Please allow 6-8 weeks for prize fulfillment by sponsor.