This post is brought to you by Farm Rich.
Every weekend the boys look forward to family movie night, we'll pick out a movie, some appetizers and enjoy a fun night of smiles,  laughter, and food. While some nights I make the appetizers from scratch, other nights it is more convenient to grab something out of the freezer and pop it in the oven. Farm Rich Mozzarella Sticks always seem to be a huge hit with the kids, while Mom & Dad enjoy the Jalapeño Peppers. This week in addition to the Mozzarella Sticks the boys also chose Crispy Dill Pickles. These appetizers require no prep time, and have little mess. Simply place them on a sprayed baking sheet and pop them in the oven. The can also be deep-fried but we prefer the toaster oven.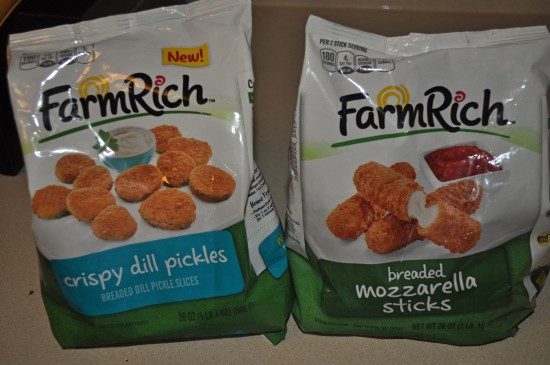 While I'm not a fan of dill pickles, the boys take after their Dad and would eat them every day if I let them. Tyler didn't believe me that their was a pickle inside the batter and it took him a minute to eat it, but once he realized the pickle was inside, I couldn't get him away from the platter. While at our local grocery store I noticed they didn't carry the Queso Bites, but after checking out the locator on the Farm Rich website I noticed that Stop & Shop carries them so I'll have to keep my eye out the next time I'm in the area. My husband and I LOVE Queso.
In addition to the Mozzarella Sticks, Jalapeño Peppers, and Crispy Dill Pickles, Farm Rich offers a number of other frozen snacks that are easy appetizers for any occasion. including Queso Cheese Bites, Meatballs,  Toasted Ravioli, and Breaded Mushrooms. If you're looking for a specific product, you can enter your zip code and find a list of local stores using the store locator.
Enter to win a mini freezer full of Farm Rich snacks!
March is National Frozen Food Month and to celebrate, Farm Rich is giving away a mini freezer stocked with all your Farm Rich snack favorites! To enter, click on the March Giveaway box on the Farm Rich Facebook page. Sweepstakes ends on March 31. Limit one entry per person.