Between two dogs and two young kids, I seem to constantly be washing the floors whether its muddy paw prints or spilled juice. I wouldn't say I enjoy cleaning but I sure am in love with my new Shark Pro Steam & Spray. Cleaning the kitchen floor and mudroom is now a breeze, and I honestly look forward to mopping knowing it will be so easy.
Shark PRO Steam & Spray Features:
Cleanser Spray Button
25′ Removable Power Cord
450ml Water Tank
Spray Nozzle
Ergonomic Handle
Washable Pads
SaniFiber™ Pads
Due to allergies and asthma that runs in our household I prefer to steam clean the floors compared to regular mopping.
Three Cleaning Modes:
1. Steam & Spray
When ENERGIZED with STEAM, Shark® cleanser reaches an even higher level of cleaning, great for breaking down the tougher stuck on messes.
2. Spray only cleaning
Spray Shark® Gentle Floor Cleanser to break down tough dirt and grime.
3. Steam only cleaning:
Sanitize floors in seconds with the power of super-heated steam.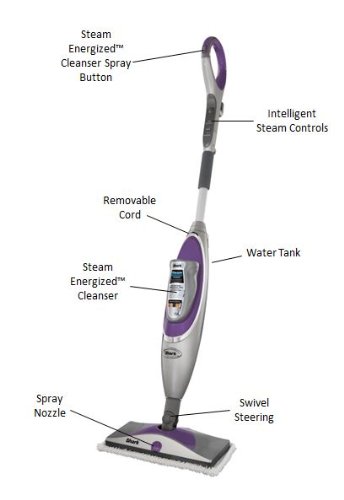 With our previous floor
steam cleaner
I would have to constantly hold down a steam button which left my hands tired after only a few short minutes. I would also notice my arm getting tired because of the handle and having to press down hard on the floor to remove messes. With the Shark Steam & Spray I can put it on the Steam & Spray setting and the steam automatically builds, no having to hold any buttons down.  The Steam Energized Cleanse helps to break down hard sticky messes and the the ergonomic handle makes it convenient to use, I can clean the entire kitchen and hallway without getting sore arms.
For quick messes that do not need steam, I can just pull the Steam & Spray out of the closet, since the spray is battery operated I don't have to plug it into the wall.
After using the Shark PRO Steam & Spray for the past few weeks I don't think I'll ever go back to a old-fashioned mop. I have even caught my husband washing  few messes with the Shark PRO Steam & Spray™, it's so easy to use, doesn't have to sit to warm up and cleans up sticky messes quickly.
Buy It:
The Shark PRO Steam & Spray retails for $149.75 and is available at retailer nationwide including at
Shark Clean
.