When it comes to shopping for our family, I know I can always count on Kohl's. I am always purchasing apparel and shoes for the children and myself at our local Kohl's but I never thought about ordering a Halloween costume until recently. The children were overwhelmed with the large selection, and it took about 45 minutes for them each to narrow down their costume. I had them each pick out their top 3 and from there they narrowed it down to one each.
Kohl's provided a costume for each Jacob & Tyler for Halloween. All opinions are 100% my own.
When I look for a Halloween costume I look for one that will not only last for Halloween night but for the parties before and for dress up time after. Tyler decided on the Red Power Ranger Megaforce Muscle Chest Costume while Jacob decided on the the Ultimate Spider-Man Muscle Light Up Costume. Tyler just started wearing size 4 clothing, while Jacob wears size 5 so I chose small for both of them which fits sizes 4-6. I was afraid if I got the Toddler 3T-4T for Tyler it would be to snug with clothes underneath, so I went ahead with the Kids small.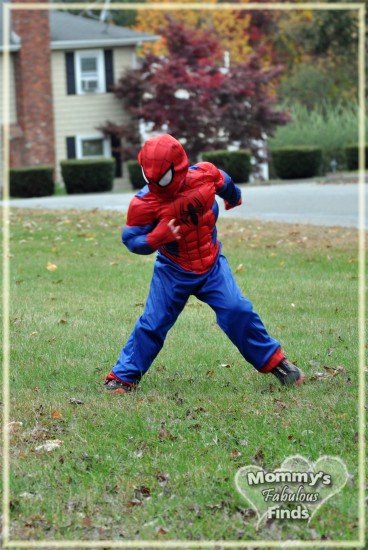 Both of the kids were jumping for joy as soon as they spotted their new costumes and had to immediately put them on, the Spider-man costume fits Jacob perfectly with clothes underneath which is a must have with the colder New England weather. The Power Rangers costume is a little big on Tyler, but we were able to fold up the pants and it didn't phase him one bit. He'll be able to continue to wear it for the next year while playing dress up, which he loves to do.
I was impressed with the quality of both the Power Rangers Megaforce Muscle Chest Costume and the Ultimate Spider-Man Muscle Light Up Costume. Both of the boys have been wearing their costumes around the house, outside, and to a couple of Halloween parties this week and both are still intact, and looking new, no split seam issues like we've had previous years. Not only are they able to enter a world of imagination during Halloween, but they'll also be able to wear the costume during playtime after Halloween.
Not only does Jacob love the ability to light up the black spider on the front of his chest, but the red fiber optic lights are also great for Halloween night when it is dark, and provides additional safety as he walks on the sidewalks and crosses roads. The eye areas on both of the costumes are also large, which allows the boys to see clearer during the dark night.
If you're looking for a quality costume that will last more than one day, take a look at the large selection from Kohl's. In addition to children's costumes, they also have a large selection of adult costumes, teen costumes, pet costumes, infant costumes and accessories.