With Halloween just over a week away, many families are making the final decisions on Halloween costumes . For Trevor, finding the perfect Halloween costume is a tough job, he can never decide on just one character, and often waits until the last minute to make the decision. Last year, he couldn't decide between Olaf or the Hulk, and ended up going with the Hulk. This year he is torn between a werewolf, and a Power Ranger. Watching the kids dress up in their Power Ranger costumes, and play with Power Rangers brings back memories of my childhood as I was obsessed with the Power Rangers, along with my sister. In fact, one Halloween many years ago my mother made me a pink Power Rangers costume, and my sister was a yellow Power Ranger.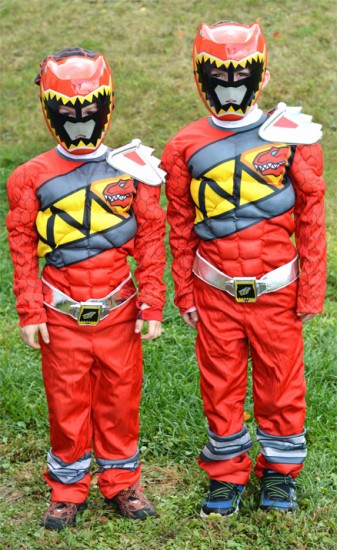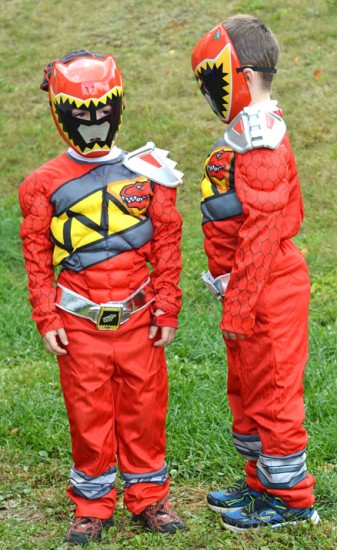 It's Morphin time! Thanks to this fabulous boxed filled with Dino Charge goodies from CostumeExpress.com
Power Rangers Dino Charge Red/Pink Ranger Costume for Kids:
Sizes: Small (4-6), Medium (7-8), Large (10-12)
Power Rangers Dino Charge Red/Pink Ranger Costume for Toddlers:
Sizes: Small (2T), Medium (3T/4T)
Power Rangers Dino Charge Glow Sticks:
Light up the party with these cool Power Rangers Dino Charge Glow Lanyards that allow you to keep track of your mini Power Rangers in the dark! These glow sticks make for the perfect accessory to see in the dark when trick-or-treating this Halloween! Set of 4 included (red, white, blue and green)
Power Rangers Dino Charge Party Supplies:
Make planning your party simple with these Power Rangers Dino Charge party supplies. You will receive action-packed place settings for eight guests in one convenient package. Party supplies include:
Dinner Plates (8)
Dessert Plates (8)
Luncheon Napkins (16)
9 ounce Hot/Cold Cups (8)
Plastic Cutlery (8 spoons/8 forks/8 knives)
Power Rangers Dino Charge 5" Action Figure:
The Power Rangers action figures are tougher and stronger than ever, and ready for action as highly detailed 5-inch figures. Every figure has multiple points of articulation and includes two battle gear items to help in the fight against the villains! Crafted with great detail and quality, kids and collectors alike can play or display their favorite Power Rangers figure in their own environment to recreate scenes where good always prevails over evil. Collect them all!
CostumeExpress.com, the family-friendly internet retailer of costumes and costume event décor, and the place to shop for year-round costume and dress up needs.
Power Ranger "Pin-to-Win" contest:
This Halloween, CostumeExpress.com is hosting a Power Ranger "Pin-to-Win" contest where you can win a Power Rangers prize pack that includes a costume, Morpher, action figure and more! To enter, follow CostumeExpress.com on Pinterest, fill out the Pinterest form with your contact information and pin one of the items from their Power Rangers board using the #PowerRangersCostume.
Samples, prize & information provided by sponsor. Color & Sizing is based on available and not guaranteed. By entering this giveaway you agree to the Giveaway Rules. This giveaway will end on October 24 at 11:59pm EST. The winner will be chosen via Rafflecopter. The winner will have 24 hours to respond or a new winner will be selected. You must be 18 years or older. Open to U.S. residents only. Giveaway prize provided by sponsor. Allow 4-6 weeks for prize fulfillment.