While I don't look forward to the colder weather, I have to admit, fall is beautiful here in New England. Every year I look forward to the leaves changing color, and our annual apple picking outing. It has been a favorite of mine since I was a child, and now that I am older, I enjoy being able to make a few of our fall favorites including warm apple crisp, and caramel apples with our freshly picked apples.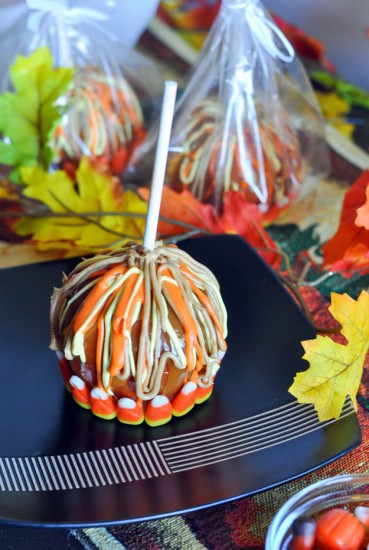 While we have not been able to go apple picking this year yet, we are hoping to go this week, it hasn't stopped us from making caramel apples. The boys had a 4 day weekend due to teacher's meetings on Friday so we decided to have a fun fall day making Halloween themed caramel apples. This year we decided to change it up a little bit and added some peanut butter swirls, frosting, and candy corn,
These Halloween themed caramel apples are fairly easy to make, and you can change out the toppings to your liking. While you can melt the caramel blocks yourself, this time we decided to try the pre-made caramel dip that only required a few seconds to heat up in the microwave.  The caramel dip was far less sticky which the boys seemed to prefer.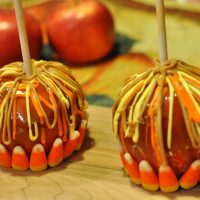 Ingredients
Apples

Whipped Vanilla or Butter Cream Frosting

Caramel Dip

Creamy Peanut Butter

Yellow food coloring

Orange food coloring

or mix red/yellow

Candy corn

Wax paper
Instructions
Lay out wax paper, with one side coated in butter to prevent the apples from sticking.

Place stick into apples, and coat with caramel sauce. Place on wax paper.

Divide Betty Crocker Whipped vanilla frosting in two microwaveable dishes. Microwave for 10-15 seconds or until smooth enough to drizzle, make sure to not overheat as it will become liquid. Use the food coloring to make one orange and one yellow.

With a spoon, drizzle the yellow frosting back and forth around the apple in a striping pattern, then continue with orange frosting.

Place 1/2 cup peanut butter into plastic bag, seal, and cut off small tip. Drizzle peanut butter in striping pattern around apple.

Press candy corn around bottom of apple.
*I use Wilton 8 inch Cookie Sticks.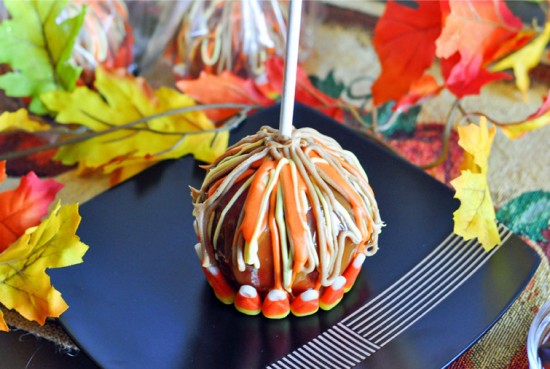 What kind of toppings do you put on your caramel apples? Or do you prefer them plain?