I can't believe it is almost winter here in New England, I'm not ready for the cold temperatures, winter coats, gloves and especially the snow. This time of the year makes me really miss living in  Virginia Beach where it's semi warm all year round. This morning I could feel our heat on, the first time this fall, I just wanted to snuggle in my warm bed but I had to get up and get the kids ready for school, and of course get my cup of coffee brewing – a medium blend of Seattle's Best Coffee with cream & sugar.
Waking up with a hot cup of coffee is the perfect way to start my day, especially with this almost below freezing temperatures that we're slowly getting into. I can jump start my day while sitting at the table for a few peaceful minutes sipping on my coffee and reading the news while the kids start to stir. This past week I was able to discover the great taste of Seattle's Best Coffee by taking part is a sponsored campaign. The coffee is so delicious I often find myself having two cups in the morning.
Discover the Great Taste of Seattle's Best Coffee
Seattle's Best Coffee has a variety of blends that makes it easy to make a cup of coffee that's perfectly you including light, medium-light, medium, medium-dark, or dark.
Want to discover the great taste for yourselves.? Right now you can print a $2 off coupon, and with the Seattle's Best Coffee money back guarantees, if you don't love it, you'll get your money back, but I don't think liking it will be a problem. You'll be like me with "more Seattle's Best Coffee" on the top of your shopping list.
Visit the store locator to find a store near you.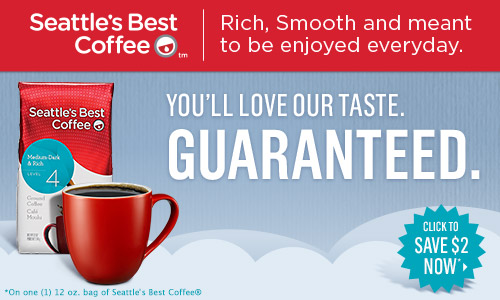 Seattle's Best Coffee Giveaway:
Want to win a vintage Seattle's Best Coffee T-Shirt.? Describe the taste of Seattle's Best Coffee using the #GreatTaste & @Seattlesbest on Instagram and Twitter  for a chance to win. You can also visit the Great Taste website  to join the #GreatTaste discussion and for an additional chance to win!
Stay Up To Date with Seattle's Best Coffee:
Sign up for the email newsletter to get the latest on Seattle's Best including new sweepstakes and money saving coupons.
Disclosure: This blog post is part of a paid SocialMoms and Seattle's Best Coffee blogging program. The opinions and ideas expressed here are my own.