Thank-you Chuck E. Cheese's for sponsoring our visit.
They say its spring but mother nature seems to have missed that memo in New England. Just as the snow starts to melt, mother nature decides to dump another 18 inches on us, it happened a couple weeks ago and is about to happen again. This winter is never ending, I was so excited to only have a foot of snow left in our backyard but if you've been watching the weather channel we're supposed to get another 10 inches this weekend! I'm hoping it's some sort of April fools joke.
Are you looking for something fun to do with the kids this weekend?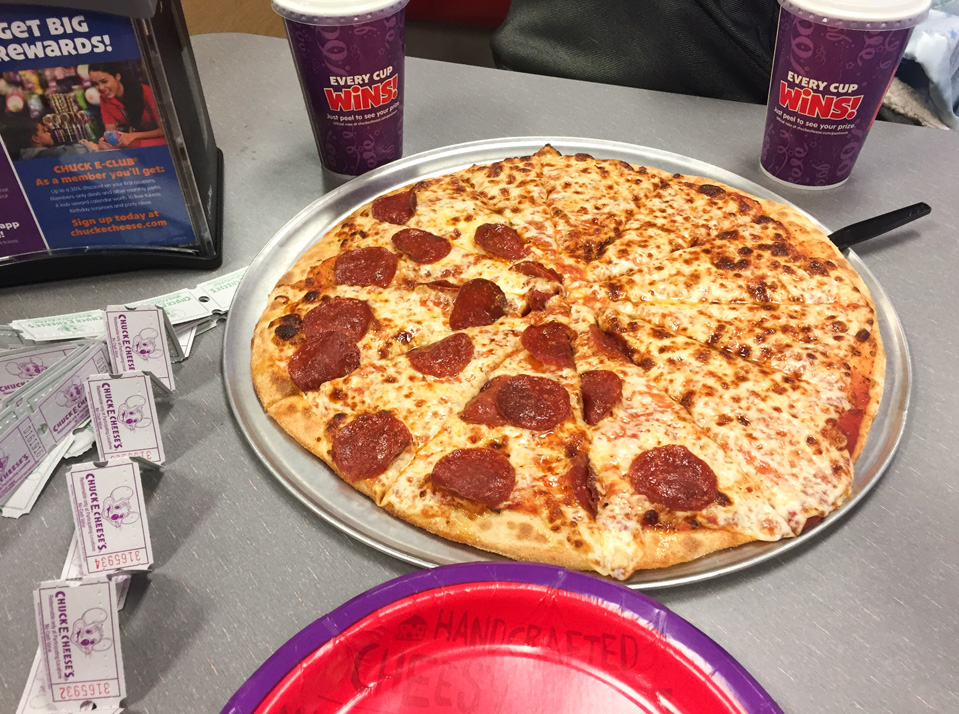 Escape the cold weather, curb the cabin fever and spend the afternoon at Chuck E. Cheese's. It's not just fun for the kids, but the whole family. Chuck E Cheese's is the perfect excuse to act like a kid again, I know I'm not the only one who enjoys a few games of skee ball. I used to be able to sneak a few tokens while the kids were not looking, but now the game cards make it a little bit harder. Luckily for me the boys were more than happy to share their Play Passes and join me on a few games.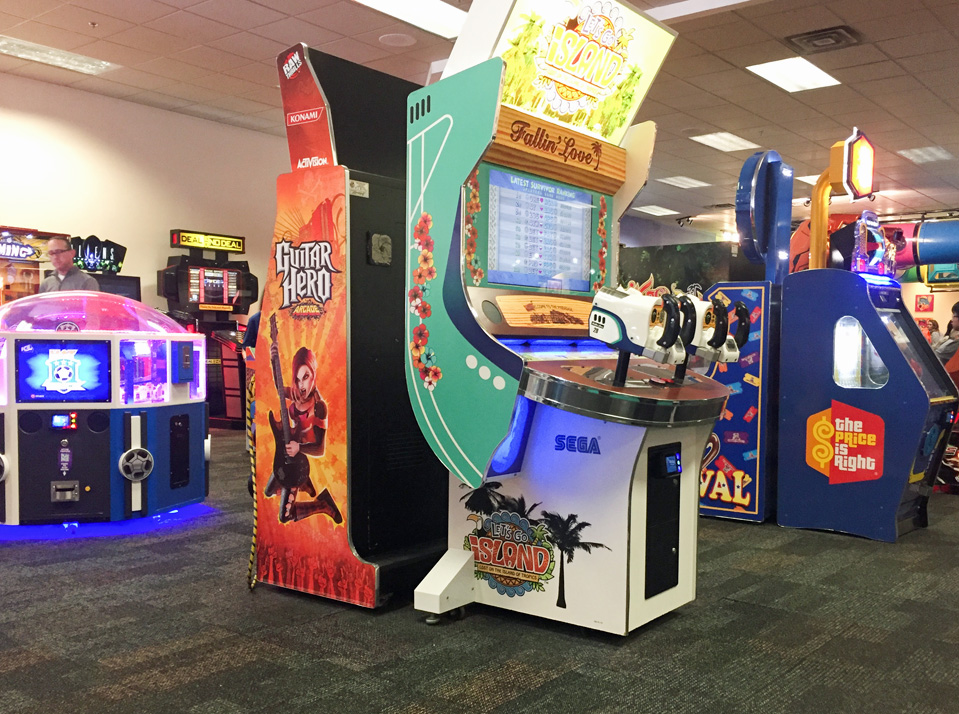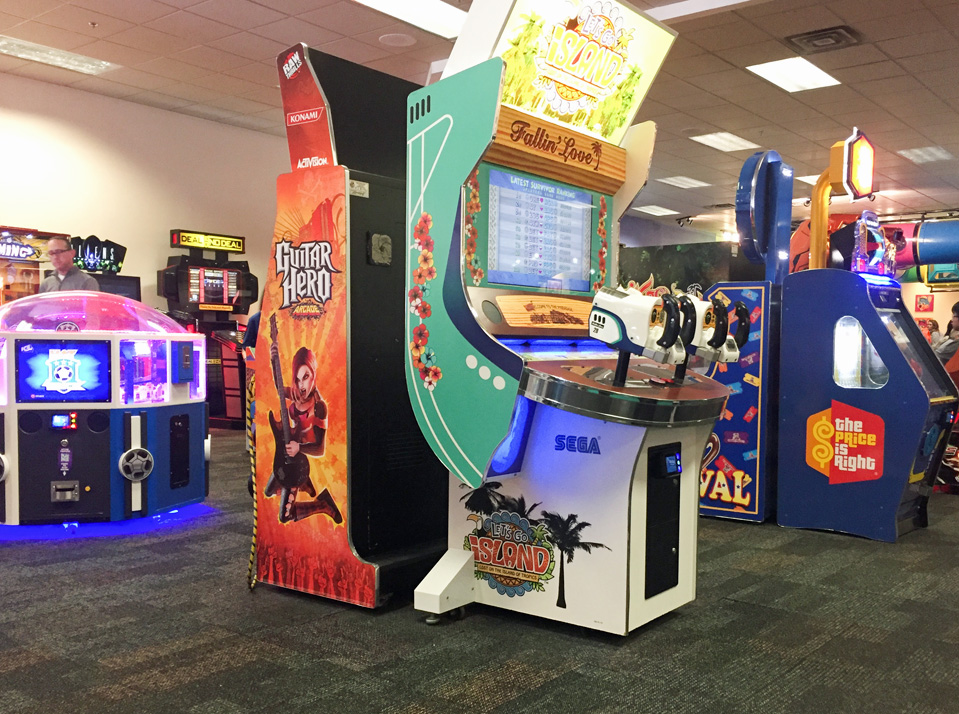 Our local Chuck E. Cheeses now has Play Passes that look like a plastic credit card and that take the place of tokens on most games. It was nice not having to count tokens and make sure each child has the same amount, and there's no having to worry about loosing the tokens. The Play Passes can be loaded any time, just swipe and play. At the end of your visit, or once the Play Pass is empty, count your tickets in the Ticket Muncher and visit the prize table – my children's favorite part.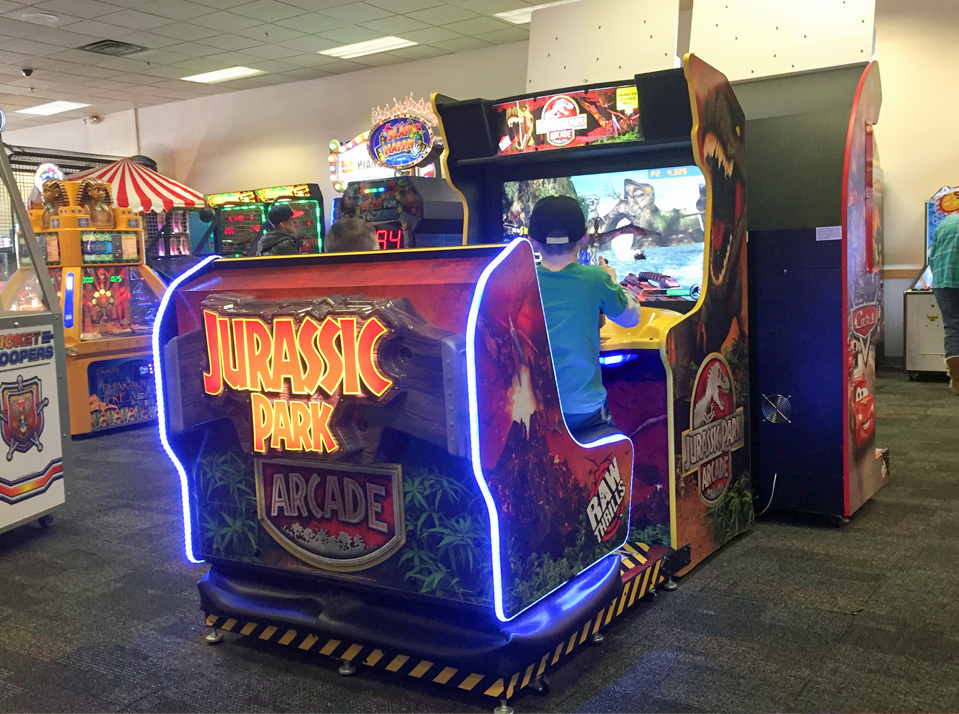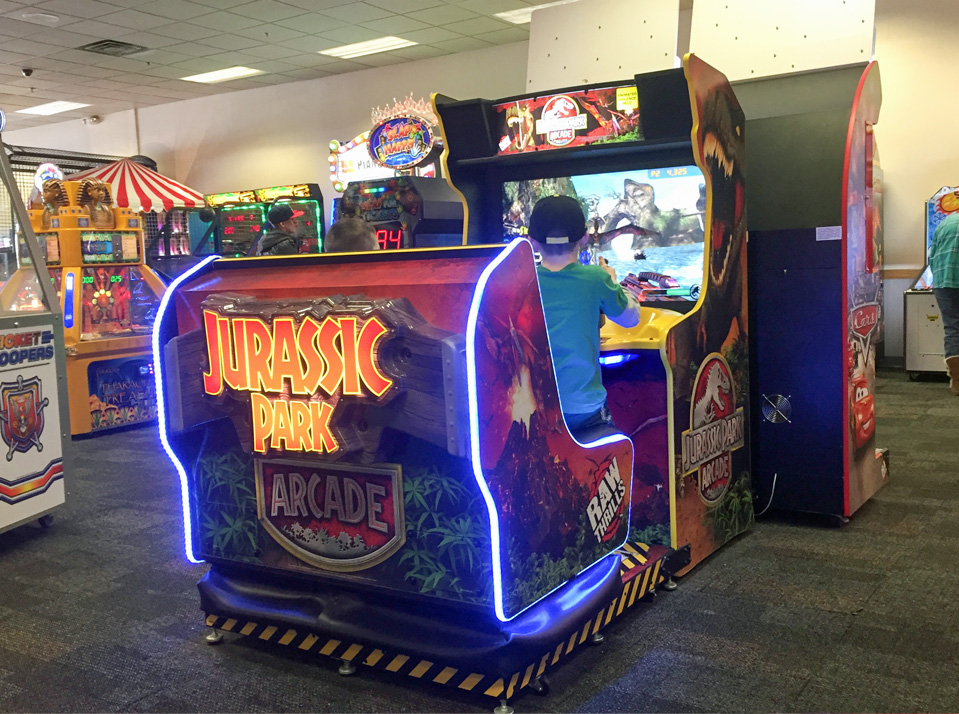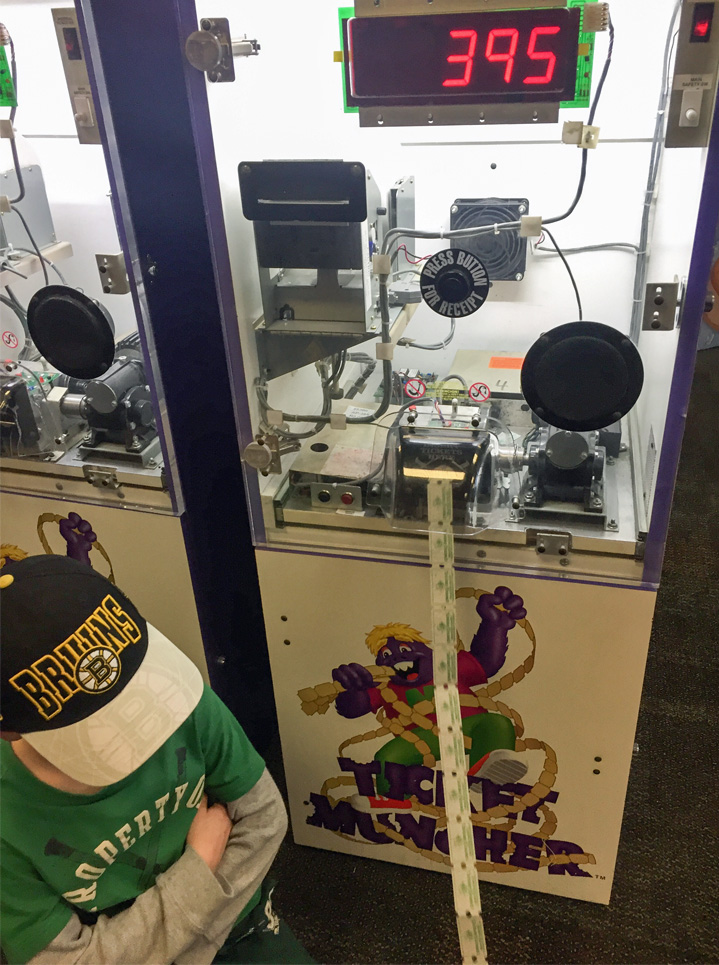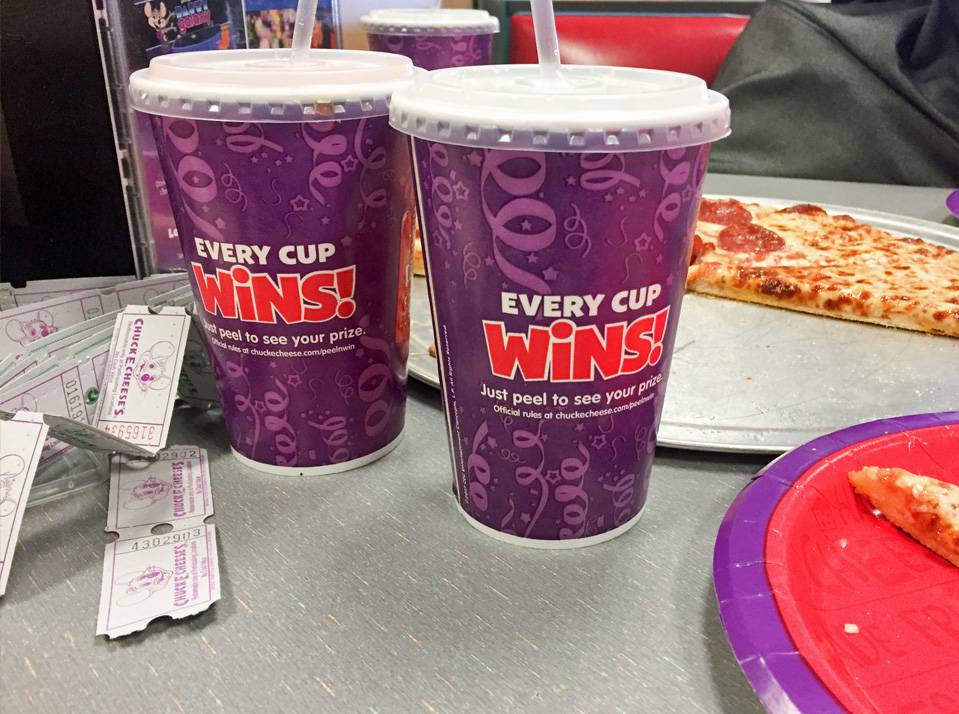 With new menu items including gluten-free pizza, salads and wraps there's something available for everyone in the family. Our family's favorite is the half pepperoni – half cheese pizza and the salad bar.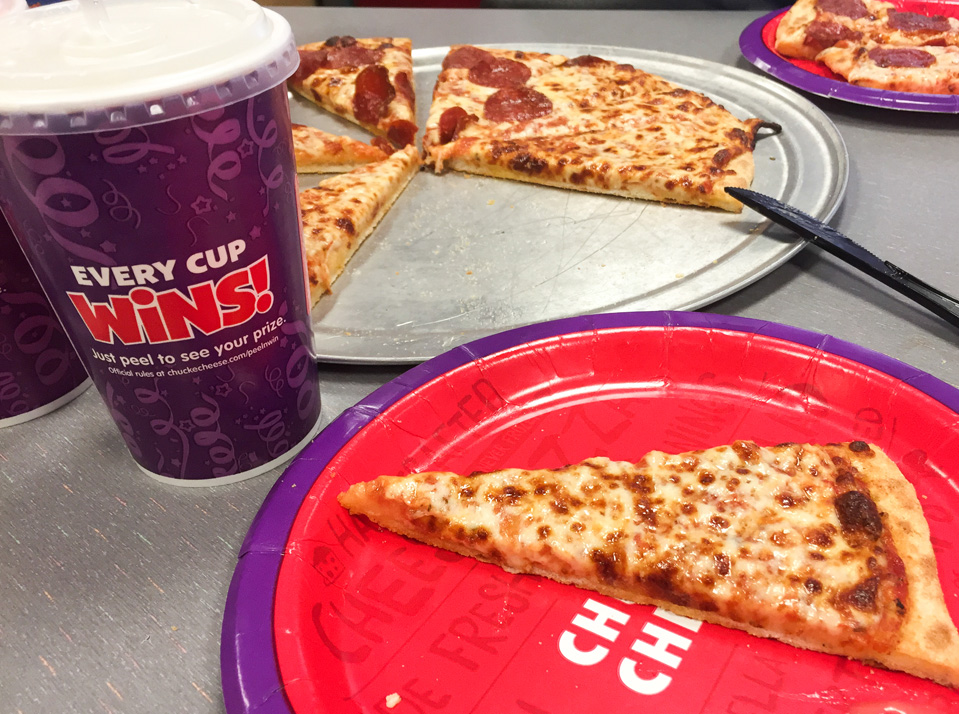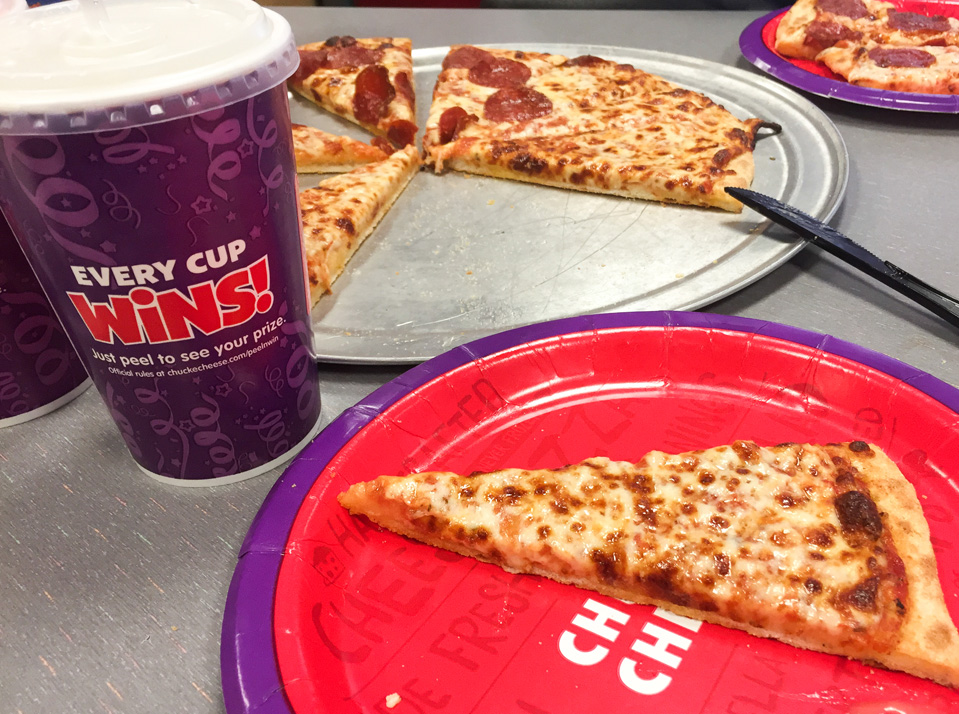 Tips For Visiting Chuck E. Cheese:
Coupons/Extra Plays/Tickets:

Download and print out Chuck E.'s Rewards Calendars. (Choose from chores, behavior, homework ect) Once completed, bring to Chuck E. Cheese's and receive 10 free tokens as a reward.
Visit the deals/offers page, and print money saving coupons. There are also special Military deals.
Join the Chuck E. Club for special coupons & rewards
Register your Play Pass and receive 5 Free Plays.

Plan a budget as soon as you arrive and stick to it. Expenses can quickly add up every time, purchase the Play Pass as soon as you arrive.
Try to visit during opening or during off hours.
In addition to redeeming tickets for prizes, you also have the option to pay for Chuck E. Cheese branded items.
Order food items once you arrive, you will be given a number to place on your table. Play while your food cooks, once it's finished, it will be delivered to your table.
Have each adult watch a specific child, or if there are multiple older aged children have a buddy system. My two older boys had to stay with each other, while I sat at the table with the baby.
As a mother of three young boys I was happy to see that Chuck E. Cheese's has partnered with Kids Play Safe,  a research organization committed to protecting the health, safety and well-being of children. To create a safe & healthy environment for kids, Chuck E. Cheese's has implemented eco-friendly cleaning practices. Chuck E. Cheese's has been converting all of their cleaning products to an all new eco-friendly cleaner that is non-toxic and environmentally safe. During our visit, I noticed staff on numerous occasions cleaning the games, tables, and countertops. It was like instant, as soon as a family would leave, the table was cleaned for the next guest.
Sensory Sensitive Sundays:
Stepping foot into Chuck E. Cheese's can be a bit overwhelming especially on a Saturday when it is packed with families and birthday parties. For those with autism and other special needs, there is now Sensory Sesitive Sundays to allow children the opportunity to experience the fun of visiting Chuck E. Cheese's in a sensory-friendly environment. The sensory-friendly experiences are offered on the first Sunday of every month, participating locations open two hours early and include dimmed lights, reduced noise and limited appearances by Chuck E.
Have you visited Chuck E. Cheese's? Do you have any tips to share?