This post is brought to you in partnership with Babies R Us & Pampers.
As a mom of two little boys I know the importance of a reliable diaper. There is nothing worse then being out on-the-go picking up my son and then realizing his diaper has exploded on my side.  Leaving the side of my white shirt drenched in yellow and having to put everything on hold to run home and change. When choosing to protect you precious baby's bottom you'll want to pick up Swaddlers, Pampers softest diaper and the #1 choice among hospitals.  When I had my oldest, Swaddlers were only available up to a size 2, and I'm happy to see they are now available up to size 5 at Babies "R"Us.
Pampers Swaddlers Available Up To Size 5 At Babies R Us.
With up to 12 hours of overnight protection, Swaddlers help you make your baby as comfortable as possible
Swaddlers color-changing wetness indicator makes it easy for you to tell when your baby might be ready for a change
Swaddlers give your baby comfort and protection they'll love for even longer
Swaddlers Super Economy Pack and Economy Plus Pack are now available (online only)
Celebrating #MilestoneMoments With Pampers
We have had a number of #MilestoneMoments with Pampers including sleeping through the night and J's first rollover. Getting J to sleep through the night wasn't easy and it was trial and error, but by the time I was pregnant with T, I had already been through the experience once and learned a few tricks. One of the first things was to get T used to sleeping in his own room in his crib starting from week one. I had seen too many parents have the rough transition months down the road and I didn't want to have to go thought what a few of my friends were going through. Although it may have saved some sleepless nights at first, in the long run it made it worse.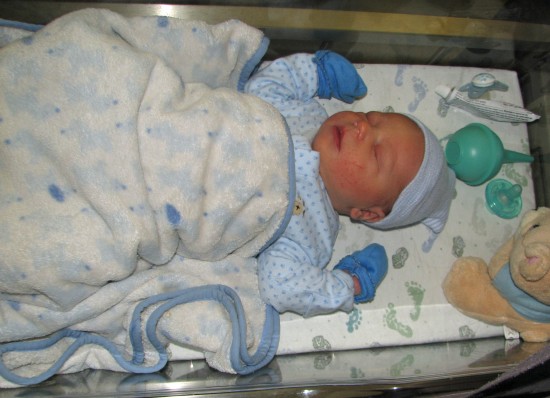 In addition to getting T used to his crib in his own room, I made sure to get on a schedule. Starting at 630 pm we would have a bath, lotion, feeding, then bed. He would be drowsy when I put him to bed, not completely asleep which made him get used to falling asleep on his own, he didn't need to be laying on me, and didn't need to be rocked. I also didn't go running in during the night when I heard him whimper like I did with my first son. Most of the time he wasn't hungry, he would just whimper or slightly cry until he would get comfortable and fall back asleep.
Dark curtains also seemed to work better when the boys were young, and they still do work. I have noticed that if I keep the room darker, the boys will sleep a little longer. They associate morning time with the sun, and if they can see it is bright out, they're up.
Do you have any tips for new parents to get their child to sleep through the night?
Win a $150 Babies R Us Gift Card!
To help celebrate #MilestoneMoments like baby sleeping through the night and Pampers Swaddlers available up to size 5 at Babies R Us, one lucky reader will win a fabulous prize pack that includes a $150 Babies R Us gift card and Pampers Wipes (64 count). To enter, simply fill
Pampers Swaddlers Babies"R"Us Prize Pack
$150 gift card Babies "R" Us gift card
Pampers Wipes (64 count)
By entering this giveaway you agree to the Giveaway Rules. This giveaway will end on July 14, 2014 at 11:59pm EST. The winner will be chosen via Rafflecopter. The winner will have 24 hours to respond or a new winner will be selected. You must be 18 years or older. Open to U.S. residents.  No P.O. Boxes. Information, product, and giveaway prize provided by sponsor.