Looking for stop and shop coupons? Sign up for Peapod using the link below and receive $25 off your first order.
Grocery shopping has been one of my most dreaded tasks for the past few years, especially when the boys were toddlers. It was a usually a struggle to keep them both entertained while I went up and down the aisles. A number of times I ended up with random food at home not realizing the boys had thrown it in the cart. There was this one time in particular that a small $6 ham was sitting in our fridge for weeks. One day I got tired of looking at it and finally asked my husband what he was going to do with it. "I didn't pick it up, I thought you did." Turns out one of the boys must have slipped it in the cart.
Grocery shopping without stepping foot into the grocery store? Yes, please!
<

Peapod by Stop and Shop:
This past week I was invited to learn about the Peapod by Stop & Shop curbside grocery pick-up service. Peapod had previously been available for delivery service but are now offering free pick up service with no minimum order in select Stop & Shop locations. Now I can do all of my grocery shopping once the boys go to sleep, and schedule a time to pick it up.
Arrive at the local Stop & Shop during your predesignated time and pull up to the assigned area. An attendant will greet you, get your groceries from the insulated storage containers and pack them right into your trunk! Grocery shopping without having to step foot into grocery store, my dream come true!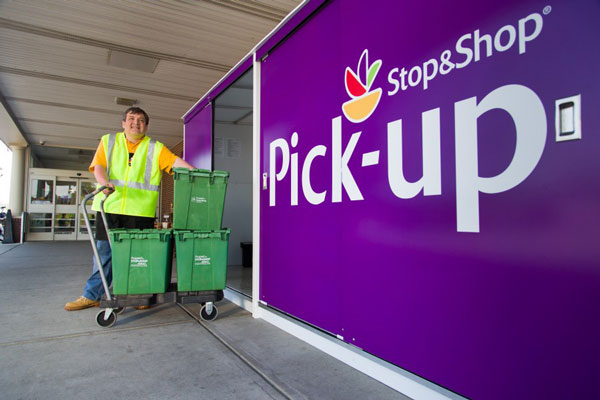 Signing up for Peapod and shopping is easy.
Shop at Peapod.com to help you Save money! Sort and compare prices, track your total, and limit impulse purchases when you shop!
Once you create a Peapod account, make sure to enter your Stop & Shop number that way you'll be able to view and shop from a list of your previous in-store purchases. Since you wont be walking up and down the aisles you may forget an ingredient you need, or may not remember to purchase. By viewing my previous shopping trips I was able to add ingredients to the cart that I would otherwise have forgotten about, like cream for my coffee.
Not all items and varieties are available through the Stop and Shop Peapod service since they do not come directly from aisles inside the Stop & Shop, but at state-of-the-art food centers which are attached to certain local Stop & Shop stores. All of the items I needed this week were available, but while browsing I did notice that not all brands were available. Peapod is always adding new items weekly and you can also submit requests.
My Specials & Weekly Specials:
In addition to browsing the aisles, you can also conveniently shop the sales through the My Specials and Weekly Specials tab and clip Stop and Shop coupons. The My Specials are items that you have previously purchased that are currently on sale, and most of the weekly specials available at your local Stop & Shop locations are also available through Peapod. While some sales may not be available, Peapod offers web only specials and coupons.
Stop and Shop Coupons:
I'm a bargain shopper and the weekly sales and coupons help me to decide on what to have for lunches and dinners for that week. I love being able to clip the Stop and Shop coupons and have the amount deducted immediately from the cart allowing me to view the total at all times.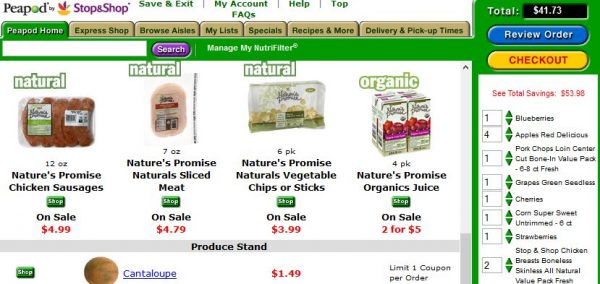 Always view the total:
One of my favorite features about Peapod by Stop and Shop is being able to see exactly how much I'm spending every time I add something in the cart. I'm able to stay on budget and reduce the impulse buying. If the total is more then I want, then I can easily go through and delete items from the cart without having to run through the isles to put them back – I honestly don't think I've ever put a grocery item back in-store because the total more then I wanted to spend.
Nutrifilter: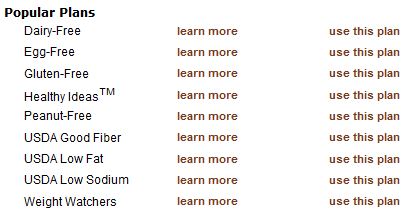 If you have a nut allergy, dairy allergy, need gluten free products or are looking for healthier options the NutriFilter® tool helps you to easily sift through all products and highlights the ones that meet your nutritional goals.
One hour pick-up window: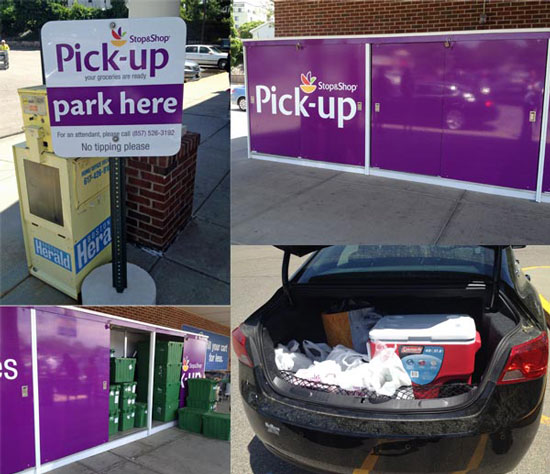 During checkout, select a one hour pick up time. Up until the day before you will be able to delete/add to your order or change the pick-up window time. Each select Stop & Shop will have a designated area for pick-ups where you will be greeted by an attended who will load the groceries into your vehicle. If you have any clip-able coupons, hand them to the associate during pickup and they will be credited to your account.
Not only is the free curbside grocery pick up convenient for busy mother's like myself but if you have elderly parents or family members that do not live close by, you can do their grocery shopping online and have them visit the curbside pickup location, they don't even have to get out of their car, the groceries will be placed conveniently in their trunk.
Instead of spending your precious time off on the weekends battling the grocery store, order you groceries using Peapod free curbside pick up service, with no minimum order!
Grocery shopping on-the-go?
You've got it! Download the Stop and Shop Peapod app and shop anywhere on your iPad, smartphone, or Kindle! At a conference and your husband and kids need food at home? Do the grocery shopping through Peapod and send him Stop & Shop to pick up the order. Need to waste 15 minutes while you're sitting at an appointment or waiting for your child to get out of school? View the weekly specials and pick up your groceries on your way home from work the next day.


Want to give Peapod a try? Here's a $20 coupon for Stop and Shop Peapod
Sign up for a new account and get $20 off your 1st order and free delivery/pickup for 60 days.