This post is sponsored by Kohl's. I received the included back to school clothes and essentials as compensation.
As a busy mom of three kids, August means that summer is about to be over, and the crazy back to school schedule is right around the corner. It means our week is soon to be filled with early mornings, making school lunches, homework, and sports. As a kid I can remember how excited I used to get shopping for new clothes and a new pair of new sneakers, now as a mom I love seeing the smiles on their faces and shrieks of excitement when my children pick out a new pair of sneakers or a new shirt.
One of my favorite places to shop for back to school clothes is Kohl's. My love for Kohl's started about 13 years ago when I started my first job at our local Kohl's, and now that I have children my obsession has grown a bit more, expanding to their children's section. It's one store that I can count on finding apparel for all of our family, especially now that they carry Under Armour, a family favorite, and the #1 brand that my middle son wears.
How to Save Monkey On Back To School Clothing:
Look for sales- One of the biggest ways I save is to keep my eye out for sales, I very rarely purchase anything for full price.
Use Coupons – Before I make a purchase I always search online for a coupon code, you never know, you may be able to save an additional 10%, 15%, or 20%, which may allow you to stay within your budget while adding an extra shirt or accessories into your cart. Shop the Kohl's Friends and Family Sale from August 17th-20th and receive 20% off with code SAVER.
Store Credit Card – My Kohl's charge was my first credit card and is my only store card (I got one when I started working there 13 years ago). I don't recommend signing up for every store, but if you have one or two favorite stores you can save over the years.  With the Kohl's Charge you receive additional savings and free shipping offers throughout the year.
Sign up for Store Email Newsletters – Most stores have an email newsletter that you can sign up to receive special sale alerts and coupons. Some also provide an instant coupon as soon as you sign up, while others may send them out within 24 hours. I've even received two 40% off Kohl's coupons this past year!
Sign Up For Rewards program – Check with your favorite stores and see if they offer a rewards program. Kohl's has a Yes2You Rewards program where you'll receive a $5 reward for every 100 points ($1 spent = 1 point).
Shop end of the Season Clearance – You can often find great deals during the end of the year clearance sales. Purchase clothing that is at least 1 size bigger for the next year. If one of the boys is in a 6 this spring, I'll purchase a size 7 for the following spring. Instead of paying almost full price for clothes next spring, I'll get them 70-80% off and save them in a tote in the basement.
Hand Me Downs – We're lucky to have a group of friends that have children one size bigger and one size smaller than our boys. Each season we'll pass off some of the gently worn or sometimes even new but never worn clothing to each other. Since I have all boys I also save a number of outfits and gently worn shoes to use for the next child. I have totes that are organized on a shelf in the basement that are each labeled with the size.
A few of our favorite back to school outfits from Kohl's:
Jonathan and Trevor will be heading off to 2nd and 4th grade in style this year thanks to these back to school outfits found at Kohl's. They're not always a big fan of clothes shopping and prefer to stay home with Dad when possible, but Kohl's is one store I can count on them joining me at. As you can see both boys had no problem picking out new outfits, many including their favorite brands, Under Armour and Nike, as well as Sketchers when it came to choosing a new pair of sneakers.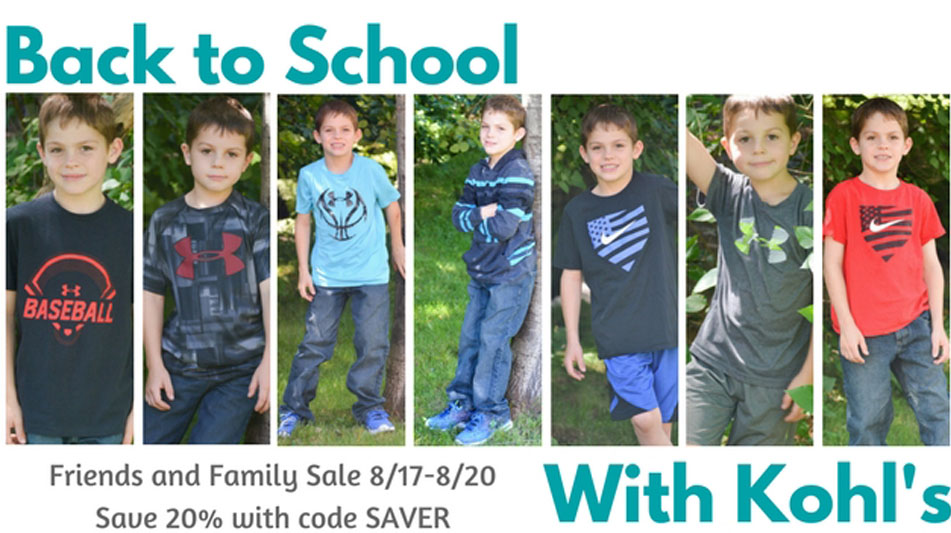 Score the best back to school deals at Kohl's during the Kohl's Friends and Family Sale from August 17th-20th. 20% Off with code SAVER
Save $10 off $50 with promo code BTS10 from 8/4-8/20, categories including Kids' Clothes, Juniors' Clothes and Character Backpacks.
My blog may contain links to other websites. I am not responsible for the privacy policies of those other websites. When you click on a link, your information may be collected by those websites so I encourage you to read their privacy policies. Affiliate links are not associated with Kohl's.
Save
Save