Looking for a place to stay in Burlington Vermont? Check out our 6 Reasons to Stay at the Hampton Inn Burlington.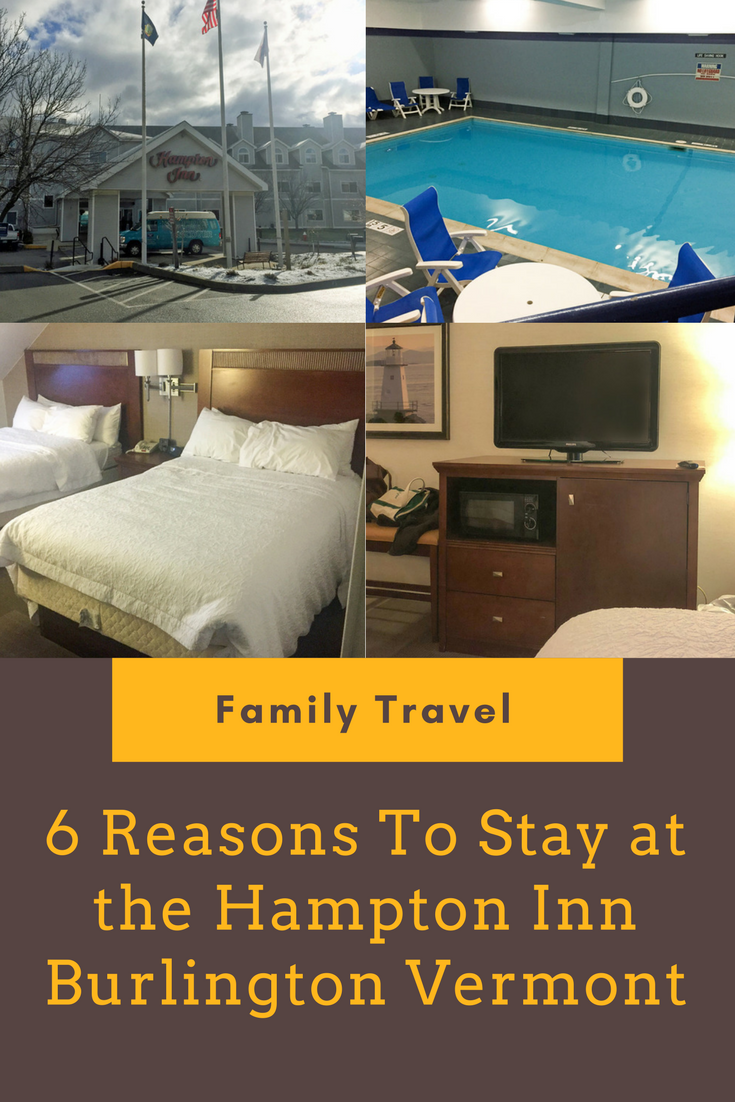 *2 night complementary stay provided.
As a mom of three young boys there are a few things I look for when it comes to traveling and choosing a hotel; location, complementary hot breakfast, and a pool. Once I narrow down a list of hotels based on my three must-haves I then look at previous reviews before making my decision. Hot breakfast not only reduces the cost of having to feed a family of five breakfast everyday during our trip but it's convenient to be able to walk to the dining room whenever the kids wake up, or if the kids happen to sleep in, my husband and I can take turns grabbing a coffee or breakfast. I don't have to pack the diaper bag, and load up the car with three kids.
Having two boys in travel hockey and living away from family, we travel often. One trip we take every fall  is a weekend in Burlington Vermont for a hockey tournament. This year I had to make the trip on my own as my spouse had to work and decided to extend it an extra night to allow the kids to get in some swim time since our first two days were packed with hockey games.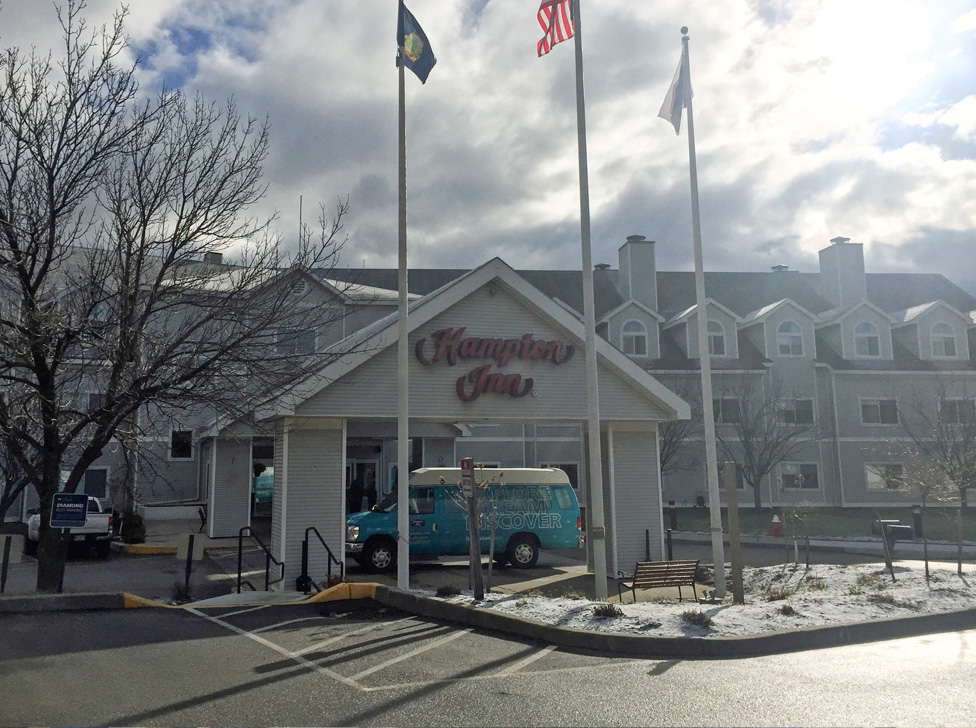 Hampton Inn Burlington Vermont
We were quite pleased with our stay at the Hampton Inn in Exeter NH earlier this year, so when I noticed a Hampton Inn in Burlington Vermont that was located just off of 89 and included a pool & breakfast, I didn't have to look any further. I have to admit, I was a little overwhelmed traveling with three kids, but the Hampton Inn Burlington Vermont made our trip a pleasant experience. Check-in was a breeze, and our pack & play was delivered immediately to the room upon check in. Worn out from the early morning hockey games, the coffee in the lobby was a bug plus and I was able to grab a cup on the way up to the room, and every time we headed out for another game.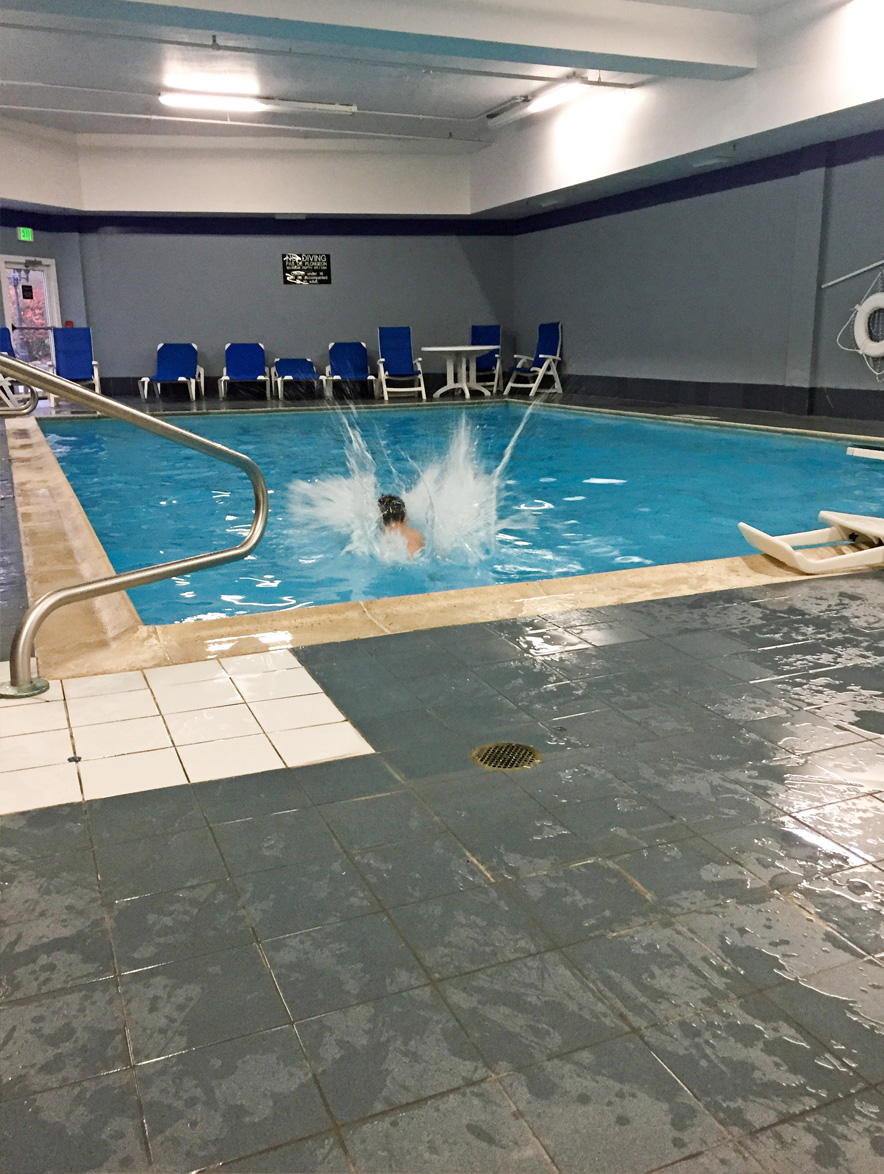 The highlight for the kids was having a make your own waffle area during the complementary breakfast, they love Belgian Waffles especially when they're topped with whipped cream and syrup. They also got the pool to themselves for about 30 minutes which was surprising seeing how busy the hotel was, there was quite a few other hockey teams staying overnight.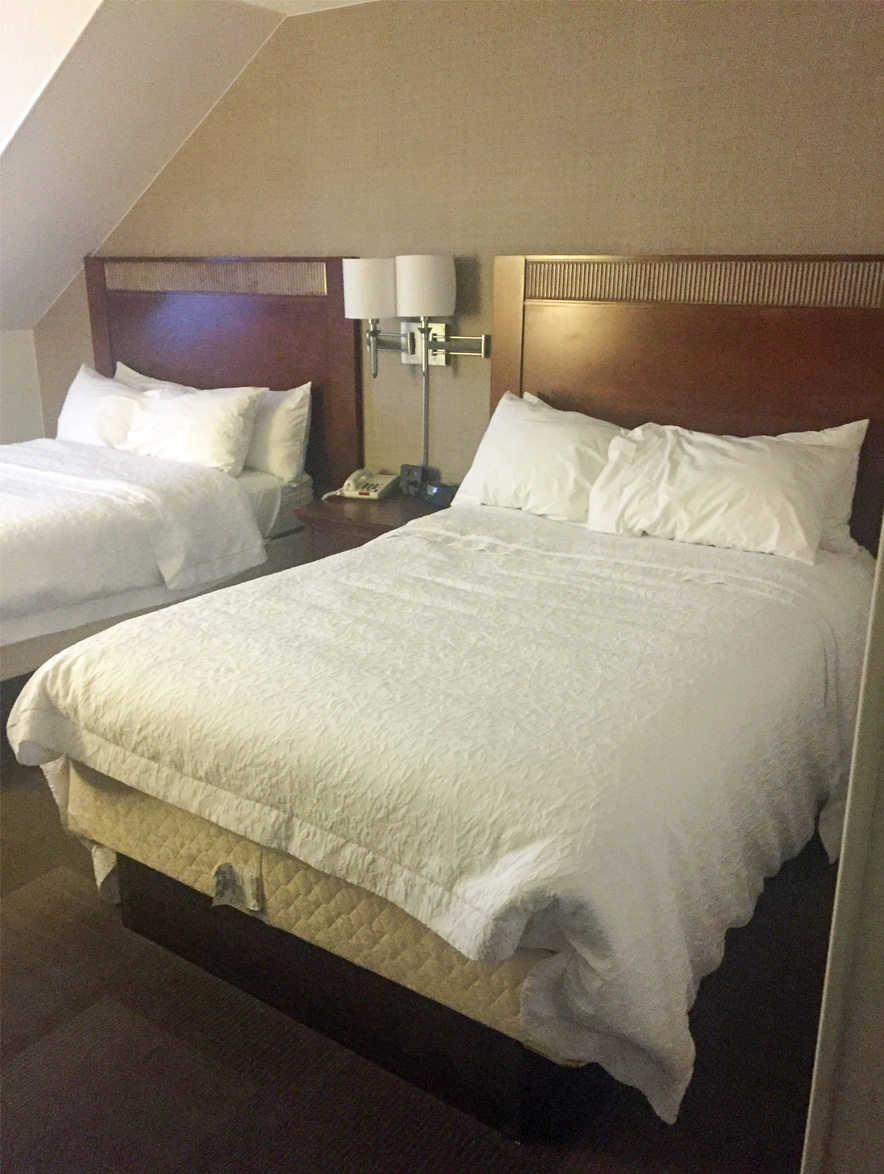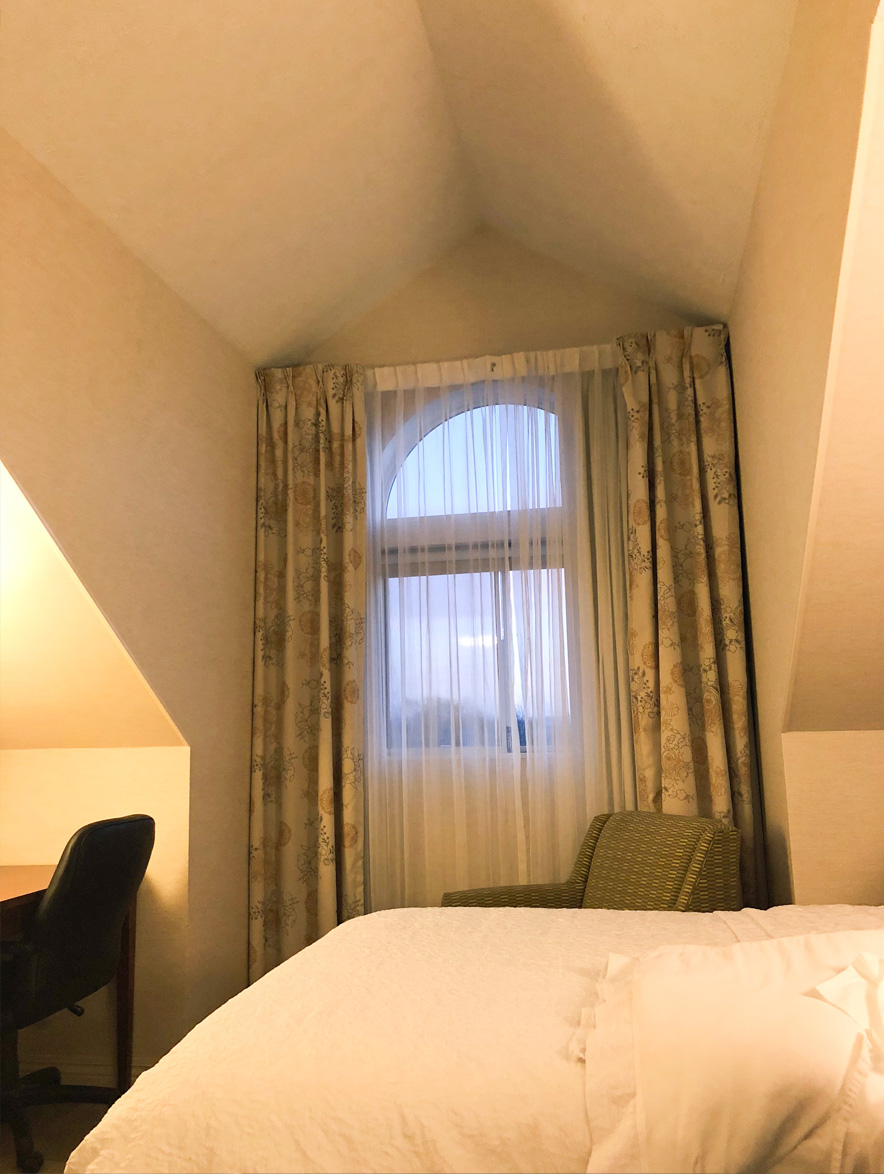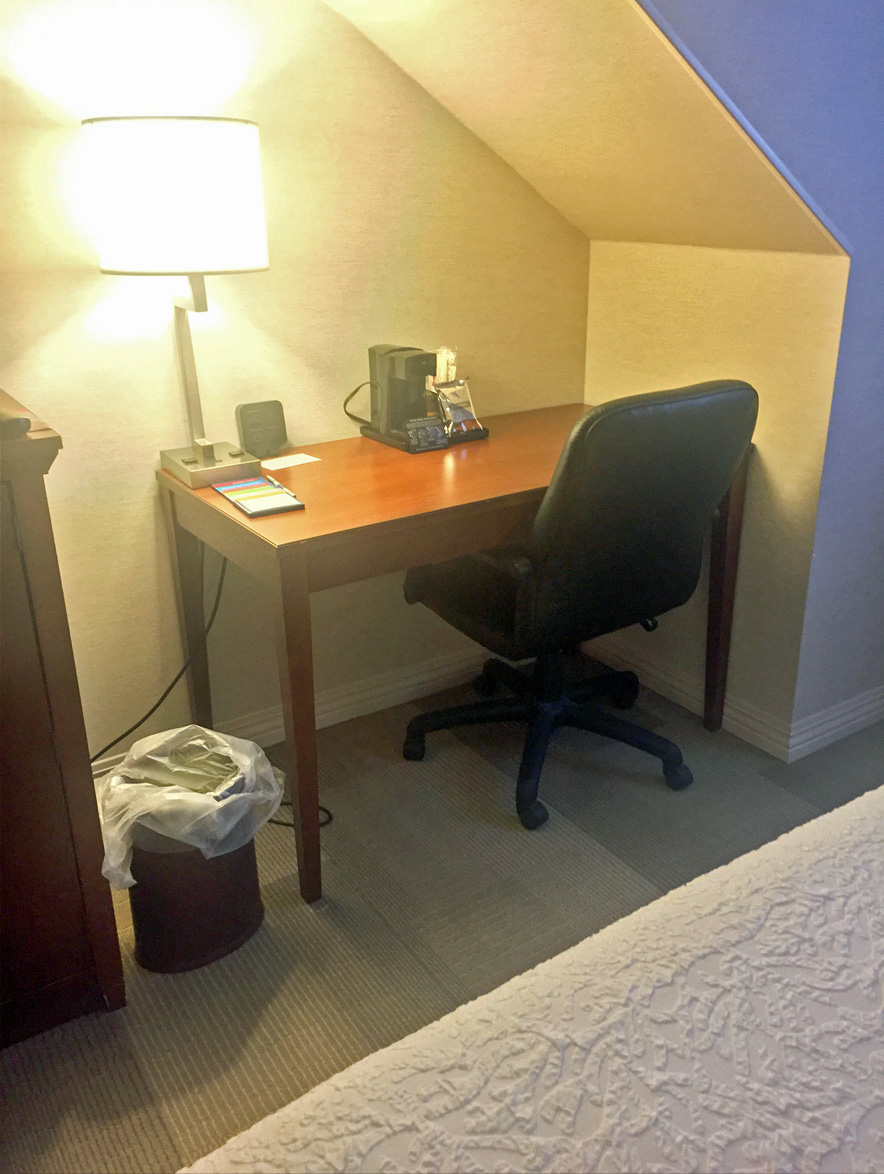 6 Reasons to Stay at the Hampton Inn Burlington Vermont:
Free Hot Breakfast Everyday – 
Choose from a variety of juices, cereals, yogurts, muffins, pastries, toast, bagels, or make your own Belgian waffle. The hot items vary by day, on our first morning the choices were scrambled eggs and bacon, on our second day; cheese omelets and sausage. If you're in a rush, Monday through Friday guests can grab a free Hampton On the Run® Breakfast Bag, for a quick meal on the go.
Large sitting area in the lobby
The large seating area/dining area in the lobby is perfect to meet up or eat dinner with additional friends/family staying the night. This is where the complementary coffee, tea, and hot chocolate is located, there is also a microwave available and multiple high chairs for toddlers. Since we were staying a couple nights, I stopped by Shaw's Supermarket, located just right across the street, and picked up a few items for lunch and dinners to share among some of our teammates & families. Having the microwave and refrigerator in the room made this possible, and instead of eating out every meal, we could make our own meals, like Chicken Caesar Salad wraps – Cesar Salad kit, rotisserie chicken, and wraps. We forgot to purchase utensils but luckily the plastic utensils and paper products from breakfast are available all day long – one more reason why the Hampton Inn Burlington Vermont is awesome and makes traveling with kids easy.
Microwave, mini refrigerator, and coffee pots available in every room. 
While a lot of hotels have refrigerators, it's always a plus when microwaves are also included especially when traveling with young kids, allowing families to heat up formula, reheat leftovers, ect. Since we travel almost every weekend for hockey, I'm always looking for ways to save money. The microwave and fridge allowed us to make our own meals and not go out to eat every time we were hungry. We picked up a rotisserie chicken from Shaw's and were able to get two lunches out of it by reheating to make wraps, we also were able to reheat soup and pizza for the kids.
Location:
Located right off of Interstate 89 and just 5 miles north of Burlington- close to Essex Junction High School, Stowe and Sugarbush.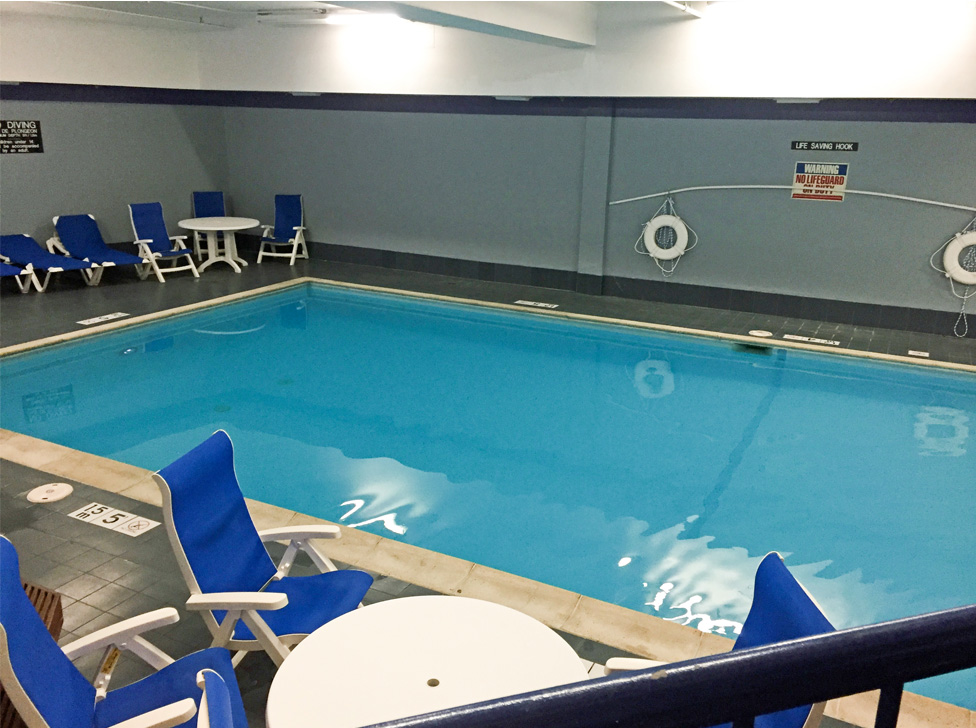 Indoor Pool:
There's no hot tub or sauna, but there is an indoor saltwater swimming pool and a chair lift for those unable to walk down the stairs. If traveling with kids, make sure to pack ear plugs, swimmies, googles and pool toys. Swimming is always a highlight with the kids, even if it's just for 20 minutes.
Friendly Environment:
From the moment we checked in, I felt welcomed at the Hampton Inn and all of our needs were quickly taken care of. The coffee was always full and hot, the tables were always clean in the lobby, the food was quickly stocked during breakfast.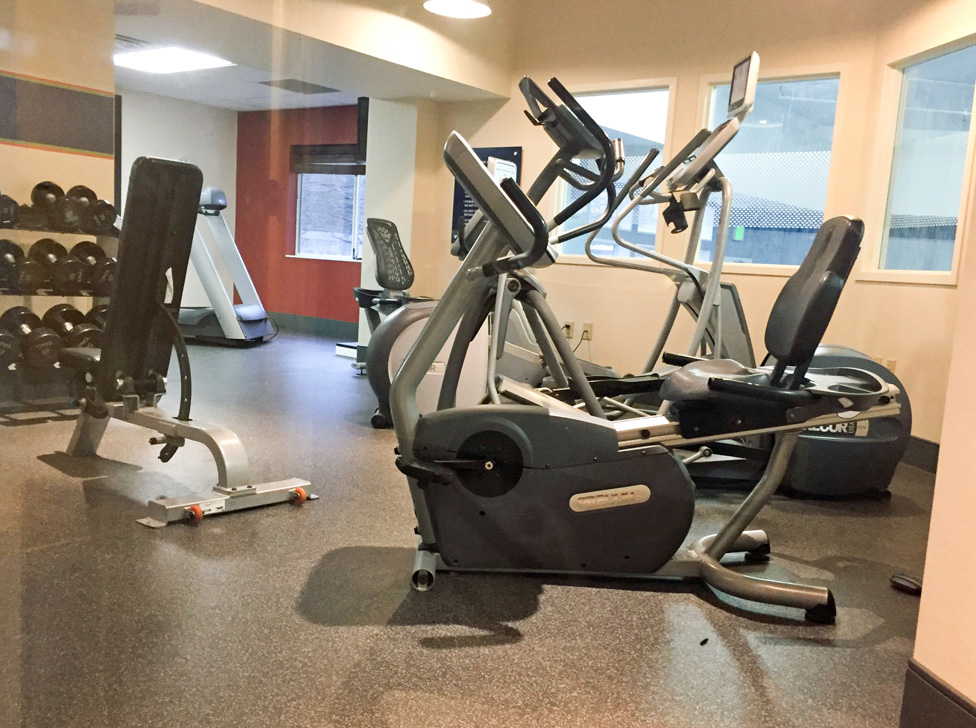 My only complaint was the quality of the free Wi-Fi. Being Black Friday weekend I wanted to do a little shopping online after the kids went to bed but the connection was extremely slow, I ended up having to disconnect from the hotel Wi-Fi and use my own data. It seemed better first thing in the morning as I would assume there were less guests using it.