Are you a Buffalo Chicken fanatic? Then you'll love these Buffalo Chicken Stuffed Shells.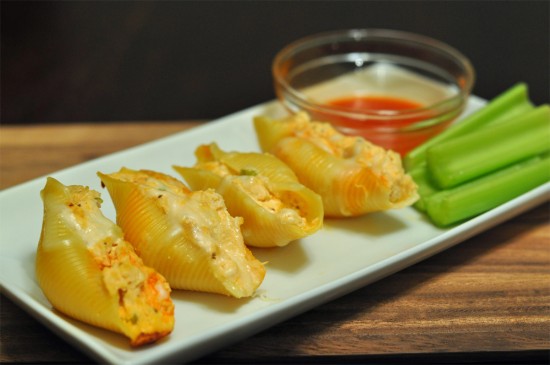 This pregnancy has been completely different then my last two in more ways then one. One of the major differences is the food that I have been craving. With Jonathan it was KFC's cole slaw and biscuits, with Trevor it was Nesquik chocolate milk,  and with this baby boy it is buffalo chicken. I started craving it during my first trimester, but after ordering a buffalo chicken wrap on night I instantly felt sick and I couldn't even stand the thought of eating another wrap until about a month ago. Now I want buffalo chicken wraps stuffed with lettuce, tomatoes, & ranch and buffalo chicken dip (OMG!) on a weekly basis. Good thing we enjoy having friends over, it is the perfect excuse to whip up a dish of  buffalo chicken dip.
I've been trying to think of additional ways to get my buffalo kick in, and after picking up ingredients to make cheese & broccoli stuffed shells for dinner last week, I got the idea to switch things up a little bit and made a batch of buffalo chicken shells. Knowing the kids aren't big into buffalo sauce, I decided to make both.
Buffalo Chicken Stuffed Shells: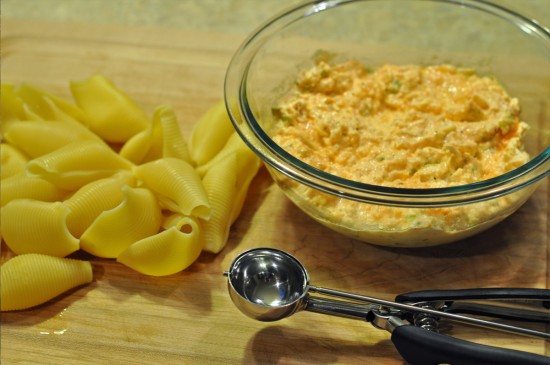 I find it convenient to use a cookie scoop to put the chicken mixture into the shells.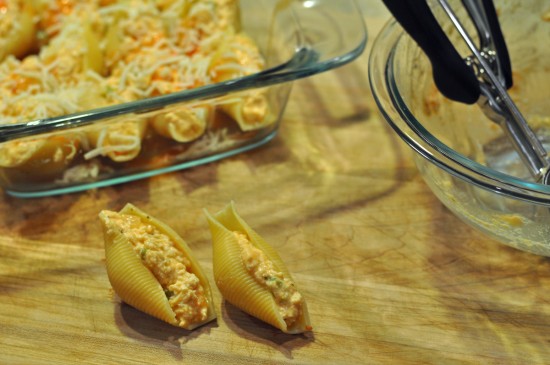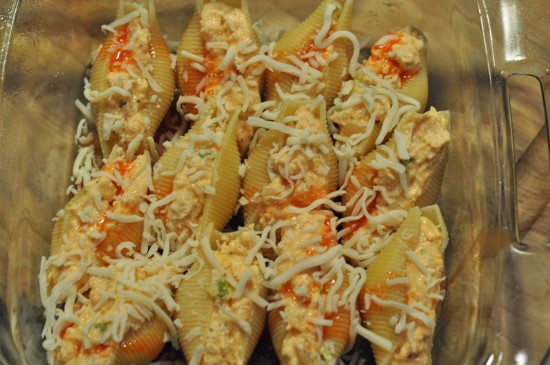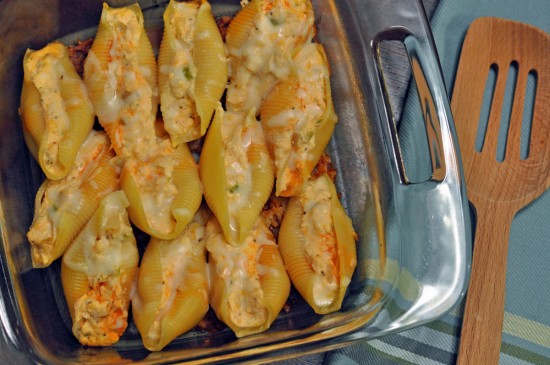 Buffalo Chicken Stuffed Shells
Ingredients
3 cups shredded cooked chicken breast
¼ cup celery, chopped
¼ cup onion, chopped
1 cup buffalo wing sauce
1¼ cups part-skim ricotta cheese
1 egg, slightly beaten
1 (10 ounce) package jumbo pasta shells
1 cup shredded reduced-fat mozzarella cheese
1½ Tbsp. olive oil
*ranch or blue cheese dressing (optional)
Instructions
Preheat oven to 350°F. Cook pasta as directed on package, minus one minute. Rinse with cool water & drain.
Lightly coat baking dish with olive oil.
In a small skillet over medium heat, add chopped onion, celery, and 1 Tbsp. olive oil.
In a medium bowl mix together chicken, onions, celery, buffalo sauce, ricotta, egg, and ½ cups mozzarella cheese.
Spoon chicken mixture into cooked pasta shells and arrange into the prepared baking dish, filling side up. Sprinkle with remaining mozzarella cheese and extra buffalo sauce, if desired..
Bake 20-25 minutes or until filling is hot.
*Serve with additional buffalo sauce, ranch dressing, and/or blue cheese dressing.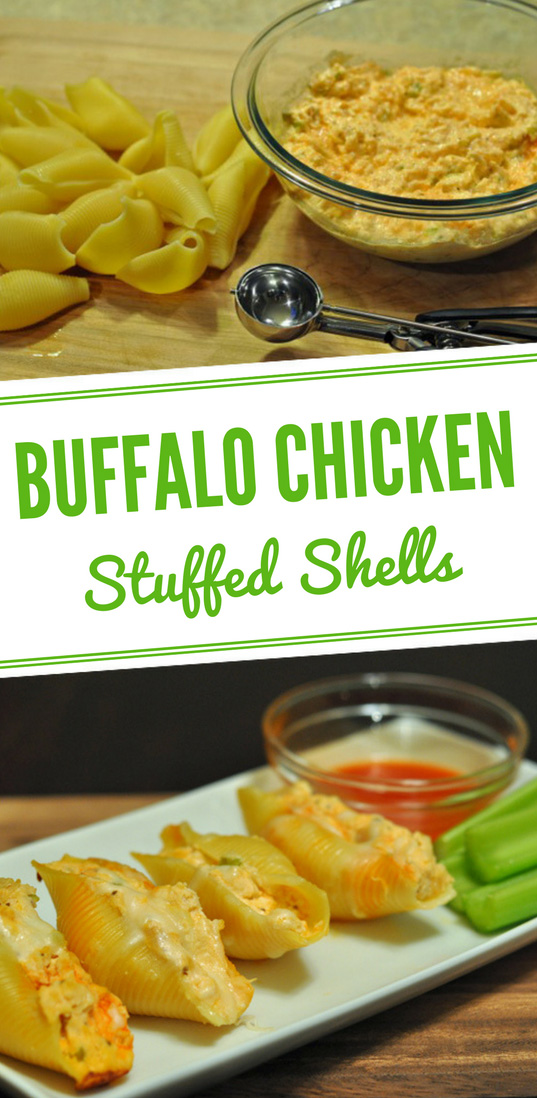 These buffalo chicken shells are perfect for an appetizer, or can be served with a side and salad for a dinner entrée.
*To make a freezer meal, prep according to directions, except do not place in oven. Place in a freezer safe container or foil pan.