Keep on reading to see how you can win $2,000 towards your Baby R Us Registry!
With our new bundle of joy joining us in just a few short months, I have been busy trying to get the house ready for a little one. Some days it seems like it was just yesterday that I was leaving the hospital with our youngest, but in reality it was over six years ago and things have changed. While I do have a few tubs of infant clothing from Trevor, we will be starting new when it comes to baby gear.  After getting requests from friends and family members, I recently sat down and created a baby registry.
As a new mom, I want to feel good about everything I choose for my baby – from the food I feed him, and furniture that he will sleep and play in, to the products that will touch his skin every day.  Tom's of Maine has expanded its family of products with a new baby care line made with "fewest ingredients possible" approach. The new Tom's of Maine baby care line is  made with no parabens, phthalates, phenoxyethanol, artificial or animal ingredients.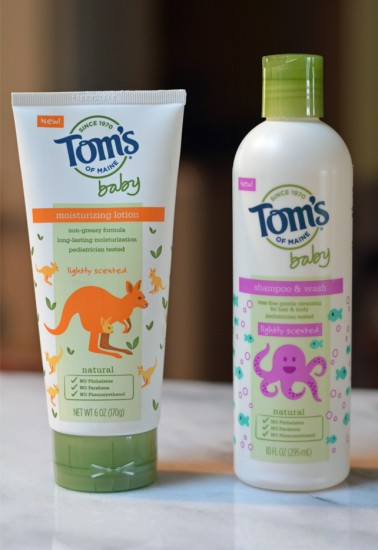 Enter to win a $2000 Gift Card towards your Babies R Us registry!
Enter to win a $2,000 Babies "R" Us Gift Card towards your registry! Just simply add $20 worth of Tom's of Maine baby items to a new or existing Babies "R" Us registry and you'll automatically be entered for a chance to win!
The Babies "R" Us Tom's of Maine Registry Sweepstakes begins at 12:00:00 AM Eastern Time ("ET") on March 30, 2016 and ends at 11:59:59 PM ET on April 19, 2016. To be eligible, Baby Registry must have a due date of 3/30/2016 or later.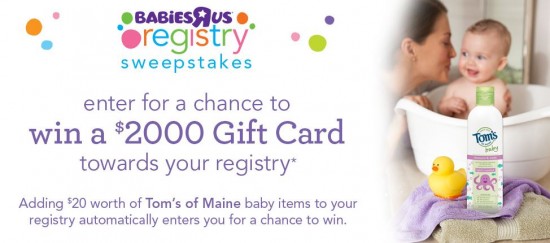 *Tom's has a longstanding commitment to improving the lives of children and gives 10% of profits back to help communities across the country. In additional to giving 10% back to the community, Tom's of Maine also has a goal of sending zero waste to landfills by the year 2020.
Product and  information provided by sponsor