Looking for an easy buffalo chicken recipe? These Buffalo Chicken Meatballs are perfect for game time. Cook up a batch and serve them with a side of celery and ranch.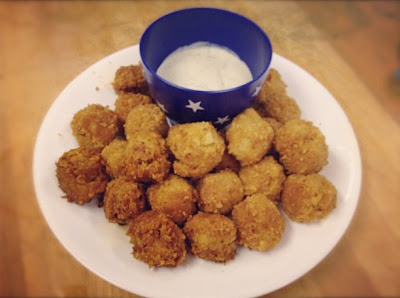 A couple months ago while at the Commissary I picked up a "Your Party's Winning Game Plan with Guy!" Chef Guy Fieri recipe booklet from Nabisco. There were some recipes inside including Smokin' Chipotle Bacon-Onion Dip,  Southwestern Macho Nachos, and Spicy Chicken "Meatballs" that looked great to serve during parties or for a late night appetizer. The other night I spotted the booklet and decided to give the Spicy Chicken "Meatballs" a try.
Buffalo Chicken Meatballs
Buffalo Chicken Meatballs
Print
Ingredients
5

stalks celery

divided

1

lb.

ground chicken

60

RITZ Crackers

crushed (about 2-1/2 cups), divided

1/2

cup

hot sauce

2

Tbsp.

butter or margarine

melted

1/3

cup

oil

3/4

cup

Blue Cheese or Ranch Dressing
Instructions
Heat oven to 375°F.

Lightly coat 13x9 inch pan or baking dish with cooking spray.

Chop 1 celery stalk finely; mix with chicken, 1 cup cracker crumbs and 3 Tbsp. hot sauce. Shape into 24 balls. (I used a cookie scooper and it worked perfect)

Mix the remaining hot sauce and butter in a small bowl. Place the remaining cracker crumbs in separate bowl. Roll chicken balls in the hot sauce mixture, then into the crumbs until evenly coated.

Heat the oil in large nonstick skillet or wok. Cook the chicken balls in small batches, 3 to 4 min. or until lightly browned, turning over after 2 min. Drain on paper towels to remove access oil and place into prepared pan.

Bake the chicken balls 20 to 25 min. or until done. (165ºF). While it's cooking you can cut remaining celery into thin sticks.

Serve chicken balls with choice of dressing and celery sticks.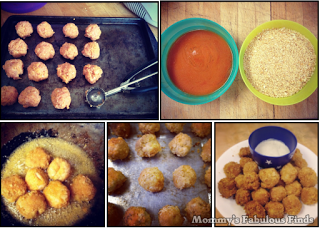 At first my husband complained about me making the spicy chicken "meatballs", he mentioned that he has tried chicken meatballs a few times before and they never came out good. I was craving buffalo chicken so I decided to still give them a try. They were very easy to make and once they cooled off I decided to try one, we didn't have plain ranch dressing in the house, so I decided to serve it with guacamole ranch and buffalo ranch. While the guacamole ranch was good, the spicy chicken "meatballs" tasted delicious dipped in the buffalo ranch dressing! Even with all of my husbands complaining he decided to give it a try, and within minutes him and my brother downed all 24 meatballs with a little help from myself.
As the saying goes "you can never judge a book by it's cover." My husband thought they were very tasty, and surpassed his expectations. He has already requested me to make them again.
These Buffalo Chicken Meatballs get two big thumbs up!