It's hard to believe that they school year is already coming to a end, it feels as though I was just sending Jonathan off to his first day of school. But I'm glad that winter is over, school is coming to a close, and the warm weather has finally arrived. I'm ready for days filled with outdoor fun, picnics, and BBQs with friends. Having recently moved to a new house with a large yard, the kids and I are eager to have our new friends over for cookouts and summer fun.
Grilling season is already in full swing with our fridge stocked with hot dogs, steaks, hamburgers, and fruit, but I'm excited to compile a list of new recipes to make during summer break. We tend to make the same thing over and over, so I'm looking forward to changing up and adding a few ingredients in with our potato salad, burgers, and hot dogs.
We made the Fruit Pizza that we found in  the Kraft "Kick-Off Your Summer" cookbook this past week and it was a huge hit with not only the kids but the adults as well. Blackberries were priced quite high at our local grocery store, so to stay on budget we opted for double strawberries!
Fruit Pizza: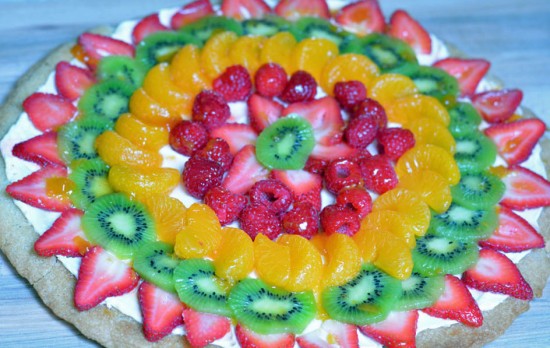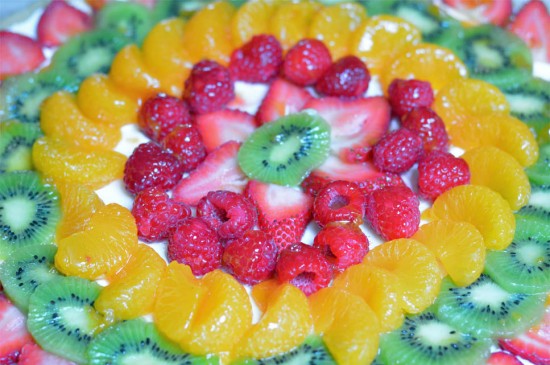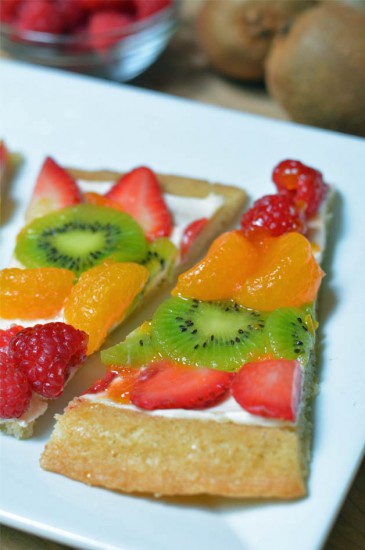 Ingredients:
1 pkg. (16.5 oz.) refrigerated sugar cookie dough
1 pkg. (8 oz.) cream cheese, softened
1/4 cup sugar
1/2 tsp. vanilla
4 cups assorted fresh fruit
1/4 cup apricot preserves, pressed through sieve to remove lumps
1 Tbsp. water
Directions:
Pre-heat oven to 375°F.
Arrange cookie dough in single layer on an ungreased pizza pan. Press to cover bottom of pan.
Bake 14 min or until it starts to lightly brown. Cool completely.

Beat cream cheese, sugar and vanilla with mixer until blended- spread onto crust, leaving edges bare.

Top with fruit.

Mix preserves and water; brush onto fruit.

Refrigerate 2 hours.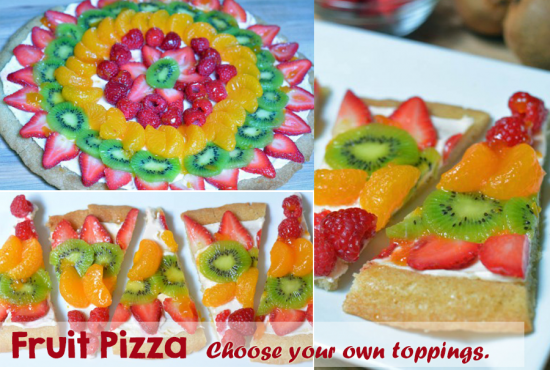 This pizza was a big hit, and a great way to serve fruit. For the 4th of July, I plan to replicate the recipe a make this fruit pizza into a rectangle instead of a circle, with a red, white, and blue theme with strawberries and blueberries.
 What fruit toppings would you use on this fruit pizza?