Thanks to Pinterest, my husband and I enjoyed delicious Crock Pot Barbeque Ribs last night. We have experimented with ribs a number of times, often smoking them in the grill, but I wanted to try something different. My mother in law used to always cook ribs in the crock pot and my husband is always raving about them, so I thought I'd give them a try with a new recipe I found.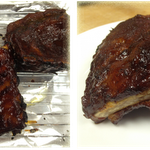 Crock Pot Barbeque Ribs Recipe
Crock Pot Barbeque Ribs :
Ingredients
3

tbsp

paprika

2

tbsp

brown sugar

1/4

tsp

Cayenne pepper

1

tsp

salt

1

tsp

pepper

4

lbs

pork baby back ribs

3

cups

BBQ sauce

used Sweet Baby Rays
Instructions
In a small bowl mix the dry ingredients together, then rub the mixture onto both sides of the ribs.

Arrange ribs in your crock pot – stand them up against the walls with the thicker side down and the meaty side against the wall.

Pour BBQ Sauce all over the ribs, cover and cook for 7 hours on low.

Once the 7 hours is up, it's time to brown the ribs in the oven.

Line a baking sheet with foil, carefully remove the ribs from the crock pot and place them bone side up on a rack on the baking sheet.

Skim the fat from the crock pot then pour the remaining juices from the crock pot into a small saucepan using a strainer.

Bring the sauce to a boil and allow to simmer for about 15 minutes. Turn on your oven's broiler and allow it to heat up.

Once the broiler is preheated, brush the sauce on the ribs and broil for 4 minutes, take the ribs out, turn them over and brush them with sauce, then broil them again for about 9 minutes. You can take them out halfway through and brush them with sauce again.

Serve with remaining sauce on the side.
My husband wouldn't stop commenting on how delicious the ribs were and how they just "fall of the bone." He mentioned how they were even better then when he smokes ribs on the grill which made me one happy wife. For my husband to say how much he enjoyed the ribs meant a lot, and it felt like an accomplishment as he is always striving for ribs that fall off the bone. I was told to write the recipe down and don't loose it so I can make them again.