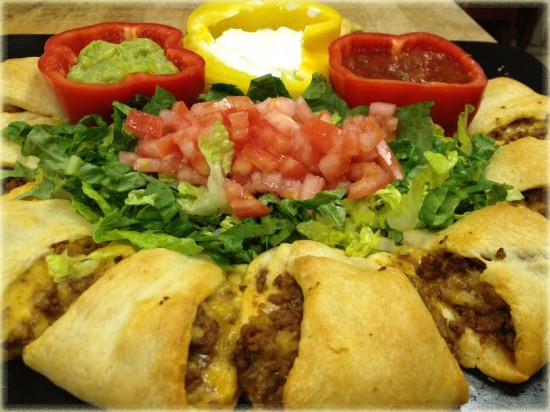 I have had this huge- taco craving lately so when I came across the
Pampered Chef Taco Ring Recipe
from Jennifer over at
MomSpotted
last week I just had to give it a try. It looked so good that I decided to run out to the grocery store to pick up everything I needed to make it that night.
Pampered Chef Taco Ring
Ingredients
1 lb ground beef, cooked and drained
1 1.25 oz package taco seasoning mix
1 cup shredded cheddar cheese ( I used a 4 cheese)
2 tbsp water
2 – 8 oz packages of refrigerated crescent roll dough
1 green bell pepper (I had red & yellow)
shredded lettuce (I used ½ bag)
1 med. tomato, cubed
½ cup sliced black olives
Instructions
Preheat your oven to 375. Open the crescent rolls and fan them out out making a circle. Leave the crescent rolls open in triangular shape.
Cook the hamburger and drain.
Mix cooked hamburg, water, and taco seasoning in small bowl.
Add cheese, mix well.
Add a small amount to the biggest part of the crescent rolls. Continue around the entire circle.
Tuck the ends of the crescents over and then press it into it's base.
Bake for 15-22 minutes. (Depends on stove)
Add your shredded lettuce, tomatoes, sour cream, guacamole, and black olives to the center, hallow out pepper and fill with salsa.
Enjoy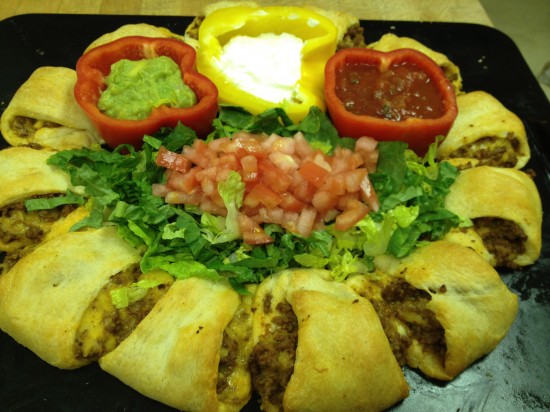 Scoop meat into big area of crescent rolls, fold top over and tuck in.
 Bake at 375 Degrees for 15-22 minutes. (Stoves vary, ours took about 17 min)
Place sides in separate dishes, or add them all to the center. You can change up the toppings to your own liking.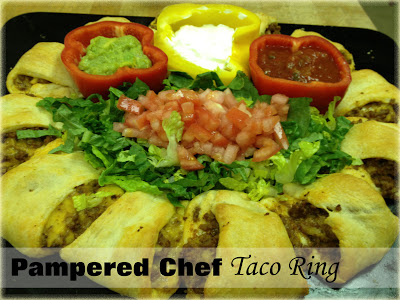 The Pampered Chef Taco Ring has simple ingredients and was very easy to make, the whole family loved it. There was plenty of leftovers after my husband, children and I were done so I saved them for my brother. The next day he was commenting on how good it tasted. Looks like we'll be adding this new recipe to our monthly menu.